Last updated: 17 November 2020
The Royal Society of Biology's BioArtAttack 2020 competition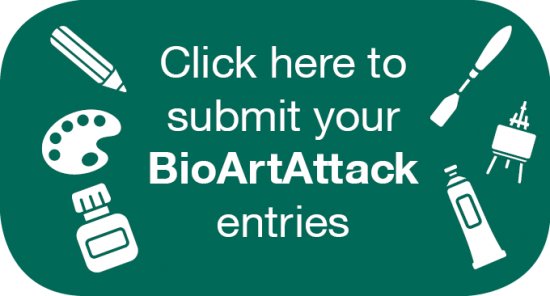 The BioArtAttack 2020 competition is open for entries! Get creative and submit a drawing, collage or even a sculpture. Take inspiration from the smallest parts of the natural world that can only be seen through a microscope… or you can think big and use vast environments or ecosystems for ideas. Make sure to include the science behind your piece when entering the competition.
Submit a photograph of your BioArtAttack online by 30th November.
Details here.
Bristol Science Film Competition 2021
The annual competition is open to amateur and experienced film makers.
Submitted films must be 10 minutes or fewer and be either a non-fiction, science-based film, or have a science fiction theme.
To be considered for the science fiction category, the film must have clear science inspiration.
Shortlisted films will be screened at a virtual or theatre-based filmmaker's screening and on the Big Screen in Millennium Square, Bristol, at a later date. The winners will be announced at the filmmaker's screening.
The closing date for the 2021 competition is May 1st 2021.
Details here.
Farmvention Competition - NFU Education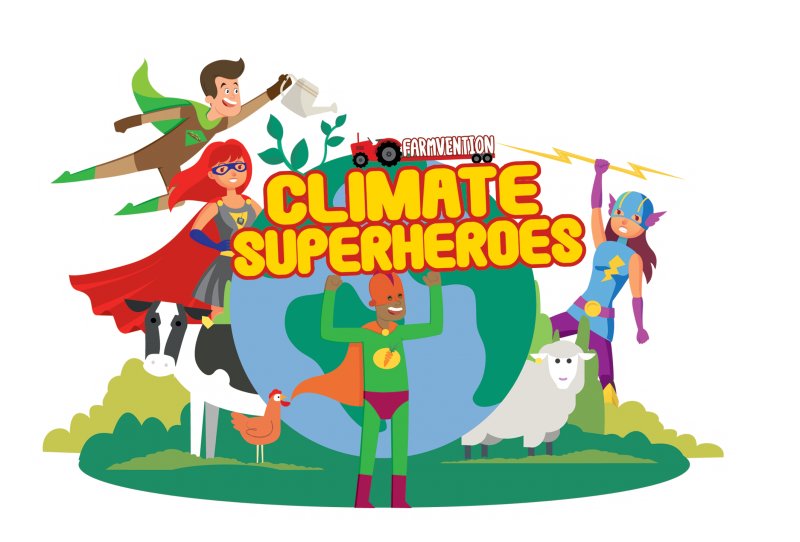 Farmvention (when farming meets invention) is a national STEM competition run by NFU Education and aimed at children aged 5 – 14 (school years 1 -9) in England and Wales.
This year, the challenge is all about the problems that climate change creates for British farmers and how they are fighting it to become Climate Superheroes.
There are four themed inspiration hubs to get you thinking and each one is full of investigations to complete at home or school, alongside some exciting tours of our climate superheroes' farms to inspire you.
You can enter the competition individually or as part of a team or class and there is a host of amazing prizes for the winning schools. Winners will present their ideas at a prestigious event at the Houses of Parliament and win £1000 for their school to spend on STEM or Outdoor Learning equipment! All entrants will become certified 'farmventors' and receive a reward pack including a certificate and mini prize.
Entries close on 31 May 2021.
Details here.
Network Rail Competition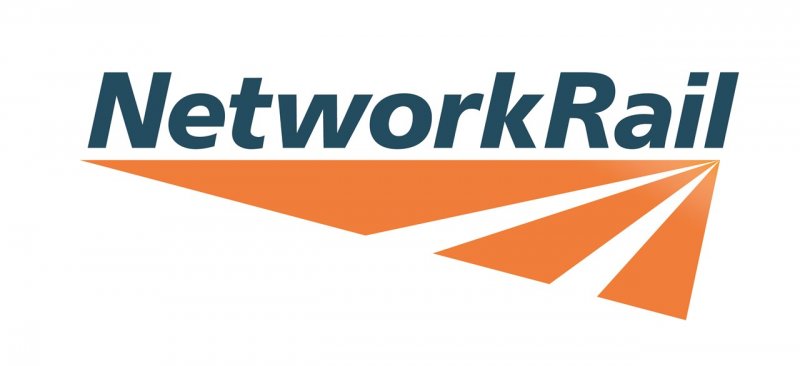 Network Rail have created a new version of their Emily the Engineer activity book for children. It is full of puzzles and quizzes and the opportunity to take part in a competition to win a family trip for 4 on Eurostar to Disneyland Paris.
To enter, primary aged children need to imagine and draw what the train of the future would look like. Details are on page 8 of the activity booklet.
Closing date is Friday 20th November 2020.
Details here.
The Big Bang Competition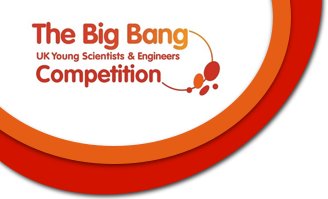 The Big Bang competition recognises young people's achievements in STEM and builds confidence in project-based work. The science stream focuses on investigation, discovery and use of scientific methods. Students can enter any project work they have completed at school, home or in a STEM club.
The first stage is online heats, where students compete for a chance to showcase their work at The Big Bang Competition Finals and get their hands on amazing prizes. Projects are judged by leaders in industry and academia, who provide feedback to all competitors/finalists to help them continue to build their ideas, skills and confidence.
As well as the opportunity to network with scientists, students can include their involvement in the competition in their extracurricular activities on UCAS forms and personal statements.
Find out how to get started and inspire students with past projects on the Big Bang website.
Details here.
RSC Top of the Bench

Fuel your students' curiosity and excitement with our annual schools' chemistry competition
With the help of our members, we've been organising and running this national competition for more than 20 years. As a result, hundreds of students aged 14–16 have had the opportunity to put their practical and teamwork skills into action.
This year the competition will have to be different but it is still running! Get in touch with your regional contact to find out how.
Details here.
UK Chemistry Olympiad

The UK Chemistry Olympiad is designed to challenge and inspire sixth form secondary school students, encouraging them to push themselves to excel in the chemistry field. Run by the Royal Society of Chemistry, students will develop critical problem-solving skills and test their knowledge in real-world situations – and could even represent the UK in the prestigious International Chemistry Olympiad. Explore the past papers to get an idea of the types of questions involved.
Round 1 of 3 is scheduled to take place in January 2021 and comprises a written test, with round 2 (an online training weekend) scheduled for March.
Closing date 11 January.
Details here.
The UK Junior Water Prize
The UK Junior Water Prize is aimed at solving environmental challenges with a link to water, which we know is super important for our future! For the competition, you need to identify an issue and undertake some research and experiments to find a practical and innovative solution.
You are eligible to take part if:
You are going to be between 15 and 20 years of age for World Water Week in August 2021
You haven't started University yet
You started your project whilst you were in a full-time education
Your school or college (including home schooling) is in the UK
You can take part on your own or in a pair, as long as both partners meet the eligibility criteria above. School assignments qualify for entry, but you need to specify your role in the project.
The winning entry will qualify for an all-expenses paid trip to represent the UK and their school at the Stockholm Junior Water Prize in Sweden with a chance to win the cash award of $15,000 USD!
Competition is open until February 2021.
Details here.
Teacher Award - The Rolls-Royce Schools Prize for Science & Technology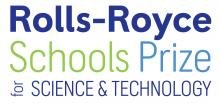 The Rolls-Royce Schools Prize for Science & Technology is an annual awards programme that helps teachers increase science, mathematics, and technology engagement in their schools and colleges. The awards programme is open to all schools and colleges in the UK.
Previously called the Rolls-Royce Science Prize, the award has been refreshed to encourage entries not only from science and maths, but also engineering, design and technology projects including 3D printing, robotics and coding, data science, artificial intelligence and electrification.
Entrants will submit an application outlining an idea for a sustainable science, mathematics or technology initiative, specific to your school and which you would deliver between September 2020 and June 2021.
Details here.
FIRST® LEGO® League during lockdown

The FIRST LEGO League Explore and FIRST LEGO League Discover programmes have both been adapted as home editions so that parents can deliver the programmes with their children at home.
We've also enabled over 150 schools that remain open for key worker children to deliver both programmes with free class packs and sets. Both of these initiatives have been very popular, so to support parents with home learning and schools running the programme we have created session video tutorials to follow along with during their session time.
Registration is now open for 2020-2021 FIRST® LEGO® League Challenge season.
Get your team together and think about the ways we can get people moving!
Rebrand
FIRST® and LEGO® Education have made the decision to rebrand FIRST® LEGO® League. The programmes will now be known as:
FIRST® LEGO® League Discover (4-6 year-olds)
FIRST® LEGO® League Explore (6-9 year-olds)
FIRST® LEGO® League Challenge (9-16-year-olds)
Details here.
The Linnean Society Special Species Competition – No age limit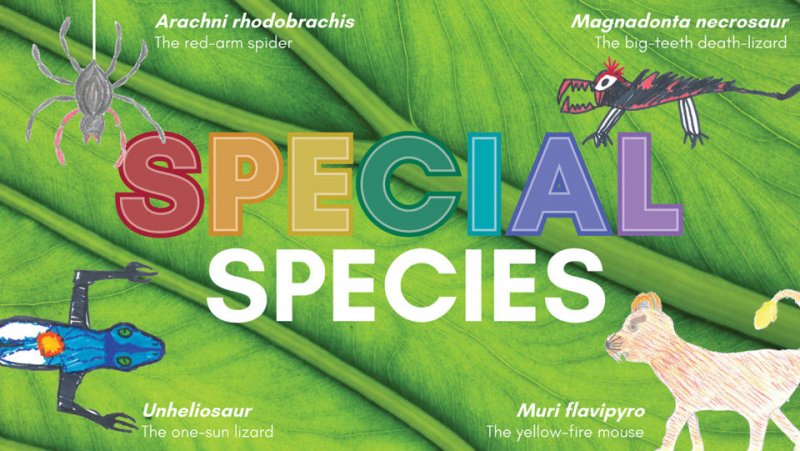 We are currently accepting entries from all age groups (even adults!)
To enter, create a new species and send the following to learning@linnean.org:
The first name, age (in years) and city of the person who created the special species

A picture of your special species

It's scientific and common name

A paragraph giving the reasons for its adaptations and a description of its habitat (aim for around 50 words)
We will be highlighting great works as we receive them.
Winners are awarded in April, July, September and December.
The Linnean Society have resources to help you chose your species.
Details here.