STEM Ambassador Newsletter
October 2016
This month's main article showcases the recent event at Swansea – where several thousand young people and families were drawn to the many STEM Lectures and workshops on offer.
Across Wales, the value of all STEM Ambassador engagements continues to be evidenced by the comments and feedback I regularly receive from individual teachers. Jayne Williams of Chepstow School, sent this email after the Chepstow Skills Day event: "We are extremely appreciative of your support in putting us in touch with the STEM Ambassadors and enabling us to put on a superb day for our students. They have inspired them to work hard and start thinking about where their A level subjects can take them."

A recent report found that after STEM Ambassador engagement 86% of pupils had a better understanding of STEM careers and 58% were inspired to take up STEM as a careers option.
STEM Ambassadors shine at Swansea British Science Festival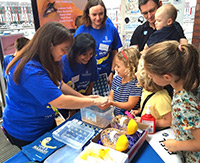 One of the major National Science Festivals was hosted by Swansea University and the National Waterfront Museum in September.
Lectures and workshops were presented and organised by a host of high profile Ambassadors, including Mark Lewney, Ian Mabbett, Rhys Phillips, Dr Paul Roche, Bruce Rogers and Liam Thomas of the Royal Society of Chemistry.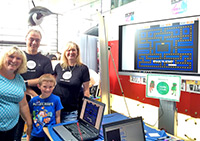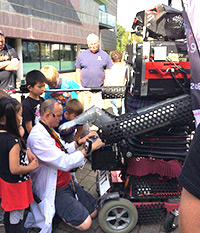 Over the weekend a total of 3,500 visitors attended the Family Weekend at the Waterfront Museum. The popularity of this event and the quality of the stands evidenced that we in Wales can raise STEM engagement to exemplary standards.
I visited on both days, and it was a pleasure to see the ingenuity of the demonstrations at the stands, the fun element and the engaging way that difficult concepts were explained to visitors.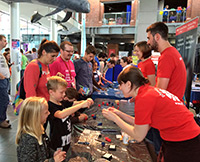 Thanks to the DVLA team for stepping up to the mark at the last hour – attending on both days with an imaginative display of coding and Diamond Dust led by STEM Ambassador Martin Thomson with his amazing 3 metre Robot Katt.
Photos: some of the many Ambassador 'Family Weekend team':
Dr Yamni Nigri: Love a Maggot display (with live maggots)
Karen Pitt and Mark Jones: Coding with the DVLA
Martin Thomson and Katt
Abi Ashton and the IOP stand
A Career in Engineering at Pembroke Power Station
STEM Ambassador Lewis Hall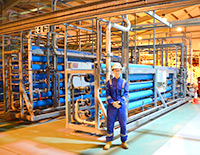 "Five years ago, just like the majority of AS-level students, I had absolutely no idea what I wanted to study at university. The sheer number of courses available made the very thought of applying to university a daunting process.
"The prospect of studying engineering hadn't even crossed my mind until the day I was given an application form for EESW's Headstart Cymru summer school at Swansea University. The course enabled AS-level students to spend three days at Swansea University and provided a taste of what studying engineering at university was all about.
"Like a growing number of engineering students, I applied for a MEng with a Year in Industry. The incorporation of an industrial placement year not only increases your employability upon graduation in a very competitive job market but also, again, allows you to find your niche within your chosen discipline.
"Following my third year at university I was fortunate enough to secure a Year in Industry placement with RWE Generation UK at Pembroke Power Station, the UK's largest and most efficient gas-fired power station.
"At Pembroke I have been able to apply my degree to a wide range of projects from water treatment to a superheated-steam optimisation project, which is predicted to save the company nearly £8 million over the next 10 years. I have had the opportunity to get stuck-in and broaden my horizons, working with a wide range of professionals from Chemists to Mechanical Engineers.
"The great thing about a career in engineering is that nobody has all the answers. During my time at Pembroke I have learnt how engineers from all parts of the engineering spectrum pool their knowledge and work together as a team to keep the lights on for the 3.5 million homes we supply.
"I would highly recommend a degree in engineering to anyone who is unsure about what to study at university. A degree in engineering opens the door to a wide range of careers and gives you the ability to work anywhere in the world – something, which I will definitely be making the most of in the future!"
Congratulations to STEM Ambassador Aamir Awan and his wife with a new baby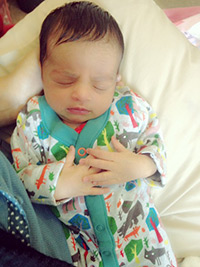 "We had a beautiful baby girl on 29 August and we named her 'Uswa Awan'. Uswa is an Arabic word that has 2 meanings: Light & Excellent Example"
Thanks for this lovely photo, I'm sure Aamir will be introducing her to science activities soon!
BAE Systems sponsors students for EESW Big Bang Competition with STEM Ambassador support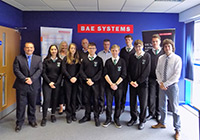 BAE Systems has sponsored 7 students from Ysgol Uwchradd Caergybi to enable them to take part in EESW (Engineering Education Scheme Wales) yearly competition with STEM Ambassadors at BAE Holyhead. The project links teams of Sixth Form students to develop STEM skills through industry linked practical projects. By working with professional engineers on real industry problems they will develop a better understanding of engineering as a career and realise the importance of pursing maths and science to level 3 to become the engineers of the future.
The students, accompanied by their Headteacher Mr Adam Williams and IT teacher Mr Steffan Taylor, visited the Station on 9 September to meet STEM Ambassadors Steve Evans and June Strydhurst. Steve and June took the students to BAE Systems at Warton to give them a tour of the Hawk and Typhoon facility. The students will now return to school to start work on their task with Steffan.
In December the students will finalise their project at University workshops. Along the way students will keep a portfolio of their work, which is then exhibited at Venue Cymru in April at 'The Big Bang'. Their work will be judged and the most successful school will be awarded a sum of £500. Thirty schools in North Wales were involved last year.
The main objectives are to show young people how exciting, challenging and rewarding engineering can be, and to inform them that there is currently a huge shortage of engineers in the UK and Wales. Further updates will follow as the students progress with the project.
Back to topInductions and DBS renewal sessions for STEM Ambassadors
The next series of inductions will take place on the following dates – to book a place contact ambassadors@see-science.co.uk. Newly Registered Ambassadors must attend an induction meeting and bring their ID documents with them. Approved Ambassadors are also welcome to attend.
Friday 21 October, 10am – 12pm. GE Aviation, Caerphilly CF15 7YJ
Wednesday 26 October, 11am – 1pm. University South Wales Treforest CF37 1DL
Thursday 27 October, 4-6pm. 8 St Andrews Crescent, Cardiff CF10 3DD
Tuesday 1 November, 3-5pm. Techniquest Glyndwr, Wrexham LL11 2AW
Wednesday 2 November, 2-4pm. School of Chemistry, Cardiff University CF10 3AT
Thursday 10 November, 3-5pm. Library Reading Room, School of Electrical Engineering, Dean St, Bangor University LL57 1UT
Thursday 10 November, 4-6pm. 8 St Andrews Crescent, Cardiff CF10 3DD
Friday 11 November, 12-2pm. Room 403, Vivian Tower, Swansea University SA2 8PP
Friday 11 November, 5pm. No Sign Bar, Wind Street, Swansea SA1 3EG
Thursday 1 December, 4-6pm. 8 St Andrews Crescent, Cardiff CF10 3DD
Wednesday 7 December, 2-4pm. 8 St Andrews Crescent, Cardiff CF10 3DD
Wednesday 14 December, 1pm. Room 403, Vivian Tower, Swansea University SA2 8PP
Friday 16 December, 11am – 1pm. 8 St Andrews Crescent, Cardiff CF10 3DD
Back to topCurrent schools requests for Ambassador support
To find out more about each request, follow the 'more information' link. This will take you to relevant detailed request on the current STEM Ambassador requests web page. If you are able to contribute, or would like to know more before deciding, please contact ambassadors@see-science.co.uk.
Back to topSTEM Ambassador resources and other opportunities
STEM Ambassadors may be interested in the following newly-posted opportunities and resources. Please note that the information is provided by the organisation, and that See Science is not the contact point for most of these listings. You can view current opportunities which have been posted previously on the other STEM Ambassador opportunities web page.
Little Big Awards 2017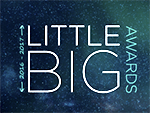 STEMNET/STEM Learning will be working with Cisco on the Little BIG Awards 2017.
STEM Ambassadors should be aware about this fabulous opportunity.. There's also a 'It's Really Rather Good' film you can link to!
The Little BIG Awards is a STEM-based IoT challenge run by Cisco and our partners. Young people aged 11-14 in schools across the UK are invited to design a product or service which connects things together to make a difference in their everyday lives. 

Last year over 250 schools registered from England, Scotland, Wales and Northern Ireland, resulting in participation from over 1,500 young people. As well as benefiting the young people directly, the programme also offers benefits to teachers and offers opportunities to STEM Ambassadors to act as mentors for the teams. Watch the video to learn more and register your interest here.
Part time, flexible work & volunteers needed – G2C Rhyl

Are you looking to make a difference in the community? G2C is looking for enthusiastic individuals who want to work with LEGO Innovation or Minecraft Education or help/support learners.
G2C will provide a range of training to help you develop and improve your skills. You will be trained to use LEGO and other resources including iPads; LEGO animation software; Minecraft Edu; Kerbal Edu; Scratch programming; Raspberry Pi and emerging educational hardware and software.
Interested? Complete the online form or email your curriculum vitae to info@g2gcommunities.org. Call Moira on 01745 33 44 82 for more information or to discuss G2C's fantastic employment opportunities.
Meet the team of locally employed staff who love what they do, you will find them professional, friendly and highly experienced.
Science and Technology resources
Ambassadors might also like to know of (or be reminded of) these useful resources and links: