Dear STEM Ambassadors
This first newsletter of the new academic year brings yet more evidence of the huge impact STEM Ambassadors are having in schools and in the community at large across Wales.
As always, can I urge STEM Ambassadors who may not already have done so to contact me to record any activities / events you have participated in over the last 12 months. Any of these can be included on your profile:
An event involving schools; community groups (Cubs etc); family events; festivals; work experience or company visits by groups
Any event organised by yourself or organisations such as Careers Wales which you may have attended.
Any pupil mentoring such as curriculum support or exam mentoring.
If you are not sure whether or not an activity or event applies to your STEM Ambassador role please contact me at ambassadors@see-science.co.uk. You can of course record activities yourself, but if it takes too long just send a brief email and we will do this for you.

There are many significant benefits of recording your activities: DBS and insurance cover; keeping your account live and active and of course evidencing the value and impact of the Programme in Wales.
In this newsletter
Chemistry Works wonders at the University of South Wales
Chemistry is truly a science with instant impact! This successful event focused on the diverse careers that a qualification in Chemistry can offer. Organised by Helen Obee Reardon of the University of South Wales and kindly supported by the Royal Society of Chemistry, the Chemistry at Work event for Year 9 pupils was made possible by the expertise of four STEM Ambassadors.
Dr Rachel Hopkins, Dr Steve Capper, Dr Mark Elliott and Liam Thomas each delivered 4 sessions at this event. Each Ambassador delivered interactive talks on their specialist field:
Rachel: Pharmaceutical Industry
Steve: Fluorescence in Life Science research
Mark: Chemicals – are they bad for you?
Liam: 3D Chemistry
The pupils responded enthusiastically to the sessions, which made Chemistry relevant to the real world of work. With so many competing influences it is valuable to show how a difficult concept can be made easy to understand using everyday links to something familiar. Shining a UV light into tonic water can be an illuminating demonstration of kitchen chemistry to adults and pupils alike.
Schools attending were: Tonypandy College; Mountain Ash; Lliswerry and Heolddu.
Lab in a Lorry draws the volunteers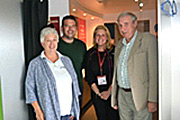 More than 150 people across Wales have volunteered to help out on Lab in a Lorry over the past year, among them STEM Ambassadors of all ages and specialisms. So what's the attraction of this travelling lab, run by the Institute of Physics? It seems we are drawn to the 'lightbulb' moment, when we see schoolchildren learning from doing experiments.
Among those helping in Pembrokeshire in September were: Malcolm Dubber, a safety consultant with a keen interest in chemistry; Nicola Jones, from Tata Steel; and Gill Perkins from the Bumblebee Conservation Trust.
Malcolm and Nicola agreed that the hands-on nature of the experiments had prompted them to volunteer, and Gill said: "it's great to see how keen the pupils are to take part".
Other volunteers have also remarked on the pupils obvious enjoyment: One described a child shouting 'Eureka' when she realised why sunsets are red. Another spoke of the 'Wow' moments when the pupils get really excited about what they've seen or done.
Helen Hughes See Science recruiter / supporter
STEM Ambassadors supporting Community Groups
Several STEM Ambassadors offer their time to support Community Groups such as Cubs, Brownies and Scouts amongst others. These groups can have the advantage of holding meetings after working hours, and with pupils who have volunteered to attend rather like STEM Clubs. Community group leaders are always grateful for their support. Here are two examples from very different age groups.
Beddau Cubs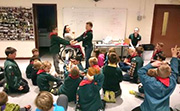 The lively and remarkable Allyson Capron visited Beddau Cubs for a Science Session on solids; liquids and gases. Cubs coordinator Sian Rowlands commented: "I have to say, she was excellent. She was very enthusiastic and the kids loved it. We all thoroughly enjoyed last night."
From these lovely photos you can see how Allyson made an impact, and the Cubs will surely achieve their Science Badge! STEM Ambassador Stuart Bishop is following up at Beddau with a session on Machines.
Sea Cadets fly for Gold and Silver wings with STEM Ambassador Carl Mason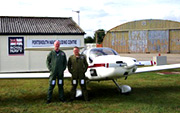 Senior Pilot Carl Mason had recently completed his flying training on a Falke 25C. He then had training on the Grob at Lee-On-Solent before the course, which ran in mid July.
Eleven cadets attended from all over the country and were selected for the course from the bronze wings ground school held at the Sea Cadet Training Centre in Weymouth and with 727 Training Squadron at RNAS Yeovilton in February. At the end of the week Carl had successfully assisted Cadets to 5 Gold and 6 Silver wing awards. Carl trains the cadets in Aviation Engineering and Pilot skills.
Cwm Idwal Field Trip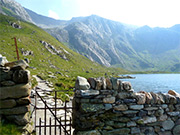 Every year Bangor University students visit Cwm Idwal to see and discuss the conservation importance of the lake as part of an undergraduate module on freshwater ecosystems.
Last year we decided to set a new science communication challenge for the students by asking them to write a blog on the experience. Christopher Stuart Forrest produced an outstanding article which we are delighted to be able to publish here. In addition this exercise was described by external course examiners as 'exemplar' giving students the chance to combine science and the arts. We look forward to bringing more students to walk in the footsteps of Charles Darwin at Cwm Idwal. A visit to this site in any weather can be an inspirational experience.
STEM Ambassador Catherine Duigan & Nathalie Fenner
Back to topInductions and DBS renewal sessions for STEM Ambassadors
The next series of inductions will take place on the following dates – to book a place contact ambassadors@see-science.co.uk. Newly Registered Ambassadors must attend an induction meeting and bring their ID documents with them. Approved Ambassadors are also welcome to attend.
7 October, 2pm. See Science Office, 59 Charles St, Cardiff CF10 2GD
20 October, 2pm. Dept Of Electrical Engineering, Bangor University LL57 1UT
23 October, 12pm. Room 122 Margam Building, Swansea University SA2 8PP
30 October, 11am. See Science Office, 59 Charles St Cardiff CF10 2GD
4 November, 1pm. Room 122 Margam Building, Swansea University SA2 8PP
5 November, 4pm. See Science Office, 59 Charles St, Cardiff CF10 2GD
27 November, 11am. See Science Office, 59 Charles St, Cardiff CF10 2GD
10 December, 4pm. See Science Office, 59 Charles St, Cardiff CF10 2GD
11 December, 12pm. Room 122 Margam, Building, Swansea University SA2 8PP
Back to topCurrent schools requests for Ambassador support
To find out more about each request, follow the 'more information' link. This will take you to relevant detailed request on the current STEM Ambassador requests web page. If you are able to contribute, or would like to know more before deciding, please contact ambassadors@see-science.co.uk.
Back to topSTEM Ambassador resources and other opportunities
STEM Ambassadors may be interested in the following newly-posted opportunities and resources. Please note that the information is provided by the organisation, and that See Science is not the contact point for most of these listings. You can view current opportunities which have been posted previously on the other STEM Ambassador opportunities web page.
Engineering Team Challenge (ETC) November 2015
STEM Ambassadors with links to local schools may wish to promote this opportunity – or if you would like to assist at one of the events please let me know and I will put you in contact with Gillian Steele.
The ICE Engineering Team Challenge South Wales is an event held to inspire Year 9 pupils who are interested in Science, Technology, Engineering or Maths to consider a career in engineering at professional level. It will take place between Monday 2 and Friday 6 November 2015, coinciding with Tomorrow's Engineers Week, at venues located near Cardiff, Swansea and Carmarthen.
Up to 16 Year 9 Pupils may attend a Coastal ETC day at one of the venues. The event is FREE and places are limited.
The pupils will have a chance to experience coastal physical modelling on a small scale, learn about the different forms of engineering and the opportunities available within the Engineering Industry. Additionally, the challenge will test their budgeting skills, team work and time management.
To register interest from your school please contact Gillian Steele on 02920 777373 or at Gillian.Steele@opusinternational.co.uk.
Royal Society Partnership Grants
The next round of Royal Society Partnership Grants opens on November 15 and there will be another round in June/July. The scheme offers up to £3,000 to fund school STEM projects for pupils aged 5–18. Projects need to be investigative and supported by teachers and STEM professionals (research or industry) working in partnership. They should:
Deliver a better understanding of the latest developments in STEM
Improve perceptions of those working in STEM professions
Give students pride and ownership in STEM from participation in the investigative process.
More information here.
Wales Gene Park / Jurassic World
As part of the Into Film film festival Wales Gene Park will be showing Jurassic World in lecture theatre 1, University Hospital Wales on Friday 6 November. The screening will be followed by an interactive session with Dr Rhys Jones, from the School of Biosciences (who presents Rhys Jones's Wildlife Patrol and Rhys to the Rescue on BBC One, amongst other wildlife programmes). It is primarily aimed at pupils in years 8 and 9 ( if teachers would like to bring a group from a different year group they can contact non.stevens@intofilm.org to discuss further – but remember the film is certificate 12). More information here.
Cardiff University 'Science In Health' work experience
If you know of a pupil keen to apply for work experience at the School of Medicine Cardiff University, please contact Sian Ashton at ambassadors@see-science.co.uk for an application form.
Life Sciences Challenge 2016
Cardiff School of Medicine PhD students and early career researchers want to share this enthusiasm for trying to understand the natural world with pupils in Wales, through the 'Life Sciences Challenge', an inter-school competition for Yr 10 pupils. More information here or contact Karen Edwards, Project Support Officer, Cardiff University School of Medicine edwardske4@cf.ac.uk.
IOP Awards nominations
The IOP is seeking nominations for the 2016 awards and we need your help to identify the most outstanding physicists in their respective fields of physics. Our awards recognise and reward outstanding achievements in industry, business and research as well as contributions made to outreach and education.
Nominations are now open – closing date 29 January 2016. More information and how to make a nominatation here.