Dear Ambassadors
A challenge for teachers at OCD, Pencoed
In this newsletter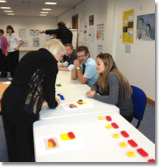 A fantastic networking event was held on Wednesday 26 September at Ortho Clinical Diagnostics site, Pencoed, Bridgend.
Most people might know this company better by the parent name, Johnson & Johnson, and the manufacturing division of commercial products such as baby shampoo and Listerine. OCD, however, are manufacturers of clinical tests for hospitals and research facilities, and – most fortunately for us in Wales – now have 30 Ambassadors active in our Programme.

The enterprising minds at OCD decided to formulate a workshop activity for their Ambassadors to deliver at local schools which would take the ethos of a business game – packed with energy, challenges, real life application and fun!
To test the 'market' for their product – namely the schools – OCD Ambassadors showcased a prototype of this Activity to invited teachers at their site.
In addition to giving the teachers an opportunity to meet the Ambassadors in the impressive venue, the teachers (and STEMNET representatives!) were the willing participants in the Activity and were mentored through this by OCD Ambassadors.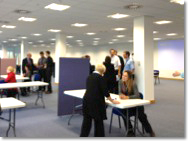 Challenge is the operative word! The game seems straightforward: assemble a 'mock diagnostic kit' from Sticklebricks, to deliver to a client order. The client tests the kit for quality, accuracy and on time delivery.
Participants are allocated assemble roles and are given five minutes timed to deliver the correct order which invariably was rejected as 'Failed Products'! Each team is given a few minutes to review their process in consultation with their 'Manager' and the game begins again until the teams achieve business success and marketable products.
Teachers attended from: Archbishop McGrath; Brynteg; Bryntirion; Cowbridge; Maesteg; Porthcawl; Pencoed. The event was warmly received with teachers asking to book the OCD Sticklebricks game as soon as they could.
As with all our other employers, this is surely a testament to the enthusiasm and ingenuity that is invested in Wales for the enormous benefit of school students.
Our thanks to OCD, and their engaging hospitality.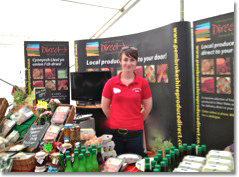 At Narberth Food Festival on the weekend of 22/23 September I met up with Ambassador Emily Davies, a keen supporter of the organic farming principles. Emily is Marketing & PR Manager for Capestone Organic Poultry Ltd, who are based in the Pembrokeshire Coast National Park and supply Marks & Spencer with organic free-range chicken and chicken products.
Before the inevitable 'Turkey Run' at Christmas, Emily finds time to support Pembrokeshire Direct Produce, a not-for-profit co-operative of over 60 West Wales food producers, and is pictured with a 'Harvest Festival' of their superb produce. Emily is currently planning a series of nature trails and activities for school pupils in Pembrokeshire – and certainly illustrates a wide range of skills, enthusiasm and diversity in the programme.
Primary schools in Pembrokeshire are encouraged to make contact with Capestone to take advantage of this opportunity. For more information contact Emily on 01437 781247 or at info@capestoneorganic.co.uk.

Send us your feedback
Do feedback on any event you have attended (whatever your experience may be) online here.
Ambassador induction meetings
The next series of inductions will take place on the following dates – to book a place contact ambassadors@see-science.co.uk. Newly-registered Ambassadors must attend an induction meeting and bring their ID documents with them. Approved Ambassadors are also welcome to attend.
11 October, 4pm. See Science Offices Charles St Cardiff CF10 2GD
17 October, 2pm. Christ College Brecon Powys LD3 8AF UK
23 October, 1pm. School of Biosciences Cardiff University Park Place, Cardiff CF10 3AT
25 October, 4pm. See Science Offices Charles St Cardiff CF10 2GD
30 October, 1pm. Caerleon Campus University of Newport
31 October, 2pm. See Science Offices Charles St Cardiff CF10 2GD
14 November, 2pm. See Science Offices Charles St Cardiff CF10 2GD
29 November, 4pm. See Science Offices Charles St Cardiff CF10 2GD
December date, tbc. Bangor
12 December, 2pm. See Science Offices Charles St Cardiff CF10 2GD
20 December, 4pm. See Science Offices Charles St Cardiff CF10 2GD
Current schools requests for Ambassador support
For find out more about each request, follow the 'more information' link. This will take you to the relevant section on the Current STEM Ambassador requests web page. If you are able to contribute to any of the following requests, or would like more details about them before deciding, please contact ambassadors@see-science.co.uk.
Other Ambassador opportunities
For more information on each of these other opportunities, follow the link. This will take you to the relevant section on the Other STEM Ambassador opportunities web page.
ASE Conference: Numeracy – underpinning Science and Learning. National Museum of Wales Cardiff. 6 October 2012, 10am-3pm. Explore exciting and innovative ways of presenting numeracy and ICT in the context of real world situations. Get hands-on experience, develop confidence in teaching maths and ICT, and take away plenty of ideas for your lessons.
11th Annual Welsh Physics Teachers Conference. Christ College, Brecon. Wednesday 17 October 2012, 9.15am-4.00pm. This free conference is open to all who teach and contribute to the teaching of physics.