Dear Ambassadors
It is a testimony to your efforts that there is an exponential increase in STEM Ambassador engagements across Wales. In a very challenging climate for STEM businesses, every engagement activity is of great value – and the time taken from your work and studies to raise the profile of STEM is very much appreciated.
Bearing this in mind, please make sure that we know about all your STEM activities, whether they originate from STEMNET or through your own contacts.
In this newsletter
There are larger versions of some photos in this newsletter - click the small photo to view.
Remember that it only takes one activity

each year to maintain your STEM Ambassador profile, and the profile of STEMNET in Wales!
On the Road: Mark Smith travels to Stanwell School Penarth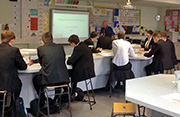 Mark Smith is a STEM Ambassador whose visits to schools across Wales over the last two years have been covered nearly 1,000 miles!
Mark travels from his home in Milford Haven to primary and secondary schools, as well as to community groups, delivering marvellous presentations on physics, nuclear physics, energy provision and astronomy.
In September, teacher Jo Gait of Stanwell School requested a presentation for her year 12 A-level pupils on two important curriculum topics, Fossil Fuels and Energy provision in the UK. In a two-hour presentation, which I was privileged to attend, Mark not only covered the topics exceptionally well, but also provided revision notes for the pupils.
Jo said, "This was over and above my expectations. The presentation was excellent, not only explaining about the organisations, but also how a power station works and the statistical analysis of the process, two of the other parts of work the pupils need to do."
Primary Science Engagement Project
STEMNET is working with primary schools by helping young people and their teachers make links with STEM professionals in their area. Read more in this pdf download.
At a recent visit to oly Name primary school in Fishguard, Mark's subject was 'Forces'. As a result of his presentation, Holy Name is now a firm supporter of the impact of STEM Ambassador visits and has returned for many subsequent requests.
STEM and Bloodhound SSC Experience comes to Newport High School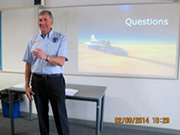 STEM and Bloodhound SSC Ambassador Allan Reid recently visited Newport High School in South Wales in support of the school's 6th Form induction week activities. Allan was invited to the school by STEMNET contract holder See Science to provide a 'Team Building' experience for some students about to embark on their 6th Form career. The aim of the sessions is for the students to get to know each other and to work in five teams on a predetermined common objective.

Allan's 15-minute presentation started each session. He identified the need for the UK to get more students to select a career in one of the STEM disciplines (Science, Technology, Engineering and Mathematics). He the discussed the history of the World Land Speed Record and background to the Bloodhound SSC project. He explained how the design, build and structure of the vehicle all link to the Bloodhound SSC Project team's aspiration to achieve a new World Land Speed Record of more than 1,000 mph in 2016.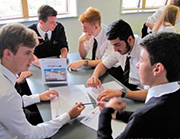 Students were tasked with designing a base camp/village to accommodate the team, the car and equipment during the world record attempt. The camp will be located on the edge of a designated track in the Hakskeen Pan in South Africa's Northern Cape province, 154 miles from the nearest town of Upington on the edge of the Kalaharl desert. The task was twofold. First, all the groups had to design the layout of the base camp/village, considering all the environmental, accommodation and support requirements to sustain the team while on location. In the second part of the task each of the five groups considered a different aspect of the project. They considered Shelter, Transport, Power, Communications, and Food and Water – against a backdrop of zero to forty degree temperature range, wind, dust and the very remote location.
The teams were allowed 25 minutes to perform the entire task. When they had finished, each group nominated a spokesperson to describe their proposed camp/village layout and their findings on their specific team focus in a two-minute presentation.
All 120 students set about performing and completing their team building experience enthusiastically and constructively by exploring the many facets of this huge real life logistical operation. Rhian Woodley, Head of 6th Form, said that the event was "…a resounding success which enabled the students to begin their 6th Form career on a very positive note".
Back to topSTEM Skills for Success: Engineering and the German Language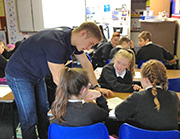 STEM and Bloodhound Ambassador David Naumann visited Pentrehafod School in Swansea on November 10. This was the first of three presentations planned at the school. At this session, David talked about how acquiring a combination of both STEM skills and Foreign Languages skills can greatly enhance employment opportunities.
David cited the international collaboration of scientists and engineers in the ESA Rosetta project and the Bloodhound SSC project as examples of this combination in action. His presentation helped open the minds of the young pupils to such opportunities, both near to home and further afield.
Year 7 pupils then took part in a science quiz followed by a team building challenge where part of the problem had to be answered using the German language. Teacher Kelly Gipson has planned two more sessions for Year 9 where the focus will be an engineering challenge. The session also includes profiling diverse job opportunities and degree courses related to STEM subjects across Wales.
Back to topRecording your STEM Activities
Keeping records of the activities and events that STEM Ambassadors have undertaken is a very important way of keeping track of the support being provided across Wales.
We ask STEM Ambassadors to keep STEMNET informed about all activities they have undertaken, either by email to sian.ashton@see-science.co.uk or by inputting the information on the STEMNET portal using your STEM Ambassador login and password. There are full details of the process to follow on the See Science website.
To remain on the register, STEM Ambassadors are required to undertake at least one activity a year, so to avoid being deleted please make sure you upload this information!
Back to topInductions and DBS renewal sessions for STEM Ambassadors
Twitter followers
If you are a Twitter user, do 'follow' See Science – we would be pleased to have more in the flock!
The next series of inductions will take place on the following dates – to book a place contact ambassadors@see-science.co.uk. Newly Registered Ambassadors must attend an induction meeting and bring their ID documents with them. Approved Ambassadors are also welcome to attend.
20 November, 1pm. Room 112 Margam Building, Swansea University SA2 8PP
21 November, 11am. See Science Office, 59 Charles St Cardiff CF10 2GD
24 November, 10.30am – 2pm. (DBS renewal checks and Induction by appt) The Training Centre, Tata Stee,l Port Talbot
26 November, 1pm. Training Laboratory, Department of Physics, Aberystwyth University SY23 3BZ
4 December, 4pm. See Science Office, 59 Charles St Cardiff CF10 2GD
4 December, 1.15pm. Waterloo Tea Room,s 1-3 Washington Buildings, Stanwell Road, Penarth CF64 2AD
10 December, 2pm. See Science Office, 59 Charles St Cardiff CF10 2GD
15 December, 2pm. See Science Office, 59 Charles St Cardiff CF10 2GD
16 December, 12pm. Room tbc Swansea University SA2 8PP
Other dates can be arranged if none of the above are suitable – contact ambassadors@see-science.co.uk.
Back to topCurrent schools requests for Ambassador support
Can you help?
If you are able to contribute to any of the following requests, or would like more details about them before deciding, please contact ambassadors@see-science.co.uk.
To find out more about each request, follow the 'more information' link. This will take you to the current STEM Ambassador requests web page.
Back to topSTEM Ambassador resources and other opportunities
STEM Ambassadors may be interested in the following newly-posted opportunities and resources. Please note that the information is provided by the organisation, and that See Science is not the contact point for most of these listings. You can view the full version of these new postings plus current opportunities which have been posted previously on the other STEM Ambassador opportunities web page.
Tomorrow's Engineers
STEMNET is currently working with Engineering UK, the Royal Academy of Engineering and the Professional Engineering Institutions to support the delivery of a Tomorrow's Engineers Expansion pilot project across the UK. This project is a national programme that offers additional regional-level support to engineering businesses engaging with schools. More information…
The Raspberry Pi Foundation
Offers resources, teacher CPD, outreach grants – and free devices for schools who may be finding it hard to fund Pi projects and clubs. More information…
Royal Society of Chemistry outreach fund now open
The next round of the Royal Society of Chemistry Outreach Fund is now open for applications. Through the fund, the RSC aim to encourage and support the development of projects that raise awareness of chemistry in people's everyday lives, and/or develop the science communication skills of those who are already highly trained in chemistry. More information…
Funding opportunities
A number of funding opportunities are currently available:
The STEM Directories Grants Scheme. Apply for up to £500 towards a mathematical activity in your school, listed in the online STEM Directories, by 24 November.
The Bowland Trust is offering small grants of up to £1000, with the aim of stimulating activities that extend the use and understanding of Bowland maths and materials. Bids should be made by 30 November.
The Institute of Mathematics and its Applications (IMA)is offering Mathematics Teacher Training Scholarships of £25 000. There are six application rounds in the academic year 2014/15 – and the current round closes on 1 December.