Dear Ambassadors
As the Autumn Term gets under way STEM Ambassadors in Wales are busier than ever. In this newsletter we look at the continuing popularity of STEM foreign language workshops, say a big 'diolch' to Lisa Morgan as she hands over the Ambassador baton at Magnox Sites – and find out how a Powys STEM Ambassador is helping to safeguard the future of the planet!
Looking for an opportunity to get involved? Then check out the many requests from schools for Ambassador support, or details of the possible opportunities for Ambassadors that other organisations have passed on to us.

If you are a new STEM Ambassador, or an existing Ambassador wanting to refresh your practice, we also have details of all forthcoming induction meetings.
STEMNET says 'Thank You' and 'Diolch' to STEM Ambassador Lisa Morgan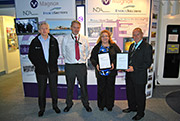 If you have not worked at an industrial site, the challenges of communication and coordination in such workplaces may not be obvious. Smooth and efficient communication relies on robust systems; clear and transparent dialogue with diverse departments and an ability to motivate people to work cooperatively.
Over the last years we have been very fortunate and grateful to Lisa Morgan at Magnox Sites, who has been the key contact and facilitator of the STEM Ambassadors and Educational Outreach Programme. For any manufacturing site the priority has to be production and safe working, Lisa has had to balance carefully the support that Ambassadors offer to schools with the requirements of her Employer Magnox Ltd. Without such support we would have no STEMnet Programme to offer, and like many in similar roles at STEM workplaces, we are eternally grateful for Lisa's dedication and enthusiasm.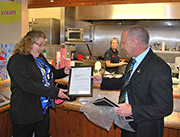 When Lisa informed us that her role at Magnox was changing and the co-ordination of their Ambassadors was no longer her remit, we decided to make a special request to STEMNET London HQ and commission a certificate of commendation and thanks. They were more than happy to provide this for Lisa – a Welsh version was also prepared.
On 4 October, Keith Jones, our See Science representative in North Wales, paid a surprise visit to Wylfa where the capable Tracy Gaskell had arranged a meeting for Lisa with her manager.
The Torch now passes to Tracy Gaskell at Wylfa, I am pleased that again we have continuity of a really good working relationship!
Photo 1: Andrew Taylor – Head of Project Delivery, Wylfa; Steph Fell – Power & Safety Programme Manager, Wylfa; Lisa Morgan – Administrative Assistant, Power & Safety Dept. Wylfa; Keith Jones – See Science.
Photo 2: Lisa Morgan; Keith Jones.
Viva Española at Tonypandy
Send us your feedback
STEMNET values all feedback. This contributes to the evidence for their remit as laid down by the UK Government. We also want our region to be well represented in this.
Ambassadors are encouraged to pass feedback to STEMNET on this link (takes only 5 minutes).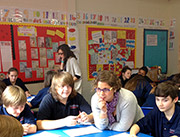 STEM foreign language workshops continue to be in high demand. Teachers are now asking more often for Ambassadors with foreign language skills to visit their school, and the range of languages requested is also increasing.
At Tonypandy Community College, the pupils are studying Spanish. So the request was for Spanish speaking Ambassadors to possibly deliver a session that also addressed STEM challenges.
Step forward Dr Anabel Morte-Rodenas and Dr Paola Moffa Sanchez! Anabel and Paola designed and delivered a bespoke workshop, which certainly engaged and enlightened the Year 9 audience and teachers.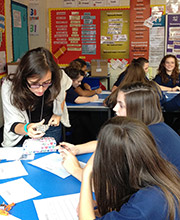 The session started with an overview of Barcelona and Valencia, Anabel and Paola's home cities. References to football players and teams being obligatory! Following this, the pupils worked in teams on a Geology Challenge. Each team had to identify a set of rock and mineral samples, translating the descriptions of the samples into Spanish. The session concluded with a discussion of the Rock Cycle and the geological composition of each sample.
I attended the workshop myself; it was really impressive. The pupils engaged for the entire workshop and teachers extremely appreciative – STEM and Language teachers discussing the obvious merits of widening skills amongst their pupils. It is good to witness cross – department support for these events. A huge 'thank you' to Anabel and Paola, their first Ambassador visit to a school, and a very successful impact.
CiLT Cymru is compiling an evaluation on the follow up feedback.
Photo 1: Anabel Morte Rodenas at Tonypandy; Photo 2: Paola Moffa Sanchez at Tonypandy.
A STEM Ambassador appearance in the Metro causes an impact – asteroid watch in Mid Wales!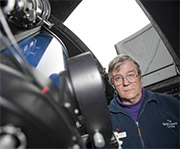 Twitter followers
If you are a Twitter user, do 'follow' See Science – we would be pleased to have more in the flock!
STEM Ambassador Jay Tate, of The Spaceguard Centre Knighton, appeared in the commuters' favourite news read The Metro on November 4.
He is the UK's only official asteroid lookout since the National Space Centre closed its information centre when the UK Space Agency cut its funding. He has a direct line to bosses at Nasa, and is currently tracking several asteroids that may come close to Earth. He has even had a mention on Have I got News for You!
Read the full article here.
Back to topAmbassador induction meetings
The next series of inductions will take place on the following dates – to book a place contact ambassadors@see-science.co.uk. Newly-registered Ambassadors must attend an induction meeting and bring their ID documents with them. Approved Ambassadors are also welcome to attend.
13 November, 2pm. See Science Office, 59 Charles Street, Cardiff CF10 2GD
13 November, 1pm. Aberystwyth University Department of Physics, SY23 3FL
21 November, 4pm. See Science Office, 59 Charles Street, Cardiff CF10 2GD
25 November, 11am. Food Standards Agency Wood Street Cardiff CF10 1EW
27 November, 2pm. Wallace Building, Swansea University, SA2 8PP
Carmarthen – December date & location TBC
5 December, 4pm. See Science Office, 59 Charles Street, Cardiff CF10 2GD
9 December, 1pm. RAF Valley Anglesey LL65 3NX
11 December, 2pm. See Science Office, 59 Charles Street, Cardiff CF10 2GD
18 December, 2pm. See Science Office, 59 Charles Street, Cardiff CF10 2GD
Back to topCurrent schools requests for Ambassador support
Can you help?
If you are able to contribute to any of the following requests, or would like more details about them before deciding, please contact ambassadors@see-science.co.uk.
To find out more about each request, follow the 'more information' link. This will take you to the relevant section on the current STEM Ambassador requests web page
Back to top Ambassador opportunities – other organisations
STEM Ambassadors may be interested in the following opportunities. Please note that the information below is provided by the organisation, and that See Science is not the contact point for any of these opportunities. For more information, follow the link, which will take you to the other STEM Ambassador opportunities web page.