STEM Ambassador Newsletter
May 2016
STEM Ambassadors can rightly state that they make a real difference; a study is in progress evaluating statistical data and importantly effective response to STEM Ambassador engagement. More information will be available in the near future. This unique programme has produced responses from teachers and pupils which underpin this study.

But the main article this month shows how using STEM qualifications can open the door to a global experience and offer great opportunities. Hannah Harries takes time to write to fellow STEM Ambassadors in Wales about a wonderful STEM and cultural experience.
In this newsletter
From Pembrokeshire to the Seychelles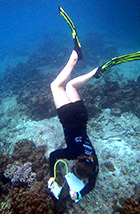 "I love to travel, and the opportunity to experience living in a new country and community, immersed in a totally different culture is very exciting! I'm from a small town in Wales where community has always played a big part, so I'm really enjoying being part of a new community, and have made many friends from all over the world. Life in Seychelles is great – what's not to like about picture postcard beaches with crystal clear water that is so full of marine life!? There is so much to learn about the rich biodiversity found within our little bay – I have been fascinated by what I've already learnt, and can't wait to see what more the year has in store for us here in Petite Anse!

"We are based at Four Seasons Resort Seychelles, offering guests guided snorkels and are on hand to answer any marine related queries! We engage with the children in the resort and in the local community, working with schools around the island to raise awareness of the marine life in Seychelles and inspire an interest in the marine environment. Engaging the next generation is one of our priorities and cannot be underestimated! We also have a Reef Restoration Project where we are hoping to re-establish the health of the reef here in Petite Anse.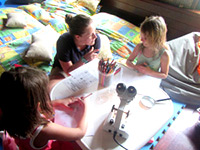 "I was so excited to recently be appointed as a Marine Educator for WiseOceans, based in Seychelles. Having spent the last three years monitoring cetaceans in the Irish Sea and raising awareness of marine life around the Welsh coast, working on a coral reef on a tropical island is certainly a new adventure! It is a pleasure to be able to spend every day on the beach chatting to interested people and sharing my passion in marine life. Since I was a child I always dreamed that my future career would involve spending my days in the water, now the hard work and persistence has paid off and I get to dive into the crystal clear warm waters of Seychelles every morning! Every day I am surrounded by beautiful fish living on a teaming reef full of life; whether we are taking excited guests out for a guided snorkel, surveying the reef's health or releasing turtle hatchlings! Every day is different and we're certainly kept on our toes with unpredictable weather conditions, mysterious items washing up on the beach, unfamiliar species to identify and tricky questions from clever kids! That's what makes it so exciting though. I'm so lucky that I can actually call this little spot of paradise my office!"
Harriet's recent events have included an International School Seychelles A level student visit to learn about the threats to the reef and a talk to pupils from Baie Lazare Primary School about marine life.
You can read Harriet's blog here. WiseOceans is a specialist marine education and conservation company, striving to spread awareness for our wonderful yet fragile oceans and the fantastic creatures that live within them. They are a leading resource for marine conservation jobs, advice, news, events, marine education, information and recruiting marine educators.
Charlotte Orba of Wise Oceans and STEM Ambassador Hannah Harries
Back to topInterschool Geology Competition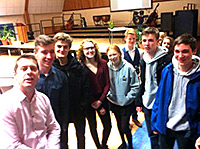 The Wales Heat for the National Schools Geology Challenge is sponsored by WJEC, SRK exploration, BGS, National Museum Wales and of course the Geological Society with BBC presenter Prof Iain Stewart as a judge.
Teams of Year 12 or 13 / A level science, geography and geology students produce a themed poster, and develop a 5 minute presentation on their chosen (geology related) topic to a panel of leading geologists from academia and industry.
The competing groups in the final were from: Whitchurch High, Coleg Sir Gar and Barry Comprehensive. Whitchurch High were the winners who went on to compete in the National Finals at Burlington House in London.
This excellent event was chaired by STEM Ambassador Gareth Farr, Hydrogeologist with the British Geological Survey, Technical Officer with the Environment Agency and also Chair of the South Wales Geological Society.
South Wales Geological Society @SWalesGeolSoc and Gareth Farr
Keeping it Equal at the Celtic Manor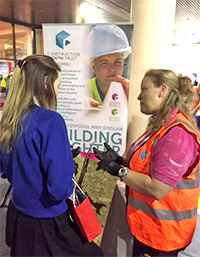 More than 600 Year 8 and 9 girls attended exciting event for female pupils at the Celtic Manor, Newport. The day offered a wide variety of engagements, starting with inspiring talks which included an excellent delivery by STEM Ambassador Jessica Leigh Jones. Many employers and organisations held activities, engaging demonstrations which illustrated STEM as a career opportunity with very few gender-specific roles.
I attended the Role Model Speed Networking event, where nine STEM Ambassador women met over 300 pupils during a 1 hour speed networking event. This was some test of durability and energy! Each Role Model rotated to various pupil groups, showing taster profiles of their work via iPad videos, charts, photo shoots and some great ideas to explain the accessibility and enjoyment of their STEM work to the girls.
The female role models included: Lilli Craemer; Debbie Crockard; Dr Liz Grose; Dr Delyth Harris; Nicole Hubert; Lily Joyce; Rachel Taylor; Veronica Thomas and Angharad Vaughan. You can view photos of the event here.
Bangor Festival of Science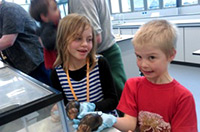 STEM Ambassador Ellie Mansour, a research scientist in Biocomposites, took part in this highly successful event. Here is Ellie's blueprint for effective engagement at a science stand: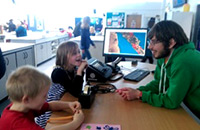 "We talked to a varied audience about different types of wood, how much is produced in the UK, their uses and properties such as tensile strength. We also had equipment from PPM showing the monitoring of indoor air quality, with graphs of concentrations of CO, CO2¸ NO2, total volatile organic compounds, dust, etc. We showed how putting a piece of wool insulation causes the total volatile organic compounds concentrations to drop down when everything is sealed in a container"
Back to topInductions and DBS renewal sessions for STEM Ambassadors
The next series of inductions will take place on the following dates – to book a place contact ambassadors@see-science.co.uk. Newly Registered Ambassadors must attend an induction meeting and bring their ID documents with them. Approved Ambassadors are also welcome to attend.
Friday 13 May, 4pm – 6pm. See Science 8 St Andrews Crescent Cardiff CF10 3DD
Tuesday 17 May, 4pm – 6pm. Library Reading Room School of Electronic Engineering and Computer Science, Dean St, Bangor University LL57 1UT
Wednesday 18 May, 1pm – 3pm. Pembroke Power Station SA71 5SS
Friday 20 May, 12pm – 2pm. Room 121 Margam Building, Swansea University (Singleton Campus) SA2 8PP
Wednesday 25 May, 2pm – 4pm. See Science, 8 St Andrews Crescent, Cardiff CF10 3DD
Thursday 26 May, 3.30pm – 5.30pm. Techniquest Glyndwr, Mold Rd, Wrexham LL11 2AW
Friday 3 June, 11am – 1pm. See Science, 8 St Andrews Crescent, Cardiff CF10 3DD
Wednesday 8 June, 1pm – 4pm. Queens Building, The Parade, Cardiff University CF24 3AA
Friday 10 June, 12pm – 2pm. Room 121 Margam Building, Swansea University Singleton Campus SA2 8PP
Wednesday 22 June, 2pm – 4pm. See Science, 8 St Andrews Crescent, Cardiff CF10 3DD
Thursday 30 June, 4pm – 6pm. See Science, 8 St Andrews, Crescent Cardiff CF10 3DD
Friday 8 July, 11am – 1pm. See Science, 8 St Andrews Crescent, Cardiff CF10 3DD
Wednesday 13 July, 2pm – 4pm. See Science, 8 St Andrews Crescent, Cardiff CF10 3DD
Friday 22 July, 11am – 1pm. See Science, 8 St Andrews Crescent, Cardiff CF10 3DD
Wednesday 27 July, 1pm – 3pm. Room 121, Margam Building, Swansea University Singleton Campus SA2 8PP
Back to topCurrent schools requests for Ambassador support
To find out more about each request, follow the 'more information' link. This will take you to relevant detailed request on the current STEM Ambassador requests web page. If you are able to contribute, or would like to know more before deciding, please contact ambassadors@see-science.co.uk.
Back to topSTEM Ambassador resources and other opportunities
STEM Ambassadors may be interested in the following newly-posted opportunities and resources. Please note that the information is provided by the organisation, and that See Science is not the contact point for most of these listings. You can view current opportunities which have been posted previously on the other STEM Ambassador opportunities web page.
People Like Me Training

People Like Me Training provides STEM Ambassadors with an overview of the issue of unconscious bias and how it can lead to girls deciding that STEM is 'not for them'. It also provides ideas for STEM Ambassadors on how to deliver engaging People Like Me activities in schools with girls aged 11-14.
There are more details about the programme being offered by See Science in this pdf download.
You can sign up for People Like Me training at the following venues. To book please use the eventbrite link or contact ambassadors@see-science.co.uk.
Science Communication Unit bursaries
The Science Communication Unit is currently offering two part-bursaries from September 2016 for students planning to study an MSc Science Communication or PgCert in Practical Science Communication at UWE, Bristol. September 2016 also marks the start of a series of exciting new modules, designed for those students who are interested to explore science centres, museums, the arts, digital approaches to science communication and more. For more information please contact Programme Leader Clare.Wilkinson@uwe.ac.uk or +44 (0)117 328 2146.
National Women in Engineering Day
National Women in Engineering Day on 23 June is your chance to support, inspire, celebrate and raise the profile of your amazing female engineers. It is also your opportunity to draw attention to the amazing careers in engineering for girls and young people. The 2016 Resource Pack is available to download here, or you receive hard copies by post – contact nwed@wes.org.uk. We hope to have a big social media presence again through hashtag #NWED2016. The subtheme for the day is Raising Profiles and the event will be accompanied by the publication of a list of 50 Influential Women in Engineering, coordinated by The Daily Telegraph. Join our mailing list to be kept informed of what's going on, and don't forget to start planning your own celebrations. And do keep us informed. #NWED2016 coordinated by the Women's Engineering Society – www.nwed.org.uk
Institute of Physics Awards
The Institute of Physics presents a number of awards each year. As well as teacher awards, these also include awards for innovative companies using physics in the UK. The IoP is keen to get nominations from Welsh companies in this category and wants to hear from any businesses or entrepreneurs in Wales who could qualify. Nomination papers can be downloaded here. For more information please contact David Cunnah, National Officer for Wales at david.cunnah@iop.org or on 07919 035752.
Top 50 Women in Engineering List
The Top 50 Women in Engineering List (WE50) is open to all women in Britain who work in the engineering sector. It is run by the Women's Engineering Society (WES) in partnership with key employers and associated organisations.
In the UK, engineering has an image problem. In Europe's league table of women participating in engineering, Britain comes rock bottom. Just 9 percent of our engineers are women, and while much is being done to address this imbalance there is much more to do. Projections suggest that the UK will be short of thousands of qualified engineers in the next decade. Without harnessing the talents available from both genders, there is little hope of filling all of the roles that are needed by industry.
Anyone can nominate women working in engineering at any level, no matter what their experience; that could be a friend, a colleague or yourself. Make your nomination here by midnight on Monday 23 May.
Tomorrow's Engineers EEP Robotics Challenge 2016/2017
STEM Ambassadors – this is a great opportunity to promote or support with your local school contacts.
Applications are open for secondary schools to take on a robotics challenge that will see KS3 student teams involved in 'space missions'. Teamwork, robots, design, research, fun and loads of LEGO® are all part of the mix, as are real-world challenges, teacher support and some great prizes. Schools apply with a written application of no more than 500 words on why they should be selected (closing date 4 July 2016 for schools in England and Wales and 6 June for schools in Northern Ireland). Selected schools get LEGO® MINDSTORMS® Education EV3 resources, regional teacher training, online support and tutorials and input form STEM Ambassadors and volunteers. Schools can register an interest here. Applications close for schools in England and Wales on Monday 4 July 2016. More details on the other STEM Ambassador opportunities web page.
Mathcamps have some great links which may be of interest if you are seeking activity ideas.
19 Fun STEM Activities to Bring Out the Inner Mathematician in Every Student
Illness Prevention: The K-12 Cleanliness and Hygiene Lesson Plan Collection
12 Easy Ways to Use Technology in Your Classroom, Even for Technophobic Teachers
How to Utilize Video Conferencing in the Classroom
10 Outdoor Math Activities for Elementary-Aged Kids
The Educator's Guide to Applying Real-World Math: 15 Resources with Over 100 Lesson Plans
50 Fun & Educational Field Trip Ideas for Homeschoolers
Make a Splash in the Classroom: A Hands-On Curriculum with Lessons and Activities on Swimming and Pools
Classroom Accommodations for Math Learning Disabilities
How to Trace Your Family Tree
Contact Stacy Maxton at mathcamps1@gmail.com if you want to find out more.