Dear Ambassadors
This has been an excellent start to 2013, with Ambassadors engaged in many different activities across Wales in March and April.
Some of these events I was privileged to attend myself, while details of others have been kindly sent to me by Ambassadors from across the country.
There are larger versions of some (but not all) of the photos in this newsletter - click the small photo to view.
A researcher's insight at Cynffig Comprehensive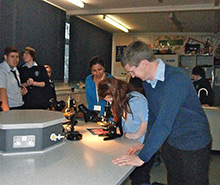 Dr Trevor Hay visited Cynffig Comprehensive in Bridgend County during March. Head of Biology Dr Varuni Rathkey had placed a request for her Year 11 and A level Biology students to meet a STEM Ambassador who could provide an insight into careers in Biological Science other than the familiar medical professions.
This was Trevor's first engagement as a STEM Ambassador and mindful of the sensitive nature of his research into cancer genetics and the use of animals in research, he met with Varuni prior to the visit to preview his presentation.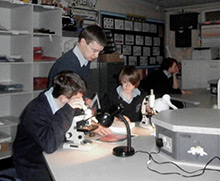 This proved very valuable and the final presentation was an excellent example of how to tackle such issues with a young audience. Consideration had to be made for any pupil whose family may have been affected by such diseases.
Really neat tools of engagement were used to ensure that the pupils were very much part of the dialogue and had to participate in the presentation too.
The session included a 'challenge' where the pupils viewed microscope slides as used in Trevor's research, identifying the type of cancer cells that each slide contained.
'More please!' was the feedback from Heads of Science at the school!
A natural gift for design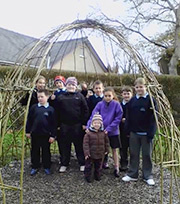 At Ysgol Llanystumdwy Criccieth, Ambassador Paul Dunn worked with pupils and Head Teacher Cathryn Davies on his own 'Grand Design' project at the school. This was however a Sustainable Environment project!
Paul created a Willow Arch with the pupils at the Primary School, as pictured in the initial planting phase. A keen geologist and marine conservation champion, Paul is also an expert on stargazing, taking activity sessions for visitors in the North West peninsula.
It will be very interesting to see how the Arch develops during the Summer. As seen in the photo, his fellow workers look very pleased with their efforts!
STEM Ambassadors go global!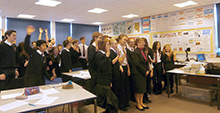 Two amazing sessions were delivered yet again from our team of Ambassadors tackling the Languages in STEM initiative. This time there was a truly extensive use of multilingual skills!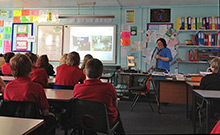 At Cardinal Newman RC Comprehensive in Pontypridd, Ambassador Dr Elisabetta Canetta, a Biophysicist at Cardiff University, delivered a session focused using her fluency in French and of course her native Italian. A visit with a difference – as the pupils had to tackle a language that they were not studying and translate the challenges in two languages. Again a very well received delivery, with a very appreciative Headmaster calling in to express his support.
In Ysgol Dyffryn Teifi, the remit was to deliver the session to Welsh Medium pupils studying French at Year 9.
Susan Jones, Systems Engineer at Tata Steel, again stepped up for this challenge, and in Llandyssul last Monday it was a pleasure to see how grateful the teachers were to host the visit and the confidence of the pupils' in engaging with Susan in both Celtic Languages!
Engineers Without Borders
Send us your feedback
STEMNET values all feedback. This contributes to the evidence for their remit as laid down by the UK Government. We also want our region to be well represented in this.
Ambassadors are encouraged to pass feedback to STEMNET on this link (takes only 5 minutes).
Outstanding feedback was received from the EWB team. A sample of the comments following their workshops at schools is listed. 700 pupils experienced the practical engineering workshops. My thanks go to Ambassador Ben Krawiec for superb support and communications.
Pupils (year 5):


"I really enjoyed the last activity where we had to build a filter with the stuff we bought from the little shop."




"Come again!" "I wish they would come back." "Come back next year!"

Teachers:
"It allows pupils to engage with experts and to ask questions."
"Makes it interesting and more real for the children."
Twitter followers
If you are a Twitter user, do 'follow' See Science – we would be pleased to have more in the flock!
Resources for Clinical Science and Healthcare Ambassadors
Ambassadors with professions in the Healthcare and Clinical Sciences may want to look at these resources produced by NHS careers for educational engagement:
Back to topAmbassador induction meetings
The next series of inductions will take place on the following dates – to book a place contact ambassadors@see-science.co.uk. Newly-registered Ambassadors must attend an induction meeting and bring their ID documents with them. Approved Ambassadors are also welcome to attend.
8 May, 2pm. See Science Offices 59 Charles St Cardiff CF10 2GD
9 May, 4pm. See Science Offices 59 Charles St Cardiff CF10 2GD
16 May, 1pm. Techniquest Glyndwr, Glyndŵr University Campus, Mold Road, Wrexham LL11 2AW
17 May, 11am. Unit 3, Wolf Business Park, Alton Road, Ross-on-Wye, Herefordshire HR9 5NB
23 May, 4pm. See Science Offices 59 Charles St Cardiff CF10 2GD
24 May, 2pm. Swansea. Venue to be confirmed
29 May, 2pm. See Science Offices 59 Charles St Cardiff CF10 2GD
6 June, 4pm. See Science Offices 59 Charles St Cardiff CF10 2GD
Other dates can be arranged if none of the above are suitable – contact ambassadors@see-science.co.uk.
Back to topCurrent schools requests for Ambassador support
For find out more about each request, follow the 'more information' link. This will take you to the relevant section on the current STEM Ambassador requests web page. If you are able to contribute to any of the following requests, or would like more details about them before deciding, please contact ambassadors@see-science.co.uk.
Back to topOther Ambassador opportunities
For more information on each of these other opportunities, follow the link. This will take you to the other STEM Ambassador opportunities web page.
Scientific outreach grants from the Biochemical Society. The Biochemical Society has funding available to support activities and events that help communicate the excitement of the molecular sciences, or biology, to school children and/or the general public. The next deadline is the 29 April 2013. More information…
Nature's Work events. Nature's Work is located in North West Wales providing a range of outdoor learning courses in science and geography for school groups. Our teacher training programmes develop the use of the outdoor classroom. More information…