Dear Ambassadors
Sometimes we must have 'Men in White Coats' representing STEM activities!
Here are two very contrasting events at which our Ambassadors demonstrated that 'Men in White Coats' deliver right across the education spectrum.
Medicine and Chemistry Day
In this newsletter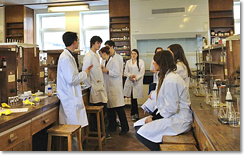 Dr. Joel Loveridge is pictured with A level students at a marvellous busy day 'Medicine and Chemistry'. This took place on April 19 at Swansea University. Schools involved were Morriston Comprehensive; Bishop Gore; Pembroke College; Coleg Sir Gar; Gorseinon; Ammanford and Neath College.

The sessions were based on practical demonstrations of the adaptation of simple chemistry concepts in the world of medicine.
Joel developed an experiment for the pupils to test 'urine' for diabetes. Pupils tested a series of solutions containing varying amounts of glucose, which replicated real life conditions and methods of testing diabetes in patients. Fortunately no actual urine samples are required when you are a practical chemist!
Science of Cooking Masterclass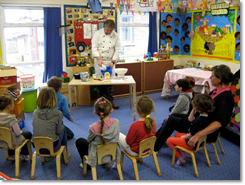 Challenging Heston Blumenthal with some competition was Ambassador Anthony Rhodes.
Here Anthony is holding a 'Science of Cooking' Masterclass for the young science club pupils of Machynlleth County Primary School on April 3. Anthony demonstrated a popular theme 'Cooking with Cup Cakes' and even managed to include his specialist subject as a Rocket Scientist making rockets using baking powder!
Katarina, the teacher who organises the Holiday Club, commented: "The children really enjoyed Anthony's visit and we did take photos. Many thanks for ensuring this type of activity is possible for a setting such as ours!"


Machynlleth is a rural primary school with 230 pupils enrolled.
Radio interviews with Rhys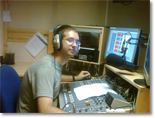 Ambassadors struggling to find a suitable activity can always contact Rhys Phillips and volunteer for a radio interview from the comfort of your home.
You can follow Rhys Phillips Radio Cardiff Show 'Pythagoras Trousers' at www.radiocardiff.org/rhysphillipsprofile.html.
Also check out Rhys' interviews at CERN – http://networking.stemnet.org.uk/blog/trip-cern
What's my line at St Cyres School Penarth
Many thanks to the strong team of Ambassadors who supported the event this year: Mo Misra, Jessica Watts, Stephanie Houghton, Daniel Minto, Chris Lowe, Mike Mallen, David Tee and Martyn Jones.
Peter Trevitt, CEO Techniquest and a STEM Ambassador, commented: "I attended St Cyres Comprehensive School for a What's My Line event organised by Martin Blamey of Careers Wales. The activity is based on an old TV panel game of the same name where four celebrities had to try and guess the occupations of various contestants by asking a series of questions to which the contestant could only answer 'yes' or 'no'! Our class of year 9s were faced with: a Jumbo Jet maintenance apprentice, a structural engineer, a specialist in scratch resistant coatings and myself, CEO of the Techniquest science centre. Not surprisingly, they needed a few clues to pin down what our jobs were, but enjoyed the game and were fascinated by what we did.
"The impression I think they gained was that we were ordinary people like them, doing jobs that were far more varied, interesting and enjoyable than they would have imagined. They could see that all four jobs were important and had relevance to their own lives."
Ambassador induction meetings
The next series of inductions will take place on the following dates – to book a place contact ambassadors@see-science.co.uk.
Newly Registered Ambassadors must attend an induction meeting and bring their ID documents with them. Approved Ambassadors are also welcome to attend.
23 May, 2.00pm. See Science offices, Charles St, Cardiff CF10 2GD
24 May, 4.00pm. Queens Hall, Narberth, Pembrokeshire
7 June, 4.30pm. See Science offices, Charles St, Cardiff CF10 2GD
8 June, 11am. GE Aviation, Nantgarw, Caerphilly. GE staff only.
20 June, 2.00pm. See Science offices, Charles St, Cardiff CF10 2GD
13 June, 10am. Johnson and Johnsons OCD site, Pencoed, Bridgend
July, Wednesday pm. Date to be confirmed. Swansea University
19 July, 4.00pm. See Science offices, Charles St, Cardiff CF10 2GD
Other dates can be arranged if none of the above are suitable – contact ambassadors@see-science.co.uk.
School Ambassador requests
For more information on each request, follow the link. This will take you to the relevant section on the Current STEM Ambassador requests web page.
If you are able to contribute to any of the following requests, or would like more information about them, please contact ambassadors@see-science.co.uk.
Other Ambassador opportunities
For more information on each of these other opportunities, follow the link. This will take you to the relevant section on the Other STEM Ambassador opportunities web page.
Like Science? Love Sport? Volunteering opportunities are now available on the Francis Crick Institute's Olympic Busking Programme. 26 July – 12 August 2012, The Francis Crick Institute in St Pancras, London, will be running an exciting programme of Science Busking activities for station users who are off to the Olympics. More information…
Wellcome Trust 'In the Zone' training. This project aims to train those working with young people in the delivery of sports science activities. There will be an element of communications training as well – so attendees not only learn about the activities themselves but also gain confidence and skills in delivery. More information…