STEM Ambassador Newsletter
March 2016
It's been a busy month for requests. Thanks for the amazing response from so many of the team and for sending your feedback. Your comments help us improve your STEM activity experience.
When attending schools it's challenging to receive an unexpected question or the unexpected audience. Two recent examples prove the worth of having a plan B at all times!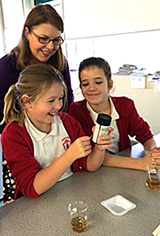 STEM Ambassador Karen Mordecai volunteered to assist me at a busy day of six sessions for visiting primary pupils at Bryntirion School. Karen had never seen the session before, which included a practical experiment on the test for diabetes. During the morning the Fire Service were presenting a session on fire safety when they were called away to another – more urgent – event! I was asked to step in to fill their afternoon slot, leaving Karen to present the diabetes session. With the help of the notes she took during the morning, Karen presented the sessions perfectly. She had assimilated the session content and the methodology of the experiment, and her delivery was really well received with an enthusiastic reaction from the pupils.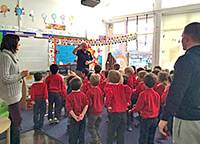 At Marlborough Primary, STEM Ambassador Mark Smith was booked to present Forces to KS2 pupils. The school was holding a Science Week, supported by many STEM Ambassadors, including the team from Atkins and Parsons Brinkerhoff. To Mark's surprise the last session of the day was the Reception class, and he had to quickly adjust his presentation to match their level of knowledge (1 term at school). He made an excellent

impression and answered many unusual questions. Teachers commented that the class hadn't been this excited since Santa Claus visited!
In this newsletter
STEM Ambassador Ben Johns 'Microbiology Wales'
Ben Johns is an Academic Associate at Cardiff School of Health Sciences and a Society Champion for Microbiology Wales, promoting and presenting activities on behalf of the Microbiology Society. Here is his report from a recent event.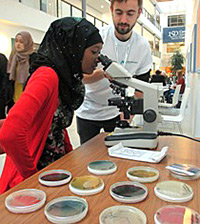 "Microbiology Wales acts as a social media platform for early career microbiologists ranging from PhD researchers, Masters Students, Bachelor's students, A-Level students, GCSE students and anyone else with an interest in microbiology in Wales.
"As part of Microbiology Day, 150 participants got involved in swabbing their mobile phones or putting their hands onto agar dishes. The activity was very well received – even better than we had anticipated. We showed pre-prepared streak plates of Eschericia coli, Micrococcus luteus, Serratia marcescens, Pseudomonas aeruginosa and Staphylococcus aureus.
"The volunteers were very keen to join the Microbiology Wales site, and post-event contact from participants about their samples included some really positive feedback on the experience and enquiries about future events.
"We had a lot of interest from our colleagues at the School of Management and School of Art and Design. Some people were talking about how their research interests within Art were related – for example one person was interested in how disease affects indigenous tribes. This also gave me the opportunity to discuss my research with an academic from the School of Management who has an interest in bioinformatics. Events such as this may pave the way for future inter-disciplinary collaborations."
STEM Ambassadors Mark Gurney and Chris Squire at Caerleon Comprehensive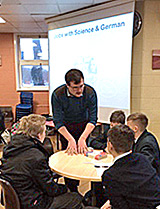 Caerleon School teacher Chloe Samuels was keen to host a session on STEM careers which include an aspect of foreign languages or experience of working abroad. Mark Gurney is a Senior Researcher at Cardiff School of Medicine Institute of Cancer and Genetics who has spent time working in labs in Germany.
Working with STEM Ambassador Chris Squire, Chloe and Mark presented a series of workshops to Yr 9 pupils at Caerleon. The school were excellent hosts; the sessions were attended by a selection of Science Teachers.
"Thank you so much for the sessions you delivered for us yesterday with our yr 9 pupils. We really appreciate you taking time out of your schedules to work with us. Feedback from our pupils has been really positive and we feel the sessions were very worthwhile. We hope to work with you again in the future." Chloe Samuels, Caerleon School.
Ambassadors go further to visit Llanelli schools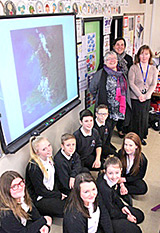 Laura Mejto-Iglesias, a Spectrum Engineering officer based at OFCOM in Cardiff, and Nia Roberts, an IP Manager with the Welsh Government based in Llandudno, developed their own sessions for schools.
Both travelled long distances to visit Llanelli's Coed Cae and Bryngwyn School respectively. Laura delivered a session on her telecommunications role which included a challenging quiz about the internet and radio signals. Nia's session covered her expertise in Intellectual Property, which has enabled her to work across the world. Nia also highlighted her fluency in Welsh; French; German and Dutch as key skills in her global career.
They both won glowing approval from pupils and teachers:
"Thank you so much Laura for coming such a long way and taking up your time to speak to our pupils. I think we got the message across and you certainly got them curious and involved. Thank you so much for your hard work. Sian, thanks for organising this session, I really think it is great that STEM Ambassadors come to schools and show a bit of what life on the other side of the studies is like. I look forward to working with you again." Laurence Cretau, Coed Cae School
"Thank you Nia for coming all the way to speak to our pupils! I hope that it will have given them all food for thought! It was absolutely brilliant." Tonia Antonizza, Bryngwyn School.
Back to topInductions and DBS renewal sessions for STEM Ambassadors
The next series of inductions will take place on the following dates – to book a place contact ambassadors@see-science.co.uk. Newly Registered Ambassadors must attend an induction meeting and bring their ID documents with them. Approved Ambassadors are also welcome to attend.
Wednesday 16 March, 12-2pm. Room 122, Margam Building, Swansea University SA2 8PP
Wednesday 16 March. Room 213, Physical Science Building, Aberystwyth University SY23 3BZ
Tuesday 22 March, 2-4pm. Trinity College, Carmarthen SA31 3EP
Friday 25 March, 11am – 1pm. See Science, 8 St Andrews Crescent, Cardiff CF10 3DD
Thursday 7 April, 4- 6pm. See Science, 8 St Andrews Crescent, Cardiff CF10 3DD
Wednesday 13 April, 2-4pm. See Science, 8 St Andrews Crescent, Cardiff CF10 3DD
Wednesday 20 April, 1-3pm. Room 122, Margam Building, Swansea University SA2 8PP
Back to topCurrent schools requests for Ambassador support
To find out more about each request, follow the 'more information' link. This will take you to relevant detailed request on the current STEM Ambassador requests web page. If you are able to contribute, or would like to know more before deciding, please contact ambassadors@see-science.co.uk.
Back to topSTEM Ambassador resources and other opportunities
STEM Ambassadors may be interested in the following newly-posted opportunities and resources. Please note that the information is provided by the organisation, and that See Science is not the contact point for most of these listings. You can view current opportunities which have been posted previously on the other STEM Ambassador opportunities web page.
BBC micro:bits
See Science holds 20 micro:bits available to STEM Ambassadors on a prebooked basis. We are coordinating sessions which will include teachers across the country.
Exciting opportunities to join the Apps for Good team
Apps for Good are on the lookout for 2 new team members:
The Education Community Officer will join the Education Community Team, part of the Communications & Communities Team and responsible for the recruitment, engagement and retention of educators at schools and colleges across the UK and internationally. Working closely with the Senior Education Community Manager, the Education Community Officer will become the face of Apps for Good for educators, supporting them as they deliver the course and helping to grow the community. Full job description here.
A talented and enthusiastic Digital Manager is needed to help launch the next generation of the Apps for Good platform, as well as deliver core improvements for users. The Apps for Good platform is the backbone of Apps for Good, supporting growth in the UK and internationally. The new Digital Product manager will play a pivotal role in implementing a new global platform strategy – including new content management and learning management systems and global dashboards – helping to meet the evolving needs of teachers, students and volunteers, as well as the internal team. Full job description yma.
Be at the Pembrokeshire Country Show 2016 in the Community Zone marquee
There are still some stand spaces available in the Community Zone at the Pembrokeshire County Show (16-18 August 2016). This year we are also able to offer a 10% discount to PAVS (Pembrokeshire Association of Voluntary Services) members.
Last year more than 20 voluntary and community groups had a presence in the Community Zone, some for the first time. The groups welcomed the opportunity to advertise their projects and activities, with many promoting new services, raising awareness, or encouraging people to volunteer. In the marquee itself there were 17 stands which organisations shared or had on a time share basis (one, two or all three days), but everyone agreed it was very worthwhile. Over the 3 days more than 2,100 visitors engaged with the different groups.
There are some stands available for this year's show for all three days or just one or two days – which can be an excellent way to give it a go without committing to all three days. Each stand comprises and trestle table, chairs, and at least 2 tickets per day, there is even a stand-holder refreshment area for hot drinks included! The cost for a 3-day stand (for PAVS members) is just £234. To find out more please contact Louise Wilkinson on 01437 769422 or at louise.wilkinson@pavs.org.uk.
Give and Gain Day 2016 – Business in the Community (BITC)
Business in the Community's Give & Gain Day is the UK's only national day of employee volunteering. Now in its seventh year, it will see thousands of people from hundreds of companies volunteering on Friday 20 May. Voluntary and Community Groups can register with BITC to link with businesses in our area for volunteers here.
Research survey: incentive for 15 minute survey
Pexel Research Services has been commissioned to carry out a research study for a well-established educational organisation. The aim is to better understand the needs of individuals who are potentially interested in future study, specifically with regards to engineering. Pexel are offering a £5 e-voucher to people willing to take part in a research study who have the following profile::
Aged 18 or over
Currently don't hold, or are studying towards, an undergraduate or master degree in engineering – but have some interest in studying towards one in the next five years..
The research will be carried out in a 15-20 minute telephone interview. If you are interested in participating please email Project Manager sabrina@pexel.co.uk or phone 0141 4458614.