Dear Ambassadors
The Higher Education STEM networking event –
what I wish I had known when I was 20!
In this newsletter
STEMNET aims to provide engagement with Ambassadors for all young people aged 5-19 years, covering primary and secondary school education. But encouraging STEM careers is much needed post-school years too. It is a fact that after university many graduates do not pursue a career in their degree subject – maybe due to lack of insight into career paths, too much competition for their skills from other professions and lack of awareness as to how their skills are so necessary for real economic growth. Amazingly, I spoke to undergraduate chemists who told me that the financial institutions are the keenest competitors for their skills these days.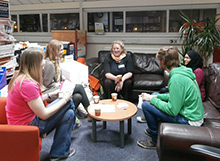 To address the issues, STEMNET is running a series of pilot sessions in seven selected universities across the UK. Cardiff University has been selected as the location of one of these pilot sessions.
On February 7 the first session was held for undergraduates of biosciences. The evening was arranged in mini networking discussions, with students meeting each Ambassador in small groups of 3 or 4. This enabled them to have informal but informative dialogues on their career and progress following their chosen degree.
It was a very impressive first pilot. The Ambassador team of Kim Cushing, Fiona Wylie Dr Alysia Battersby (pictured with students), Katie Bamsey, and Dr Steve Capper all earned admiration, praise and thanks from the students – as evidenced by the post-feedback comments:
"The networking aspect was great, you quickly find someone who has followed a path you may be thinking of and nothing is so useful as talking to someone who has already done it."
"The sit down sessions were informative and the guests were enthusiastic in their fields."
"Friendly people who tried to guide you as best as possible."
Susan speaks their language!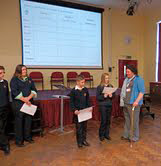 Ambassador Susan Jones visited Ysgol Y Strade in Llanelli as part of the project 'STEM and Languages in Business and Industry'.
Susan is pictured in her highly engaging and motivational workshop which was deemed a great success by all who attended.
Susan's professional expertise in engineering has enabled her to follow a career path which encompassed non-technical roles and business support in Tata Steel. She is also fluent in both French and Welsh, and gave the pupils an opportunity to meet a true 'polymath'!
A sample of the pupils' feedback:
"Now I can name a number of STEM careers that would benefit from understanding another language."

100% agreed

"Now, I can see how what I learn in school can help me with my career in the future."

94% agreed

"Did you enjoy the session?"

100% said Yes!
Meeting the Ambassadors – the perfect location?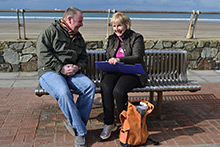 Newly arrived in Wales, Ambassador Chris Hopkins met up with local See Science recruiter Helen Hughes at Pembrokeshire's Broad Haven beach to gain insight into the Ambassador Programme in Wales and also for a new ID check.
A stunning location and fortunately a rare sunny day – we are very pleased to welcome Chris to the Ambassador Programme in Wales as part of our strong skills base in Pembrokeshire.
Ambassadors in the news
Feedback comments
Send us your feedback
Please send us feedback on any event you have attended (whatever your experience may be) online here.
STEMNET on Magnox as Finalists in the STEMNET Awards:

"We believe that Magnox Ltd is an exemplary STEM employer, and would like to congratulate them on being one of STEMNET's top three dedicated STEM Employers."

Ambassador Clive Briscoe feedback on speaking with 90 Undergraduates at Liverpool John Beddoes University: "Thank you so much for coming in today and speaking to the students. We have read through their evaluations and they are very positive! The following quotes are indicative of the student comments: 'I feel excited to begin my career in engineering';
'I am more optimistic about the future'; 'I appreciate that actual employers have taken the time to be present in talks'. Your contribution was invaluable, thank you again."
Ambassador induction meetings
The next series of inductions will take place on the following dates – to book a place contact ambassadors@see-science.co.uk. Newly-registered Ambassadors must attend an induction meeting and bring their ID documents with them. Approved Ambassadors are also welcome to attend.
7 March, 4pm. See Science Offices 59 Charles St Cardiff CF10 2GD
13 March, 2pm. See Science Offices, 59 Charles St, Cardiff CF10 2GD
14 March, 2pm. Swansea Museum Swansea SA1 1SN
28 March, 4pm. See Science Offices, 59 Charles St, Cardiff CF10 2GD
4 April, 4pm. See Science Offices, 59 Charles St, Cardiff CF10 2GD
10 April, 2pm. See Science Offices, 59 Charles St, Cardiff CF10 2GD
25 April, 4pm. See Science Offices, 59 Charles St, Cardiff CF10 2GD
8 May, 2pm. See Science Offices, 59 Charles St, Cardiff CF10 2GD
9 May, 4pm. See Science Offices, 59 Charles St, Cardiff CF10 2GD
Other dates can be arranged if none of the above are suitable – contact ambassadors@see-science.co.uk.
Current schools requests for Ambassador support
For find out more about each request, follow the 'more information' link. This will take you to the relevant section on the current STEM Ambassador requests web page. If you are able to contribute to any of the following requests, or would like more details about them before deciding, please contact ambassadors@see-science.co.uk.
Other Ambassador opportunities
For more information on each of these other opportunities, follow the link. This will take you to the other STEM Ambassador opportunities web page.