STEM Ambassador newsletter
The impact of STEM Ambassador support is far more about quality than quantity. Every one of the 1,740 STEM Ambassadors in Wales has an important part to play in the continued success of the Programme.
The longer-term effects of STEM Ambassador support can be harder to track, but in both long and short term Ambassador interventions there can be a marvellous outcome for pupils.

The three events highlighted below – each for a very different cohort of pupil groups – provide strong evidence of this.
In this newsletter
Code Clubs celebrations at the DVLA Swansea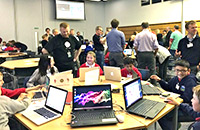 The DVLA STEM Ambassador team came to the Programme with the specific aim to set up and support Code Clubs in local primary schools. Code Club Regional Officer Craig Thomas brought the team together and assisted in sourcing 8 Primary Schools who were keen to take part in the Code Club initiative. STEM Ambassadors were assigned to each Primary School, based in the Swansea and Ammanford region. Following highly successful team work every school now has a functioning and enthusiastic Code Club group led by expert STEM Ambassadors from the DVLA.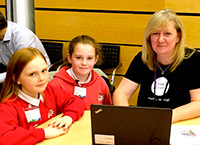 To acknowledge their achievement, STEM Ambassadors hosted and facilitated a high profile event at the Richard Ley centre Swansea. An impressive exemplary event began with introductions from the Ambassador Team Leader Mark Jones followed by Craig Thomas on behalf of Code Club and myself representing the STEM Ambassador programme. Distinguished guests attended from Swansea City Council, BT and many other local stakeholders. Following the formal introductions, pupils from a selection of the Code Clubs arrived and taking their places at the IT suites, they showcased their Proganmming skills to the audience.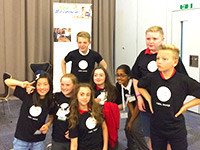 Ably assisted by their mentors, the pupils were confident in explaining their learning outcomes and displayed their Programmes to the audience at the end of the day. A kind gesture of reward for their work was the provision of smart Code Club shirts for the participating pupils, which matched those of their mentors!
DVLA STEM Ambassadors Team are: Mark Jones; Karen Stephens; Meirion Steele; Viv Richards; Alun Jeffreys; Andy Phillips; Steven Isaac; Huw Williams
Mentoring an impressive list of schools: Tycroes Primary; Ysgol Gynradd Saron; Hendrefoilan; Gors; Gwyrosydd; Morriston; Llangiwg; Gorseinon.
Back to topGlan Y Mor Teams make the Finals at TeenTech!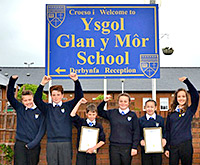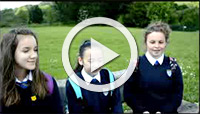 STEM Ambassadors Howard Kirkman and Paul Bulmer contributed hugely to the success of two teams from Ysgol Glan Y Mor who have reached the finals of TeenTech. TeenTech is a national competition open to all secondary school children aged 11 to 16 across the UK. The competition involves pupils working in teams of no more than three to develop innovative ideas to 'improve everyday life'. The final will be held in London on 22 June.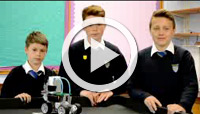 Teacher Susan Quirk said: "Ysgol Glan-y-Mor is extremely proud of its four teams. Over the last couple of months they have worked hard to develop their ideas and have been supported by both local industry and further education. STEM (Science, Technology, Engineering and Maths) ambassadors from industry have come into school to offer expertise.
"All four teams achieved success with one team being awarded a Bronze award and one a Silver with two teams not only winning Gold awards but also being selected for the finals in London on June 22nd at the Royal Society where they will meet Prince Andrew, TeenTech's Patron.
"We had written feedback on the entries from the judges and all were impressed the profession format of the business plan, it was thanks to your help on this. One of the things that counted in our favour was the involvement of the STEM Ambassadors."
The School is raising money towards the cost of their visit to London – which will be £1,200. (Click either of the two video images to view the video in a separate window.)
Green Energy scores highly at Ysgol Y Bannau
Dr. Aled Davies came to Ysgol Y Bannau to give two green energy presentations with question & answer sessions in KS2. The 2 PowerPoint presentations were levelled perfectly at the age ranges of the classes and delivered through the medium of Welsh to a very high standard. The students thoroughly enjoyed the presentations, which inspired them to subsequently create their own PowerPoints on a variety of green energy topics.
"The solar panels and wind turbine models were fabulous!"
"The PowerPoint was interesting and we could understand it and it was full of information."

"Many thanks to Aled. The students have written thank you letters in Welsh to him at his home address."

Richard Morris (Yr 5 class teacher)
Back to topInductions and DBS renewal sessions for STEM Ambassadors
The next series of inductions will take place on the following dates – to book a place contact ambassadors@see-science.co.uk. Newly Registered Ambassadors must attend an induction meeting and bring their ID documents with them. Approved Ambassadors are also welcome to attend.
3 June, 2pm. Room 122 Margam Building Swansea University SA2 8PP
10 June, 2pm. See Science Office, 59 Charles St Cardiff CF10 2GD
19 June, 11am See Science Office, 59 Charles St Cardiff CF10 2GD
19 June, 3pm. Techniquest Glyndwr, Wrexham LL11 2AW
25 June, 3pm. Room 313 Dean St Bangor University Bangor LL57 1UT
1 July, 12pm. Room 122 Margam Building Swansea University SA2 8PP
2 July, 4pm. See Science Office, 59 Charles St Cardiff CF10 2GD
10 July, 11am. See Science Office, 59 Charles St Cardiff CF10 2GD
17 July, 11am. Room 122 Margam Building Swansea University SA2 8PP
23 July, 4pm. See Science Office, 59 Charles St Cardiff CF10 2GD
7 August, 12pm. Room 122 Margam Building Swansea University SA2 8PP
Back to topCurrent schools requests for Ambassador support
To find out more about each request, follow the 'more information' link. This will take you to relevant detailed request on the current STEM Ambassador requests web page. If you are able to contribute, or would like to know more before deciding, please contact ambassadors@see-science.co.uk.
Back to topSTEM Ambassador resources and other opportunities
STEM Ambassadors may be interested in the following newly-posted opportunities and resources. Please note that the information is provided by the organisation, and that See Science is not the contact point for most of these listings. You can view the full version of these new postings plus current opportunities which have been posted previously on the other STEM Ambassador opportunities web page.
TechFuture Ambassadors: inspiring future tech talent
TechFuture Ambassadors are tech and digital professionals who volunteer their time in schools to inspire young people about the exciting career opportunities in tech. Why not share your enthusiasm for the digital world with students and teachers through fun and interactive activities?
There are 300 TechFuture Ambassadors across the UK, and we need more to get involved.
OCR Experts sought for new qualification development
Experts wanted! OCR are developing new technical qualifications in science. This will be an alternative to A levels and provide a route into employment or HE. They need experts to help write the content of these qualifications, particularly experts in environmental, food, pharmaceuticals or human science. If you are interested in being involved with this work or know someone who might be interested, please contact Sarah Gerrard on 024 76 856199 (x5199) or sarah.gerrard@ocr.org.uk.
Job opportunity: National Project Manager Engineering in Motion
Engineering in Motion are looking for a National Project Manager, based in Brighouse, West Yorkshire. This is a fantastic opportunity to join Engineering in Motion, a not-for-profit organisation totally committed to providing exciting yet challenging educational experiences through the magnetic appeal of Formula One, motorsport and automotive engineering.
STEMNET working with Tomorrow's Engineers to help create the next generation of engineers
STEMNET is working with EngineeringUK, the Royal Academy of Engineering and the Professional Engineering Institutions to support the delivery of Tomorrow's Engineers, a national programme that offers additional regional-level support to business, further linking engineering employers with schools, helping create the next generation of engineers.
The Darwin-Wallace Club at The Penarth Pier Pavilion
Charles Darwin (1809 – 1882) and Alfred Russel Wallace (1823 -1913) were two of the greatest naturalists our country has ever produced. Both had very close links with Wales. The Darwin-Wallace experience has been established in Penarth as a vehicle to inspire curiosity about Nature, and Evolution and to develop the skills of a naturalist in school pupils and their families.
The Penarth Pavilion Education Trust has recently received £47,000, over three years, to develop a Beach-Reach programme through the Darwin-Wallace Experience. This will involve pupils exploring animals and plants on Penarth beach, examining specimens in marine tanks and under the microscope, as well as carrying out experiments, in the education rooms at the pier and the Kymin. The Darwin-Wallace student and family club will evolve from this initiative.