Dear Ambassadors
A very pleasing news item to pass on this month: Wales STEM Ambassadors can claim to have blazed the trail in the STEM – Foreign Languages project. The project has made such an impact that London STEMnet has now been inspired to launch it in their region, following STEM Ambassador Jana Witt's relocation to London.
In this newsletter
They have secured the European Commission Offices to hold a Launch Event, at which 30 London STEM Ambassadors will be showcased to take the project into schools in the London area.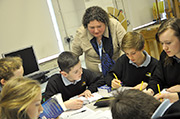 For those not familiar with the STEM-MFL project, this is being delivered by STEM Ambassadors with Foreign Language skills in a series of workshops and talks where the impact of international communications in STEM Research and Business is promoted to pupils.
STEM Ambassadors in both North and South Wales have provided excellent delivery and it is their success that has enabled London Stemnet move forward with the enterprise. Here Susan Jones of Tata Steel is shown at Ysgol

Gyfun Gwr presenting a workshop combining her Engineering Career with her skills in French (and Welsh!)
Any STEM Ambassador who wishes to take part in the scheme please make contact!
TeenTech North and South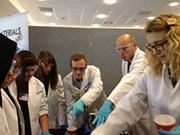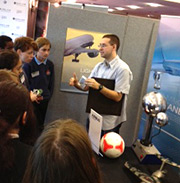 TeenTech Cymru was once again a formidable success at Swansea Liberty Stadium in the South West and at Techniquest Glyndwr University in the North East. TeenTech is led by BBC presenter and founder Maggie Philbin.
Students spent the day taking part in a variety of showcase experiments and interactive sessions with a wide representation from STEM organisations and businesses.
STEM Ambassadors were also valuable hosts to pupil groups, with each Ambassador being assigned to a small team of pupils providing guidance, encouragement and focus to the experience.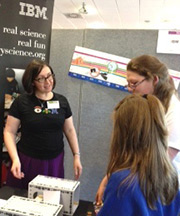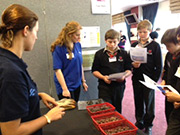 The event was a testimony to excellent co-ordination, showcasing some strong STEM Ambassador engagement in STEM communication and delivery. I was lucky to attend the Swansea event – a great day, as illustrated by the following STEM Ambassador exhibits (clockwise from top left):
SPECIFIC Baglan Bay Materials Live: Ashley Pursglove; Natalie Wint and Chris Melvin led by Dr Ian Mabbett
EADS (Airbus) Rhys Phillips
IBM (Katy Love)
Tata Steel (Heather Rowland and Verity Watson)
Mad House Holidays in Wrexham

STEM Ambassador Jason Davies is the managing director of Hashtag Marketing Ltd, a website and app development company based in Wrexham, North Wales.
Mad House Holiday is an after school Club in Wrexham. STEM Ambassadors often assist at these clubs, and Jason gave me an account of his engagement and contribution.
"It was a pleasure to have the opportunity to engage young people in IT at Mad House Holiday. With the help of Techniquest Glyndwr, I was able to introduce a group of 6 – 13 year olds to the fantastic fun that is robotics. Using LEGO Mindstorms NXT robotics kits, I was able to get the attendees started with writing basic ROBOTC computer programming language.
It was a great achievement, as no one involved had previously tried to introduce children of 6 years old to a full programming language. However, the response was fantastic and they quickly began to solve problems and advance the acts the robots were performing.
I began by showing attendees how to move the robots (in this case small cars) in a straight line at 50% power for a given time then backwards for the same time and power to return to the starting point, and then showed them how to program a 90 degree turn. Next, I set some challenges and let the attendees figure out how to complete them. They were able to get the robots to perform square shapes, triangles, figure-of-eights, dance using random functions and even make noise along the way.
It was a fantastic afternoon and I hope to repeat it again soon."
A Meteorological Success in Ysgol Eirias for Madlen

It's always good to get feedback from the target audience when STEM Ambassadors visit schools. Taking valuable time out of your day to deliver a session at schools is not always easy, so it's vital to gather evidence that STEM engagement with Ambassadors makes a huge difference to pupil attitudes.
This was the case when STEM Ambassador Madlen Burgess visited Ysgol Eirias, to deliver a talk on 'STEM in my working life'.
Madlen is an Operational Meteorologist for the Met Office at RAF Valley. Following the visit, comments from the attendees were proof positive of the success of the day – here are some examples:
"Contained useful information with a lively and interesting speaker!" "Really good! Was great to have Maddie to talk to us! Incredibly helpful" "Really good to see someone and what they did to get where they are." "The presentation provided really useful advice."
Back to topAmbassador induction meetings
Twitter followers
If you are a Twitter user, do 'follow' See Science – we would be pleased to have more in the flock!
The next series of inductions will take place on the following dates – to book a place contact ambassadors@see-science.co.uk. Newly-registered Ambassadors must attend an induction meeting and bring their ID documents with them. Approved Ambassadors are also welcome to attend.
6 June, 11am. See Science Offices, 59 Charles St, Cardiff CF10 2GD
12 June, 4pm. See Science Office, 59 Charles Street, Cardiff CF10 2GD
25 June, 2pm. See Science Office, 59 Charles Street, Cardiff CF10 2GD
26 June, 4pm. See Science Office, 59 Charles Street, Cardiff CF10 2GD
June – date tbc. Bangor University, Bangor LL57 2RQ
30 June, 3pm. Newport Wetlands Visitor Centre, Newport NP18 2PZ
9 July, 2pm. See Science Office, 59 Charles Street, Cardiff CF10 2GD
16 July, 2pm. Wallace Building, Room 108, Swansea University Swansea SA2 8PP
18 July, 11am. See Science Office, 59 Charles Street, Cardiff CF10 2GD
Back to topCurrent schools requests for Ambassador support
Can you help?
If you are able to contribute to any of the following requests, or would like more details about them before deciding, please contact ambassadors@see-science.co.uk.
To find out more about each request, follow the 'more information' link. This will take you to the relevant section on the current STEM Ambassador requests web page.
Back to top Ambassador opportunities – other organisations
Send us your feedback
STEMNET values all feedback. This contributes to the evidence for their remit as laid down by the UK Government. We also want our region to be well represented in this.
Ambassadors are encouraged to pass feedback to STEMNET on this link (takes only 5 minutes).
STEM Ambassadors may be interested in the following newly-posted opportunities. Please note that the information is provided by the organisation, and that See Science is not the contact point for any of these opportunities. You can view the full version of these new postings plus current opportunities which have been posted previously on the other STEM Ambassador opportunities web page.
First Edition programme
EDT, the 2012 Winner of the National WISE (Women into Science and Engineering) Diversity Award, is looking for someone to develop a new activity for its First Edition programme. More information…
New STEM Ambassador Resources from Practical Action
Four new STEM Ambassador Resources from Practical Action are:
Power for the world, an outreach activity delivered by Engineers without Borders.
Who's most at risk?… from natural hazards, an excellent starter activity for pupils aged 11-18 years
Yummy Yoghurt Makers, a new CREST start activity for primary pupils.
Global learning in the UK science curricula, documents now available for England, Scotland, N. Ireland and Wales. More information…