Dear Ambassadors
More fascinating and diverse stories about how STEM Ambassadors in Wales are communicating their passion and knowledge of STEM topics to pupils in both secondary and primary schools. If you have a project or story that you'd like to share we would love to hear about it – please email me with details and any photos at sian.ashton@see-science.co.uk.
There are larger versions of the photos in this newsletter - click the small photo to view.
STEM-P: The Venture into Project Management
A workshop resource now available to all STEM Ambassadors
They may believe 'The Apprentice' to be the language of Project Management – but let the real professionals have the last word!
Last Spring we were contacted by a group of six enthusiastic students studying an MSc in Project Management at the University of Wales Newport.
As part of their course, they had to complete an assignment for a 'client', researching and delivering a product which could be utilised by STEM Ambassadors across Wales in schools. The product was based on a multi-media interactive workshop which introduced pupils to the real world of Project Management.
Photo: The STEM-P team. (from left to right – Dr Brendan D'Cruz, Megan Jenson, Sarah Colin, Paolo Carnevale, Jon Pinkney, Alison Aderyn and Allan Reid)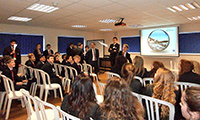 Dr Brendan D'Cruz, their Course Tutor who set the assignment, is also a STEM Ambassador, and See Science was asked to take the role of the 'client', receiving a bespoke workshop fit for purpose with all the associated Quality Control, Risk Assessments and delivery standards met.
To meet the challenge of facilitating and ensuring product specification, would an experienced Project Manager be an invaluable asset? Of course! Step forward STEM Ambassador Allan Reid. Allan is the co-chair of the Association of Project Managers (South Wales Chapter of South Wales and West of England).
Photo: Pupils at the pilot workshop
Send us your feedback
STEMNET values all feedback. This contributes to the evidence for their remit as laid down by the UK Government. We also want our region to be well represented in this.
Ambassadors are encouraged to pass feedback to STEMNET on this link (takes only 5 minutes).
Having progressed from an Engineering Professional to a Project Manager, Allan was able to mentor the group through their 8-week task. Before completing the hand over, the workshop was piloted at Rougemont School Newport.
I was privileged to attend, and I can only commend this as high energy, hugely enjoyable and high impact experiential learning.
"The intention was to provide material for the STEM Ambassadors and limit their presentations to approximately one hour. During the final draft stage it was decided to include a time-lapsed video of the construction of the Olympic Park which would serve as the catalyst for further discussion of how Project Management is integrated into all the STEM elements utilised in building the Park.
Twitter followers
If you are a Twitter user, do 'follow' See Science – we would be pleased to have more in the flock!
"To provide 'hands on' experience of Project Management techniques during later presentations the school children were to be given the opportunity to undertake an exercise in managing the design, construction and manual test flight of an aeroplane made from basic card materials with success determined by which would fly the greatest distance in the venue.
"All were enthusiastic and competitive with the winning groups from both Years being presented with certificates for their accomplishments. Both presentations were well received by the students and staff alike and deemed to be a very successful outcome." Allan Reid
Back to topMaking an impact at Whitchurch High School and St David's College
A further two events were held utilising the skills of STEM Ambassadors with foreign language competencies.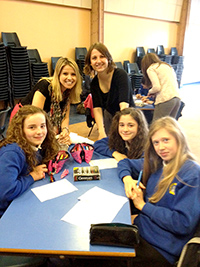 At Whitchurch High School teacher Julia Gray made strenuous efforts to host a day of interactive workshops at which all 120 students from year 8 attended.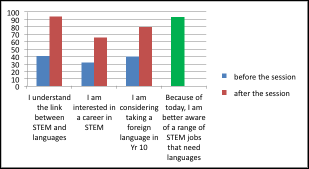 This was a very demanding but exciting day for Jana Witt and her support Ambassador, Roz Pedder. Roz was on her first school visit as an Ambassador and assisted with a short talk on her own professional career. From the data to the right, it is obvious that the balance between the messages of both STEM and Language skills was achieved. Five sessions took place through the day; the workshop included both aspects of STEM and the importance of foreign language skills for international STEM communications, both in industry and research.
Most important, the pupils had fun, were challenged and engaged really well.
Teacher and pupils' comments often speak volumes:
"This was an outstanding session that has really got me thinking about year 10 and languages and I would like to learn more about Germany."

Julia Gray

"Before, I thought there was no real link between each subject, but now there is a clear link."
"I wasn't considering a career in STEM, but now I am."
"Before, I thought that not many jobs needed foreign languages, but now I realise languages are important and used every day."
Ambassadors at recent events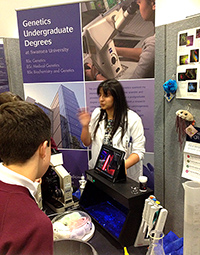 STEM Ambassador Natalie De Mello at Teentech Swansea in May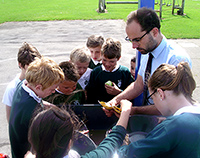 Gold Panning at Porthcawl Primary with STEM Ambassador Gareth Farr
Another STEM – MFL event was held at St David's College Cardiff on 11 July. Six feeder secondary schools attended two sessions at which the Ambassador team of Chris Squires and Jon Bloom delivered a presentation and short sketch in French and German.
Jon and Chris collaborated on this, though had not met in person before the event. They were able to deliver a very impressive session with seamless content and continuity. Using both French and German, they exchanged dialogue and answered questions from the pupils in French – often including impromptu alterations as the session developed!
The data from the session and photos is in progress for next month – preliminary feedback suggests it was of Gold Standard yet again.
Cardiff in Action – STEM Ambassador radio interview
Sian was interviewed recently on the radio programme 'Cardiff in Action'. Click to listen to her talking to Jeremy Rees about STEM Ambassadors, the vital role they play and what Ambassadors find that they themselves get out of the programme.
Back to topThird parties contacting STEM Ambassadors
STEM Ambassadors can be confident that their contact details are protected from third party access. We will only forward your email address once you have responded to a request in order to facilitate communications.
So, if you are contacted directly by a third party requesting STEM Ambassador assistance, please let me know at sian.ashton@see-science.co.uk. We strive to protect you from such intrusion. Although people may be keen to access your expertise, we recognise that your available time is limited. It is also very important that all your Ambassador activities are insured and recorded by STEMNET.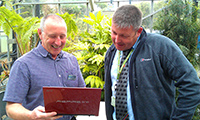 Keith Jones and STEM Ambassador Dylan Herbert met at Treborth Gardens, Bangor for the DBS renewal check. Ambassadors with expired DBS (CRB) certificates can be assured we will go to great lengths to meet you for this very important renewal.
Remember, you are no longer an Approved STEM Ambassador once your DBS has expired.
Back to topAre you making a difference?
Research from the Science and Technology Facilities Council shows:
A 36.1% rise in young people taking GCSE Science in 2012
Increasing popularity of Maths as an A level subject choice. 10% of all A Level choices are now for Maths.
Prof John Womersley, CEO of the Science and Technology Facilities Council says: "A large part of this is down to the dedication of STEM Ambassadors. Their continued support is essential if

we want to effectively communicate the virtues of STEM to today's young people and to show them what these skills can lead to." More…
Back to topAmbassador induction meetings
The next series of inductions will take place on the following dates – to book a place contact ambassadors@see-science.co.uk. Newly-registered Ambassadors must attend an induction meeting and bring their ID documents with them. Approved Ambassadors are also welcome to attend.
25 July, 4pm. See Science Offices, 59 Charles St, Cardiff CF10 2GD
31 July, 2pm. See Science Offices, 59 Charles St, Cardiff CF10 2GD
1 August, 2pm. Swansea University (room to be confirmed), Singleton Park, Swansea SA2 8PP
1 August, 4pm. Techniquest Glyndwr, Mold Road, Wrexham LL11 2AW
8 August, 4pm. See Science Offices, 59 Charles St, Cardiff CF10 2GD
14 Augus,t 2pm. See Science Offices, 59 Charles St, Cardiff CF10 2GD
15 August, 1pm. Trefenai Normal Site Bangor University, Gwynedd, LL57 2PZ
6-23 August. Roving inductions by appointment – North West Wales with Cerian Angharad
4 September, 2pm. See Science Offices, 59 Charles St, Cardiff CF10 2GD
12 September, 4pm. See Science Offices, 59 Charles St, Cardiff CF10 2GD
18 September, 4pm. University of Aberystwyth, room tbc.
19 September, 4pm. See Science Offices, 59 Charles St, Cardiff CF10 2GD
29 September, 2pm. Trefenai Normal Site, Bangor University, Gwynedd, LL57 2PZ
Other dates can be arranged if none of the above are suitable – contact ambassadors@see-science.co.uk.
Back to topCurrent schools requests for Ambassador support
For find out more about each request, follow the 'more information' link. This will take you to the relevant section on the current STEM Ambassador requests web page. If you are able to contribute to any of the following requests, or would like more details about them before deciding, please contact ambassadors@see-science.co.uk.
Wales wide Female STEM Ambassadors. BBC Expert Women's Day Wales. Cardiff venue. 10 October. A free introduction to the world of broadcasting for women at the top of their game, it aims to boost the representation of female pundits in areas where women are sometimes under-represented. More information…
Wales wide. One Show Roadshow BBC event. Weston super Mare. 6 and / or 7 August. The BBC One Roadshow needs STEM competent Ambassadors to assist with interactive science activities. More information…
Newport. Maths Skills games challenge. Easter 2014. More information…
Ammanford. Materials and Textile Technology project. Flexible dates Autumn Term. More information…
Denbigh. National Eisteddfod Wales. August 2 to August 10. More information…
Cardiff. National Museum of Wales Summer Programme. August through to September. More information…
Bridgend County. Solid Works Bridges Project. Autumn Term. Dates to suit Ambassadors. More information…
Bridgend County. The Real Apprentice – you're hired! December 2013 and January 2014. Dates to be agreed with Ambassadors. More information…
Bridgend County. Maths – a passport to a career. More information…
Caerphilly. Burger Bonanza. Early October. Year 7 Pupils will be given the brief to make a prototype toy (out of basic classroom items) that will be given away with a brand new burger. (No fast food involved!)
Caerphilly. Business Dynamics Theme Park Day. Late November. More information…
Treforest, Swansea, Lampeter and Cardiff. ICE Engineering Team Challenges – Earthquake Resistant Design. November 2013. More information…
North and Mid Wales. Engineering Challenge events. Bangor event. 29 November. More information…
Chepstow. Marketing and Product Design Challenge. September 2013. More information…
Welshpool. STEM Club support. Autumn term. More information…
Flint. STEM Club launch. Autumn Term. More information…
Conwy. After school Cooking Club with international flavours! Autumn Term. More information…
Wrexham. Raising the Careers Game. September 2013 ongoing. More information…
Merthyr Tydfil. 'Science In' talks. Crime detection; Forensics; Communications; Public Health; Leisure; Holidays. September – November. The teacher is launching a new initiative to stimulate interest in STEM to 'disengaged' Year 9 pupils. More information…
Wales wide. National Whale and Dolphin Watch. Coastal locations! 27 July – 4 August 2013. More information…