Dear Ambassadors

Toyota Drives the Message!
In this newsletter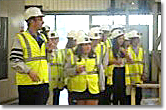 'See Inside Manufacturing' is a fantastic opportunity offered by Toyota manufacturing in Deeside to schools in the North East of Wales and also across the border in the Wirral and Chester. The event took place from 12 June to 10 July this year, opening the plant for 9 days to 15 schools.
Intrinsic to this successful and highly accredited event were Ambassadors Gary Bawden, Martin Fry and Phil Upton.
Almost 300 pupils were treated to a guided tour of the plant, interactive lectures on the manufacturing and design processes, career opportunities, hands-on activities and networking sessions. Ambassador Andy Jones was one of the lead demonstrators for the practical activities.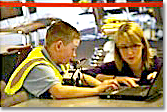 There is an extensive and intensive amount of preparation to arrange this opportunity; it is not an easy task to plan and co-ordinate the transit of young people through an industrial working environment and there is a cost implication both with staff and accommodation in the production process. Often the true cost of our Ambassadors services to STEM is not fully appreciated, and the investment both in time and dedication is even more difficult to quantify.
Schools in the area that were very privileged to experience this first class event were: Argoed School; Ysgol Morgan Hughes; John Summers; Ysgol Rhosnesni; Ysgol Clwedog; and Flint High School.
Ambassadors Rachel Mason and Keith Jones were lucky to enjoy a day at the plant with schools from the region. Keith reported: "I think it was very well organised and the pupils attending found it useful, enjoyable and informative".
Gary Bawden, Martin Fry
Go West!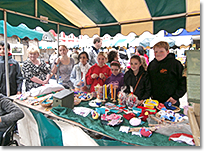 Pembrokeshire Young Entrepreneurs Fair showcases the business and enterprise projects undertaken by primary and secondary schools across Pembrokeshire. This year the event took place in Haverfordwest from 20–23 June.
Around 40 schools enter their projects that have to be designed and produced by the pupils. The enterprising youth of the County trade their products to the public and are judged for a wide range of prizes. The projects are evaluated for quality, sustainability, originality, business expertise and teamwork. Judges could also nominate special category awards.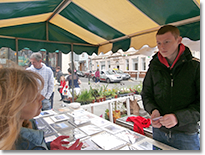 It is a very popular event sponsored by Murco Oil and organised by Youth Enterprise Officer Wendy Harris.
STEM Ambassadors supported the event both as judges and attendees: Helen Hughes; Geoffrey Irlam; Paula Holt; Mair Lewis.
I was enthused to visit on the Saturday and was really impressed by the effort of the pupils and their ability to sell their products!
In these photos pupils from Holy Name School are shown with their stall, and Glyn Rainer, aspiring photographer from Ysgol Preseli, explains his methodology in photographing water. For one image Glyn took 100 photos of droplets melting from ice cubes until he obtained the perfect shot.
Pythagoras Trousers
Keep in touch with Rhys Phillips' Radio Cardiff Show 'Pythagoras Trousers' at www.radiocardiff.org/rhysphillipsprofile.html.
Feedback on Ambassadors this month
"Both the students and I had a really great day on Monday, and I was really impressed with Andy – he made a lot of comments which I hope the students took on board about their studies and careers. He is really enthusiastic about Computing, and an excellent ambassador for the University."


Liz Davies Liz.Davies@nptc.ac.uk. Working with Ambassador Andy Ryan.

"We had a really successful day thanks. It all went well and the Ambassadors were a great help. The pupils really enjoyed their brief talks and we had to cut the questions short eventually as the pupils were so interested it was taking up to 20 minutes!"


Andrea Devereaux, Head of Maths KS3 Connah's Quay High School.
Ambassadors: Alexandra Iliopoulou, Mohamed Latif, Michael Ward, David Hinchliffe and Ross Banner.

"Dear Sian. Can I thank you for your contribution, without your contacts our science week would not have been the amazing success that it was. Thanks again – Deb"


Mrs Deborah Nind Head of Science Heolddu Comprehensive School.
Ambassadors: Helen Usher; Wayne Jones; Mark Smith.
Send us your feedback
STEMNET wants to hear from Ambassadors about their experiences of working with schools or in higher/further education. If you are a STEM Ambassador, you can leave your feedback here.
STEMNET also wants to hear from teachers and schools. Has your school taken advantage of the STEM Ambassador scheme? If you have, leaving your feedback here will help STEMNET fine-tune the service to meet the needs of teachers and schools.
Ambassador induction meetings
The next series of inductions will take place on the following dates – to book a place contact ambassadors@see-science.co.uk. Newly-registered Ambassadors must attend an induction meeting and bring their ID documents with them. Approved Ambassadors are also welcome to attend.
16 July, 2pm. Glyndwr University, Wrexham
July / August. Coleg Sir Gar Llanelli, date to be confirmed
1 August, 2pm. See Science Offices, Charles St, Cardiff CF10 2GD
9 August, 4pm See Science Offices, Charles St, Cardiff CF10 2GD
20 August, pm. Llandudno, venue to be confirmed
6 September, 4pm. See Science Offices, Charles St, Cardiff CF10 2GD
12 September, 2pm. See Science Offices, Charles St, Cardiff CF10 2GD
Other dates can be arranged if none of the above are suitable – contact ambassadors@see-science.co.uk.
Current schools requests for Ambassador support
For more information on each request, follow the link. This will take you to the relevant section on the Current STEM Ambassador requests web page.
If you are able to contribute to any of the following requests, or would like more information about them, please contact ambassadors@see-science.co.uk.
Other Ambassador opportunities
For more information on each of these other opportunities, follow the link. This will take you to the relevant section on the Other STEM Ambassador opportunities web page.