Happy New Year to the Wales STEM Ambassador team!
Sincere thanks to all for your contribution to the success of the STEM Ambassador programme during 2015, and a warm welcome to the 'novices' who have joined us in the last few months of the year.
During 2015 an impressive total of 2,388 'activities' were delivered across Wales. As STEM Ambassadors are only required to take part in an activity once each year, your contribution as part of a team of 1,800 STEM Ambassadors exceeds expectations – many of you support more than one engagement each year.
Your role in supporting skills and STEM recruitment is of great importance.
I read these comments from the Chief Executive of the South Wales Chamber of Commerce Keith Palmer to Insider Media Wales:
"Throughout 2015 our Quarterly Economic Survey has been showing that the Welsh economy has been pretty buoyant with overall growth in both UK and export sales. Businesses have however been telling us that they are struggling to recruit over the last year. There is a great deal more that needs to be done to support those looking to enter the jobs market. It is vital that Welsh businesses are able to source talented staff and the

skills gap needs to be addressed."
These articles evidence your importance in this initiative!
In this newsletter
Crystals within Crystals – Ben Butler's Winter Workshops in the North
It might have been an unseasonably mild winter so far, but at Ysgol Uwchradd Tywyn, on one particular Friday in mid-December, the winter season had definitely arrived!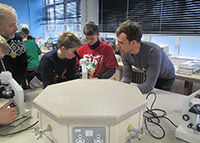 For a start the school was holding a 'Wear a Christmas Jumper and Hat' day for charity, and secondly a research scientist from Bangor University had arrived at the school with a freezer and fridge in his car containing specially prepared solutions and dishes of crystals! These were all for the year 7 and 8 pupils who, instead of their regular science lessons that morning, were taking part in practical workshops giving them an exciting insight into scientific research taking part in North Wales.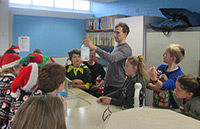 Over the past 12 months, STEM Ambassador Ben Butler, a postgraduate researcher at the School of Ocean Sciences, Bangor University, has been visiting schools in North Wales to promote students' interest in science with practical workshops entitled 'Crystals within Crystals: The story of sea ice'.
Supported by funding from the Science and Technology Facilities Council, Ben outlined the differences between sea ice and freshwater ice using an electronic salinity meter, demonstrated salt crystals developing before our eyes, and produced samples from his freezer for pairs of pupils to investigate under the microscopes. Pupils also heard how Ben has used the Diamond Light Source, an enormous synchrotron half a kilometre in diameter situated near Oxford, to study ice crystals with high intensity X-rays.
With the funding available, Ben has now presented the Crystals within Crystals workshops during 12 school visits across North Wales including: Ysgol Syr Hugh Owen, Ysgol Aberconwy, Blessed Edward Jones School, Ysgol Maes Garmon, Ysgol Ardudwy, Ysgol Glan Clwyd, Ysgol Uwchradd Tywyn and Ysgol Bryn Elian, all of who have had the opportunity to gain an amazing insight into the world of crystals!
Heather Hall, North West Wales See Science. Photos: STEM Ambassador Ben Butler visits Ysgol Uwchradd Tywyn
Engineering is a success at Ysgol Cymer Rhondda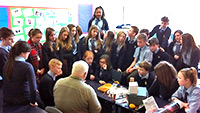 Ysgol Cymer Rhondda held their STEM Day on 9 December last term. STEM Ambassadors from GE Aviation and Jon Laver, formerly an engineer with the National Grid superbly supported the event.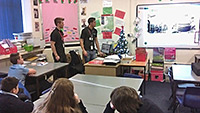 They covered 4 sessions with the pupils, with plenty of hands-on experiments during the session. Jon presented experiments on 3 basic effects of electricity using equipment he has designed and built.
Rhys James the Schools Employment Advisor from RCT, sent me glowing praise for the input and impact from all STEM Ambassadors during the event: "Jon was brilliant and covered exactly what we were looking for. More importantly the pupils were fully engaged with his input and I'm sure it inspired many of them. The GE Aviation STEM Ambassadors also covered what we were looking for and were brilliant."
Swansea Bay Campus adventure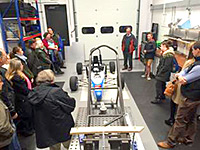 The last networking event of 2015 took place at Swansea Bay Campus. This is the new development at Swansea University which incorporates the College of Engineering and School of Management with plans to expand Departments in the Campus.
Together with the 20 STEM Ambassadors who came to support the event, we were taken on a personalised visit to the new department, followed by a networking session with refreshments.
During the networking STEM Ambassadors Susan Jones, Paul Bulmer and Carl Mason gave inspiring talks on their STEM Activities. Ranging from Carl's training events with the Sea Cadets where maths is made fun to Susan's workshops on STEM and foreign languages and Paul's support for the STEM Club success at Ysgol Glan Y Mor, these demonstrated the wide opportunities that STEM engagement with pupils can offer.
Swansea Bay provided excellent facilities – although they are still 'bedding in' at the University this event was a great showcase for the new premises.
Photo: Carl Mason
Back to topInductions and DBS renewal sessions for STEM Ambassadors
The next series of inductions will take place on the following dates – to book a place contact ambassadors@see-science.co.uk. Newly Registered Ambassadors must attend an induction meeting and bring their ID documents with them. Approved Ambassadors are also welcome to attend.
Thursday 7 January, 4pm – 6pm. See Science, 8 St Andrews Crescent, Cardiff CF10 3DD
Tuesday 12 January, 4.30pm – 6.30pm. Room 313, Dean Street, Bangor University LL57 1UT
Friday 15 January, 12pm – 2pm. Room 122, Margam Building, Swansea University SA2 8PP
Wednesday 20 January, 2pm – 4pm. See Science, 8 St Andrews Crescent, Cardiff CF10 3DD
Thursday 21 January, 4pm – 6pm. Techniquest Glyndwr, Wrexham LL12 2AW
Thursday 4 February, 4pm – 6pm. Room 313, Dean Street, Bangor University LL57 1UT
Friday 5 February, 11am – 1pm. See Science, 8 St Andrews Crescent, Cardiff CF10 3DD
Wednesday 17 February, 2pm – 4pm. See Science, 8 St Andrews Crescent, Cardiff CF10 3DD
Thursday 18 February, 4pm – 6pm. Techniquest Glyndwr, Wrexham LL12 2AW
Friday 26 February, 12pm – 2pm. Room 122, Margam Building, Swansea University SA2 8PP
Thursday 3 March, 4pm – 6pm. See Science, 8 St Andrews Crescent, Cardiff CF10 3DD
Wednesday 9 March, 2pm – 4pm. See Science, 8 St Andrews Crescent, Cardiff CF10 3DD
Wednesday 16 March, 12pm – 2pm. Room 122, Margam Building, Swansea University SA2 8PP
Back to topCurrent schools requests for Ambassador support
To find out more about each request, follow the 'more information' link. This will take you to relevant detailed request on the current STEM Ambassador requests web page. If you are able to contribute, or would like to know more before deciding, please contact ambassadors@see-science.co.uk.
Back to topSTEM Ambassador resources and other opportunities
STEM Ambassadors may be interested in the following newly-posted opportunities and resources. Please note that the information is provided by the organisation, and that See Science is not the contact point for most of these listings. You can view current opportunities which have been posted previously on the other STEM Ambassador opportunities web page.
STEM Clubs Week
Monday 01 - 05 February 2016
From 1-5 February 2016 we invite STEM Clubs to take part in a photo competition by sending a photo or video and a 50-word description to stemclubs@stemnet.org.uk or tweet us at @STEMClubs.
Prizes will be awarded to the three winning categories: Most unusual type of STEM Club; Best use of a STEM Ambassador in a STEM Club; Most original STEM Clubs Activity.
All pictures and videos will be shared on the STEM Clubs website to showcase the hard work of all involved.
Note that, while STEM Clubs Week is a celebration for all STEM Clubs, this competition will only be open to STEM Clubs from state-funded, secondary schools throughout the UK.
Speakezee Presents
Wednesday, 17 February 2016. 6-8pm. 29 Park Place Cardiff CF10 3BA GB
Speakezee evenings discuss fascinating issues in fun, interactive and enjoyable ways which are suitable for everyone. The topics at this launch event will include graduate students delivering their PhD thesis against the clock, a typical thesis can be over 300 pages long, but they have only 3 minutes to summarise their research! Members of industry will talk about their exciting work and scientists will talk about their ongoing research.
Each event will allow ample opportunity to ask questions and discuss topics with experts in their respective fields. Organised by Dr. Emma Yhnell, science researcher at Cardiff University.
Dr Martin Graff: Why Online Dating Doesn't Work! Martin Graff is Reader and Head of Research in Psychology at the University of South Wales, an associate fellow of the British Psychological Society and a Chartered Psychologist. He has researched cognitive processes in web-based learning, the formation and dissolution of romantic relationships online and offline, online persuasion and disinhibition. He has written over 50 scientific articles, published widely in the field of Internet behaviour, and presented his work at numerous International Conferences. He also writes for Psychology Today magazine.
Rhys Phillips: Thunderbolts and Lightning - are they really frightening? Rhys Phillips is a research engineer at Airbus Group Innovations where he works in the Lightning & Electrostatics team. He is also the presenter of a weekly science radio show, Pythagoras' Trousers and an internationally syndicated jazz radio show. Rhys is an active volunteer for the Institution of Engineering & Technology, a STEM ambassador and a co-founder of Cardiff Science Festival. He can often be found on stage compering his science variety night, performing with his jazz band or calling ceilidhs.
Tickets are available here.
Royal Institution Grants
The Royal Institution is offering UK state schools and FE Colleges grants of up to £500 to host a STEM enrichment activity for their teachers and students.
The scheme is funded by the Causeway Foundation. It is designed to integrate STEM activities such as shows, talks and workshops into school practice and to support teachers' professional development. Successful applicants will receive £500 towards any activity listed on the STEM Directories held before the end of July 2016. More information here or email stemdirectories@ri.ac.uk. Closing date: 7 February 2016.
Eligible state-funded schools, academies and FE colleges should complete the online application form here.
STEM Directories
For those of you who don't know, the STEM Directories are an online catalogue of activities that enhance the teaching of science, engineering and maths in UK schools The Directories are managed by the Royal Institution. If you are a provider of a STEM activity we encourage you to register on the Directories so that schools can search for you.