Dear STEM Ambassador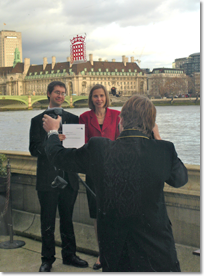 January 2012 starts on the excellent news that Ambassador Rhys Phillips was awarded the title of 'Most Dedicated Ambassador 2011' at the STEMNET Awards on 13 December 2011. Rhys is pictured here with Kirsten Bodley, STEMNET's Chief Executive
The awards are held in the House of Lords each year, hosted by The Lord Sainsbury and attended by some of the most influential figures in the world of STEM UK. This included Vince Cable, the Minister of Business Innovations and Skills. I mention this just to emphasise to all Ambassadors the level of recognition that the work of STEMNET attracts.
The event was marvellous, well organised and inclusive: it was great to see the pupils for Best STEM Club also at the event enjoying their moment thoroughly.
Of course, for Rhys to win the Ambassador award was terrific for him and well deserved, I know that his prize of a trip to CERN in March will be eagerly anticipated! It certainly made me feel proud to be part of this Programme.
Remember that these awards are annual and include one for teachers; employer of the year; STEM Club and now Technician of the Year. We will be hoping that more in our region will step up for consideration and those of you in industry and manufacturing may know of a technician (if not yourself) who could proposed in the next awards for 2012.
Activity
Ambassadors are often busy out there in their roles, but have no time to record activities or indeed forget to upload them on their accounts. Just drop a message to ambassadors@see-science.co.uk and Cerys or I will attend to this for you.
It is a very important part of what we do – not only are you covered by STEMNET insurance for your activity, but also it more accurately reflects your impact and our relationships with schools in our region.
Clarification on whether an activity is Multi or Single School
In broad terms a Single School activity will be one where you will be engaging with one school or set of pupils from one school, even if there are groups from several schools present at an event. You may have been working with one particular school and spent time exclusively with them, which can be classified Single School. However if there are many schools present and no direct contact with one school can be established then this must be Multi School Activity.
In this newsletter
Induction events
The next series of inductions will take place on the following dates – to book a place contact ambassadors@see-science.co.uk.
Newly Registered Ambassadors must attend an induction meeting and bring their ID documents with them. Approved Ambassadors are also welcome to attend.
26 January, 10.00am, Magnox Sites, Wylfa
26 January, 12.00pm, Magnox sites, Wylfa
27 January, 1.30pm, Bangor University
15 February, 1.30pm, Swansea University
Mid February, Queens Hall Narberth Pembrokeshire, date to be confirmed – please contact for reservation of attendance
16 February, 4.30pm, See Science Offices, Charles St, Cardiff CF10 2GD
8 March, 4.30pm, See Science Offices, Charles St, Cardiff CF10 2GD
Other dates available by request at See Science Offices, Charles St, Cardiff CF10 2GD.
School Ambassador requests
For more information on each request, follow the link. This will take you to the relevant section on the Current STEM Ambassador requests web page.
If you are able to contribute to any of the following requests, or would like more information about them, please contact ambassadors@see-science.co.uk.
Other opportunities
For more information on each of these other opportunities, follow the link. This will take you to the relevant section on the Other STEM Ambassador opportunities web page.
Celebration events. Venue Cymru Llandudno, 19 March; Celtic Manor Newport, 26 March. Ambassadors who can attend either of these events to judge the Gold CREST Awards please contact ambassadors@see-science.co.uk for more information regarding the role and event schedule.
STEM Challenge 10, taking us up to the launch of London 2012 in July. STEMNET is now in a position to confirm Cisco (who supported STEM Challenge 6) and the Pearson Foundation have agreed to fund the final Challenge and the dates have now been finalised. More information…
The Alacrity Foundation is devoted to advance the education of Entrepreneurship, Business and Management studies and practices. If you have graduated within the last two years and have an engineering, computer science, business or economics background then they are interested in hearing from you. More information…