Dear Ambassadors
You may have noticed that there have recently been more requests than usual from primary schools. This is by design rather than chance! By promoting engagement with primary schools, we have been able to assess demand and relevance to the Primary Curriculum. Enthusiasm from primary teachers is not surprising – many have not come to teaching from a STEM background and support in these subject areas is highly valued.

Over the last three months our Ambassadors have visited primary schools throughout Wales, delivering workshops, talks and activity sessions to many enthusisatic audiences. We start this newsletter with brief accounts of three of these visits.
In this newsletter
Steve the Weather at Llandogo Primary
Steve Hoselitz delivered a stunning workshop on weather systems at Llandogo Primary in Powys, demonstrating some amazing activities that he has developed: The Cloud Wheel; Water Cycle; DIY Wind Vane and Weather Time. Steve has now made such an impact that he has been booked to attend Raglan and Crickhowell primary schools with the same workshop. Here's the feedback that Mark Watson, Science Coordinator at Llandogo, sent me:
"Dear Miss Ashton,
I am writing to thank you for helping me get in touch with Mr Hoselitz one of your STEM Ambassadors. He has just finished visiting our school, helping us run a very exciting day about 'weather'. Mr Hoselitz was a pleasure to have in the school and it was wonderful having his support and enthusiasm for the subject. All the children had a wonderful day."
Skin Deep at Fairfield Primary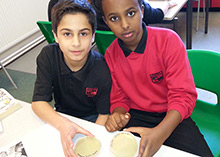 Meanwhile, at Fairfield Primary, Dr Simone Cuff presented a 'Skin Deep' session on Microbiology. Taking a great deal of time to prepare agar plates for the pupils, Simone was so well received by the teachers and pupils that teacher Julie Dharamshi commented: "The children loved Dr Cuff's activity and she came back today to do it all again with yr5!"
Bryntirion Primary School Transition Day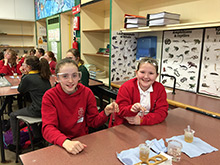 Myself? I took to the helm on February 10 for the Primary School Transition Day at Bryntirion School, presenting 6 practical sessions on the test for Diabetes in an Elephant!
It is always good to take the opportunity for engagement as a STEM Ambassador; it reinforces the positivity and worth of the role. During my visit, pupils loved the Benedicts Reagent test – a simple experiment but with instant results. You have to be on your toes though – especially with questions on copper complexes!
All the feedback from teachers strongly agreed that these Ambassador activities are highly engaging and memorable for young pupils. Want to know more about the contribution an Ambassador could make at your school? Contact me at sian.ashton@see-science.co.uk or on 02920 344727.
STEM Ambassadors connect at John Summers High, Flintshire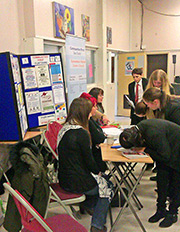 Secondary School engagements remain high on the aims of the STEMNET programme. Accessing Employment is a challenging prospect for many young people. One of the most important roles that Ambassadors take is to introduce new professions and relevant skills to pupils.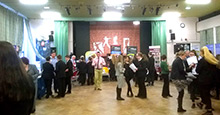 At John Summers High School, STEM Ambassador Nigel Davies attended an 'Employability Skills' event on 29 January. Nigel is a Manager West Flintshire Connects, and kindly provided photos of the session.
The format of these events is informal – employers from different sectors talk to small groups of young people. It allows open questions and removes barriers of speaking in a classroom setting. The aim is for young people to build confidence and enquiry skills in order to make critical judgment on their career path and life journey.
Recording your STEM Activities
Keeping records of the activities and events that STEM Ambassadors have undertaken is a very important way of keeping track of the support being provided across Wales.
We ask STEM Ambassadors to keep STEMNET informed about all activities they have undertaken, either by email to sian.ashton@see-science.co.uk or by inputting the information on the STEMNET portal using your STEM Ambassador login and password. There are full details of the process to follow on the See Science website.
To remain on the register, STEM Ambassadors are required to undertake at least one activity a year, so to avoid being deleted please make sure you upload this information!
Back to topInductions and DBS renewal sessions for STEM Ambassadors
The next series of inductions will take place on the following dates – to book a place contact ambassadors@see-science.co.uk. Newly Registered Ambassadors must attend an induction meeting and bring their ID documents with them. Approved Ambassadors are also welcome to attend.
(North and West Wales to be arranged)
12 February, 4pm. See Science Office, 59 Charles St, Cardiff CF10 2GD
17 February, 5pm. School of Medicine, College of Biomedical and Life Sciences, Cardiff University CF14 4YS
20 February, 12pm. Room 129, Wallace Building, Swansea University SA2 8PP
24 February, 4.30pm. Balcony Room, Queens Hall, Narberth SA67 7AS
25 February, 2pm. See Science Office, 59 Charles St, Cardiff CF10 2GD
5 March, 4pm. See Science Office, 59 Charles St, Cardiff CF10 2GD
11 March, 12pm. Room 129 tbc, Wallace Building, Swansea University SA2 8PP
13 March, 11am. See Science Office, 59 Charles St, Cardiff CF10 2GD
Other dates can be arranged if none of the above are suitable – contact ambassadors@see-science.co.uk.
Back to topCurrent schools requests for Ambassador support
Can you help?
If you are able to contribute to any of the following requests, or would like more details about them before deciding, please contact ambassadors@see-science.co.uk.
To find out more about each request, follow the 'more information' link. This will take you to the current STEM Ambassador requests web page.
Back to topSTEM Ambassador resources and other opportunities
STEM Ambassadors may be interested in the following newly-posted opportunities and resources. Please note that the information is provided by the organisation, and that See Science is not the contact point for most of these listings. You can view the full version of these new postings plus current opportunities which have been posted previously on the other STEM Ambassador opportunities web page.
The Engineering Education grant scheme
The Engineering Education grant scheme opened for submissions in February. This is a new amalgamation of the IET and IMechE education funds, and awards grants of up to £15,000 as well as the £5,000 grants that were allocated previously. More information…
Healthcare Science Week 2015
Healthcare Science Week 2015 will run concurrently with British Science Week, between 13-22 March. A big part of HSW is careers information, which makes HCS a great option for those who are keen on clinical and/or biomedical careers but are looking for alternatives to medicine or nursing. The many Ambassadors with these backgrounds are keen to work with schools to raise awareness of these careers. NHS Careers have a dedicated toolkit that HCS STEM Ambassadors might find useful. More information…
Aberporth Apprentice Recruitment 2015
There are two Aberporth Instrumentation Apprenticeship positions available in 2015, reference 5187. All applicants must have achieved a minimum of 5 GCSE Grades A* – C in Maths, English Language, Science and preferably ICT. Successful applicants will be able to gain qualifications and have the opportunity to broaden their skills and experience through extra-curricular activities, projects and placements. More information…
Announcement in National Science Teachers Association
Volunteer as a virtual judge with eCYBERMISSION, a free US web-based STEM competition for students in grades 6 to 9. More information…
Tomorrow's Engineers
STEMNET is currently working with Engineering UK, the Royal Academy of Engineering and the Professional Engineering Institutions to support the delivery of a Tomorrow's Engineers Expansion pilot project across the UK. This project is a national programme that offers additional regional-level support to engineering businesses engaging with schools. More information…
The Raspberry Pi Foundation
Offers resources, teacher CPD, outreach grants – and free devices for schools who may be finding it hard to fund Pi projects and clubs. More information…