Dear STEM Ambassador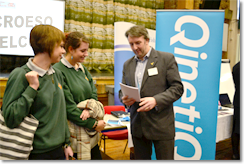 A request for Ambassadors to attend Careers Fairs at schools is a popular choice for many of our Ambassadors to attend. They are excellent for informal dialogue and discussion with pupils. We are able to offer Ambassadors display items for their 'stand' wherever practicable.
Two recent Careers Fairs which proved the value of Ambassadors' contribution were held at Ysgol Bro Gwaun in Fishguard attended by Ric Kelly of QinetiQ (pictured) and John Burnett of RWEN Power; and Aberdare Girls School, Aberdare, attended by Mike Lewis of BT, his first experience in an Ambassador's role.
In this newsletter
At Ysgol Bro Gwaun it was the first time that students considering their post-16 options and their parents had been invited to take part in such an event. Head teacher Tony Andrews declared the event 'A great success.' He said: "the pupils gained information about career choices, training and education options."
Mike Lewis (pictured) reported his event: "Today's career fayre at Aberdare was a great success, and all went very smoothly (apart from the butterfly stomach beforehand!). The pupils were really impressed with my stand and props (especially the magic rabbit – joined by his friend the amazing growing dinosaur). I had the STEM CD's running on my netbook, plus had all your posters and literature on display including the "stand" which was just superb. Had loads and loads of interest (I reckon mine was probably one of the busiest there) and managed to engage with a lot of pupils interested in Engineering & Tech'. Thank-you once again for supporting me with this. I'll certainly be giving it another go as soon as I can!"
Teacher Sian Edmunds reported: "Thank you for sending Mike to the Careers Fayre. He did an excellent job and was a great Ambassador for STEM. I would not hesitate in asking him to return for future events."

You can follow Rhys Phillips' Radio Cardiff Show on Pythagoras Trousers at www.radiocardiff.org/rhysphillipsprofile.html
Ambassador Resources
At See Science offices we have a number of resources and kits available for Ambassador use. For example, in the story above, Mike was able to take a 'stand' to the Careers Fair including a pop-up banner, CD video clips, posters and mini demonstrations.
Other resources available are:
Induction events
The next series of inductions will take place on the following dates – to book a place contact ambassadors@see-science.co.uk. Newly Registered Ambassadors must attend an induction meeting and bring their ID documents with them. Approved Ambassadors are also welcome to attend.
29 February, 11am. Tata Steel, Port Talbot
8 March, 4.30pm. See Science Offices, Charles St, Cardiff CF10 2GD
19 or 21 March, time tbc. Queens Hall, Narberth, Pembrokeshire
28 March, 2.30pm. Glyndwr University, Wrexham
29 March, 4.30pm. See Science Offices, Charles St Cardiff CF10 2GD
3 April, 11.15am. Llanishen High School, Cardiff (sixth form pupils)
If you require an induction session at any time or in any region not covered by the above please let me know.
School Ambassador requests
For more information on each request, follow the link. This will take you to the relevant section on the Current STEM Ambassador requests web page.
If you are able to contribute to any of the following requests, or would like more information about them, please contact ambassadors@see-science.co.uk.
Other opportunities
For more information on each of these other opportunities, follow the link. This will take you to the relevant section on the Other STEM Ambassador opportunities web page.
Ri Channel films
The Royal Institution is looking for engineers to take part in an exciting new project making films for our new venture the Ri Channel www.richannel.org. Thanks to funding from the Royal Academy of Engineering, we're looking for people working in engineering to make films with us about you and your work. More information…
The Big Bang Fair
Volunteering at The Big Bang Fair is a great way for your employees to develop long-term links with the local community. We have places available for professionals and post-graduate STEM (science, technology, engineering and maths) Guides to accompany school groups as they explore The Fair, giving context to what the students see. More information…
British Science Association Media Fellowships
Applications are open for the 2012 round of the British Science Association's Media Fellowships. A fantastic opportunity for researchers to spend the summer working for media hosts such as the BBC, Guardian and Nature to gain world-class communication skills and confidence working with the media. More information…