Dear Ambassadors
Ambassadors hit the headlines
In this newsletter
This month has seen a high profile for many of our Ambassadors across Wales. In the recent STEMNET Awards in the House of Lords, Magnox reached the final 3 of STEM Employer of the Year. A richly deserved nomination we were so pleased to hear the commendation and their achievement in reaching the top 3 of highly competitive category.
Sprechen Sie Wissenschaft?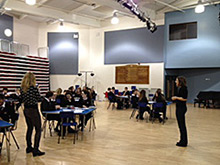 Yet more media interest came when Ambassador Jana Witt visited Cowbridge Comprehensive to deliver her brilliant session as part of our partnership project with CILT Cymru.

Jana had developed a schedule lasting an hour and a half which after her introductory profile engaged the pupils asking her questions in German, followed by two interactive practical challenges.
ITV Wales and BBC Wales attended and filmed the session which was highly praised by everyone. Pupils had a great time and the teachers of both science and language departments felt it opens up a spectrum of career insight for both them and the pupils.
All Ambassadors involved in this project are to be congratulated, and as with all our Ambassadors the quality and impact is now being profiled more widely than ever.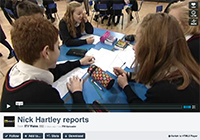 The TV correspondents have featured this and will be following up with other Ambassador stories. You watch the ITV News clip here.
Cilt Cymru and teacher Emma Green said: "Jana – I would like to congratulate you on your fantastic session today. It was such a varied session that it engaged the pupils so well. I truly felt privileged to be there! The morning was extremely well delivered and thought provoking for the pupils. Thank you so much for the work and time that you invested into this session. It definitely paid off! Without a doubt, the session achieved its goal of making the pupils realise that they were capable of communicating in German and French for use in a real context."
Emily's mission accomplished!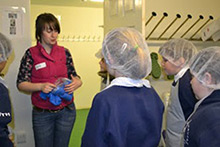 Following an intensive amount of planning and work, Ambassador Emily Davies accomplished the task of hosting Broadhaven Primary school at the Capestone Poultry Farm. The Farm business and a clip of the pupils visit to the Farm was featured on S4C programme Ffermio on Monday 3 December.
Children from Broadhaven Primary School in Pembrokeshire have been experiencing a taste of life on a poultry farm thanks to STEM Ambassador Emily Davies. Emily works at Capestone Organic Farm, which is set in 350 acres in the Pembrokeshire Coast National Park, and arranged the visits so that children would get a better understanding of how food is produced.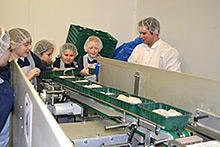 Beef and lamb is produced at the farm, but the emphasis for the visits by local schoolchildren in the past few weeks has been on the poultry production. There has been a tradition of raising turkeys at the family farm since the 1920s, but around 15 years ago they started producing organic chickens too. The poultry flocks are raised from day old chicks, which meant there was plenty to interest the pupils. The children were able to handle some of the chicks, in their cosy shed (which is heated to around 30 degrees!). They also visited one of the turkey sheds, where thousands of free range birds were sheltering from torrential rain. The children learnt about the importance of keeping hands and boots clean around the birds, to prevent spread of any infections.
The children were also able to visit the processing plant on the farm and see how the poultry is prepared and packed for sale. There was a contrast in temperature as they saw fridges and freezers with temperatures as low as minus 18 degrees, and an opportunity to see some impressive machinery.
Helen Hughes
Flying High at Ysgol Esgob Morgan with Mohamed Latif and Kayleigh Jones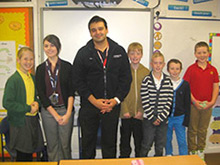 How many people can you fit in a plane wing? How dark it is inside a plane wing? How much did Concorde stretch by when it flew? These are just three of the questions our children asked one of our STEM Ambassadors, Mohamed last week. After half term we're working with Mark, our other STEM Ambassador, making rockets! The excitement and energy STEM has brought to school really has taken off already!
At Ysgol Esgob Morgan we like to develop an exciting and innovative curriculum offering for all children. We see the value that Science and Maths have and how they can really take children into exciting and fast paced careers.
Our children already have a passion for Maths and Science, having taken part in a major Mathematics competition and coming first winning a laptop for the school and Amazon vouchers for themselves, but we wanted to take this passion and build on it using links with the community and industry.
This is where I found myself reading all about STEMNET and how it can offer industry experts the chance to work with schools and schools the chance to work the innovators of our economy.
I made contact with Sian via email and gave her a few details about our school and what we were hoping to get out of the project, she did the rest!
Within three days I had received two emails with details of our two STEM Ambassadors.
After making initial contact we met with Mohamed; he came and gave a talk to each of our classes and offered them the chance to ask him any questions. He's coming back to host a teacher, support staff and governor maths quiz before Christmas! Next week we're welcoming Mark to school; he's coming to work with year 4 building rockets! I think I'm as excited as the children are!
What better way to take a passion for Science and Maths and grow it further by welcoming in experts in their field who have used their love for the subjects to take them places and into careers!
We'd like to thank our STEM Ambassadors and STEMNET for supporting us with this. It's a central part of the Curriculum Enrichment & Wellbeing agenda we have at Ysgol Esgob Morgan.
Richard Hatwood & Lorraine Dalton. Mathematics Subject Leaders
When snot is green and when it's snot

STEM Ambassador Dr Kelly BéruBé, from the School of Biosciences, Cardiff University, will be appearing on CBBC Channel Operation Ouch, Episode 12 on December 19 at 5:45pm. Dr BéruBé will demonstrate the disgusting but necessary reality about boogies, mucous and phlegm.
Looking for a last minute Christmas Present?
Calendar Girl Dr Sheila Dargan is featured as 'August' in an innovative calendar promoting the roles of Women in Science. Purchase or find out more at www.cardiff.ac.uk/biosi/newsandevents/news/newsstories/celebrating-the-female-face-of-science.html.

Send us your feedback
Please send us feedback on any event you have attended (whatever your experience may be) online here.
Ambassador induction meetings
The next series of inductions will take place on the following dates – to book a place contact ambassadors@see-science.co.uk. Newly-registered Ambassadors must attend an induction meeting and bring their ID documents with them. Approved Ambassadors are also welcome to attend.
20 December, 4pm. See Science Offices, Charles St, Cardiff CF10 2GD
7 January, 2pm. Coleg Sir Gar, Llanelli SA15 4DN
9 January, 2pm. See Science Offices, Charles St, Cardiff CF10 2GD
17 January, 4pm. See Science Offices, Charles St, Cardiff CF10 2GD
24 January, 2pm. Bangor University School of Education, Bangor LL57 1UT
Other dates can be arranged if none of the above are suitable – contact ambassadors@see-science.co.uk.
Current schools requests for Ambassador support
For find out more about each request, follow the 'more information' link. This will take you to the relevant section on the current STEM Ambassador requests web page. If you are able to contribute to any of the following requests, or would like more details about them before deciding, please contact ambassadors@see-science.co.uk.
Other Ambassador opportunities
For more information on each of these other opportunities, follow the link. This will take you to the other STEM Ambassador opportunities web page.