Dear STEM Ambassador
We would like to offer Season's Greetings / Nadolig Llawen for 2011. Most importantly the very best of thanks for all your contributions to an increasingly successful and popular Education and Enrichment support facility. If we consider that there have been 671 Ambassadors' activities registered this year it reflects how much engagement has been achieved with schools by you.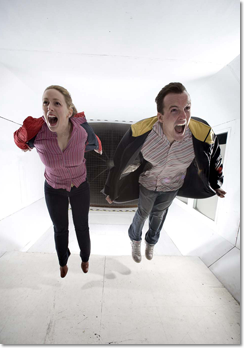 However I think we all realise the challenges that 2012 will bring, thankfully your professional expertise is the one bright light that is trumpeted by all voices as a the key to progress and growth. So 2012 will shine a much deserved spotlight on those in the STEM world, and will be a testimony to those who made the hard choice in their careers.
In this newsletter
STEM Ambassador news
Rhys Phillips wins STEMNET UK Most Dedicated Ambassador Award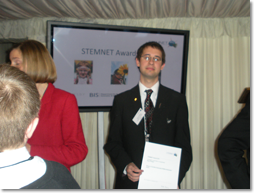 Rhys Phillips has won the STEMNET Award for the title of Most Dedicated STEM Ambassador. The ceremony was held on 13 December at the House of Lords, and Rhys' prize is a holiday in Geneva and an escorted tour of CERN worth £1,000.
We will be covering the event in detail in January's newsletter.
Linking schools with Ambassadors – Best Practice
One problem that can arise for schools is how to best link with the Ambassadors and expand the opportunities for an Ambassador visit.
Recently St Cyres offered a range of ideas allowing the Ambassadors flexibility on delivery and dates. Head of Science Jo Rowlands proposed that an Ambassador could choose between careers or subject presentations on dates according to the Ambassadors' availability or if time was limited they could use the lunch break for a 'drop-in' lunch with the 6th form. This session could be used as a less formal Q&A opportunity. The idea resulted in 5 Ambassadors visiting the school.
St Teilo's School have proposed a series of Assembly presentations for the 5 days of NSEW week and that too has resulted in 5 Ambassadors offering support.
BP 'Talking Science' Master Class Tour 2012
BP are offering a Free Science Maths and Enterprising two part programme across the UK in 2012 Dates across Wales will be in April and May. The programme consists of:
Talk Science CPD course for teachers
Trading Challenge Roadshow for students (NEW)
The opportunity looks very exciting – it is easy for schools to apply by following the link: www.enterprisingscience.com/apply_01.jsp
Mad Science employment opportunity
Mad Science is the world's leading science enrichment provider that delivers unique hands-on science experiences for children that are as entertaining as they are educational. Mad Science South Wales provides a unique assortment of After School Programmes, In School Workshops, Birthday Parties, Camps, Special Events and innovative products though out South Wales.
They are seeking part time instructors 3-10 hours of work a week but it is very well paid and a great experience for anyone looking to go into teaching or acting or with an interest in science. info@madsciencesouthwales.co.uk
Tata Steel
Tata Steel was awarded an Employers Certificate in November as recognition of their contribution to the programme in Wales. Tata have over 100 STEM Ambassadors, and we recognise that however large or small the business / organisation, the proportionate costs are the same for the release of staff to this much needed programme in Wales.
We have also applied for certificates for other Employers in Wales – without which we would not be as viable and active in the delivery.
Induction events
The next series of inductions will take place on the following dates – to book a place contact ambassadors@see-science.co.uk.
Newly Registered Ambassadors must attend an induction meeting and bring their ID documents with them. Approved Ambassadors are also welcome to attend.
21 December, 11am, Airbus, Broughton, Flintshire
4 January 2012, 2pm, University of Glamorgan, Treforest
12 January, 4.30pm, See Science Offices, Charles St, Cardiff CF10 2GD
13 January, 10am, University of Glamorgan, Treforest
18 January, 2.30pm, See Science Offices, Charles St, Cardiff CF10 2GD
26 January, time tbc, Magnox Sites, Wylfa
27 January Bangor time and venue to be confirmed
30 January Swansea time and venue to be confirmed
Other dates available by request at See Science Offices, Charles St, Cardiff CF10 2GD.
School Ambassador requests
For more information on each request, follow the link. This will take you to the relevant section on the Current STEM Ambassador requests web page.
If you are able to contribute to any of the following requests, or would like more information about them, please contact ambassadors@see-science.co.uk.
Other opportunities
For more information on each of these other opportunities, follow the link. This will take you to the relevant section on the Other STEM Ambassador opportunities web page.