STEM Ambassador Newsletter
August 2016
Summer has arrived – you may have noticed a change in the weather! Approved STEM Ambassadors will have also noticed that a change has taken place with the successful merger of STEM Learning Ltd and STEMNET, and you should have already received notifications about this from STEM Learning. The merger does not affect your role, insurance cover, DBS certification etc – your participation continues as before. STEM Ambassadors registered in Wales will still be affiliated with Wales, and will still receive my regular opportunities and communications.
If you have any questions, or concerns, I will do my best to answer them and – as we say in our inductions – if I don't know the answer I will find out from a trusted source!

Novice STEM Ambassadors will see that there is a super list of requests in this newsletter – do read and contact me about any which catch your interest.
In this newsletter
Engineering taster continues to delight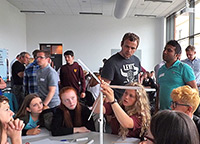 STEM Ambassadors supported this popular event in July. Held at the new Bay Campus of Swansea University and organised by Christina Kio, Ambassadors introduced teams of Year 9 pupils assorted from seven schools: Cymer Afan, Croesyceiliog, Dyffryn, Morriston, Pontarddulais, Porthcawl, and Ysgol Gymraeg Plasmawr.
Pupils took part in three challenges: building pylons; wind turbines and miniature speedboats. Teachers commented that the challenges would not have had the same impact, enthusiasm or enrichment without the input of attending STEM Ambassadors Aamir Awan, Ashley Burgess, David James, Leighton Jones, John Jones, Bruce Rogers, Oliver Scott, Derek Sheehan and Jamie Short.
Back to topRAF Valley Girls into STEM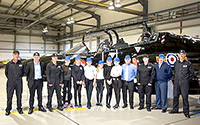 A group of female students from Ysgol David Hughes, Menai Bridge, Anglesey, visited RAF Valley as part of the Engineering Education Scheme Wales (EESW) Science, Technology, Engineering and Maths initiative.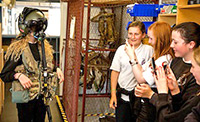 The initiative encourages females into engineering careers and professions. Accompanied by Squadron Leader Tony McLoughlin, an RAF Engineering Officer based at Valley, and Mr Tony Hughes from EESW, they visited the IV(R) squadron hangar, where they looked around one of the squadron's Hawk TMk2s and met some of the female engineers who work for BAE and Babcock at Valley.
The students then visited the flight line and spent time in the BAE Systems Hawk synthetic training facility where they took part in the 'Wind Tunnel' challenge. The final part of the day was a visit to the Survival Equipment section, where they tried on a selection of flight equipment with a brief look at the parachute bay and the life raft bay.
Back to topPublic Health Wales shine at School Science Conference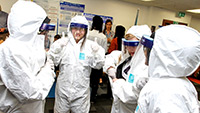 A team of four scientists from Public Health Wales Microbiology / Virology Cardiff delivered an interactive session at the 13th annual School Science Conference. 200 year 9-11 secondary school pupils attended. STEM Ambassadors Rhianydd Rees, Ben Roe, Jonathan Evans, and Rachel Annett used UV gel and personal protective equipment to highlight the importance of bacteria in our world and to discuss the importance of laboratory diagnostics in managing and controlling infection. 'Science for your future' provided Public Health Wales staff with an opportunity to discuss important issues such as emerging infectious threats and antibiotic resistance. The team used the Ebola epidemic as an example of the importance of diagnostic services and to highlight the important contribution of laboratory staff including laboratory staff from Public Health Wales.
The event was a great success. Photographs from the Public Health Wales stand were used for the post-event publicity. It promoted and enhanced the reputation of Public Health Wales, enabled staff to reflect on their important contribution to medicine, and encouraged students to learn about laboratory-based careers in medicine.
Pontypridd High STEM Week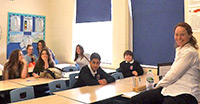 A series of sessions by STEM Ambassadors were highly commended by teachers at Pontypridd High. During the week pupils were introduced to sessions raging from Aviation Engineering to Bacteriology to IT design.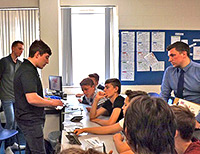 At Thursday's session STEM Ambassador Simone Cuff explained the important role that bacteria play both in cause and cure of human conditions. A challenging 5* session performance with exemplary communication of a hard topic!
STEM Ambassadors Luke and Tom Daniel, Apprentice Aircraft Engineers from GE Aviation delivered brilliant sessions on the assembly of engine components with high quality engagement activities.
Pupils attending Professor Adrian Porch and Iovleen Joshi's session manufactured electric motors which they could keep.
Carl Mason Sea Cadets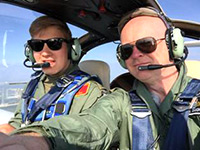 STEM Ambassador Carl Mason is a Senior Camera Operator for the BBC, but his main STEM activities are as Royal Navy Qualified Private Pilot and CPO Sea Cadet Corps.
10 cadets were chosen to complete their Silver Wing navigation and flying exercise at Lee-on-Solent flying in the Royal Naval Gliding Clubs Grob 109B motor glider. Carl was the only pilot and flew just over 12 hours with the cadets and other instructors. Cadets were able to have two flights lasting about an hour in total over Portsmouth Harbour and around the Solent. Many said it is the best course they have done in the Sea Cadets. The first week is classroom based and covers many subjects, including meteorology, briefings and how to make and give them, communications, navigation, human factors, basic effects of controls, instruments and engineering, as well as instruction on a flight simulator.
Back to topInductions and DBS renewal sessions for STEM Ambassadors
The next series of inductions will take place on the following dates – to book a place contact ambassadors@see-science.co.uk. Newly Registered Ambassadors must attend an induction meeting and bring their ID documents with them. Approved Ambassadors are also welcome to attend.
Friday 5 August, 11am – 1pm. See Science, 8 St Andrews Crescent, Cardiff CF10 3DD
Monday 8 August, 11am – 1pm. Swansea University (ID checks)
Tuesday 9 August, 2-4pm. Techniquest Glyndwr, Mold Road, Wrexham LL11 2AW
Thursday 11 August, 2-4pm. Capita Office Bryn Eirias, Abergele Road, Colwyn Bay LL29 8BY
Thursday 18 August, 4-6pm. See Science, 8 St Andrews Crescent, Cardiff CF10 3DD
Friday 19 August, 12pm – 2pm. Room 403, Vivian Tower, Swansea University Singleton Campus SA2 8PP
GE Aviation Nantgarw date tbc. Tuesday 23 August, Wednesday 24 August, Tuesday 30 August.
Friday 2 September, 11am – 1pm. See Science, 8 St Andrews Crescent, Cardiff CF10 3DD
Monday 5 September, 1-3pm. Ipsen Biopharm, Ash Road Wrexham LL13 9UF
Wednesday 7 September, 11am – 1pm. Digital Volunteers Kath Morton-Smith venue tbc
Friday 9 September 11am – 1pm. Room 403, Vivian Tower, Swansea University Singleton Campus SA2 8PP
Wednesday 21 September, 1-3pm. University of Aberystwyth venue tbc SY23 3FL
Wednesday 21 September, 2-4pm. See Science, 8 St Andrews Crescent, Cardiff CF10 3DD
Thursday 29 September, 4-6pm. See Science, 8 St Andrews Crescent, Cardiff CF10 3DD
Back to topCurrent schools requests for Ambassador support
To find out more about each request, follow the 'more information' link. This will take you to relevant detailed request on the current STEM Ambassador requests web page. If you are able to contribute, or would like to know more before deciding, please contact ambassadors@see-science.co.uk.
Back to topSTEM Ambassador resources and other opportunities
STEM Ambassadors may be interested in the following newly-posted opportunities and resources. Please note that the information is provided by the organisation, and that See Science is not the contact point for most of these listings. You can view current opportunities which have been posted previously on the other STEM Ambassador opportunities web page.
Little BIG Awards 2017 – spread the word!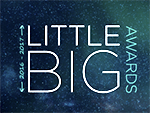 We are very pleased to confirm that STEMNET/STEM Learning will be working with Cisco on the Little BIG Awards 2017 and they are currently gearing up for official launch in September.
STEM Ambassadors interested in this fabulous opportunity can pre-register now for the official launch in September. There's also a 'It's Really Rather Good' film you can link to!
The Little BIG Awards is a STEM-based IoT challenge run by Cisco and our partners. Young people aged 11-14 in schools across the UK are invited to design a product or service which connects things together to make a difference in their everyday lives. Last year more than 250 schools registered, resulting in the participation of over 1,500 young people. As well as benefiting the young people directly, the programme also offers benefits to teachers and opportunities for STEM Ambassadors to act as mentors for the teams. 

Watch the video to learn more and register your interest here. Please pass on details to other contacts who might want to be involved.

The Royal Society of Biology's TalkBiology is an online discussion forum for educators, bioscientists and everyone with an interest in biology to interact online, share ideas, resources, thoughts on policy, news and questions. Join in the discussion at TalkBiology. Currently of interest on the site – we are looking for your input on supporting people with disabilities in STEM and the macro-problem of microplastics. If you have not used the site before, register with your email address here for free access to the forum.
Submitting questions for the 2017 UK International Biology Olympiad
The International Biology Olympiad is an annual competition attracting the best pre-university scientists from 70 countries. Assessment at the IBO consists of practical exams and theory papers, which aim to challenge students with cutting-edge questions of the highest calibre. The UK will be hosting the 2017 IBO and is required to write 100 questions for the theory papers. These will cover all fields of biology, from molecular to evolutionary science. A competition is running for the submission of question ideas – full details are available here.
Ambassadors might also like to know of (or be reminded of) these useful resources and links:
Create with Cadw workshops at Caernarfon Castle
There are still places available for the CADW Lego workshops on 12 August – book online here. You can view photographs from the Workshops on our Facebook page and the brilliant LEGO Dragon animations coming soon to our YouTube Channel. Watch a LEGO Dragon Landing on Caernarfon Castle.
Pokémon Go Community Meet-up, Rhyl 6 August
Meet and get to know your fellow Pokémon players, make new friends, bring the family, work together and hopefully we will see some rare Pokémon spawning. View the meet-up on Facebook.