Dear STEM Ambassadors
Another Summer holiday approaches, with schools activities taking a break until September. However the requests are being forwarded at a pace as you will see.
At this point could I urge STEM Ambassadors who may not already have done so to contact me to record any activities / events you have participated in over the last 12 months.
Any of these can be included on your profile:
An event involving schools; community groups (Cubs etc); family events; festivals; work experience or company visits by groups.
Any event organised by yourself or organisations such as Careers Wales which you may have attended.
Any pupil mentoring such as curriculum support or exam mentoring
If you are not sure whether or not an activity or event applies to your STEM Ambassador role please contact me at ambassadors@see-science.co.uk.
You can of course record activities yourself, but if it takes too long just send a brief email and we will do this for you. There are many significant benefits: DBS and insurance cover; keeping your account live and active and of course evidencing the value and impact of the Programme in Wales.

Most of all – thanks to all 1,750 STEM Ambassadors your superb role is making a real difference to pupils' enthusiasm for the world of STEM.
A Taste of Engineering wins favour at Swansea University
STEM Ambassador Christina Kio inspired and initiated an event to encourage pupils into the world of Engineering. Schools across the Swansea and West Wales region were invited to attend the event. Supported by a team of engineers from many disciplines – most being STEM Ambassadors – the pupils took part in problem solving challenges. They rotated through various activities:
Design, build and test a 'Speed boat'
Design and build an electronic game from foil and circuits
Design, build and test a paper bridge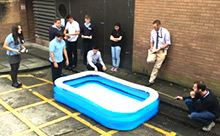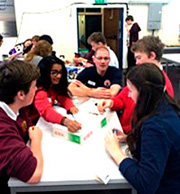 90 pupils from 6 schools attended: Morriston; Bishop Gore; Cardiff High; Ysgol Gyfun Rhydywaun; Brynteg; Pontarddulais. Pupils were also challenged by having to work in teams of 6 allocating 1 pupil from each school! A super lunch was laid on and both pupils and teacher joined in a Question Time session at the end of the event. Prizes were given to the 'winning teams' based on productivity, results and team work.
The STEM Ambassador team included Pauline Cooper, Simon Forster, Derek Sheehan, Paul Bulmer and John Jones.
Peter Phillips at Sir Thomas Picton
STEM Ambassador Peter Phillips has been looking back over his career with students in Pembrokeshire to perhaps inspire them to follow in his footsteps. Peter is a chemical engineer who spent his career in the oil refining industry.
He discussed the refining process, and showed samples of various products which are obtained from refining crude oil. He also talked about work to use oil to make protein, and contrasted that with the bio fuels made today. After outlining the history of the oil industry, from the first discovery of oil to the current day, Peter emphasised that chemical engineers now work in a whole range of fields, and talked about their earning potential. He has been taking part in careers activities for Year 10 pupils in Milford Haven School and Sir Thomas Picton School in Haverfordwest.
Helen Hughes: recruiter / supporter Pembrokeshire
Back to topChepstow pupils gain bespoke interview support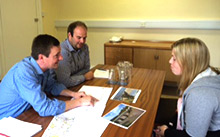 In June, Chepstow Comprehensive School Sixth Form Mentor Cathy Walliker contacted me to request STEM Ambassador Mock Interviews, in which her sixth form pupils would be matched with the expertise of selected volunteer professionals. STEM Ambassador Dave Cousins from Cass Hayward Engineering Consultants kindly offered his time and that of his colleague Ben Trevor. Dave and Ben set up an interview at their office for Charlotte – an MAT A level pupil keen to pursue a career in Civil or Coastal Engineering. The 'interview' took place at the Cass Hayward office giving Charlotte a real life experience of interviews with a panel format.
As Cathy stated, this was an exceptional opportunity, making a real impact on Charlotte's insight into how to prepare for university statement applications and interviews in the real world:
"Dear Dave and Ben, Charlotte and I are very grateful to you both for your time today; we do appreciate the amount of preparation and planning that took place prior to our meeting. Thank you for your offer of continuing contact if Charlotte has further queries, and for the warm welcome we received at Cass Hayward today."
STEM Ambassador Gunjan Sharma also supported the initiative with a session at Chepstow on interviews for Medicine and Pharmacy courses. Again, Gunjan was an inspiration, with this glowing commendation from Cathy:
"Thank you for introducing me to Gunjan! She was an absolute star, and had a wonderful blend of intelligence and warmth; the students loved her, and despite being nervous they each found their interview invaluable."
Bridges to Schools at Llwyncrwn Beddau
STEM Ambassador Ross Williams, a Project Manager at Morgan Sindall, facilitated a Bridge Building event with Llwyncrwn Primary School, Beddau.
Five sessions took place from 16 to 18 June – 150 students in total!
TeenTech high flyers: Glan Y Mor results
An amazing success for Glan Y Mor teams at TeenTech! As reported by teacher Sue Quirk, these teams were supported by STEM Ambassadors Paul Bulmer and Howard Kirkman:
"Both our TeenTech Teams did amazingly well at the Awards in London yesterday. We were absolutely thrilled when the A Brains, who's idea was the smart wheelchair won their category, competition against some very strong entries from well-funded private and grammar schools. The girls who produced the solar bench idea also did a fabulous job. We were the only school from Wales to be shortlisted for the finals and our pupils have had the most amazing experience."
If you are on twitter @solarbench and @teentechevent have some of the highlights of their wonderful experience.
Back to topInductions and DBS renewal sessions for STEM Ambassadors
The next series of inductions will take place on the following dates – to book a place contact ambassadors@see-science.co.uk. Newly Registered Ambassadors must attend an induction meeting and bring their ID documents with them. Approved Ambassadors are also welcome to attend.
7 August, 12pm. Room 122, Margam Building, Swansea University SA2 8PP
12 August, 2pm. See Science Office, 59 Charles St, Cardiff CF10 2GD
27 August, 4pm. Techniquest Glyndwr, Mold Road, Wrexham LL11 AW
27 August, 4pm. See Science Office, 59 Charles St, Cardiff CF10 2GD
4 September, 4pm. Newtown, location to be confirmed
11 September, 11am. See Science Office, 59 Charles St, Cardiff CF10 2GD
16 September, 12pm. Room 122, Margam Building, Swansea University SA2 8PP
18 September, 11am. See Science Office, 59 Charles St, Cardiff CF10 2GD
2 October, 12pm. Room 122, Margam Building, Swansea University SA2 8PP
Back to topCurrent schools requests for Ambassador support
To find out more about each request, follow the 'more information' link. This will take you to relevant detailed request on the current STEM Ambassador requests web page. If you are able to contribute, or would like to know more before deciding, please contact ambassadors@see-science.co.uk.
Back to topSTEM Ambassador resources and other opportunities
STEM Ambassadors may be interested in the following newly-posted opportunities and resources. Please note that the information is provided by the organisation, and that See Science is not the contact point for most of these listings. You can view the full version of these new postings plus current opportunities which have been posted previously on the other STEM Ambassador opportunities web page.
Engineering Team Challenge (ETC)
STEM Ambassadors with links to local schools may wish to promote this opportunity. ETC will take place between Monday 2 and Friday 6 November 2015, coinciding with Tomorrow's Engineers Week, at venues located near Cardiff, Swansea and Carmarthen. More information…
Agile Nation 2
Delivered by Chwarae Teg, the Agile Nation 2 project is ideally suited to women looking to progress into team leader and first managerial positions. This comprehensive support programme helps women develop the skills and confidence needed to successfully progress in the workplace. It also provides the opportunity to build an action plan to support career development along with individual advice, support and guidance from a dedicated and experienced team. More information…
Champion the Researchers
Thousands of 11-14 year olds have learnt about engineering research as part of Champion the Researchers– an outreach project with five events, five films and one competition. And now thousands more can benefit from the project's free classroom activities. More information…
International Year of Light: Resources and Videos for STEM Ambassadors
Did you know it's the International Year of Light? BP have some fantastic new resources and a Pinhole Photography Competition to help you explore and celebrate the science of light. More information…
Help develop STEM resources
Take part in research to help businesses like BP produce excellent STEM resources and you're in with a chance to win £500! The survey is open to STEM teachers of 11 to 16 year old students. More information…
Board vacancy: Chair, Natural Resources Wales
The Welsh Government is seeking a Chair for the Board of Natural Resources Wales. Remuneration: £28k per annum plus reasonable expenses – 60 days per year. Details of the role and how to apply here: for queries contact the HR Helpdesk on 029 2082 5454 or email SharedServiceHelpdesk@wales.gsi.gov.uk. The closing date for applications is 7 August 2015.