Dear Ambassadors
A very busy end to the academic year for STEM Ambassadors generated many newsworthy events, including public STEM engagement such as the Eisteddfod, Cardiff Science Festival, as well as many schools engagements.
In this newsletter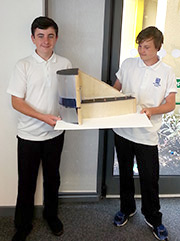 It is especially rewarding when Ambassadors receive proof of impact. One such occasion was the recent visit by STEM Ambassador Tope Balogun to Cefn Hengoed, Swansea. Tope delivered a presentation on the Swansea Tidal Lagoon Barrage.
A very impressed DT teacher Tom Williams contacted me: "I just wanted to say thanks again for all the support (Tope) you gave us in the school on Monday. The outcomes were far, far better than I expected."

Tom followed up with a phone call stating how the presence of a STEM Ambassador really made a huge impact on the pupils – and provided the expertise, inspiration and confidence which he felt was required to make the project a success.
Girls take to the air at GE Aviation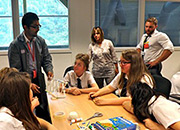 On 23 June GE Aviation Nantgarw treated girl pupils from six schools to an exciting celebration for National Women in Engineering Day.
GE's energy and investment certainly paid off, and STEM Ambassadors had designed a full schedule for the visit. After Managing Director Mike Patton welcomed the pupils to the site, they were mixed into teams to take part in a range of inventive workshops:
Introduction to National Women in Engineering Day
Women and their Magnificent Wings – a design and construction challenge of an aeroplane wing
Rocket launcher activity
Aviation Games – a series of challenges including pricing engine components, transport and logistics, design a flying machine and constructing a parachute.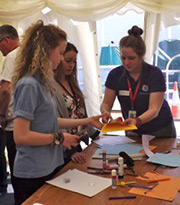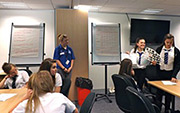 During the day the supervising Ambassadors rated each team for achievement and teamwork. The final event was the awarding of certificates to each pupil and a special award for the winning team.
Schools attending the event were: Bedwas High School; Blackwood Comprehensive; Cathays High School; Newbridge School, Risca Comprehensive School and St Cenydd Comprehensive School.
Teacher Phil Williams of Cathays School was one of many who described the day as a "fantastic experience for the pupils". Many thanks to all 40 STEM Ambassadors taking part in both hosting and developing the activities.
Ambassador visit leads to work experience trip
STEM Ambassador Veronica (Ron) Thomas is a Project Co-ordinator with Welsh Transport Technology Consultancy, a collaboration between Amey and URS. In April, Ron made her first presentation as a STEM Ambassador at Newport High School.
"I was nervous as a kitten but the group asked questions (which was amazing in itself apparently) and one pupil, Sekinat Olatunde, was really interested in the work of my contract. I emailed her some information about Amey and this contract and suggested that if Sekinat wanted to visit, she should contact me again after her exams. She did, and I organised a two-day work experience trip for her to visit SWTMC to see what we did in the realms of engineering and computer science.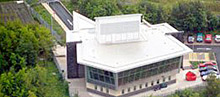 "Sekinat was fantastic – really proactive and interested in anything she was shown. This demonstrates to other STEM Ambassadors that a presentation can lead to something very positive. As you can imagine, I am well chuffed by it and hope it will lead to other good things."
Sekinat's email to Ron after the trip shows how much she got out of the experience: "I just wanted to say a massive thank you for allowing me to come to Amey for the two days and gain work experience. I found it to be so educational and an amazing experience that has given me an idea of what it is like to be a computer scientist and engineer. …thank you to all of the people that gave up their time during my work experience and tell them that I really appreciate all that they have taught me."
A Sound Success!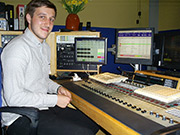 STEM Ambassador Mike Mallen offered Nathan Chambers, a young undergraduate from Bristol University a day of work experience at BBC Wales. Mike is an Audio Supervisor at BBC Wales.
A chance meeting had led to this amazing opportunity for Nathan to have an inside view of Sound Technology in media communications.
Mike told us: "The day began at 11.45, preparing a live Radio Programme on Radio Wales from 13.00-16.00 then a tour of Broadcasting House taking in all the Radio Studios, OB Stores and some of the OB Trucks. This was followed by a brief look at the TV Studios, shadowing the preparations for Wales Today and then the live Trail into the Six o'clock News on BBC 1 Wales. After a break for some food Nathan watched Mike supervise the live Radio Wales evening sports programme from 19.00 to 21.00."
Mike has kindly offered to extend this opportunity for selected 6th form pupils during the year.
Photo: Nathan Chambers at BBC Wales. © Mike Mallen 2014
Back to topAmbassador induction meetings
Twitter followers
If you are a Twitter user, do 'follow' See Science – we would be pleased to have more in the flock!
The next series of inductions will take place on the following dates – to book a place contact ambassadors@see-science.co.uk. Newly-registered Ambassadors must attend an induction meeting and bring their ID documents with them. Approved Ambassadors are also welcome to attend.
13 August, 2pm. See Science Office, 59 Charles Street, Cardiff CF10 2GD
21 August, 12pm. Zoology Lab Room, 129 Wallace Building, Swansea University SA2 8PP
22 August, 11am. See Science Office, 59 Charles Street, Cardiff CF10 2GD
5 September, 11am. Zoology Lab Room, 129 Wallace Building, Swansea University SA2 8PP
11 September, 4pm. See Science Office, 59 Charles Street, Cardiff CF10 2GD
17 September, 2pm. See Science Office, 59 Charles Street, Cardiff CF10 2GD
1 October, 1.30pm. Computer Science Dept, Swansea University SA2 8PP
Back to topCurrent schools requests for Ambassador support
Can you help?
If you are able to contribute to any of the following requests, or would like more details about them before deciding, please contact ambassadors@see-science.co.uk.
To find out more about each request, follow the 'more information' link. This will take you to the relevant section on the current STEM Ambassador requests web page.
Back to top Ambassador opportunities – other organisations
Send us your feedback
STEMNET values all feedback. This contributes to the evidence for their remit as laid down by the UK Government. We also want our region to be well represented in this.
Ambassadors are encouraged to pass feedback to STEMNET on this link (takes only 5 minutes).
STEM Ambassadors may be interested in the following newly-posted opportunities. Please note that the information is provided by the organisation, and that See Science is not the contact point for any of these opportunities. You can view the full version of these new postings plus current opportunities which have been posted previously on the other STEM Ambassador opportunities web page.
New STEM Ambassador videos
STEMNET and education specialists EdComs have developed a series of seven videos which show STEM Ambassadors delivering activities in schools. The videos are designed to give STEM Ambassadors a picture of what is involved in supporting an activity. More information…
New RCUK researcher case studies
RCUK's new research career case studies show researchers telling their own personal story of how they got involved in research, what it takes to be a researcher, and their rewarding experiences from their chosen career paths. More information…
The rise of Lab Lit
English fellow and novelist Julie Maxwell charts the story of a small but growing genre of fiction called Lab-Lit. We're familiar with the concept of science fiction, but what about science in fiction? Instead of futuristic speculation, current scientific knowledge and research developments have been featuring in novels that depict the world as we know it now. More information…
Earth Science Week 2014 13-19 October
The Geological Society is organising Earth Science Week in October, which will cut across all STEM subjects. Events are happening across the country and online, and schools are encouraged to get involved. The Geological Society also has some resources they can lend.
Guidance for STEM Ambassadors on being a CREST mentor
CREST have put together a guidance pdf on mentoring CREST projects, which may be useful for STEM Ambassadors who have been asked to mentor a project but who aren't sure what is involved. Download it here.
Careers in Optics – open students' eyes to the amazing world of vision
New Dimension workshops have been created by leading organisations in the eye healthcare sector to encourage talented, scientifically-minded students to consider a career in optometry. More information…
British Science Association survey on views of science
The British Science Association is participating in an EU-funded project look at perceptions of science in schools. As part of this, they are collecting the views of teachers and students on science. If you work with any schools who would like to contribute to some pan-European research, please send them the survey.
Women in STEM survey
Women in STEM (WES) are working with Women in Manufacturing (WIM), Prospect and TRS on a survey called Women in STEM: Are you IN or OUT? The survey will focus attention on the retention of women in STEM and on mechanisms of getting women to return to careers in STEM who may have left the sector due to career breaks. Responses are sought from all women with STEM backgrounds, whether currently employed in the sector or not.
Grants now open