Dear Ambassadors
Parlez-vous Science? or Sprechen sie Wissenschaft?
News of project collaboration between See Science and CILT Cymru with the invaluable input of our STEM Ambassadors.
In this newsletter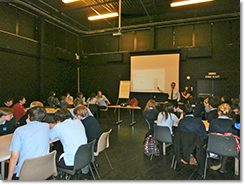 Following the Olympic gathering where over 200 nations enjoy a festival of sport, it is easy to overlook the fact that one of the biggest challenges to business growth is the necessity to internationalise. A key to this is the ability to communicate with partners and clients across the globe in their own language. It is not a truth that 'every-one speaks English' and the remit of CILT Cymru is to increase the uptake of foreign languages in schools, which will hopefully encourage them to pursue careers in STEM organisations too.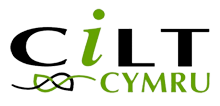 When we first met CILT we tried to find common ground which could mutually benefit both parties and a way in which both objectives of STEM and MFL coincide.
My first thoughts went to Ambassador Chris Squire, a business development manager at Tata Steel who had indicated at the induction meeting that he was keen to inspire more young people to work in industry who had skills in foreign languages.
We proposed that we set up a presentation attended by pupils from the Science Department and the Modern Foreign Languages Department. Two schools were piloted: Cwrt Sart in Neath and Llanwern in Newport. Following a planning meeting with the Heads of both departments, Chris developed a presentation that he delivered on 28 June.
He illustrated a truly international career developing a client base and support in France; Canada and the Middle East, there was an interactive game based on Science, pupils delivered questions in French to Chris. They were truly engaged and for every pupil's career aspiration, he connected the importance of both STEM and MFL.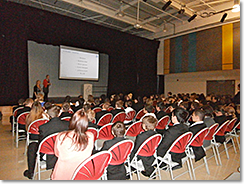 At Llanwern School Ambassador Annabel Parsons presented to both STEM and MFL classes on her career background utilising a degree in French to support French customers of Tata Steel. Knowledge of the technical issues; applications of the steel and conversing with engineers in a foreign language are a daily part of her work.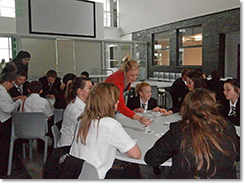 Annabel is seen at her presentation talk and assisting the pupils with the interactive game.
CILT have proved marvellous partners in the project with excellent communication standards and professional co-ordination.
In both schools, teachers and pupils alike were impressed and enlightened by the Ambassadors, as evidenced by the pupils' and teachers' feedback.
"A first at Cwrt Sart, combining the use of modern foreign languages with science in a unique presentation to inspire pupils."

Sue Palmer – Science Subject Leader.

"A worthwhile session for pupils and staff alike. A real opportunity to actually hear languages at work. Chris's personal experiences allowed pupils to understand the links between science and languages and they were inspired to pursue their language learning."

Gaelle Jones – Subject Leader, MFL.

"I thought it was a great experience to find out about the links between languages and science."

Emily Edward.

"I found the science and languages talk very interesting. I learnt a lot about jobs opportunities involving both science and languages."

Sophie Collins.

"I found it intriguing and I have learnt a lot about the association of sciences and languages and it will benefit me in the future."

Emma Morgan.

"I can now see how what learning at school could help me in a future"


100% agreed with this statement.
The most exotic location for an Ambassador's induction?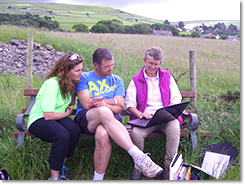 Do we live in the most beautiful though challenging country in the UK? Meeting in a mutually convenient place and time is challenging when arranging inductions! This was the case when Heather Hall had to find a suitable place between Porthmadog and Llwyngwril to meet up with Paul Dunn and Caroline Hudgell for an induction.
Could the prize for the most unusual location for an induction be Llywngwril beach?
Any challengers please send a photo!

Other feedback on Ambassadors this month
"I went on my first event this week at St Teilo's School for an Olympic Fashion Parade. It was excellent, I thoroughly enjoyed it and I think the students did too. I will look for something again over the next couple of months."

Kind regards, Anna Butcher.

"Thanks for your email - It really was a fantastic event and we are so grateful for the support that Anna and other employers were able to offer as they really added value on the day!

" Llinos Carpenter, Careers Wales – with Anna Butcher at St Teilo's.
Send us your feedback
STEMNET wants to hear from Ambassadors about their experiences of working with schools or in higher/further education. To leave feedback on any event (whatever your experience may be) you can complete an online form here.
STEMNET also wants to hear from teachers and schools. Has your school taken advantage of the STEM Ambassador scheme? If you have, leaving your feedback here will help STEMNET fine-tune the service to meet the needs of teachers and schools.
Ambassador induction meetings
The next series of inductions will take place on the following dates – to book a place contact ambassadors@see-science.co.uk. Newly-registered Ambassadors must attend an induction meeting and bring their ID documents with them. Approved Ambassadors are also welcome to attend.
28 August, 11am. Glyndwr University, Wrexham.
6 September, 4pm. See Science Offices, Cardiff CF10 2GD.
11 September. Swansea University, Project Bloodhound Training session.
12 September, 4.30pm. Marine Parade, Aberystwyth SY23 1PN.
12 September, 2pm. See Science. Cardiff CF10 2GD.
27 September, time tbc. Bangor University.
28 September, 11am. Wrexham engineering session.
3 October 2.30pm. Glyndwr University, Wrexham.
3 October, 2pm. See Science Offices, Cardiff CF10 2GD.
Other dates can be arranged if none of the above are suitable – contact ambassadors@see-science.co.uk.
Current schools requests for Ambassador support
For find out more about each request, follow the 'more information' link. This will take you to the relevant section on the Current STEM Ambassador requests web page. If you are able to contribute to any of the following requests, or would like more details about them before deciding, please contact ambassadors@see-science.co.uk.
Other Ambassador opportunities
For more information on each of these other opportunities, follow the link. This will take you to the relevant section on the Other STEM Ambassador opportunities web page.