STEM Ambassador newsletter
A super STEM Spring
March is one of the most active months in the STEM calendar. Major events take place across the network, including The Big Bang Cymru events held in North and South Wales venues and the National Science Week celebrations in both primary and secondary schools.

In Wales, See Science also facilitated the successful completion of the Primary School Engagement Project, in which more than 90 activities were delivered by STEM Ambassadors between December and March.
In this newsletter
Big Bang events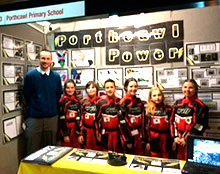 I was privileged to attend both Big Bang events – at the Celtic Manor, Newport and the Venue Cymru, Llandudno. At both events secondary school pupils were supported by the professional expertise of their project mentors, many of whom were STEM Ambassadors (as listed below).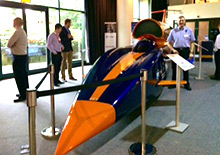 Projects were exhibited by 22 North and Mid Wales and 69 South and West Wales secondary schools. The events also welcomed primary schools competing in the F1 challenge at each event. STEM Ambassadors played a major role as judges for the special category awards.
The impressive Bloodhound SSC car was exhibited, ably explained to visitors by STEM Ambassadors David Ingleston and Anthony Rhodes in Llandudno and Allan Reid in Newport.
Congratulations to Dr Ian Mabbett and SPECIFIC; their teams from Gowerton School both won awards at the Celtic Manor event.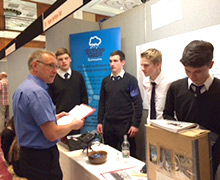 STEM Ambassador mentors and their schools taking part in the Big Bang events included:
Maybey Bridge Andy Eagles and Andy Sutton: (Caerleon Comprehensive School)
Valero: Richard Jeremey: (Ysgol Y Preseli)
Toyota: Gary Bawden: (Alun School and Flint High School)
Airbus: Adam Davies (Coleg Cambria)
Aerospace Wales: Paul Lindsay (Coleg Gwent and Treorchy Comprehensive School)
Spectrum Technlogies: Peter Dickinson (Brynteg School 1 & 2)
GE Aviation: Laura Harvey; Ramon Toor; Callum Colquhoun; Mark Savage (Llanishen High & St Cyres)
Morgan Botti: Jessica Leigh Jones (Whitchurch High School)
BT: Ronan Miles and Carl Jones (Aberdare Community School)
General Dynamics: William McAlpine (Monmouth School)
Parsons Brinckoff: Sean Bermingham (Coleg y Cymoedd)
SPECIFIC: Dr Ian Mabbett (Gowerton School 1 & 2)
Back to topRocket to the Moon at Brynmill Primary Swansea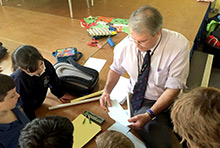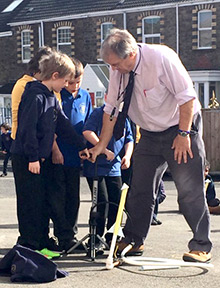 A lively energetic day was enjoyed by pupils at Brynmill Primary when STEM Ambassador Derek Sheehan provided a fantastic Rocket and Space Flight workshop for KS2 pupils.
Pupils learned the physics of flight and followed this by building cardboard rockets launched in the playground to heights of over 30 metres. Argos generously donated the Air Pump as a resource for Derek to use at school workshops.
Recording your STEM Activities
Keeping records of the activities and events that STEM Ambassadors have undertaken is a very important way of keeping track of the support being provided across Wales.
We ask STEM Ambassadors to keep STEMNET informed about all activities they have undertaken, either by email to sian.ashton@see-science.co.uk or by inputting the information on the STEMNET portal using your STEM Ambassador login and password. There are full details of the process to follow on the See Science website.
To remain on the register, STEM Ambassadors are required to undertake at least one activity a year, so to avoid being deleted please make sure you upload this information!
Inductions and DBS renewal sessions for STEM Ambassadors
The next series of inductions will take place on the following dates – to book a place contact ambassadors@see-science.co.uk. Newly Registered Ambassadors must attend an induction meeting and bring their ID documents with them. Approved Ambassadors are also welcome to attend.
1 May, 3pm. Techniquest Glyndwr Mold Rd Wrexham. LL11 2AW
13 May, 2pm. See Science Office, 59 Charles St Cardiff CF10 2GD
15 May, 12pm. Room 122 Margam. Building Swansea University SA2 8PP
20 May, 2pm. See Science Office, 59 Charles St Cardiff CF10 2GD
3 June, 2pm. Room 122 Margam. Building Swansea University SA2 8PP
10 June, 2pm. See Science Office, 59 Charles St Cardiff CF10 2GD
19 June, 11am. See Science Office, 59 Charles St Cardiff CF10 2GD
2 July, 4pm. See Science Office, 59 Charles St Cardiff CF10 2GD
10 July 11am. See Science Office, 59 Charles St Cardiff CF10 2GD
Back to topCurrent schools requests for Ambassador support
Can you help?
Follow the 'more information' links to find out about each request. If you are able to contribute, or would like to know more before deciding, please contact ambassadors@see-science.co.uk.
To find out more about each request, follow the 'more information' link. This will take you to the current STEM Ambassador requests web page.
Back to topSTEM Ambassador resources and other opportunities
STEM Ambassadors may be interested in the following newly-posted opportunities and resources. Please note that the information is provided by the organisation, and that See Science is not the contact point for most of these listings. You can view the full version of these new postings plus current opportunities which have been posted previously on the other STEM Ambassador opportunities web page.
Society of Biology Grants
STEM Ambassadors with links to schools as parents or governors may want to let the school know about small grants for UK secondary and primary schools from the Society of Biology.
The small grants will enable primary and secondary schools to link up and use the Society of Biology's Gopher Science Labs resource material to run their own lab days. with primary and secondary schools working together. This can be used as a fun day, extra-curricular science or as an activity to make the transition easier for primary students going to secondary the following year.
More information here. The deadline for applications is 25 May 2015.
Stimulating Science Careers: Advice for Career Representatives event
1 May 2015. St David's Park, Carmarthen
The Stimulating Science Careers event (formerly known as the HE/FE Forum) is a chance to find out from admissions tutors about the human and health science subjects offered by Swansea University.
This event is FREE to attend and refreshments and lunch will be provided. The venue has ample free car parking. The agenda is online here. Spaces are limited – book online here or contact chhsmarketing@swansea.ac.uk.
Free Range Learning: opportunity for paid science communication work
Hannah Garcia's company, Free Range Learning, provides creative food, farming and sustainability education for schools in South Wales. They have paid casual work opportunities available which may be of interest to students and STEM Ambassadors looking to get experience of leading engagement and communication activities and working with schools and families. More information and application form here.
Adult Nursing Students opportunity
This year, the Welsh Government body for Workforce, Education and Development Services (WEDS) has asked Swansea University to increase its intake of Adult Nursing students by more than a third. This means that applicants are now far more likely to gain a place in either the September 2015 or March 2016 cohorts.
70 additional places are on offer for Adult Nursing BSc (Hons) degrees at both our Swansea Campus and Carmarthen Campus. Students can apply either direct to Swansea University or through UCAS Extra.