Dear Ambassadors
As you see, we have had a very busy few months, with a significant increase in the number of school requests for STEM Ambassador support.
Many thanks to all the STEM Ambassadors who have sent me stories and photos. Every month I publish three or four articles from each area of Wales – so those which are not in this month's newsletter are guaranteed to feature very soon!
It's an affirmation of your success that over the last year 2,500 STEM Ambassador engagements have taken place across Wales, including schools and public events. If anyone has feedback or suggestions on

how we report and cover your activities, do let me know – we want to be sure that the newsletter adequately reflects the true value of your role.
Best wishes to all 1,400!
Power to the Girls at GE Aviation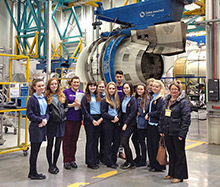 On March 19, GE Aviation Nantgarw hosted a bespoke experience for Year 9 girl pupils. Their ambition is to promote the exciting careers they offer across a wide academic spectrum to female applicants.
To offer the visitors as much individual attention as possible, the number of guest pupils was confined to 40 places. The unique visit included an introduction to GE Aviation by HR Manager Helen Wilkes, followed by a site tour accompanied by STEM Ambassadors who provided a friendly, informative and enthusiastic insight into the site facilities.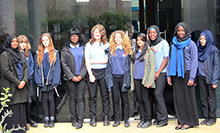 Visiting girls from Aberdare Girls (pictured above left with teacher Sian Edmonds and STEM Ambassadors), Bedwas High School and Cathays High School Cardiff (photo right) were able to see first hand the servicing systems of the jet engines and also the huge testing area, where the reassembled engines are tested before dispatch to the clients.
This was a great opportunity for pupils; the site is very high security because of safety, proprietary information and client confidentiality, and the energy and commitment which GE Nantgarw staff and STEM Ambassadors gave to the day was fully appreciated by teachers and pupils alike.
By the end of the experience, the number of girls who said they were interested in pursuing a STEM career in Engineering had more than doubled!
"The atmosphere here is cool and collected, really focused but you get the impression they do really rewarding work" – Aberdare Girls student.
Recycler pour le Monde at Ysgol Llanhari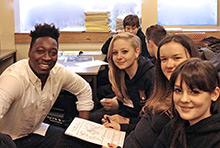 A further adventure into the combination of STEM and modern foreign languages took place in the Spring term.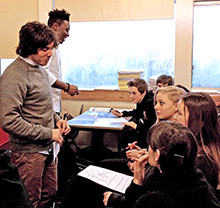 STEM Ambassadors Richard Asekunowo (photo left) and Olivier Henry (photo right) developed a workshop that challenged pupils in both Environmental Engineering and also incorporated French language elements.
Richard and Olivier are Environmental Engineering students at Swansea University. Both Richard, from Nigeria, and Olivier, from Paris, proved to be experts in the difficult task of bringing together the importance of both STEM and language skills.
The workshop introduced pupils to careers in Environmental Engineering, and perfectly illustrated the interdependence of the global community in environmental issues. The extra challenge of sorting recyclable items through the medium of French made a great impact with all pupils. Feedback was hugely positive: "engaging", "witty" and "impressively informative". The photos speak for themselves for the pupils' enjoyment of the sessions.
Pembrokeshire promise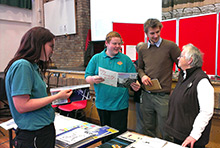 Several STEM Ambassadors took part in a careers fair held at Ysgol Bro Gwaun, Fishguard in the spring term. People with experience in a range of careers offered advice to students at various stages in their school careers. Some were choosing post 16 courses, others looking at what courses they might pursue at university in future.
Some students had come looking for ideas of what careers they might aim for, others were looking for help in deciding which precise route to pursue.
The photo shows students discussing some career options with STEM Ambassadors Robbie Rickman and Fran Barker.
Helen Hughes, Pembrokeshire and Carmarthenshire Recruiter / School Supporter
Back to topAmbassador induction meetings
Twitter followers
If you are a Twitter user, do 'follow' See Science – we would be pleased to have more in the flock!
The next series of inductions will take place on the following dates – to book a place contact ambassadors@see-science.co.uk. Newly-registered Ambassadors must attend an induction meeting and bring their ID documents with them. Approved Ambassadors are also welcome to attend.
25 April, 11am. See Science Office, 59 Charles Street, Cardiff CF10 2GD
30 April, 2pm. See Science Office, 59 Charles Street, Cardiff CF10 2GD
6 May, 2pm. Normal Site Bangor University, Bangor LL57 2RQ
7 May, 1pm. Room 108 Wallace Building Swansea University, Swansea SA2 8PP
9 May, 11am. See Science Office, 59 Charles Street, Cardiff CF10 2GD
14 May, 2pm See Science Office, 59 Charles Street, Cardiff CF10 2GD
21 May, 2.30pm. Newport Wetlands Centre, West Nash Road, Newport NP18 2BZ
22 May, 4pm. See Science Offices, 59 Charles St, Cardiff CF10 2GD
6 June, 11am. See Science Offices, 59 Charles St, Cardiff CF10 2GD
25 June, 2pm. See Science Office, 59 Charles Street, Cardiff CF10 2GD
26 June, 4pm. See Science Office, 59 Charles Street, Cardiff CF10 2GD
Back to topCurrent schools requests for Ambassador support
Can you help?
If you are able to contribute to any of the following requests, or would like more details about them before deciding, please contact ambassadors@see-science.co.uk.
To find out more about each request, follow the 'more information' link. This will take you to the relevant section on the current STEM Ambassador requests web page.
Back to top Ambassador opportunities – other organisations
Send us your feedback
STEMNET values all feedback. This contributes to the evidence for their remit as laid down by the UK Government. We also want our region to be well represented in this.
Ambassadors are encouraged to pass feedback to STEMNET on this link (takes only 5 minutes).
STEM Ambassadors may be interested in the following newly-posted opportunities. Please note that the information below is provided by the organisation, and that See Science is not the contact point for any of these opportunities. You can view current opportunities which have been posted previously on the other STEM Ambassador opportunities web page.
Institute of Physics' Public Engagement Grant Scheme 2014 – Round 2
Do you have a fantastic idea for making physics accessible? Do you want to reach a wider audience? Do you need some support to make your outreach activity happen?
The second round of the 2014 Public Engagement Grant from the Institute of Physics is now open for applications. The grants are worth up to £1,500 and aim to support physics-based outreach activities in the UK and Ireland throughout 2014. Activities should provide engaging experiences of physics to public audiences – grants will not be awarded to projects aimed at solely delivering the curriculum to school pupils.
There's more information about the grant scheme, including application forms, guidelines and summaries of past projects here, or email physics.society@iop.org. Closing date: midday Friday 25 April 2014 – Dominic Galliano will be looking forward to receiving your applications.
Delivering technology/computer science activities in schools
The TCS STEM Ambassador resources are now live and available to download directly from the STEMNetworkingResource Bank. These resources are aimed at supporting STEM Ambassadors in delivering technology/computer science activities in schools. There are three activity resources:
Spreadsheets: Super Villains activity – using spreadsheets to make comparisons
Databases: What sort of databases do social networking sites use?
Programming: How do computer characters find their way around?
Aromatherapy
STEM Ambassador Andrea Calland is a qualified aromatherapist in North East Wales. A programme of her many skills is on her website www.presenting.org.uk.
Gopher Science Labs Wales
Gopher Science Labs activities are designed to ease pupils' transition from primary to secondary education. Gopher Science Labs was created and developed by the Society of Biology in collaboration with the Biochemical Society. The Gopher Science Labs Wales resources were produced thanks to generous support from the Welsh Government's National Science Academy.
If you are interested in helping run a Gopher Science Lab Day or attend a teacher CPD about Gopher Science during the summer term, there is more information on the other STEM Ambassador opportunities web page.