Dear STEM Ambassador
I have just started in my roles as STEM ambassador co-ordinator and would like to introduce myself to you. Any queries or problems you may have please get in touch with me via my contact details and I will certainly attend to them. Looking forward to working with you in the future.
We are pleased to announce that with effect from 1 July 2011, See Science is your new STEMNET contract holder for the local management of the STEM Ambassadors Programme for Wales.
Your contribution to STEMNET is key the to success of the mission and we express our gratitude for your hard work in the past, and look forward to supporting and working with you in the future.
The enthusiasm and demand from schools is increasing which means that Ambassadors will be very much prized and sought after – even more so than previously.
With our new organisation and structure we will create a framework for success in our region through the STEM Ambassadors scheme.
The newsletter will identify easy access to opportunities for both Ambassadors and Schools with case studies forming a regular part of an exciting programme.
See Science will be at your service, creating a network between Schools and Ambassadors.

We are dedicated to the core values of one of the most important initiatives for young people in education today.
Sian Ashton
STEM Ambassador Coordinator
ambassadors@see-science.co.uk.
News
Big Bang Cymru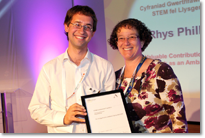 Thank you for your support with judging the projects at the Big Bang Cymru. Congratulations to Rhys Philips for his award for Valuable Contribution to Work as a STEM Ambassador.
Rhys has registered for over 100 events over the last year. Keep up to date with Pythagoras Trousers at www.radiocardiff.org/.
Induction Meetings
We are holding our first induction meetings on the dates below. To book a place contact ambassadors@see-science.co.uk. Newly Registered Ambassadors must attend an induction meeting before they can become approved. Registered and Approved Ambassadors are welcome to attend.
| Date | Time | Address |
| --- | --- | --- |
| 14 Sep | 2.30pm | Department of Electrical Engineering, Dean St, Bangor LL57 1UT |
| 21 Sep | 4.30pm | The Cambria, Marine Terrace, Aberystwyth SY23 2AZ |
| 22 Sep | 4.30pm | Harry Ramsdens, Stuart Place, Cardiff CF10 5BU |
| 28 Sep | 10.00am | TATA Steel, Port Talbot Works, Port Talbot SA13 2NG |
| | 1.00pm | TATA Steel, Port Talbot Works, Port Talbot SA13 2NG |
| 29 Sep | 3.00pm | School of Education and Lifelong Learning, Trefnai Normal Site, Bangor LL57 2PZ |
| 05 Oct | 11.30am | Christ College, Brecon LD3 8AF |
| 08 Oct | 11.00am | National Museum of Wales, Cathays Park, Cardiff CF10 3NP |
| 12 Oct | 9.00am | TATA Steel, Port Talbot Works, Port Talbot SA13 2NG |
| | 12.00pm | TATA Steel, Port Talbot Works, Port Talbot SA13 2NG |
| 13 Oct | 3.00pm | School of Education, SMU Townhill Campus, Townhill Rd, Swansea SA2 0UT |
| 18 Oct | 3.00pm | Techniquest Glyndwr, Glyndwr University Campus, Wrexham LL11 2AW |
| 19 Oct | 3.30pm | Atrium, University of Glamorgan, Cardiff CF24 2FN |
| 09 Nov | 9.00am | TATA Steel, Port Talbot Works, Port Talbot SA13 2NG |
| | 12.00pm | TATA Steel, Port Talbot Works, Port Talbot SA13 2NG |
| 17 Nov | 3.30pm | G24i Wentloog Environmental Centre, Cardiff CF3 2GH |
School Requests
Request 1: EBP Mid Glamorgan – Set Engineering Team Challenge
AIM: The Activity is designed to introduce and stimulate key skills in engineering, communication, teamwork, problem solving and budgetary constraints.
OVERVIEW OF TASKS: The challenge is separated into two tasks:
1) To design and build a 'buggy' using KNEX. The buggy must fulfil two objectives. The first is that it has to be self powered and be able to transport a weight as far as possible. The second is that it has to carry the same weight across the bridge, from end to end.
2) To design and build a bridge using limited resources. The bridge has to meet the following specifications. It must be able to support the static weight, at the centre point. It must support the weight and buggy across its entire length. It should be designed as cheaply as possible. Finally it must be constructed in such a way that at the final testing it can be assembled in one minute, or less.
Terry Thomas EBP Mid Glamorgan is looking for assistance with the following workshops in September
13 September 2011: Bryn Celynnog, Pontypridd: 8.45-13.15
14 September 2011: Brynteg, Bridgend: 8.45-13.15
16 September 2011: St Cenydd, Caerphilly: 8.45-13.15
20 September 2011: Mountain Ash, Aberdare: 8.45-13.15
21 September 2011: Tonypandy, Porth: 8.45-13.15
23 September 2011: St Martins, Caerphilly: 8.45-13.15
If you can attend please contact ambassadors@see-science.co.uk.
Request 2: Glyncoed High School, Ebbw Vale, NP23 5UW
Would like Stem Ambassadors to speak with Year 10 pupils about:
Quarrying limestone and the materials made from limestone.
The production of iron and its conversion into steel.
The sessions which will take place during the autumn term would be approximately 40 minutes and the class size approximately 30.
No date finalised yet.
Request 3: Afon Taf High School, Merthyr CF48 4ED
Would like STEM Ambassadors to support the following activities that they are planning to start during the autumn term:
With the pupils engaged in projects for the British Science Association Silver CREST Awards
With support for activities for the general science club
No date finalised yet.
Request 4: St Cyres Comprehensive School, Penarth CF64 2XP
Would like STEM Ambassadors to:
Give careers talks in line with curriculum, specifically on Nuclear or Medical Physics /Astrophysics / Cosmology for year 11 and the A level Physics students between March – April 2012. The length of the talk would be for between 1-1.5 hours for a maximum of 30 pupils.
Out of School Activities – University visit for Medical Physics
Teaching resources: Any available additional teaching resources for AS or A2 Level Physics online.
Subject and topic areas to focus on include:
Yr 11 Nuclear Power, Use of Radioisotopes,
Yr 11-13 Particle Accelerators – How they work, and why we use them
Medical Physics – methods used to monitor/ treat patients.
Yr 13 Astrophysics AS/A2 Edexcel scheme of work, which requires an understanding of creation of the universe, Black body radiators, HR diagrams and lifecycle of different size stars, as this is a new section of the syllabus any additional assistance with this area would be very useful.
No date finalised yet.
Request 5: Penarth/Barry – two Enterprise Activities for Year 10 pupils upwards
From September, students in Year 10 & 12 at the schools below will be given the task of setting up and running a small business enterprise. This is one of the requirements of the Welsh Baccalaureate.
The enterprise programmes will be introduced early next term but a couple of weeks later, we'd like to run a 'Dragons' Den' simulation when business groups (about 8-10 students) will present their product ideas, costings, marketing plans to a group of business people in the hope of attracting some 'investment' (up to £25 - which will come from the schools!).
Stanwell Comprehensive School, Penarth CF64 2XL
Year 12 Wednesday 21 Sept. 9:00 am to 12:30.
St Richard Gwyn RC High School, Barry CF63 1BL
Year 10 Tues. Sept 27 10:00-12:30
Wed. Sept. 28 12:15-13:30
Thurs. Sept 30 13:30-15:30
If you can attend please contact ambassadors@see-science.co.uk.
Request 6: St Teilo's C.I.W. High School, Cardiff CF23 9DT
Would like a STEM Ambassador to take part in school assemblies between 10.40-11.00 am during the week beginning 12 March 2012. in the following subject areas: engineering, environment or other similar disciplines.
If you can attend please contact ambassadors@see-science.co.uk.
Request 7: ASE Conference
We are looking for volunteers to help at the ASE Cymru Conference, National Museum of Wales Cardiff – 8 October 2011
A day about Antarctica for science teachers, teacher trainees, science communicators and other interested professionals. Explore the fascinating environment of Antarctica through hands-on activities. Find out about the physical landscape, the animals that live there and discover how Antarctica has been explored by scientists in the past and today.
The day will focus on practical ideas for the classroom, developing confidence about the topic and provide resources and activities for use in the classroom.
For further information and details about how to book a place please go to www.ase.org.uk/ase-regions/cymru-wales/events/2011/08/09/430/ or contact cerianangharad@ase.org.uk.
At the moment we have had no requests from North Wales but we will be contacting secondary schools during September.
Other opportunities
National Science and Engineering Week (NSEW) Information Sessions
This year's NSEW theme is 'our world in motion'. Come along to one of the information sessions near you and find out more.
Find out about British Science Association support and funding for schools in challenging circumstances that help take the hard work out of organising excellent events.
NSEW is a great time to plan your science activity week and take part in national projects from the British Science Association.
Attend a NSEW Info Session near you to see how you can take part in the nation's largest science and engineering activity week.
Generate a real buzz in school around science or create an inclusive event for the local community.
Benefits:
Details of funding schemes you could apply for
Hands-on activity ideas for young people
Details of the 2012 theme 'our world in motion' and mass participation activities
Free resources for organisers
Additional NSEW projects you can take part in
Case-study from an existing NSEW event organiser
Venues
Bangor: Conference Room, Trefenai, Normal Site, School of Education and Lifelong Learning, Bangor University, Bangor LL57 2PZ on 29 September
Cardiff: Cardiff: ATRiuM Cardiff School of Creative & Cultural Industries University of Glamorgan Adam Street Cardiff CF24 2FNon 19 October
The Royal Academy of Engineering ementoring scheme
The Royal Academy of Engineering are looking to recruit new ementors for their ementoring scheme for further education (FE) student and will shortly be rolling out the ementoring, and other strands of this project, to colleges in Wales.
We are looking for people who ideally (but not essentially) have some experience of the FE route to an engineering career and would be willing to spend around 30 minutes a week providing online advice (at their own time of choosing) to 16-19 year olds in FE. The aim is to encourage students to progress with engineering related subjects and go on to become apprentices, technicians or to study engineering at university. We are trying to support a student population that doesn't get as much attention as, say, school students and give people in industry the opportunity to "give something back" in a relatively painless way.
The Royal Academy of Engineering will be recruiting FE students to the ementoring scheme in September/October. If you think you've got what it takes to be a mentor, apply to the Bright Links engineering programme today at www.brightlinksengineering.org or contact Lynda Mann lynda.mann@raeng.org.uk if you need any further information.
The Royal Academy of Engineering
Call for proposals for the next round of Ingenious.
Ingenious is a grant scheme for creative public engagement with engineering projects. If you have an imaginative idea that helps engineers to communicate their expertise and passion for engineering to a wider audience – we want to hear from you. We welcome proposals from engineers and engineering organisations and institutions, universities, science and engineering communicators, public engagement specialists, colleges and schools. Funding from £3,000 to £30,000.
The closing date for the next round of Ingenious: 14 October 2011.
For details on how to apply and to download the application form go to Public Engagement Grant.
The British Science Festival 2012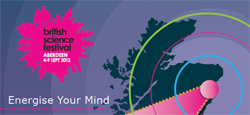 The British Science Festival 2012 will be in Aberdeen from 4 – 9 September 2012! You can now submit a proposal to run an event. We're looking for a wide variety of events covering a range of topics. To find out more about how to submit a proposal, visit www.britishsciencefestival.org Volunteer with the British Science Association. Don't just join - join in. We will also add this opportunity as a blog post on STEMNetworking.
STEMNET's National Awards
The STEMNET Awards aim to recognise the UK's most inspirational people for motivating young people in Science, Technology, Engineering and Maths. The UK benefits from a huge network of people dedicated to inspiring young people in STEM. STEMNET represents around 30,000 volunteers, 2,300 STEM Clubs, 10,000 teachers and 3,500 employers. Lord Sainsbury will host the award ceremony at the House of Lords on 13 December 2011. Awards will be presented to the most dedicated STEM teacher, club, ambassador, employer and for the first time, the most inspirational technician. The Inspirational Technician Award has been launched by STEMNET in partnership with The Gatsby Charitable Foundation. This award aims to recognise the work of a technician who can demonstrate they have inspired young people to follow technician career routes.
STEMNET Chief Executive Kirsten Bodley says: "The STEMNET Awards provide a fantastic opportunity to reward those who make a regular and valued commitment to STEM education in the UK. The launch of the Inspirational Technician Award is an exciting time for STEMNET as we continue our successful collaboration with The Gatsby Charitable Foundation on programmes that can inspire young people in STEM."
Online nominations for each award will open on Monday 5 September 2011. www.stemnet.org.uk
The Very Early Career Physics Communicators Award

The IOP Physics Communicators Group invites applications from people at the start of their careers in physics who have undertaken activities to support and encourage communication of physics. The prize is awarded annually to an undergraduate physicist, a person involved in an appropriate postgraduate study within a few years of a degree qualification, (not more than 5 years), or working as a physicist within the first 5 years of physics career.
The winner will receive £250 and an award certificate at an Institute of Physics Communicators' Group event on 8 November 2011. As well as providing recognition of the winner's work through the prize money, the award will also provide networking opportunities. Applicants therefore must be working in the UK or Ireland.
The Communicator Physicist of the Year Award seeks to recognise the work done by physicists who are embarking on or beginning a career in physics and to promote communication opportunities open to people with physics qualifications.
Applicants should submit a report of their communication activities which should be no more than 1500 words long.
All entries must be received by 15 September 2011.
Further details and application forms can be found by visiting the website.
RSC South East Wales Local Section small grants to support chemistry related extra-curricular activities in schools
Schools should be located within the area covered by the RSC South East Wales Local Section. A map is available online. The maximum award is £200 per grant.Successful applicants will be notified at the start of the next calendar month following receipt of the application. Payment will be made upon submission of a report of 100 words with a photograph and itemised list of expenditure signed by the bursar or head teacher within 30 days of completion of the activity.
Assessment criteria:
Promotion of the chemical sciences – will the activity enthuse pupils about chemistry, illustrate the benefits of chemistry to society and highlight career opportunities in the chemical sciences?
Safety – can the activity be conducted safely?
Feasibility – is the activity likely to succeed in its objectives?
Value – how many pupils will benefit from the activity?
Sustainability – will the activity be a one-off or will a resource be created that can be reused?
Funds should be used to support activities that would not otherwise take place – i.e. lie outside core teaching that should be taking place anyway.Enquiries should be made to Dr James Redman, Cardiff University, School of Chemistry, CF10 3AT. Tel 029 20 876273. Email: redmanje@cardiff.ac.uk
Announcing the WISE Annual Awards 2011 – 19 October 2011

The WISE Annual Awards are given in recognition of companies and individuals who have actively addressed the issue of promoting science, engineering and construction to girls and young women, so supporting the aims of WISE.
The Award ceremony will held on the 19th October 2011 at The Institution of Engineering and Technology, London.
The WISE Excellence Award is open to women who are in the early stages of their career, scientists and those working in construction. She must have demonstrated a high level of commitment to her chosen profession and to the promotion of science, engineering and construction to girls and young women. The winner will receive a cheque for £1,000 and an engraved plaque.
The WISE Champion Award is open to schools, industry, universities, colleges, charities and professional bodies who have taken steps to actively address the WISE mission to encourage girls and young women in to STEM education and related careers. The winner will receive an engraved plaque.
The WISE Advisor Award is open to career advisors, teachers, ambassadors, mentors and educators who have motivated and enthused girls and young women to pursue STEM related subjects. The winner will receive an engraved plaque.
Deadline for nominations is 5pm Friday 16 September 2011.