Employer engagement adds value to our work and the lives of young people in Wales. There are plenty of ways you can inspire young people from all backgrounds to progress into further STEM study and careers.

Young people and schools also give huge value to employers. We can provide many opportunities for you to promote your sector and job opportunities to young people.

Find out more about the STEM Learning employer offer here
Join the STEM Ambassador Programme
Inspire young people into the world of work by encouraging your employees to become STEM Ambassadors.

STEM Ambassadors demonstrate the possibilities of STEM subjects and careers by revealing how essential STEM is throughout the world in which we live.

Find more information here
The STEM Inspiration awards are a free award scheme, designed to celebrate individuals and organisations working to inspire young people in STEM subjects. Find out more here
What's involved?
Once you've completed our application form, a shortlist will be drawn up and you will be invited to attend our national award ceremony. The winners will be announced at a prestigious awards event at the Houses of Parliament.
STEM Clubs provide opportunities for young people to become inspired by exploring science, technology, engineering and maths away from the formal curriculum.

The Programme builds on the successes of the STEM Clubs Network while building new areas of focus and support for teachers appropriate to their schools' needs. Find out how you can get involved here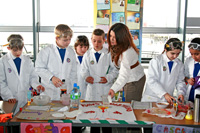 Projects and competitions
Projects and competitions are a great way to get STEM Ambassadors into the classroom. Why not set a challenge as a company and mentor students through a project?
Work experience placements
Can your company offer work experience placements for young people to help them decide on their future aspirations and careers?
Can your company offer site visits or host placements for teachers?
If you are interested in sponsoring an event at a local or national level contact us to find out more.