Theatr na nÓg, Eye of the Storm. Swansea 24 - 28 Sep; Newport 15 -19 Oct; Bangor 21 - 23 Oct; Aberystwyth 24 - 26 Oct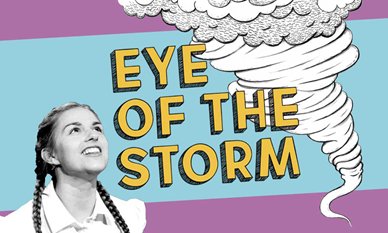 In partnership with Technocamps
Best Show for Children and Young People - Wales Theatre Awards 2018
Meet Emmie Price.
For the last 5 years her life has been a whirlwind. It's a world torn between caring for her bipolar mum, pursuing a passion for tornados, and proving she's got what it takes at school. But Emmie knows one day that's all going to change. One day she's going to become a storm chaser… in America.
When an opportunity to get a bursary to study in the USA comes up can she keep her place on the course and win the STEM competition with her invention for renewable energy?
This theatrical event of courage, determination and compassion is guaranteed to inspire adults of all ages and families with children aged 8+.
Details here.

Association for Science Education - Pre theatre Panel Discussion at 5.45pm
Swansea 25 September; Newport 18 October; Bangor 22 October
A panel discussion entitled "Let's Talk about Girls in STEM" will take place before performances of the show Eye of the Storm (details for the show above).
Bookings for the discussion are separate from bookings for the show.
Details and booking here.