Welcome to the STEM Newsletter
for Secondary Schools in Wales
Want to find out what's happening in STEM (Science, Technology, Engineering and Mathematics)? The See Science STEM Newsletter has information on educational opportunities, events, news, funding, grants, competitions, science schemes and more…
STAR-GAZING girls are going where no Blaenau Gwent pupil has gone before as part of a new pilot course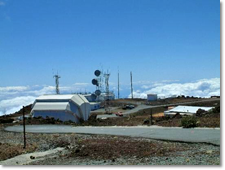 Year 9 students at Glyncoed Comprehensive will be looking to the night sky as they study for astronomy GCSE. In this course, students will be able to use two robotic telescopes located in both Australia and Hawaii. Through use of the internet and a programme called Solarium, students will be able to gain control of the Faulkes telescopes and directly observe the heavens.
Cardiff University's Dr Sarah Roberts said: "Hopefully the project will encourage more women towards not only careers in astronomy, but to a greater interest in science in general".
The course has been made a reality through the aid of Dark Sky Wales – a group of professional astronomers from the University of Glamorgan – and through the PreVent Programme. This programme, funded by the European Union Social fund, provides £10m in subsidies to run such projects within five boroughs of South Wales. The project hopes to promote sciences among young women.
Head of PE and course organiser, Mark Harris, said: "They're very enthusiastic about astronomy, and they do it because they want to do it". http://www.faulkes-telescope.com/
Congratulations to Ysgol Botwnnog!!
Formula 1 event at Bangor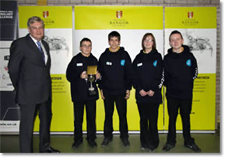 Bangor University's School of Education hosted the annual regional final of the 'F1 in Schools' event last December. During the two-day event primary and secondary schools exhibited, presented and competed for a place in the National finals. The aim of the competition is to design and manufacture at the University's Design and Technology Centre a model of each team's model Formula 1 car which will then race along a 20 metre track. The project will see regional finals held across the UK and in 32 countries worldwide.
After weeks of hard work designing, manufacturing and marketing their F1 cars, children from schools across north Wales showcased their miniature F1 cars.
Over 20 Secondary Schools took part in the competition on the second day of the F1 event. Guest speaker Brian O'Rourke, Williams F1 Team's Chief Composites Engineer inspired children with his talk on how F1 cars are tested to FIA regulations by means of impressive crash test footage. Brain O'Rourke also presented the secondary 1st place award: Bloodhound Class to 'Fast Lane' of Ysgol Friars. The 1st place F1 Class Award went to 'Fflam' of Ysgol Botwnnog who also came top under the fastest car category and for best sponsorship and marketing. The best Rookie Team was awarded to 'Apollo' of Ysgol y Grango, Wrexham.
Dewi Rowlands, Director of the Product Design Technology Centre at Bangor University said: "Over this two day event, the quality of work produced at both primary and secondary level has been outstanding. This kind of event showcases areas of design, engineering and technology at its best. It encourages and promotes good team work amongst young learners and raises awareness and confidence in learning about what could be viewed as quite a complicated science in a fun and innovative way. The enthusiasm from the F1 event organisers, the staff, the participating schools and the children themselves has been fantastic. Despite the snow, the participating schools were not going to let the cold weather stop them from competing! Their energy has been brilliant. This F1 event is a great platform that inspires young learners to get even more interested in the field of Product Design in a practical, imaginative and exciting way."
F1 in Schools is a multi-disciplinary challenge in which teams use Computer Aided Design software to design, test and manufacture miniature compressed air powered balsa wood Formula One cars. The cars are raced side-by-side, competing regionally, nationally and internationally for the Bernie Ecclestone trophy. Teams of four to six students must raise sponsorship and manage budgets to fund research, travel and accommodation. Students benefit by experiencing the design-Analyse-Make-Test-Race process deployed by the teams in the real world of Formula One. http://www.f1inschools.co.uk
The winners will compete in the National finals held taking place at the Big Bang Fair in March 2011 at the London Excel Centre. http://www.bangor.ac.uk/addysg/News/formula1.php.en?
Launch event of the NSA hub for North and Mid Wales
6th Form STEM Day at Glyndŵr University
Techniquest Glyndŵr and Glyndŵr University launched the North Wales hub of the National Science Academy in March with a day of workshops, talks and careers information for sixth form pupils on the theme of Sustainable Energy and the Environment.
Pupils taking STEM A levels in schools and colleges around Wrexham, Denbighshire and Flintshire attended a series of short lectures and hands-on activities which gave them an overview of innovative energy generation in local industry. The day's activities explored production through use of coal, biomass, solar and water, and the concept of energy generation by power stations for a whole region or generation by individual homes and businesses for personal use. Experts from Shotton Paper, OpTIC Glyndŵr, Scottish and Southern Energy and Environment Agency Wales each gave their angle on sustainable energy solutions.
Cool Science!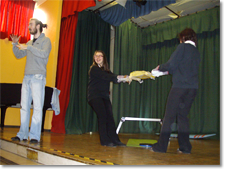 Students from Ysgol Gyfun Cwm Rhymni got a lesson in cool from resident Welsh Science Junkie 'Huw James' on 4 February, learning about the science behind extreme sports. The students gave feedback such as "I enjoyed learning how science has an influence on everything! I enjoyed watching experiments and practicals, it was really good!" and "Thank you, it was a really good way to show us how science is everywhere". The Science Junkie LIVE Schools Show is touring 12 Welsh High Schools in conjunction with Education and Enrichment Consultants See Science. The tour is funded by the National Science Academy. For more info contact info@sciencejunkies.co.uk or enquiries@see-science.co.uk
St David's Day visit from one of Wales' most eminent scientists!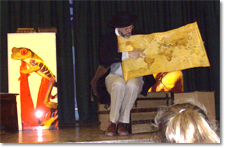 Ysgol Uwchradd Tywyn was honoured with a visit from Alfred Russel Wallace on Wales' National Day this year. Wallace, played by Ioan Hefin in this one-man show by Theatr na n'Og, was the co-discoverer of Natural Selection in the mid 19th Century.
Thanks to a grant from the Welsh Assembly Government through the National Science Academy, a total of 19 schools in the south of Gwynedd have been able to share Wallace's experiences as he related his early life and relived his travels along the Amazon and in Malaya, collecting plants and specimens of beetles, butterflies and other insects. The audiences heard how Wallace, feverish with malaria whilst travelling in the tropics, had a flash of inspiration which helped him to piece together his ideas on the theory of Natural Selection – ideas which he later shared with Charles Darwin.
Supported by an interactive DVD and further resources produced by Theatr na n'Og, the participating secondary schools now have the opportunity to take Wallace's inspirational ideas and develop them in their own investigations, whilst working towards a Bronze CREST Award.
How you can help us
You can help us by telling us about STEM activities you have organised and provide us with an insight into what the pupils gained from the experience by filling in our online feedback form. All feedback forms will be entered into a prize draw each term.
CREST in Wales – Grant Awards
Secondary schools and colleges in Wales can apply for a grant up to £250 to support CREST Awards. All schools colleges in Wales are eligible to apply. To find out more email stempoint@see-science.co.uk.
STEM Ambassadors at the University of Glamorgan
Psychology at the University of Glamorgan has over 20 STEM Ambassadors giving a critical mass of enthusiastic staff committed to raising the profile of science in schools in the community. We are available to deliver sessions in schools and colleges. These sessions are fun, interactive scientific reasoning and critical thinking activities and will be based around themes such as "Is seeing believing", "There were sweets in the shop – I remember!" and "Practice Makes Perfect". Sessions will be tailored to specific age groups (10-11; 13-14; and 16-18 years of age) and can last from 30 minutes to an hour. Contact Dr Rachel Taylor (rtaylor@glam.ac.uk) or Dr Gareth Roderique-Davies (gdavie10@glam.ac.uk) for further information.
STEM Challenge 6: The Cisco Website Challenge
The challenge is for students 11-14 years to make proposals for a website that will promote the Paralympian, Rachel Morris, raising her profile. Students will have to design the layout and content of the website and consider the use of social media and web-based technologies. http://www.stemchallenges.net/challenges/challenge-6/
CPD opportunities for teachers of chemistry in Cardiff, Pontypridd & Swansea – March 2011
The CPD workshops are free of charge to participants, aimed at developing and enhancing subject-specific knowledge and skills and provide great networking opportunities to share ideas and experiences with colleagues from other local schools. Registration is now open - visit http://www.rsc.org/walescpd to secure your FREE place.
Engaging with girls – gender awareness in the physical sciences
Thursday 17 March 9.00am-4.00pm RWE nPower Aberthaw
A one-day seminar for teachers sponsored by the National Science Academy in association with the Institute of Physics, the Association for Science Education and Careers Wales. Full supply cover plus travel expenses will be provided for teachers to attend. For more information contact Martin Blamey martin.blamey@cardiffandvale.org.uk
Waves and Radiation & Think Physics Kid! Institute of Physics Teacher Network
9 March 4.30-6.30pm Cyfarthfa, Merthyr
17 March 4.30-6.30pm Croesyceiliog, Cwmbran
29 March 4.30-6.30pm Gowerton, Swansea
In this workshop we consider examples of physics demonstrations, activities and approaches that could be used to develop thinking in our learners. To book contact Cerian Angharad cerian@angharad.fslife.co.uk
Medical physics workshops Institute of Physics Teacher Network
23 March 4.30-6.30pm Medical Physics workshop – Heath Hospital, Cardiff.
This workshop will look at medical ultrasound, physical methods of diagnosis & treatment of bone, tomographic imaging and includes a visit to the imagining laboratory. To book contact Cerian Angharad cerian@angharad.fslife.co.uk
Computing At School – Inventing the Future 2011 Wrexham (Glyndwr University) 16 March
A one-day conference aimed at sixth form students (and interested Year 11s). A real opportunity for your students to gain insights into the real world of computing science from people working in research, universities and industries. http://www.computingatschool.org.uk/index.php?id=inventing-the-future
Google Global Science Fair competition; deadline for entries is 4th April
Google are running a global science fair competition for students between 13 and 18 years of age. Entry is free. Students carry out an experiment / investigation of their own, and present it to the school. http://www.google.com/events/sciencefair
Britain's Dream Teachers: Jamie Oliver and YouTube are searching for the most inspiring teachers – deadline for entries 5 April
Britain's Dream Teachers is looking for teachers to video and upload their best approaches to teaching tough GCSE topics such as Physics, Chemistry, Biology and Maths. The seven winning teachers will win £3,000 for themselves and £7,000 for their school. http://www.youtube.com/dreamteachers
Maths Revision Day Conference
Wed 13 April 2011 AS-level
Friday 15 April 2011 GCSE (Higher Tier)
The aim of the GCSE Revision day is to encourage attendees to consider studying maths as AS-Level. The Chief Examiner for A-Level Pure Mathematics, Dr. Emrys Read, coming along to give a revision talk to all the AS-Level students attending. http://www.glam.ac.uk/maths
SciCast Competition – submission deadline for the SciCast Awards 2011 is 27 April
SciCast is a (free) national competition for short films about practical science. It encourages participants to think creatively about science. Previous entries have used animation, marshmallows, Lego, rap, and Shetland ponies to explain a range of STEM subjects. http://www.planet-scicast.com/
Practical Action's The Challenge – a competition for KS2 and KS3 students – closing date 30 April
Invent a product that will help us lead more sustainable lives. A dynamic opportunity for students to be involved in a more sustainable future. http://practicalaction.org/education/smallischallenge
The BLOODHOUND SSC Special Leaders Award – deadline 30 May
Prizes include Gold 1K club membership and a visit to the 'Dog House' in Bristol where our car is being built! Register TODAY by filling the online registration form.
http://www.leadersaward.com/index.php?option=com_dfcontact&Itemid=37
NEW Hedges Poster from the British Ecological Society (BES)
BES has produced its second wall chart in the series Developing School Grounds for Science, focusing on Hedges. Includes activities schools can do using local hedges and links through to the relevance of Hedgerows within the UK landscape. For FREE copies contact the education team education@BritishEcologicalSociety.org.
CREST Awards for 11-19 year olds - great new project ideas with 'pick up and run' resources
CREST is Britain's largest national award scheme for project work in the STEM subjects (Science, Technology, Engineering and Maths). http://www.britishscienceassociation.org/web/ccaf/CREST/
Greenhouse in Space
Join the European Space Agency and ESA astronaut Paolo Nespoli on an exciting project to see how plants grow both on earth and in Space. Order your mini Greenhouse in Space ground kit FREE.
http://www.esa.int/esaHS/SEMBGZ4PVFG_education_0.html
I'm a Scientist, Get me out of Here! March and June
FREE to schools. This is an award winning project that gets students talking to real scientists, online, is funded by the Wellcome Trust. Suitable for years 9-13. For more info and to sign up click here
http://imascientist.org.uk/for-teachers
Ready Steady Grow! Royal Horticultural Society, Swansea Environment Centre, 17 March
CPD course for teachers, support staff, school governors and others on the use and development of school grounds, giving you practical experience, activities and ideas for all areas of the curriculum. http://apps.rhs.org.uk/schoolgardening/article.aspa?PageId=351
Squash Tomato Challenge, Perfect for NSEW, 11-20 March
Challenge your students to take on a real-life problem affecting people in Nepal. A fun hands-on and brains-on challenge suitable for KS2–5. http://www.practicalaction.org.uk/education/squashedtomatochallenge
The Year in Industry (YINI) are the UK's leading student placement experts
YINI have placements for students interested in all areas of engineering, science, IT, e-commerce, business, marketing, finance and logistics. http://www.yini.org.uk/
Rolls-Royce – Secondary Resources
Explore the many different resources available FREE on their website. Activities are ideal for interactive whiteboards or individual computers. Teachers' notes and extension activities available.
http://www.rolls-royce.com/cr/education/resources/12_19_year_olds/index.jsp