Welcome to the STEM Newsletter
for Primary Schools in Wales
Want to find out what's happening in STEM (Science, Technology, Engineering and Mathematics)? The See Science STEM Newsletter has information on educational opportunities, events, news, funding, grants, competitions, science schemes and more…
How you can help us
You can help us by telling us about STEM activities you have organised and provide us with an insight into what the pupils gained from the experience by filling in our online feedback form. All feedback forms will be entered into a prize draw each term.
Congratulations to Ysgol y Talwrn
Formula 1 event at Bangor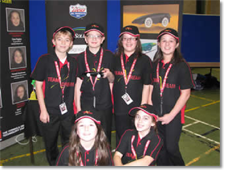 Bangor University's School of Education hosted the annual regional final of the 'F1 in Schools' event last December. During the two-day event primary and secondary schools exhibited, presented and competed for a place in the National finals. The aim of the competition is to design and manufacture at the University's Design and Technology Centre a model of each team's model Formula 1 car which will then race along a 20 metre track. The project will see regional finals held across the UK and in 32 countries worldwide.
After weeks of hard work designing, manufacturing and marketing their F1 cars, children from schools across north Wales showcased their miniature F1 cars.
The F1 competition in schools took off to a flying start with 14 primary schools competing for the top spot on Wednesday. Competition winners of the day were 'Team X Dream' from Ysgol Y Talwrn. The team was excited by their win as they have been working on perfecting their design every year. It was their third time competing at the event.
Head teacher, Gwyneth Hughes commented: "This is our 3rd year competing at this event. We were improving each year and we are all delighted with the results. We are looking forward to compete nationally and not let north Wales down! We have had great support from local companies in preparing for this and we would like to thank them all."
Ysgol Cae Top's 'Need4Speed' won second prize and 'Teardrop' of Ysgol Brynhedydd taking 3rd prize. http://www.bangor.ac.uk/addysg/News/formula1.php.en?
Do you have the 'Maths Factor?'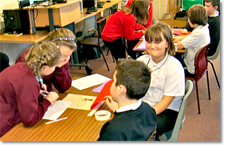 In February, 18 pupils from Ysgol Mair, Ysgol Llewelyn, Ysgol Emmanuel, Ysgol Bryn Hedydd and Christchurch County Primary School visited Rhyl High School to see who had the "Maths Factor".
10 maths questions involving Magic Squares, Mazes, Camels, Splitting Images and Square Numbers tested the Year 6′s maths abilities. Could they complete the challenges not only precisely but also in less than 3 minutes?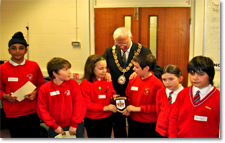 Ably assisted by a team of eager Year 7 timekeepers and scorers from Rhyl High; Mr Ecob, posed the questions. A 3-way-tie was announced, between Ysgol Llewelyn, Ysgol Bryn Hedydd and Ysgol Emmanuel. Ysgol Llewelyn were finally announced the winners, after having answered a cryptic code question in the time of 1 minute and 3 seconds.
The Chairman of Denbighshire County Council, Councillor Meirick Lloyd Davies very kindly donated prizes for the event, and presented the winners with a plaque.
Mrs Jacquie Chan, the primary numeracy advisor for Denbighshire, issued all pupils involved with a certificate. Councillor Davies commented on how impressed he was with all of the pupils' teamwork and their mental maths capabilities. Da Iawn ! http://www.rhylhigh.denbighshire.sch.uk/?p=1977
St David's Day visit from one of Wales' most eminent scientists!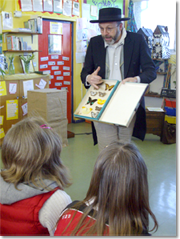 Ysgol Llwyngwril was honoured with a visit from Alfred Russel Wallace on Wales' National Day this year.
Wallace, played by Ioan Hefin in this one-man show by Theatr na n'Og, was the co-discoverer of Natural Selection in the mid 19th Century.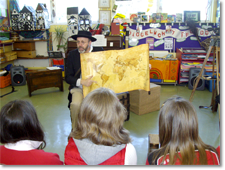 Thanks to a grant from the Welsh Assembly Government thorough the National Science Academy, a total of 19 schools in the south of Gwynedd were able to share Wallace's experiences as he related his early life and relived his travels along the Amazon and in Malaya collecting plants and specimens of beetles, butterflies and other insects. With tales of Hercules and Goliath (beetles as big as your hand!) and with moving musical interludes, the young audiences were welcomed into Wallace's naturalist's camp and travelled with him on rough voyages across the ocean to discover new species in far-off lands.
Backed up by an interactive DVD and further resources produced by Theatr na n'Og, the participating schools now have plenty of stimulus material to take Wallace's inspirational ideas and develop them in their own investigations! http://www.theatr-nanog.co.uk/productions/You-Should-Ask-Wallace1
CREST Star Investigators
Looking for projects for your STEM Club or new ideas for transition phase activities…
Are your pupils already engaged in STEM projects?
If so, consider the British Science Association's CREST Award programme… CREST Star Investigators is a UK-wide award scheme that enables children to solve scientific problems through practical investigation. The activities focus on thinking about, talking about, and doing science. They are designed to be used primarily outside of class time (e.g. in a science club), though some are suitable for use in the classroom.
To find out more follow the link to
http://www.britishscienceassociation.org/web/ccaf/CREST/
Schoolscience has launched a new primary competition – The Great Bug Hunt 2011
For more details go to http://www.thegreatbughunt.com
Greenpower inspiring young engineers
Greenpower promotes engineering as a rewarding career to anyone aged 9-25, while also focusing on sustainability, teamwork and the community. To find out more go to http://www.greenpower.co.uk
Weather and climate resources for teachers, schools and students
The Metlink website is packed with activities and resources for primary and secondary students. For more details go to http://www.metlink.org.uk
Practical Action's – The Challenge – a competition for KS2 and KS3 students Closing date 30 April
Invent a product that will help us lead more sustainable lives. A dynamic opportunity for students to be involved in a more sustainable future. http://practicalaction.org/education/smallischallenge
RSPCA Education has a new-look website
FREE interactive resources for Key Stages 1 and 2 'Animals and us' and GCSE science. http://www.rspca.org.uk/education
Rolls-Royce - Primary Resources
Explore the many different resources available FREE on their website. Activities are ideal for interactive whiteboards or individual computers. Teachers' notes and extension activities available.
http://www.rolls-royce.com/cr/education/resources/7_11_year_olds/index.jsp
Primary upd8 - The Association for Science Education
Primary upd8 is a series of high-quality, engaging science activities for 5 to 11 year olds. Each activity is based on a current event or an everyday life. More … http://www.ase.org.uk/resources/primary-upd8/
The BLOODHOUND SSC Special Leaders Award - deadline 30 May
Prizes include Gold 1K club membership and a visit to the 'Dog House' in Bristol where our car is being built! Register TODAY by filling the online registration form.
http://www.leadersaward.com/index.php?option=com_dfcontact&Itemid=37
NEW Hedges Poster from the British Ecological Society (BES)
BES has produced its second wall chart in the series Developing School Grounds for Science, focussing on Hedges. Includes activities schools can do using local hedges and links through to the relevance of Hedgerows within the UK landscape. For FREE copies contact the education team education@BritishEcologicalSociety.org.
Greenhouse in Space
Join the European Space Agency and ESA astronaut Paolo Nespoli on an exciting project to see how plants grow both on earth and in Space. Order your mini Greenhouse in Space ground kit FREE.
http://www.esa.int/esaHS/SEMBGZ4PVFG_education_0.html
I'm a Scientist, Get me out of Here! March and June
FREE to schools. This is an award winning project that gets students talking to real scientists, online, is funded by the Wellcome Trust. Suitable for years 9-13. For more info and to sign up click here
http://imascientist.org.uk/for-teachers
Ready Steady Grow! Royal Horticultural Society, Swansea Environment Centre, 17 March
CPD course for teachers, support staff, school governors and others on the use and development of school grounds, giving you practical experience, activities and ideas for all areas of the curriculum.
More… http://apps.rhs.org.uk/schoolgardening/article.aspa?PageId=351
Squash Tomato Challenge, Perfect for NSEW 11-20 March
Challenge your students to take on a real-life problem affecting people in Nepal. A fun hands-on and brains-on challenge suitable for KS2–5.
More… http://www.practicalaction.org.uk/education/squashedtomatochallenge