Welcome to the STEM Newsletter
for Secondary Schools in Wales
Want to find out what's happening in STEM (Science, Technology, Engineering and Mathematics)? The See Science STEM Newsletter has information on educational opportunities, events, news, funding, grants, competitions, science schemes and more…
Brynmawr School Pupils Represent Britain at International Science Camp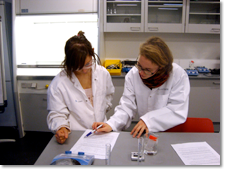 Four pupils in Year 12 at Brynmawr Foundation School joined 30 other students selected from across Europe at the Danish Centre for Science. At the Science Camp for talented students they took part in practical work, team building, communicating scientific ideas and lectures from scientists who work in a wide variety of disciplines relating to the diagnosis and treatment of cancer. Lab-based activities included making and testing an anti-cancer drug, making x-rays and testing the effect of radioactivity on the human body.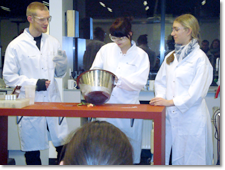 Brynmawr students excelled throughout the week and Adrienne Cox was in the group that won the prize for the best scientific presentation at the end of the Camp. They returned to Wales with increased confidence, improved knowledge, even more enthusiasm for Science and Medicine and memories that will last forever.
Ffynone Chemical Olympiad Team win the South West Wales Region for the second year in a row!
A team of pupils from Ffynone House has won the South West Wales Region Chemical Olympiad. The semi-finals and finals were held in the Taliesin Arts Theatre in Swansea University on 30th November. The pupils had strong competition from Olchfa Comprehensive and Gwernyfed High School in Brecon. The Ffynone team will now represent the South West Wales region in the Royal Society of Chemistry 'Top of the Bench' competition.
Big Bang Competition Finalists 2010-11

Congratulations to all the Welsh students who are finalists at the Big Bang: UK Young Scientists & Engineers Fair on 10-12 March.
Janto Betton, Braoin Macloughlin, William Reese et al, Amman Valley Comprehensive School; Josh Chaplin, Cerian Jones, Ysgol Uwchradd Abertifi; Bhavik Mistry, Denbigh School; Bleddyn Mon, Ysgol Syr Thomas Jones; George Smithies, Milford Haven Comprehensive School; Rashil Sharman, Radyr Comprehensive School; Lesley Fitzgerald et al, Milford Haven School; Michael Lynch et al, Queen Elizabeth High School.
It's the UK's biggest single celebration of science and engineering for young people and aims to celebrate and inspire them.
How you can help us
You can help us by telling us about STEM activities you have organised and provide us with an insight into what the pupils gained from the experience by filling in our online feedback form. All feedback forms will be entered into a prize draw each term.
CREST in Wales – Grant Awards
Secondary schools and colleges in Wales can apply for a grant up to £250 to support CREST Awards. All schools colleges in Wales are eligible to apply. To find out more email stempoint@see-science.co.uk.
'We Are The People We've Been Waiting For'
A landmark documentary and full length feature film on education inspired and guided by Oscar-winning producer Lord Puttnam. To have your say on the UK's education system visit the website. http://www.wearethepeoplemovie.com/
NSEW Event Award and Resources. Closing date 4 February
If your organisation is planning an event for National Science & Engineering Week (11-20 March 2011), then you might be interested in self-nominating for an NSEW Event Award. More… www.britishscienceassociation.org/resources
Dragsters!! IOP Network Wales
Cardiff St Teilo's CinW High School 4.30pm-6.30pm, 19 January
Erwood Market Hall 4.30pm-6.30pm, 26 January
Swansea Metropolitan University 4.30pm-6.30pm, 3 February
Newport Rougemont School 4.00pm-6.00pm, 9 February
Institute of Mathematical and Computational Sciences brings you a fantastic opportunity to accelerate your teaching of speed!! We have planned a series of workshops where teachers will build a compressed air dragster launcher. Participants get to take this away for free and will also get bags of parts needed to build the cars to go with the launcher. More… http://www.talkphysics.org/pg/groups/20121/dragster-racers/
Ready Steady Grow! Royal Horticultural Society, Sbectrum, Cardiff, 10 February
CPD course for teachers, support staff, school governors and others on the use and development of school grounds, giving you practical experience, activities and ideas for all areas of the curriculum.
More… http://apps.rhs.org.uk/schoolgardening/article.aspa?PageId=351
The BLOODHOUND SSC Special Leaders Award - deadline 30 May.
Prizes include Gold 1K club membership and a visit to the 'Dog House' in Bristol where our car is being built! Register TODAY by filling the online registration form.
http://www.leadersaward.com/index.php?option=com_dfcontact&Itemid=37
NEW Hedges Poster from the British Ecological Society (BES)
BES has produced its second wall chart in the series Developing School Grounds for Science, focussing on Hedges. Includes activities schools can do using local hedges and links through to the relevance of Hedgerows within the UK landscape. For FREE copies contact the education team education@BritishEcologicalSociety.org.
CREST Awards for 11-19 year olds - great new project ideas with 'pick up and run' resources
CREST is Britain's largest national award scheme for project work in the STEM subjects (Science, Technology, Engineering and Maths).
More… http://www.britishscienceassociation.org/web/ccaf/CREST/
Free 3-day conference supporting heads of science
29-30 March and 15 June, at Park Inn Hotel, Llanedeyrn, Cardiff 9.30am - 4.30pm
The course will be funded by the National Science Learning Centre (NSLC) and Research Councils UK.
For more details contact Techniquest amy@techniquest.org.
Free 3-day conference supporting new and aspiring heads of science
25-26 January and 16 March, at the Towers Hotel, Swansea, 9.30am - 4.30pm
The course will be funded by the National Science Learning Centre (NSLC) and Research Councils UK.
For more details contact Techniquest amy@techniquest.org.
Free 1-day course, including teacher cover, using sport to deliver courses in Science and PE
15 February, Holiday Inn, Newport, 9.30am - 4.30pm
16 February, Towers Hotel, Swansea, 9.30am - 4.30pm
3 March, St George's Hotel, Llandudno, 9.30am - 4.30pm
The course will be funded by the National Science Learning Centre (NSLC) and Research Councils UK.
For more details contact Techniquest amy@techniquest.org.
Greenhouse in Space
Join the European Space Agency and ESA astronaut Paolo Nespoli on an exciting project to see how plants grow both on earth and in Space. Order your mini Greenhouse in Space ground kit FREE.
http://www.esa.int/esaHS/SEMBGZ4PVFG_education_0.html
I'm a Scientist, Get me out of Here! March and June
FREE to schools. This is an award winning project that gets students talking to real scientists, online, is funded by the Wellcome Trust. Suitable for years 9-13. For more info and to sign up click here
http://imascientist.org.uk/for-teachers
Ready Steady Grow! Royal Horticultural Society, Swansea Environment Centre, 17 March
CPD course for teachers, support staff, school governors and others on the use and development of school grounds, giving you practical experience, activities and ideas for all areas of the curriculum.
More… http://apps.rhs.org.uk/schoolgardening/article.aspa?PageId=351
Squash Tomato Challenge, Perfect for NSEW 11-20 March
Challenge your students to take on a real-life problem affecting people in Nepal. A fun hands-on and brains-on challenge suitable for KS2–5.
More… http://www.practicalaction.org.uk/education/squashedtomatochallenge
The Year in Industry (YINI) are the UK's leading student placement experts
YINI have placements for students interested in all areas of engineering, science, IT, e-commerce, business, marketing, finance and logistics. More… http://www.yini.org.uk/
Rolls-Royce - Secondary Resources
Explore the many different resources available FREE on their website. Activities are ideal for interactive whiteboards or individual computers. Teachers' notes and extension activities available.
http://www.rolls-royce.com/cr/education/resources/12_19_year_olds/index.jsp
Headstart bursaries Closing-date 18 February
Headstart's aim is to encourage students interested in mathematics or science to consider technology-based careers. It provides an opportunity for those in Year 12 to spend up to a week at university prior to making their UCAS application. To apply… http://www.headstartcourses.org.uk/
DNA in a Day - EDVOTEK
Bring biotechnology, genetics, forensics and PCR to life in your classroom. Training course for teachers and technicians. Suitable for ALL – no experience required. More… http://edvotek.co.uk/
Royal Society Grants next closing date: 25 February
The Royal Society has grants up to £3,000 to work with a scientist or engineer.
More… http://royalsociety.org/Funding/
ASE Meeting Rhos Conference Room, Trefenai Normal Campus, University of Wales, Bangor Thursday, 27 January 5.00pm-6.30pm
"Forensic Science" Philip Morton - Scientific and Chemical Supplies
This hands-on workshop will provide you an introduction to the main principles of forensic science, crime scene analysis and evidence types. Practical demonstrations include; chemical fingerprint development, footwear impression, blood typing, tool marks, fibre collection and evidence collection and packaging. For more information contact cerianangharad@ase.org.uk
ASE meeting Ysgol Gyfun Maes Yr Yrfa, 74 Heol Y Parc, Maes Yr Yrfa, Cefneithin, Llanelli
Thursday, 2 February 4.30pm-6.00pm
"Science, Ethics and Animals" Claire Morris– RSPCA
Does a pet rat have more value than one used for research and testing? Does it matter how our food is produced, as long as it is cheap? Find out how you can include ethical dilemmas in your lessons to get your students thinking about the value judgements we all make every day.
Find out about free resources that can be used to support the science curriculum and suggestions for animal welfare enquiry projects that can be carried out for Bronze CREST awards and CREST Star Investigators. For more information cerianangharad@ase.org.uk