Welcome to the STEM Newsletter
for Primary Schools in Wales
Want to find out what's happening in STEM (Science, Technology, Engineering and Mathematics)? The See Science STEM Newsletter has information on educational opportunities, events, news, funding, grants, competitions, science schemes and more…
Who are See Science?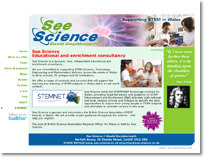 See Science are a team of experienced teachers and science communicators who are based across the whole of Wales and therefore have an in depth knowledge of their local area and are able to provide impartial advice about local and national schemes and events.The team is led by Cerian Angharad and Liz Terry who are both experienced qualified science teachers with many years of professional experience in formal and informal science education. More details about See Science and STEM activities in your area can be found on our website. Contact us on enquiries@see-science.co.uk or phone Cerian Angharad on 07870351212 or Liz Terry on 07734254427 or visit our website.
How you can help us
You can help us by telling us about STEM activities you have organised and provide us with an insight into what the pupils gained from the experience by filling in our online feedback form. All feedback forms will be entered into a prize draw each term.
AstraZeneca Science Teaching Trust Primary Science Teaching Awards 2010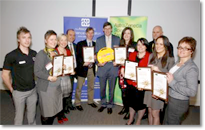 Congratulations to Linda Curwen, who was one of the winners of the 2010 AstraZeneca Science Teaching Trust Primary Science Teaching Awards. When the Welsh National Curriculum underwent a revision, Linda took the opportunity to refresh and enliven the science experiences within the school using a context and enquiry driven approach. This was so successful that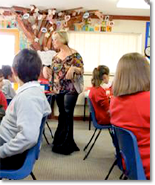 Linda was asked by the LEA science advisory team to share her experiences with other teachers. For example the context of the Titanic which enabled the children explored the secrets behind icebergs, buoyancy tanks, radio communications and much more which was a truly experiential adventure for them but above all gave them the opportunity to develop and deepen their science skills and knowledge and understanding.
Linda has guided and inspired teachers in her own school. Her partner secondary school also recognises the children's enquiry expertise. Linda is an excellent science practitioner who has been generous in sharing her practice with other teachers. This has enabled children across Cardiff and South Wales to make good progress in scientific understanding and has won Linda high praise from her peers.
Linda Curwen teaches at St Fagan's CIW Primary School.
CREST Star Investigators
Looking for projects for your STEM Club or new ideas for transition phase activities…
Are your pupils already engaged in STEM projects?
If so, consider the British Science Association's CREST Award programme… CREST Star Investigators is a UK-wide award scheme that enables children to solve scientific problems through practical investigation. The activities focus on thinking about, talking about, and doing science. They are designed to be used primarily outside of class time (e.g. in a science club), though some are suitable for use in the classroom.
To find out more follow the link to
http://www.britishscienceassociation.org/web/ccaf/CREST/
'We Are The People We've Been Waiting For'
A landmark documentary and full length feature film on education inspired and guided by Oscar-winning producer Lord Puttnam. To have your say on the UK's education system visit the website. http://www.wearethepeoplemovie.com/
NSEW Event Award and Resources. Closing date 4 February
If your organisation is planning an event for National Science & Engineering Week (11-20 March 2011), then you might be interested in self-nominating for an NSEW Event Award. More… www.britishscienceassociation.org/resources
RSPCA Education has a new-look website
FREE interactive resources for Key Stages 1 and 2 'Animals and us' and GCSE science. http://www.rspca.org.uk/education
Rolls-Royce - Primary Resources
Explore the many different resources available FREE on their website. Activities are ideal for interactive whiteboards or individual computers. Teachers' notes and extension activities available.
http://www.rolls-royce.com/cr/education/resources/7_11_year_olds/index.jsp
Primary upd8 - The Association for Science Education
Primary upd8 is a series of high-quality, engaging science activities for 5 to 11 year olds. Each activity is based on a current event or an everyday life. More … http://www.ase.org.uk/resources/primary-upd8/
Ready Steady Grow! Royal Horticultural Society, Sbectrum, Cardiff, 10 February
CPD course for teachers, support staff, school governors and others on the use and development of school grounds, giving you practical experience, activities and ideas for all areas of the curriculum.
More… http://apps.rhs.org.uk/schoolgardening/article.aspa?PageId=351
The BLOODHOUND SSC Special Leaders Award - deadline 30 May.
Prizes include Gold 1K club membership and a visit to the 'Dog House' in Bristol where our car is being built! Register TODAY by filling the online registration form.
http://www.leadersaward.com/index.php?option=com_dfcontact&Itemid=37
NEW Hedges Poster from the British Ecological Society (BES)
BES has produced its second wall chart in the series Developing School Grounds for Science, focussing on Hedges. Includes activities schools can do using local hedges and links through to the relevance of Hedgerows within the UK landscape. For FREE copies contact the education team education@BritishEcologicalSociety.org.
Greenhouse in Space
Join the European Space Agency and ESA astronaut Paolo Nespoli on an exciting project to see how plants grow both on earth and in Space. Order your mini Greenhouse in Space ground kit FREE.
http://www.esa.int/esaHS/SEMBGZ4PVFG_education_0.html
I'm a Scientist, Get me out of Here! March and June
FREE to schools. This is an award winning project that gets students talking to real scientists, online, is funded by the Wellcome Trust. Suitable for years 9-13. For more info and to sign up click here
http://imascientist.org.uk/for-teachers
Ready Steady Grow! Royal Horticultural Society, Swansea Environment Centre, 17 March
CPD course for teachers, support staff, school governors and others on the use and development of school grounds, giving you practical experience, activities and ideas for all areas of the curriculum.
More… http://apps.rhs.org.uk/schoolgardening/article.aspa?PageId=351
Squash Tomato Challenge, Perfect for NSEW 11-20 March
Challenge your students to take on a real-life problem affecting people in Nepal. A fun hands-on and brains-on challenge suitable for KS2–5.
More… http://www.practicalaction.org.uk/education/squashedtomatochallenge
Royal Society Grants next closing date: 25 February
The Royal Society has grants up to £3,000 to work with a scientist or engineer.
More… http://royalsociety.org/Funding/
ASE Meeting Rhos Conference Room, Trefenai Normal Campus, University of Wales, Bangor Thursday, 27 January 5.00pm-6.30pm
"Forensic Science" Philip Morton - Scientific and Chemical Supplies
This hands-on workshop will provide you an introduction to the main principles of forensic science, crime scene analysis and evidence types. Practical demonstrations include; chemical fingerprint development, footwear impression, blood typing, tool marks, fibre collection and evidence collection and packaging. For more information contact cerianangharad@ase.org.uk
ASE meeting Ysgol Gyfun Maes Yr Yrfa, 74 Heol Y Parc, Maes Yr Yrfa, Cefneithin, Llanelli
Thursday, 2 February 4.30pm-6.00pm
"Science, Ethics and Animals" Claire Morris– RSPCA
Does a pet rat have more value than one used for research and testing? Does it matter how our food is produced, as long as it is cheap? Find out how you can include ethical dilemmas in your lessons to get your students thinking about the value judgements we all make every day.
Find out about free resources that can be used to support the science curriculum and suggestions for animal welfare enquiry projects that can be carried out for Bronze CREST awards and CREST Star Investigators. For more information cerianangharad@ase.org.uk