Welcome to the STEM Newsletter for Wales
Want to find out what's happening in STEM (Science, Technology, Engineering and Mathematics)?
The See Science STEM Newsletter has information on educational opportunities, events, news, funding, grants, competitions, science schemes and more…
If you want to make sure that you receive the full version of future See Science newsletters, please add
newsletter@see-science.co.uk
to your email contacts/address book.
Who are See Science?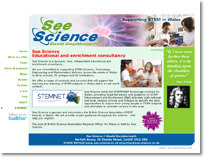 See Science are a team of experienced teachers and science communicators who are based across the whole of Wales and therefore have an in depth knowledge of their local area and are able to provide impartial advice about local and national schemes and events. The team is led by Cerian Angharad and Liz Terry who are both experienced qualified science teachers with many years of professional experience in formal and informal science education.
More details about See Science an≠≠d STEM activities in your area can be found on our website. Contact us on enquiries@see-science.co.uk or phone Cerian Angharad on 07870351212 or Liz Terry on 07734254427 or visit our website.
How you can help us
You can help us by telling us about STEM activities you have organised and provide us with an insight into what the pupils gained from the experience by filling in our online feedback form. All feedback forms will be entered into a prize draw each term.
CREST in Wales
Looking for projects for your STEM Club or new ideas for transition phase activities?
Are your pupils already engaged in STEM projects?

If so, consider the CREST Award programme… CREST is Britain's largest national award scheme for project work in the STEM subjects - Science, Technology, Engineering and Maths - and brings science to life by offering young people aged 11-19 opportunities to explore real world projects in an exciting and innovative way.
The CREST award programme is run by the British Science Association, which is being funded by the Welsh Assembly Government - through the National Science Academy - to co-ordinate and increase activities in Welsh schools. The Welsh Assembly Government are subsidising the cost of these awards to Welsh students. To find out more follow the link to http://www.britishscienceassociation.org/web/ccaf/CREST/.
CREST in Wales – Grant Awards
Secondary schools and colleges in Wales can apply for a grant up to £250 to support CREST Awards. All schools colleges in Wales are eligible to apply. To find out more email stempoint@see-science.co.uk.
What's happening…?
'Treasure troves of climate history' a new gallery at the Science Museum
From 4 December
Outlines the basics of climate science and how researchers have acquired their knowledge about the Earth's climate history.
How can a STEM Ambassador support you, your school and the curriculum?
Vision Success Event in Carmarthen for secondary teachers in south west Wales, 6 December, 4.30pm-6.30pm
FREE welcoming buffet and the chance to meet STEM Ambassadors. Contact stempoint@see-science.co.uk
'Creative approaches to Assessment in Science' Stuart Naylor ASE workshop, UWIC, Cyncoed
6 December, 4-6pm
Explore how to use assessment to make learning better with emphasis on classroom practice rather than theory. Look at a range of quick, simple and effective strategies that get pupils thinking and learning as well as enabling formative assessment to take place. Contact cerianangharad@ase.org.uk
Institute of Physics Schools and Colleges Lecture, Swansea University
7 December, 11.15a -12.15pm
Free interactive lecture for pupils aged 14-16, explores contemporary developments in physics in a fun and lively way. More…
Science Enhancement Project - prepare to be amazed!
Helen Pollard will run the IOP workshop 9 December, Howardian Centre, off Colchester Avenue, Cardiff 4.30pm - 6.00pm. Contact cerian.angharad@see-science.co.uk
Institute of Physics Christmas Lecture School of Physics and Astronomy, Cardiff University
Wednesday 15 December.
Aimed at year 10 and year 11 students, this year features talks about Fusion Contact sadlerwj@cf.ac.uk
Join us for Stargazing LIVE and inspire thousands of people to learn more about the night sky
12 January
The Stargazing LIVE event will take place, in Wrexham, Aberystwyth, Brecon and Cardiff. Contact cerian.angharad@see-science.co.uk
From 3-5 January 2011, Professor Brian Cox will be presenting three very special nights of live astronomy programming on BBC Two.
ASE Annual Conference 2011 University of Reading
5-8 Jan 2011; Welsh Reception, URS Common Room 7 January 2011
The conference is open to both members and non-members. The ASE Annual Conference is a magnet for all those passionate about science teaching and learning. Contact cerianangharad@ase.org.uk More here.
STEM Challenge 5 – The Wetsuit Challenge
R egistration by 5pm on 17 January 2011
GE and STEMNET have a Challenge for students aged 11-14: we are asking teams to design a unique wetsuit. More…
Nuffield Science Bursary Scheme
Nuffield Foundation Science Bursaries offer up to 1000 bursaries a year, for students in the first year of post-16 education to work alongside a practising scientists, technologists, engineers and mathematicians. More…
Free software activities
There is one free Labskills USB stick for every secondary school and FE College in the UK. Register now for practical chemistry here.
The Year in Industry (YINI) are the UK's leading student placement experts
YINI have placements for students interested in all areas of engineering, science, IT, e-commerce, business, marketing, finance and logistics. More…
Environmentally themed 10 week science, technology, engineering and mathematics projects for Year 8/9 & S2 (12-14yr old) pupils
Go4SET links teams of six Year 8/9 pupils with companies and universities to offer a 10-week science, engineering and technology (SET) experience. More here, or email info@go4set.org.uk
Looking for teaching resources?
At NGfL Cymru you can access a range of teaching and learning materials for all key stages and then browse through the resources and select those that are of interest. More…
The Centre for Alternative Technology explores solutions to some of the most serious challenges facing our planet and the human race, such as climate change, pollution and the waste of precious resources. More…