Welcome to the STEM Newsletter for
Secondary Schools in Wales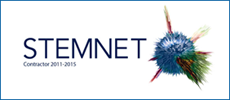 See Science is your new STEMNET contract holder, with effect from 1 July 2011, to manage the Schools STEM Advisory Network and the local management of the STEM Ambassadors Programme in Wales.
STEMNET creates opportunities to inspire young people in Science, Technology, Engineering and Mathematics (STEM).
This enables young people to develop their creativity, problem-solving and employability skills, widens their choices and supports the UK's future competitiveness.
STEMNET helps encourage young people to be well informed about STEM, able to engage fully in debate, and make decisions about STEM related issues.
The STEM Ambassadors Programme enables teachers to make links from the curriculum to how STEM is practiced in the world of work, illuminating applications across a vast range of careers.
If you would like to find out more or would like a visit from a STEM Ambassador contact us at ambassadors@see-science.co.uk.
How you can help us
You can help us by telling us about STEM activities you have organised and provide us with an insight into what the pupils gained from the experience by filling in our online feedback form. All feedback forms will be entered into a prize draw each term.
The Jaguar Cars Maths in Motion Challenge for Schools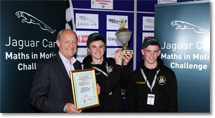 Well what a day!! It all started with picking up my colleague Mr Rodrick at 5.00am and then the boys Kieran Vaughan and Alex Beecham at 5.10am at Blackwood Comprehensive School! I ceremoniously handed over their 'Maths in Motion' hoodies, specially made for the day (Mr Rodrick and I already had ours on!) and we were away. After stopping for a well earned breakfast we arrived at the Heritage Motor Centre in Gaydon at 8.30am, I think we were one of the first there! The excitement was already building as we walked around to the entrance.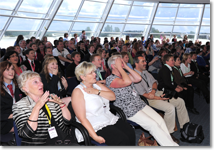 Brian Richardson (Maths in Motion inventor) gave his usual speech to increase the excitement even more (if that was possible!) and one by one, the teams were called into the room where the competition was being held. The teams had just two hours to perform all the calculations necessary for the race and no calculators allowed! The teachers wandered around the museum, nervously thinking about their pupils and wondering how they were getting on.
It was 12.15pm, time up! All enjoyed an excellent buffet lunch whilst chatting about the cars they had all produced for the race, wondering if they were good enough. After a tour of the museum it was finally time to go back into the room for the race!
First up was the teachers' race. The teachers seemed more nervous than the pupils! After an extremely exciting race everyone was now itching to see the final of the pupil race. Again, Brian whipped everyone up into a frenzy, the atmosphere now electric! Then the starting positions were revealed with our boys starting in 25th! Despite this they still seemed fairly confident, constantly saying that their calculations were good.
At last the race started 57 laps of excitement ahead of them all! After the first few laps the boys were moving up the field, only to move back again, jostling for position 23 and 24! The pupils were going wild, everyone cheering, sighing, gasping as suddenly about half-way through the race cars were breaking down or running out of fuel! Suddenly our boys were moving rapidly up the field, their excellent pit stop strategy paying off. In their age range (age range 3 = KS4) they moved from 9th to 7th, then 5th, then 4th and then 3rd!! We couldn't believe it, there were only 15 laps left! Kieran says to me, "I'd be quite happy with that, 3rd". Then we looked at the screen and we were 2nd, then one lap later 1st with only seven laps to go!! The tension was amazing, all of us were shouting "Come on!!" all willing the remaining laps to become zero! Then it happened, the boys had won!! We all pinched ourselves; we couldn't believe it, starting from 25th to win the age range 3 category.
This was the fairy tale ending for the boys as it was their last chance as they have now left school, ready to start their A levels at Cross Keys college in September. This was their fourth attempt to reach the UK finals, but this year after winning the school race, the Caerphilly county race and finishing in the top 12 in the UK semi-final to qualify for the finals, all their hard work had paid off.
This will be a day they will never forget and neither will I. They are now legends at Blackwood and I am sure will inspire others to follow them into the hall of fame!
Andrew Winn, Head of Maths, Blackwood Comprehensive School.
See Science are now the Coordinators for The Jaguar Cars Maths in Motion Challenge for Schools. If you would like more details about the competition, how to get involved and the benefits for your school contact enquiries@see-science.co.uk.
Things go with a bang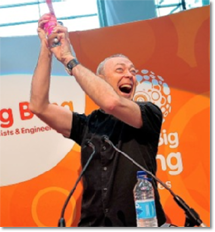 TV presenter Gaz Top helped the opening of a science fair go with a bang at the National Waterfront Museum.
The star, who appeared in hit children's science show How To, opened the Big Bang Cymru exhibition which aims to promote the exciting side of science through experiments, interactive displays and a range of exhibitions.
Ray Collier, chief executive of Careers Wales West, said: "The Big Bang Cymru is a fantastic way of engaging school pupils, teachers, parents, local employers and the general public in highlighting the benefits of studying subjects like science, technology, engineering and maths".
Mandy Wescott, formal learning officer at the museum, said: "We're delighted to be hosting The Big Bang Cymru at the Museum.
"It's a fantastic opportunity to further engage young people into the wonderful world of engineering and highlight the part it played and continues to play in Wales's industrial past and future."
South Wales Evening Post
Swansea Pupils Make Big Bang With Revolving Door Electricity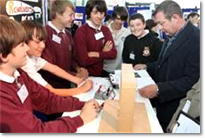 A team of young engineers who designed a revolving door that generates electricity every time it's used have scooped a national award for their skills.
A TEAM of young engineers who created designs for a revolving door that generates electricity every time it's used have scooped a national award for their skills.
Pupils from Gowerton Comprehensive came up with the idea of creating energy every time someone uses the door as part of a project for a young engineer's competition at Big Bang Cymru.
And their efforts have been praised by Mike Day, Swansea Council's Cabinet Member for Education, who saw their work on display at the National Waterfront Museum in Swansea.
He said: "I was pleased to see Swansea schools well represented. Revolver's success shows that we can compete with the best in Wales and I hope this win will inspire more pupils to develop vital engineering skills."
Pupils Daniel Beddow, Joel Young, Harry Davies, Jamie John, Adam Hext, Rhys Taylor, Matthew Williams and Alex Duthie won the award for their project above more than 70 other project entries.
Team leader Daniel Beddow said the idea was to apply the concept they'd developed at their school so they could cut bills and reduce the school's carbon footprint. He said: "It is extremely important to try to reduce the school's carbon footprint. We are all very happy that our hard work has paid off."
Science teacher Vicky James said: "All the teams have worked really hard over the last six months and the Big Bang Cymru was an excellent venue for the pupils to be congratulated on their projects. I am very proud of all the groups and especially proud of the boys who won the award."
As published on the Welsh Country magazine website www.welshcountry.co.uk
Winners at Big Bang Cymru 2011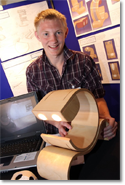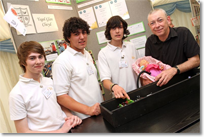 The ten projects going through to The Big Bang: UK Young Scientists and Engineers Fair in March are: Jake Wreford from Ysgol Uwchradd Aberteifi in Ceredigion for his Revolver project, Wasim Miah and Jessica Leigh from St David's Catholic College in Cardiff for the Contraction Optical Monitoring system, John Clayton-Hughes, Ethan Jones and Matthew Reece from Ysgol Glan Clwyd in Denbighshire for Fibre Optic Laser Speckle Breathing Sensor, Michael Stitfall, Shannon Horrigan, Dean Saif and Daniel Giernalcyzyk from St David's Catholic School in Cardiff for the Air Pressure Monitor, William Shackley from Gower College in Swansea for the Twin hulled Personal Water Transport, Carwyn Davies from Ysgol Gyfun Llanbedr Pont Steffan in Ceredigion for GCSE Resistant Materials, Stephanie Spowart from Amman Valley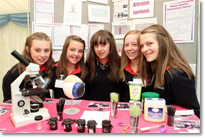 Comprehensive in Carmarthenshire for Fantasy and Fiction – Secret Garden, James Phillips from Coleg Sir Gar in Carmarthenshire for Hydraulically Operated Tine Harrow, Cynffig Comprehensive School in Bridgend for Ergonomic Workstation for Sony and Lowri Howard, Jodie Barnard, Amy Matthews, Beth James and Ffion Harries from Ysgol Gyfun Cwn Rhymni in Caerphilly for Mascara Investigation.
For more information about the Big Bang go to www.thebigbangfair.co.uk/home.cfm
The Big Bang: UK Young Scientists and Engineers Fair 2012
The Big Bang: UK Young Scientists and Engineers Fair 2012 will take place at The NEC, Birmingham from 15 to 17 March. The Fair is a free event for all 7-19 year olds, their teachers and families – with school and college groups invited on Thursday 15 and Friday 16 March and the public welcomed on Saturday 17 March.
Following the incredibly successful London event in 2011 – which attracted more than 29,000 people – The Big Bang 2012 will provide an excellent opportunity for the science, technology, engineering and mathematics (STEM) community to come together to enthuse and inspire young people about careers in STEM.
The Fair will also celebrate the achievement of young people by featuring the finals of the National Science & Engineering Competition and its awards ceremony – where the UK Young Scientist of the Year and UK Young Engineer of the Year will be crowned.
TES Schools Award winners
Now in their third year, the TES Schools Awards – or Tessas – aim to celebrate this work. This year's awards attracted a record number of entries, extolling the achievements of teachers, school leaders, support staff and pupils alike.
Congratulations to St Christopher's School, Wrexham for achieving the awarded for the 'Outstanding Sustainable School or Partnership' and to teacher Bev Evans from Pembroke Dock Community School for her Award for TES Contributor of the Year. Check out the TES website to see the resources.
Neville Evans Wins the Science and Technology Medal for School Posters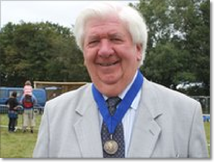 Neville Evans from Radyr, Cardiff is the winner of this year's Science and Technology Medal at the National Eisteddfod. He received the medal in a special ceremony on the pavilion stage on Thursday 4 August.
Originally from Fforestfach, Swansea, Neville was educated up to doctorate level in the city. After a period teaching, he was appointed as a lecturer in the Applied Physics Department, UWIST, before becoming a HMI with special responsibility for science.
He realised there was a severe lack of awareness of the contribution of Welsh scientists across the country, and therefore, with funding from the Welsh Government – through the National Science Academy for Wales, created a series of colourful posters suitable for use in school to mark the contribution of our scientists.
The Medal is presented to an individual who has promoted the use of Welsh in the fields of science and technology.
To find out more about the posters contact nevilleevans@totalise.co.uk.
Events
National Science and Engineering Week (NSEW) Information Sessions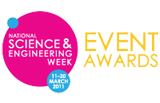 This year's NSEW theme is 'Our world in motion'. Come along to one of the information sessions near you and find out more.
Bangor: Conference Room, Trefenai, Normal Site, School of Education and Lifelong Learning, Bangor University, Bangor LL57 2PZ on 29 September
Cardiff: Cardiff: ATRiuM Cardiff School of Creative & Cultural Industries University of Glamorgan Adam Street Cardiff CF24 2FN on 19 October
Find out about British Science Association support and funding for schools in challenging circumstances that help take the hard work out of organising excellent events.
NSEW is a great time to plan your science activity week and take part in national projects from the British Science Association.
Attend a NSEW Info Session near you to see how you can take part in the nation's largest science and engineering activity week.
Generate a real buzz in school around science or create an inclusive event for the local community.
Benefits:
Details of funding schemes you could apply for
Hands-on activity ideas for young people
Details of the 2012 theme 'our world in motion' and mass participation activities
Free resources for organisers
Additional NSEW projects you can take part in
Case-study from an existing NSEW event organiser
ASE Conference National Museum of Wales Cardiff – 8 October

A day about Antarctica for science teachers, teacher trainees, science communicators and other interested professionals. Explore the fascinating environment of Antarctica through hands-on activities. Find out about the physical landscape, the animals that live there and discover how Antarctica has been explored by scientists in the past and today.
The day will focus on practical ideas for the classroom, developing confidence about the topic and providing resources and activities for use in the classroom.
Contributors include:
Professor John Harries, Chief Scientific Adviser for Wales, Amgueddfa Cymru Scientists
Professor Peter Barham – University of Bristol
Dr Siwan Davies – University of Swansea
Anne Goldsworthy – Nice Ice Workshop, Brenda Keough and Stuart Naylor
Dr Liz Pasteur – The Polar Foundation
For further information and details about how to book a place…
10th Welsh Physics Teachers Conference: Christ College, Brecon – 5 October
A conference for teachers and technicians. The event is free and includes lunch, tea and coffee. Booking is essential. For further information and to register…
Maths Inspiration shows Cardiff
Wednesday 7 December, Concert Hall, College of Music and Drama. £5
Matt Parker: The Maths of the Simpsons
Paul Shepherd: How Maths Built the Olympic Stadium
Rob Eastaway: The Maths of TV Gameshows
Maths Inspiration shows include three interactive talks from some of the country's most engaging maths speakers, on topics that will appeal to your Year 11s and Sixth Formers. This is followed by a lively Q&A session in which students get to ask the panellists anything they want.
Morning shows run from 9.45am-12.30pm and afternoon shows from 1pm-3.45pm, EXCEPT Cardiff: 10am-noon and 1pm-3pm. All prices include VAT. You can find details of the talks and the speakers on our website www.mathsinspiration.com.
You can provisionally book seats by e-mailing mail@mathsinspiration.com or by telephoning Elaine Standish on 020 8693 9259 with your name, school, the event, time of show and the number of seats.
Competitions
National Science & Engineering Competition

Do you know any 11-18 year olds who have completed a project in science, technology, engineering or maths? Did their project dazzle you? If so, you should encourage them to enter the National Science & Engineering Competition! The best entries will be invited to present their projects at The Big Bang UK Young Scientists and Engineers Fair, in Birmingham on 15-17 March 2012. The Competition is open to teams and individuals and there are over £50,000 of prizes to win in three age categories. Remember CREST projects at Bronze, Silver and Gold level can enter.
For more information about the National Science & Engineering Competition, including the eligibility criteria and entry form, please visit www.thebigbangfair.co.uk/nsec or contact info@nationalsciencecompetition.org The deadline for STEM project entries is 31 October 2011.
The Jaguar Cars Maths in Motion Challenge

The Jaguar Cars Maths in Motion Challenge has now become well established in the calendars of many schools as a way of engaging children of all ages and abilities in an exciting and motivating mathematics based project. The software is suitable for all ages from 9 upwards. It is an ideal base for a primary school maths project, for a 'transition years' project or for general use with older students throughout secondary school.

The Challenge involves students working together in small teams, who compete against each other in an effort to win a Grand Prix type race and become U.K. Champions. This activity involves a wide range of basic mathematical skills, some practical, being used and applied. Further details can be found on the website www.mathschallenge.co.uk or by contacting enquiries@see-science.co.uk.
STEMNET's National Awards
The STEMNET Awards aim to recognise the UK's most inspirational people for motivating young people in Science, Technology, Engineering and Maths. The UK benefits from a huge network of people dedicated to inspiring young people in STEM. STEMNET represents around 30,000 volunteers, 2,300 STEM Clubs, 10,000 teachers and 3,500 employers. Lord Sainsbury will host the award ceremony at the House of Lords on 13 December 2011. Awards will be presented to the most dedicated STEM teacher, club, ambassador, employer and for the first time, the most inspirational technician. The Inspirational Technician Award has been launched by STEMNET in partnership with The Gatsby Charitable Foundation. This award aims to recognise the work of a technician who can demonstrate they have inspired young people to follow technician career routes.
STEMNET Chief Executive Kirsten Bodley says: "The STEMNET Awards provide a fantastic opportunity to reward those who make a regular and valued commitment to STEM education in the UK. The launch of the Inspirational Technician Award is an exciting time for STEMNET as we continue our successful collaboration with The Gatsby Charitable Foundation on programmes that can inspire young people in STEM."
Online nominations for each award will open on Monday 5 September 2011. www.stemnet.org.uk
Grants
Ri E&E grants scheme
Would you like to organise enrichment and enhancement activities to raise the profile and enjoyment of mathematics in your school? Deadline Friday, 16 September
The Ri E&E grants scheme, funded by The Clothworkers' Foundation, will make 60 grants of up to £500 available to primary and secondary teachers of mathematics to choose activities from the STEM Directories in the 2011 calendar year. Details on how to apply*, grant entitlements and expectations, are available by emailing maths@ri.ac.uk
* Consultancy and support on the choice of activities during the application process, and on fostering related good practice.
RSC South East Wales Local Section small grants to support chemistry related extra-curricular activities in schools
Schools should be located within the area covered by the RSC South East Wales Local Section. A map is available online. The maximum award is £200 per grant.Successful applicants will be notified at the start of the next calendar month following receipt of the application. Payment will be made upon submission of a report of 100 words with a photograph and itemised list of expenditure signed by the bursar or head teacher within 30 days of completion of the activity.
Assessment criteria:
Promotion of the chemical sciences – will the activity enthuse pupils about chemistry, illustrate the benefits of chemistry to society and highlight career opportunities in the chemical sciences?
Safety – can the activity be conducted safely?
Feasibility – is the activity likely to succeed in its objectives?
Value – how many pupils will benefit from the activity?
Sustainability – will the activity be a one-off or will a resource be created that can be reused?
Funds should be used to support activities that would not otherwise take place – i.e. lie outside core teaching that should be taking place anyway.Enquiries should be made to Dr James Redman, Cardiff University, School of Chemistry, CF10 3AT. Tel 029 20 876273. Email: redmanje@cardiff.ac.uk
The 2011 WISE Annual Awards 2011 – 19 October

The WISE Annual Awards are given in recognition of companies and individuals who have actively addressed the issue of promoting science, engineering and construction to girls and young women, so supporting the aims of WISE.
The Award ceremony will held on 19 October 2011 at The Institution of Engineering and Technology, London.
The WISE Excellence Award is open to women who are in the early stages of their career, scientists and those working in construction. She must have demonstrated a high level of commitment to her chosen profession and to the promotion of science, engineering and construction to girls and young women. The winner will receive a cheque for £1,000 and an engraved plaque.
The WISE Champion Award is open to schools, industry, universities, colleges, charities and professional bodies who have taken steps to actively address the WISE mission to encourage girls and young women in to STEM education and related careers. The winner will receive an engraved plaque.
The WISE Advisor Award is open to career advisors, teachers, ambassadors, mentors and educators who have motivated and enthused girls and young women to pursue STEM related subjects. The winner will receive an engraved plaque.
Deadline for nominations is 5pm Friday 16 September 2011.
Projects
New music technology project ideas
The new Musical Moods activity pack for KS3 and KS4 students has gone live on our website. The pack is about music technology and was produced for National Science and Engineering Week 2011. Activities in this pack are linked to the CREST Awards scheme at Bronze and Silver level. More…