Welcome to the STEM Newsletter for Secondary Schools in Wales
An essential source of information for teachers and anyone with an interest in STEM (Science, Technology, Engineering and Maths) engagement across Wales.
Read inspiring stories, discover new opportunities and find out how a STEM Ambassador's visit to your school can engage and enthuse both students and teachers. There are details of current events, competitions, grants, CPD, awards and more at our teacher information pages.
Give us your Ambassador feedback
We would be very grateful if you could fill in our teacher feedback form if an Ambassador has visited your school or you have met an Ambassador at an enrichment activity. Please encourage colleagues to respond.
STEM Ambassador requests
Interested in asking a STEM Ambassador to visit your school? You can make your request here or contact See Science directly at ambassadors@see-science.co.uk.
STEM Club update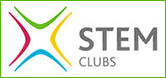 Our STEM Clubs newsletter contains useful information and ideas to run a STEM Club in your school. You can read it on line here and find out about the latest resources, competitions and grants available to schools STEM Clubs.
If you are a STEM Club leader or would like to set up a STEM Club in your school do contact us stem-clubs@see-science.co.uk. We can add you to our STEM Clubs mailing list.
Now that it is FREE for school in Wales to register pupils for CREST Awards, you could consider running these Awards in your club. For more details contact crest@see-science.co.uk.
Looking for a STEM professional to support your club (for example to act as a mentor, run a debate, give an interactive talk)? Then request a STEM Ambassador to visit your club here (or contact us directly at ambassadors@see-science.co.uk).
A STEM Club is any out-of-timetable session that gives students the chance to explore aspects of Science, Technology, Engineering, or Maths outside their normal curriculum-based classroom activities.
Teacher information pages
Events, competitions, grants and resources are regularly added to our teacher information web pages. You can check them out by following these links:
STEM Opportunities for teachers and pupils
The Crest Award Scheme is now free in Wales!
The National Science Academy in Wales is fully funding the cost of the CREST Awards (Discovery, Bronze, Silver and Gold) for schools in Wales. CREST is a UK award scheme for science, technology, engineering and maths (STEM). CREST Awards are recognised by UCAS and can be used towards the skills element of the Duke of Edinburgh Award.
For more information about the CREST Awards and how to register, contact See Science, your local coordinator for the CREST Award scheme in Wales, at crest@see-science.co.uk or phone 02920 344727.
Welsh Government – Focus On Science
Look out for the latest resources from the Welsh Government to support the Focus on Science Campaign. A new Autumn Term planner with details of many exciting STEM based events, activities and competitions is available here.
The Focus on Science campaign aims to highlight the importance of science and scientific study to everyday life, and promote STEM based careers. You can support or contribute to the Focus on Science campaign by emailing Sara.Thomas@Wales.gsi.gov.uk.
14th Annual Welsh Physics Teachers Conference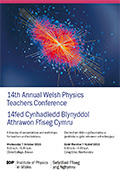 Wednesday 7 October 2015, 9.15am – 4.00pm. Christ College, Brecon.
A wonderful opportunity for teachers and technicians to take part in a wide variety of physics CPD and celebrate the International Year of Light. This FREE day of workshops is open to all teachers, technicians, newly qualified and trainee teachers.
During the day Prof Peter Vukusic will give a presentation and there will be an opportunity to attend hands on practical workshops exploring a diverse range of physics topics.
Full details on the IoP website and in the pdf flyer you can download here.
Back to topIET Partners with BBC on 'Make it Digital' campaign
With the UK facing a significant skills shortage, and an extra 1.4m digital professionals needed over the next five years, Make it Digital is a national campaign to inspire a new generation of coders and programmers. IET Chief Executive Nigel Fine said: "The digital world is evolving all the time – and with it, the demand for more young people with coding and digital skills. It's great to be supporting BBC Make it Digital to promote the world of digital creativity and inspire the next generation to get involved with what is fast becoming one of our most exciting and creative industries."
The IET education team will be working on this exciting project to produce a range of teaching resources, events and teacher CPD to promote the BBC micro:bit coding device. The resources will encourage its use both in school and at home, as students will be able to keep their coding device and take it home to carry on the learning with their parents. The events will include a series of off-timetable, STEM Challenge Days that will include some training on the devices as well as encourage creativity, team working, problem solving and the application of the technology to real-life situations.
"Just as the BBC Micro introduced millions to personal computers 30 years ago, the BBC micro:bit can help equip a new generation with the digital skills they need to find jobs and help grow the UK economy." Tony Hall, BBC Director-General
To apply to host a Make it Digital Challenge Day, download this form and return it no later than Monday 28 September.
Register your school to receive BBC micro:bits which is free to every child in year 7 or equivalent across the UK.
UK Aerospace Youth Rocketry Challenge (UKAYRoC)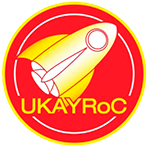 The UK Aerospace Youth Rocketry Challenge (UKAYRoC) gives teams of young people the opportunity to design and launch a rocket. The rocket must reach a set altitude with specific total flight duration, using specified rocket kit and must adhere to the specific set rules.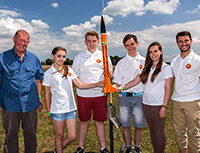 The Challenge is aimed at students aged 11-18 from secondary schools, colleges and/or higher education to design, build and launch a model rocket with a fragile payload. Previous finalists have come from schools, Scout troops and Air Training Corps squadrons.
The 2015 winners travelled to the Paris Air Show where they competed against the French and American winning teams. There are many other prizes for the high achieving teams. ADS are the proud organisers of UKAYRoC and have been running the event annually since 2006.
If you want to try your hand at rocket science have a look at the UKAYRoC website.
The National Science + Engineering Competition – Open now for entries!

Enter your pupils for the National Science + Engineering Competition which is open to all 11-18 year olds living in the UK and in full-time education.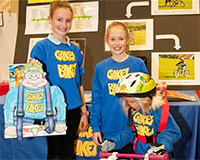 The chosen finalists are invited to showcase their work to thousands of people at The Big Bang Fair on March 2016. Entry is now open for the 2015/16 Competition – apply here.
Crikey Bikey in the news again! The Junior Winners, from Monmouth School, of the Engineering/Technology strand of the National Science + Engineering Competition 2015 are using their prize money to develop their next product idea. You can read about them here. If you know anyone like these girls you should encourage them to enter!
Back to topLab in a Lorry returns to Wales for 2015-17 – register your interest now!


Do your students have enquiring minds? Are you keen for them to get more experience with hands-on experiments? Would they benefit from interacting with practising scientists? Then you need Lab in a Lorry, the Institute of Physics' outreach programme.
Lab in a Lorry is an interactive mobile science laboratory which gives young people (11-14 year olds) the opportunity to explore science through open ended experiments. Guided by visiting volunteers who are practising scientists and engineers from industry and academia, the students relish the opportunity to work with 'real' scientists. It's not just the students who benefit; our volunteers gain communication skills and a real sense of achievement from sharing their knowledge with the students.
The Lab is fitted with three distinct laboratory areas where groups of up to six young people can take part in each of the fun and informative experiments. With at least one volunteer to every six students, everyone gets to try their hand at experimental science and think about the surprises and questions that arise. We fit in with your school timetable accommodating 18 students per period and can visit your school for up to 4 days. Best of all, the Lab is free to host at your school – register your interest here.
The Big Bang @ School

Excite your pupils with engineering and maths, and inspire them to consider science or engineering careers with The Big Bang @ School.
Running a Big Bang Fair at your school can help you to show pupils how their science, maths and design and technology subjects apply to real world of work, and how what they learn in the classroom directly translates into skills that employers need.
Activities available through The Big Bang @ School toolkit are curriculum linked, helping you to fulfil curriculum requirements and embed learnings from the Fair into lessons.
The Big Bang @ School is part of the wider Big Bang programme, led by EngineeringUK in partnership with over 200 organisations.
TechFuture programmes – inspiring young people about technology

Why is change needed?
The tech sector workforce makes up 5% of the entire UK workforce.
Employment of tech specialists is growing over four times faster than other UK professions
134,000 new entrants a year are needed to fill tech specialist job roles in the UK
Yet 42%of employers are struggling to fill tech specialist vacancies and only 16% of these specialists are female.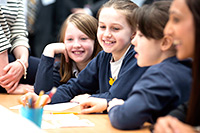 STEMNET is supporting the TechFuture programmes which are all about inspiring young people about technology, making it easier to teach the curriculum, and helping to equip students with the skills and confidence to fulfil their potential in the digital economy. There are a number of resources to support teaching and learning and to show the limitless possibilities of a career in technology.
Looking for funding? The Biochemical Society Scientific Outreach Grants
The Biochemical Society has grants of up to £1,000 available to help fund activities that communicate the excitement of molecular bioscience, or more general biology, to young people and the community. Our activities library has some ideas you could use, including downloadable activity cards, useful links, and details of past activities for inspiration. The deadline for the next round of applications is 25 September 2015. More details here.
Get ready to be a TechFuture trail blazer with the BBC micro:bit

The BBC micro:bit is a codeable device that will do whatever students programme it to do. Every child in the UK starting their first year of secondary school this autumn will be given a micro:bit for free. STEMNET and the TechFuture Scheme are proud to be supporting the integration of the device with schools right across the whole of the UK.
The micro:bit aims to introduce a generation of children to digital technology and coding in particular – and that is where you as a tech specialist and TechFuture Ambassador can help!
The device is due to be made available to every student in the autumn and we hope that TechFuture Ambassadors will see the unique opportunity to support this exciting programme by helping to bring the micro:bit to life in school sessions and inspire young people about careers in digital industries.
The RMS Microscope Activity Kit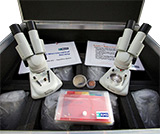 Would you like to bring an unseen world to life in lessons, or run an after school club for young explorers? If so, we can help. We will deliver a fully-equipped RMS Microscope Activity Kit to your school, providing microscopes for schools as well as ready to go activities, giving you everything that you need to reveal microscopic life and structures across all the curriculum.
An RMS Microscope Activity Kit is free to borrow for an entire term. We will organise the delivery and collection saving you time and hassle, and, it's completely FREE! We have Kits available for Spring Terms 2016 onwards. There's a whole unseen world out there. Let your children experience it for themselves. Request a Microscope Activity Kit for your School here.
Practical Action's NEW Water for the World challenge
Practical Action's NEW Water for the World challenge engages pupils aged 8-13 years in exploring access to water globally, and challenges them to make a water filter.
Find out more here.
Back to topTop physicist urges Welsh students to 'Stick with science' after GCSE
World-renowned physicist Dr Lyn Evans has urged youngsters in Wales who have done well at GCSE science to stick with the subject and consider developing science-based careers.
Aberdare-born Dr Evans, Director of the Linear Collider collaboration at CERN in Switzerland, made the call as thousands of GCSE students were receiving their exam. This year's science GCSE results were strong with Welsh students doing better at A* – C than last year. Of the Welsh students, 37% of the A levels sat last year were sat in physics, chemistry or biology. Although the number is climbing there is plenty of room for improvement.
Dr Evans, who is supporting the Education and Skills Minister's 'Focus on Science' campaign, said a big increase in students choosing these subjects would help boost innovation and competitiveness in Wales. He urged teachers to find new ways to ignite youngsters' passion for these subjects, and motivate them to carry on studying in these fields rather than drop them in favour of subjects they believe are less demanding.
Physics teacher Steffan Tudor, from North Wales, has just returned from CERN having become the first Welsh teacher to attend the three week summer school there. More details about courses for teachers in CERN here.
Dr Evans said: "We are very conscious that our teachers are a precious resource and we invited Welsh teachers to visit CERN with the aim that it would renew their sense of wonder and enthusiasm for experiment and discovery so they could pass that on to their students. We know that our society and economy desperately need these skills so we must ensure that Wales produces a new generation of scientists to carry the baton. We hope the Focus on Science programme will bring science to life and remind teachers in Wales what it was that first enthused and inspired them about the subject."
Back to topLliswerry science pupils win the 'Best Bridge Award' at the Engineering Olympics
Lliswerry High School took three separate teams to the Engineering Olympics at the University of South Wales' Treforest Campus on 24 June.
Jordan Ali and Ali Badat from Year 13 entered the Robot Rally competition. Both boys have worked tirelessly for weeks constructing and programming a robot in their own time and have won praise for their resilience and determination from staff at Lliswerry.
Maya Levan, Usmaan Ali, Zakarya Hussain, Rio Burgoyne, Reagan Hawrot and Bradley Hanbury entered the 'Egg High Jump Challenge'. Despite launching their egg to a height of more than two metres and returning it safely to the ground, they were just pipped to the post by a team from Monmouth Haberdashers School for Girls. It was good to note that the winning design was very similar to the Lliswerry design and, with some minor modifications, the team are confident they can win next year.
The third team, consisting of Hassan Mukhtar, Priyan Patel, Enes Gundogdu, Morgan Ali, Jack Green and Jack Jones entered the 'Bridge Building Challenge'. Their bridge astounded the judges with its strength, proving to be virtually unbreakable. The design was inspired by Technology lessons on the strength of triangulated structures. The team won the prize for the bridge that carried the most weight and also the prize for the best overall bridge. This meant that each team member won a £20 gift voucher and a plaque for the school.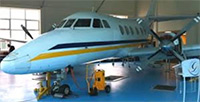 The day was rounded off with a trip to the Aeronautical Engineering Department. The department have their very own aeroplane that students work on as part of their degree studies.
All the pupils were inspired by what they saw and left the day full of enthusiasm for pursuing careers in engineering.
Back to topPrimary Science Teaching Trust Celebration Day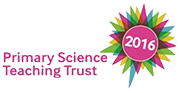 Teachers from the Monmouth Comprehensive School and their feeder primary schools (Cross Ash Primary School, Raglan Primary School, Trellech Primary School, Osbaston Primary School, Llandogo Primary School, Overmonnow Primary School, Usk Primary School and Kymin View Primary School) have been part of an exciting project funded by the PSTT (Primary Science Teaching Trust) to support Scientific Enquiry and the transition between primary and secondary schools in Wales.
After the celebration event Catherine Jones, Headteacher, Osbaston Primary School, thanked the See Science team for organising the project: "…the celebration event was a triumph for the five schools involved and enjoyable for all teachers and pupils that took part."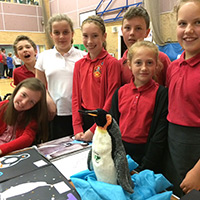 The teachers from the cluster schools attended a two-day Continuing Professional Development (CPD) course where they found out how to improve pupils' science skills and develop interactive learning. During the CPD the teachers collaborated to developed ideas around the theme of penguins and the Antarctica to produce a project which would improve pupils' science skills and knowledge which they then apply in an investigation in the classroom. The schools collaborated with STEM (Science Technology Engineering & Mathematics) Ambassadors during this process.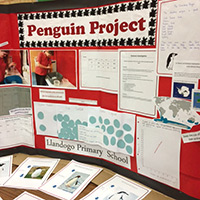 Once completed, the teachers and pupils presented their pupil's work at a final celebration at the secondary school.
"I really enjoyed hearing from the children and their teachers about their Penguin Projects. The Trust is very pleased to support this sort of activity for primary schools to engage in meaningful learning. It was amazing to see the range of science and mathematics activities which came from the main theme. The children were all very enthusiastic and spoke knowledgeably about the experiments they had done and what found out about penguins and life in the Antarctic. They all clearly benefitted from the experience and the support the See Science team were able to give their schools." Paul Denley, Primary Science Teaching Trust.
The schools would like to thank the United Kingdom Antarctic Heritage Trust (UKAHT) for providing all the pupils that attended the celebration event with a wonderful pupil's pack, stamps, postcards and pencils from the UKAHT's Port Lockroy team, together with poster and photos that made a fabulous display.
Find out more about the PSTT (Primary Science Teaching Trust), the PSQM (Primary Science Quality Mark) or the Primary Science Teacher Awards 2015 (deadline Monday 14 September) here. Details about the Primary Science Teaching Trust International Conference on 9-11 June 2016 Waterfront Hall, Belfast here.
Back to topSt Julian's students smash 1,000mph!

Four teams of St Julian's School students entered into the national competition organised by the BLOODHOUND education project.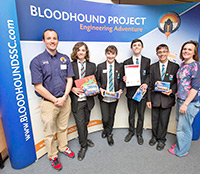 The BLOODHOUND Project is a global Engineering Adventure, using a 1,000 mph World Land Speed Record attempt to inspire the next generation about science, technology, engineering and mathematics.
Over 100 students went to Swansea University. where the teams gave a short presentation to a judging panel of professors, physicists and engineers. Then the groups had to compete in a complex maths/science/tech computer simulation and demonstrated a masterclass run of 1,051.03mph.
After a long, complicated and very exciting competition, the overall winners were the team 'Blood Army' from St Julian's School. Both teams of students were brilliant and well deserved the win due to their professionalism, teamwork and determination.
Back to topLlanelli pupils flying high after TeenTech success
Two teams from Ysgol Glan-y-Mor in Burry Port took part in the National TeenTech Finals in London in June. They were the only teams from Wales to reach the finals and one team took the award in the Transport category.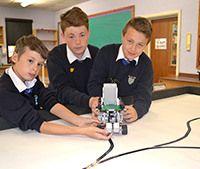 The A Brains – Charlie, Lewis and Bradley, all aged 13 – developed an idea for a sensor guidance system for wheelchairs, which gives the wheelchair-user more independence and freedom. Despite strong competition they won the Transport Category. Their award was presented to them by James May who was enthralled by their ideas and creativity.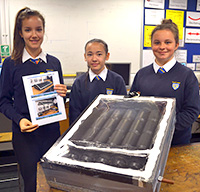 Team Jewel – Jennifer, Emily and Wikotoria, also all 13 – had developed an idea for a solar powered bench which provides a USB charging point and information point. They narrowly missed out on winning the Environment category, but impressed a number of the judges including a senior manager from Network Rail who wanted to be kept in touch with the project as she felt it had huge potential.
The pupils had worked on the projects for around five months and along the way have linked up with local industry, further education establishments, and a special school and had support from STEM Ambassadors. The project has taken their learning outside the classroom and enabled them to develop a whole new set of skills.
Head of Design and Technology Susan Quirk said: "Involvement in the competition has brought huge opportunities for the pupils of this small South Wales school and made them realise that they can compete with the best young minds not just in Wales but in the UK. To put the their achievements into context, taking part in the finals at the Royal Society in the presence of HRH The Duke of York was the first time two of the six had visited London. Winning has also brought the pupils some amazing opportunities, not only have they won a cash prize for the school which will be used to develop STEM projects, but the three boys have each won a Virgin Day Experience flying lesson; which involves taking the controls of a light aircraft. They also won a VIP day to the Airbus Factory at Broughton. Both prizes were provided by Airbus, who sponsored the Transport category."
The boys have also been invited to attend a reception at Buckingham Palace hosted by HRH Duke of York in October and are already planning the concept ideas for next year's competition.
Back to topA Taste of Engineering wins favour at Swansea University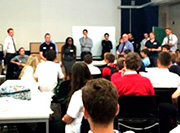 STEM Ambassador Christina Kio inspired and initiated an event to encourage pupils into the world of Engineering. Schools across the Swansea and West Wales region were invited to attend the event. Supported by a team of engineers from many disciplines – most being STEM Ambassadors – the pupils took part in problem solving challenges. They rotated through various activities:
Design, build and test a 'Speed boat'
Design and build an electronic game from foil and circuits
Design, build and test a paper bridge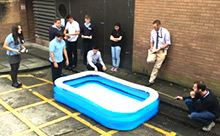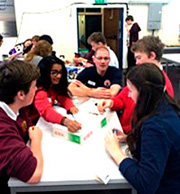 90 pupils from 6 schools attended: Morriston; Bishop Gore; Cardiff High; Ysgol Gyfun Rhydywaun; Brynteg; Pontarddulais. Pupils were also challenged by having to work in teams of 6 allocating 1 pupil from each school! A super lunch was laid on and both pupils and teacher joined in a Question Time session at the end of the event. Prizes were given to the 'winning teams' based on productivity, results and team work.
The STEM Ambassador team included Pauline Cooper, Simon Forster, Derek Sheehan, Paul Bulmer and John Jones.