Welcome to the STEM Newsletter for Secondary Schools in Wales
The start of a new term, and this newsletter brings more stories than ever about STEM engagement across Wales. Find out more about what's happening, competitions, new educational resources, events, new rounds of grants and more…
Contents
There are larger versions of some photos in this newsletter - click the small photo to view.
For your diary
ASE Regional Conference: The Art of Science Communication. 4 October, 10am-2:30pm. National Museum of Wales, Cardiff. For primary and secondary science teachers, teacher trainees, science communicators and other interested professionals. Explore exciting and innovative ways of communicating science in and out of the classroom. The day features inspirational talks and hands-on workshops aimed at developing confidence in teaching science and providing plenty of ideas for your lessons. There's more information on our Events page: contact cerianangharad@ase.org.uk / 029 205 73240: book places here.
The 13th Annual Welsh Physics Teachers Conference 'From Airwaves to Microwaves' is a free day of presentations and workshops for teachers and technicians at Christ College, Brecon on Wednesday 8 October, 9.15am-4.00pm. This is a wonderful opportunity for teachers, technicians, newly qualified teachers and trainee teachers to take part in a wide variety of physics CPD. There's more information on our Events page: register here.
I'm a Scientist will return this November (10–21). It's a free X Factor-style competition between scientists, where the students are the judges. Students challenge the scientists over fast-paced online text-based live chat. They ask the scientists anything they want, and vote for their favourite to win a prize of £500. Teachers should sign up to take part before 22 September.
Links to teacher information pages
New events, competitions, grants and resources are regularly added to our teacher information web pages. You can check them out by following these links:
Have a science or engineering project in mind, but need cash to support it?
Find full details of these project grants on our Grants page.
School Grants Scheme
Scientific Outreach Grants
Partnership Grants
The IET Education Fund
Pharmacology Outreach Grants
BMCS grants for chemistry clubs
Need advice? If you've never applied for funding before, or if you've never been successful, make sure you read the funding criteria carefully and include information in your application that shows how your project meets them. Most scheme managers are happy to discuss the application process and potential projects, and are a great resource.
Need helpers? Try the STEM Ambassador programme to get help for your project from scientists or engineers. Contact ambassadors@see-science.co.uk.
Manor House Wildlife Park hosts STEM Networking event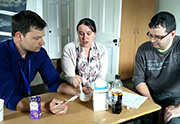 A group of teachers from Pembrokeshire secondary schools tried out a series of experiments from the Society of Biology's Gopher Science Lab in a STEM networking event at Manor House Wildlife Park.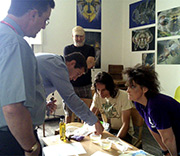 The teachers were given a talk and tour of wildlife habitats in the park, and followed up with discussions with STEM Ambassadors in the park's classroom. They joined Ambassadors in trying out the Gopher Science Lab experiments, linked to aspects of biology and wildlife.
Each schools was given a Gopher Science kit, containing teacher and pupil notes and supplies to run the experiments in school.
CILT Cymru Projects News – languages continue to thrive at St. Richard Gwyn Catholic High School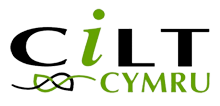 One of CILT Cymru's partner schools, St. Richard Gwyn Catholic High School in Flint, has good news about this year's MFL uptake figures at GCSE. Following a huge increase in numbers last year, the department is seeing a continuation in the popularity of languages as an option subject. Alison Amos, Head of Languages, said: "…following CILT Cymru's help and support earlier in the year, we are thrilled that we are the most popular option choice of the year group".
In 2013, the uptake figure for MFL at GCSE rose from 12% to 38%. This resounding success followed a series of careers talks and a STEM / MFL Project run in conjunction with Airbus for Year 9 pupils. There's a full report on the project here.
Back to topGopher Science Lab at Cwmcarn High School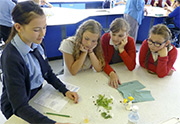 KS3 students from Cwmcarn High School took part in the Gopher Science Lab Day in Wales (GSLW) this summer. Following training from the See Science team, the KS3 pupils ran hands-on Gopher Science activities for pupils from the visiting feeder primary schools: Abercorn, Cwmcarn Primary, Waunfawr Primary, Risca Primary, Ty Sign Primary and Cwmfellinfach Primary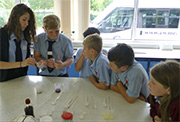 Gopher Science Lab Day in Wales (GSLW) is a Society of Biology initiative which has been funded by the Welsh Government through the National Science Academy. The bilingual programme is being run out to schools across Wales. Each of the participating primary and secondary schools receives a Gopher box with 10 Gopher activities and teacher notes.
"Thank you so much for today, it was a real success!": Elizabeth O'Malley, Head of Science, Cwmcarn Comprehensive School
If you would like to find more about this programme or attend one of the Gopher CPD workshops contact us at enquiries@see-science.co.uk.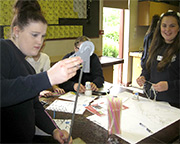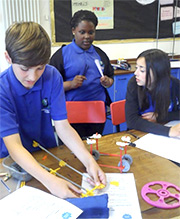 This summer, Year 9 students from Builth Wells High School took part in the Squashed Tomato Challenge. Teams of six competed against one another to see who could transport cherry tomatoes over a 2 metre horizontal drop – without damaging or squashing the tomatoes. The Squashed Tomato challenge is hands-on activity developed by the charity Practical Action and based on a real life problem that faces farmers in Nepal.
More able and talented (MAT) year 8 pupils from Llanishen High School also took on the challenge designing a model system that can be used in mountainous regions to take vegetables and fruit to markets using basic materials, pulleys and ropes.
The pupils gained a Crest Discovery Award – a recognised science award from the British Science Association. The activity was provided as a one-day challenge event, delivered by Liz Terry on behalf of the British Science Association.
"It was an exciting and interesting day, see the photos!": Mrs Wallington, Subject Leader Physics, Llanishen High School
Back to topGopher Science Lab goes to West Wales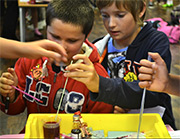 Ysgol Bro Gwaun is a bilingual secondary school in Fishguard, north Pembrokeshire. Pupils come from mainly Fishguard and Goodwick but also from surrounding rural villages including Scleddau, Letterston and Newport. This means the Year 7 intake could include children from as many as ten different primary schools.
Pupils from these schools take part in organised transition days, to introduce them not only to the secondary school, but also to pupils from other primary schools. At such a day the students took part in Gopher Science Lab activities.
Pupils enjoyed getting hands on with the activities, making observations, measuring and comparing results. They particularly enjoyed creating secret writing as an extension to the colour-changing cabbage experiments.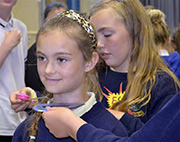 Ysgol Dewi Sant is the secondary school serving the city of St Davids and an extensive rural area of north Pembrokeshire. The catchment area has four main primary schools, although pupils from other schools may also travel to Ysgol Dewi Sant. Approximately 60 pupils of primary age attended a transition day at Ysgol Dewi Sant where the afternoon was devoted to taking part in Gopher Lab activities, led by Year 7, and some Year 8 pupils from the secondary school.
All activities took place in the school hall, with the primary pupils working in groups of three to complete the experiments. Science staff at the school scaled up the experiments to allow several pupils to take part at the same time.
Back to topPrimary Science Teaching Trust Celebration Day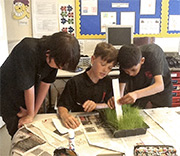 Teachers from the St Cyres Comprehensive School and their feeder primary schools: Cogan Primary School, St Andrew's Major C/W Primary School, Fairfield Primary School, and Murch Junior have been part of an exciting project funded by the PSTT (Primary Science Teaching Trust) to support Scientific Enquiry and the transition between primary and secondary schools in Wales.
After the celebration events Teresa Garn Head of Science St Cyres thanked us for organising "…such a splendid event on Friday. The Head was impressed and the children had a marvellous time."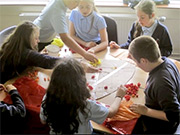 The teachers from the cluster schools attended a two-day Continuing Professional Development (CPD) course where they found out how to improve pupils' science skills and develop interactive learning. The schools collaborated with each other and STEM (Science Technology Engineering & Mathematics) Ambassadors. The teachers and STEM Ambassadors met to develop a sequence of lessons which will improve pupils' science skills and knowledge which they then apply in an investigation in the classroom. Once completed, the teachers and pupils presented their pupil's work at a final celebration.
"Success! All the children's knowledge and understanding of the topic area improved and that was evident when they presented their work on the Celebration Day at St Cyres Secondary School. Already I have been able to feedback my new knowledge and ideas to my staff, and they are keen to implement some of these in their own teaching. They have seen the children's presentation on this project which was very effective as they could witness the children's engagement in all the activities and actually see how these new initiatives/methods can be used to promote both Science and the LNF in the classroom." Jeff Lansing, Science Coordinator, Murch Junior School.
Teachers were also made aware of the PSQM (Primary Science Quality Mark). PSTT College members attend the CPD course to speak of their experience of PSQM and the benefits of PSQM.
See Science will be applying for additional funding to extend this project to other school clusters. If you are interested please contact us on ambassadors@see-science.co.uk.
Back to topEasy Electronics Celebration Event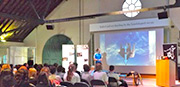 Teachers from secondary schools in Wales have been participating in twilight 'Easy Electronics' workshops to stimulate an interest in the subject at KS3 level. In June and July they joined together for two celebration events in Newport and Swansea.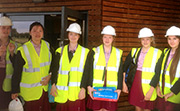 With the support of the National Science Academy, See Science has developed a workshop for teachers, and resources were provided for each school. Schools were encouraged to complete at least one project during the school term and to bring the project and the participating pupils to the celebration event. During the day there was also an opportunity to meet STEM Ambassadors and discuss future careers with them, as well as to present their work to other pupils and teachers. Those who attended the Newport event were also invited to visit the power station operated by Siemens. Many thanks to all the STEM Ambassadors and providers that contributed to make the day a success
Feedback from the day included: "The tour of the power station was interesting. Meeting STEM Ambassadors-inspiring"; "Pupils learnt different types of engineering"; "It was a good experience for the pupils to meet other schools and to present in front of them as they are quite shy at this age"; "Power station visit was great!".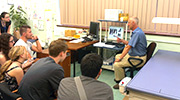 Year 12 pupils studying Physics across South Wales were invited to a day of presentations and workshops at the University Hospital of Wales. Pupils were given the opportunity to visit the Department of Medical Physics, learn about the different aspects of medical physics and find out more about careers in the field. Workshops included Ultrasound, Special Seating, Dual-energy X-Ray Absorptiometry, Gamma Camera /Whole Body Counter and Non Ionizing Radiation. Presentations from members of the Department included Prof Geraint Lewis from Velindre Cancer Centre and CUBRIC (Cardiff University Brain Research Imaging Centre).
The pupils had a fabulous day and the feedback was very positive. Many thanks to all the staff who contributed to make the day a success.
Back to topEnergy today and tomorrow

This course used interactive activities developed by CAT's experts and includes exploring what aspects of our lives make the biggest difference to climate change, evaluating a variety of energy sources, visioning a low-carbon future and looking at practical model making activities. The teachers have access to the resources and their feedback was extremely positive.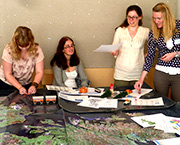 Groups made decisions, tried out their choices and saw the impact of the decisions on a screen. The activity enables other alternative choices to be tried and see how this changes the impact. This activity is ideal for pupils from KS2 upwards who become very engaged in trying to get their impact as low as possible.
CAT have developed designed and made activities with wind, water and solar power and delivered them to pupils of all ages over many years. One example is Energy Trumps Cards, which enables pupils to compare impacts of energy sources and related technologies. The resource is geared to STEM in the curriculum in Wales for KS3 and KS4. The updated cards, the fact files and the STEM activities will be freely available bilingually on the CAT website by April 2015. ​
Needed – teachers who will trial and comment on the KS3&4 Energy Trumps resources for us during this autumn term. Please contact Deirdre Raffan, deirdre.raffan@cat.org.uk.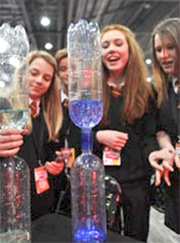 The Big Bang is the largest celebration of Science, Technology, Engineering and Maths for young people in the UK. Everything we do is aimed at showing young people (primarily aged 7-19) just how many exciting and rewarding opportunities there are out there for them – with the right experience and qualifications.
Back to topThe National Science + Engineering Competition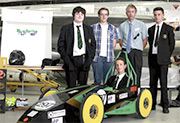 If your students registered for a CREST Award or carried out a Nuffield or Engineering Education Scheme project, you may like to enter them for the National Science + Engineering Competition.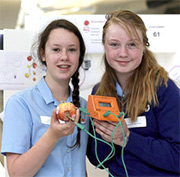 Open to all 11-18 year olds living in the UK and in full-time education, the competition rewards students who have achieved excellence in a STEM (Science, Technology, Engineering or Maths) project. The competition is open for entries from January to October each year, through either heats at selected Big Bang Near Me Fairs or our online heats. The chosen finalists are invited to showcase their work to thousands of people at The Big Bang Fair in March 2015.
Entry is now open for the 2014/15 Competition. You can find out more about the competition here.