Welcome to the STEM Newsletter for
Secondary Schools in Wales
Find out more about what's happening, competitions, new educational resources, events, new rounds of grants and more…
There are larger versions of some (but not all) of the photos in this newsletter - click the small photo to view.
Back to top Links to See Science teacher information pages
Because there are now so many STEM stories in the monthly newsletter it's no longer possible to include abbreviated lists of activities, resources, competitions, grants, cpd opportunities and events in the body of the newsletter.
New items are continually being added to these web pages – check them out by following these links:
Back to top'Curiosity' leads students to Silver CREST awards at Ysgol Bryn Elian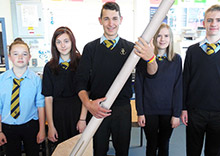 Following the success of the NASA's Mars Rover 'Curiosity', a group of MAT (More Able and Talented) students at Ysgol Bryn Elian, Colwyn Bay, have been working together as an after school club since last October to research and investigate all aspects of 'Life in Space'. Their ultimate goal is to produce a lively and informative magazine on the topic aimed at 12-16 year olds.
The sky really has been the limit, as their investigations have taken them to the Jodrell Bank space telescope, and have included a day's rocket design, construction and launching with STEM Ambassador David Ingleston.
Having been awarded a grant from the Welsh Government for National Science and Engineering Week, the group purchased robot kits and worked with the school's Technology Department to build and program a vehicle suitable for searching for life on planets in other solar systems.
Once the different articles, features and quizzes have been gathered together, the initial drafts of the magazine will be evaluated by fellow students in the target audience, and the final version will be produced as an e-magazine and also as a limited print run. In addition, the group are submitting their work as a Communication project for the Silver CREST award, and are hoping the wide range of skills and knowledge they have built up during their time on the project will put them 'right on target' for the start of their GCSE courses in September.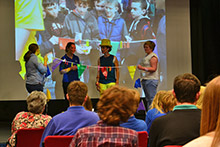 Year 10 students from across West Wales took part in an entertaining day of workshops and presentations organised by the Further Mathematics Support Programme Wales.
The Programme aims to show students that mathematics can be both fun and challenging and that its study in the sixth form is a gateway to exciting university courses and a variety of careers.
During the morning, pupils took part in workshops including the maths behind the Bloodhound Supersonic Car, the maths behind puzzles, and Special Relativity. After lunch they were entertained – and challenged – by Dr Sara Santos of Maths Busking. In an interactive presentation she demonstrated a range of tricks, including apparent mind-reading, before explaining the maths behind them all.
Schools from Swansea, Carmarthenshire and Pembrokeshire were represented at the July event, which was held at Pembrokeshire College in Haverfordwest. The Further Mathematics Support Programme has further events scheduled in Swansea and in Bangor this month (September).
Back to topMeteoric award at National Eisteddfod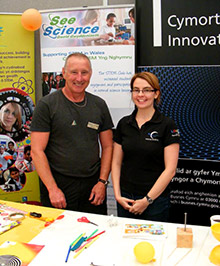 A student from Ysgol Glan Clwyd in St. Asaph has won a nationwide competition to name an asteroid – and was presented with part of his prize during the National Eisteddfod in Denbigh.
Robin Sheridan, a year 10 pupil, suggested the asteroid be named 'Isaac Roberts' after the Denbighshire-born Victorian astronomer who pioneered the use of photography to image celestial objects.
Robin was presented with a genuine iron meteorite at a ceremony during the Eisteddfod by Dr Sarah Roberts, Director of Education at the Faulkes Telescope project and a former pupil of Denbigh High School. Dr Roberts said: "We particularly liked the fact that Robin had chosen a Welsh astronomer, from his local area, who is now buried in Birkenhead, where the National Schools' observatory team is based. So the name Isaac Roberts has good links with both projects!"
The competition came about following the discovery of the asteroid by the Faulkes Telescope Project, based at the University of South Wales. Once the giant space rock – catalogued as 2004 VZ63 – completed two orbits around the Sun, it became eligible for naming. The competition was launched in February by the Discover the Cosmos Project, an international education programme. It drew entries from across the UK.
Robin's suggestion was chosen as the winner by astronomers from the University of South Wales and from the National Schools' Observatory in Liverpool. The designation "Isaac Roberts" has been submitted to the International Minor Planet Center at Harvard University, USA.
Back to topParlez vous STEM? Natürlich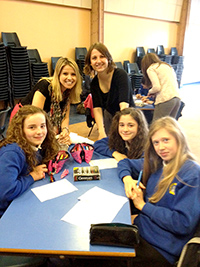 More teachers in Wales are helping their pupils recognise the link between STEM subjects and Modern Foreign Languages. Several schools have now had visits from STEM Ambassadors who use foreign language skills as part of their working day.
A day of interactive sessions was held for Year 8 pupils at Whitchurch High School in Cardiff, where two Ambassadors – a geoscientist and a PhD student involved in medical research – spoke about their work, and the importance to them of being able to use other languages.
Students from six secondary schools took part in an event at St David's College in Cardiff, where two Ambassadors – one with a background in Chemistry, the other in Technology – gave a joint presentation and short sketch in French and German.
Teachers and pupils have responded well to such activities. Feedback suggests there's a twofold increase in students' knowledge of the link between STEM and modern foreign languages, and their desire to study languages, following a session. Some pupils at Whitchurch High School said it made a difference too, as to how they viewed the STEM subjects: "I wasn't considering a career in STEM before, but now I am!", said one.
If you would like to arrange for a STEM Ambassador to visit your school – to talk about the link between STEM and Modern Foreign Languages, or for any other curriculum support – please contact ambassadors@see-science.co.uk.
Back to topTeachmeets offer chance to share
The Teachmeet format for inter-school meetings is proving popular across South Wales. Four sessions focusing on STEM Clubs were held before the summer break in Penarth, Baglan, Merthyr Tydfil and Bassaleg. Teachers shared their experiences of running STEM Clubs, ranging from cookery to astronomy and rocketry, and award-based activities such as CREST, and competitions like the F1 Challenge and EESW. The meetings were also attended by activity providers and STEM Ambassadors, who offered suggestions as to how they could support STEM Clubs. The Teachmeet format provided a lively and dynamic atmosphere for sharing ideas and making contacts.
Pembrokeshire networking
Several STEM Ambassadors joined teachers in Pembrokeshire at a Teachmeet at Ysgol Bro Gwaun, Fishguard. The focus of presentations was how the different schools were enriching the STEM curriculum, through running STEM Club activities, or special activities. Ambassadors present included representatives from farming, energy, construction, technology, and research. They were able to discuss with teachers how their skills and experience could be used in schools. Feedback from the event has proved positive and it's hoped to hold further Teachmeets in the county in the new school year.
Back to topSwitching you on to STEM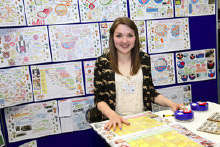 Over 40 teams of budding scientists and engineers came to the Big Bang Cymru from schools and colleges across Wales. The event was hosted by The University of South Wales on Wednesday 3 July 2013.
The Big Bang Cymru brought together an array of exciting and stimulating educational displays, workshops and shows to ensure that about 1,000 pupils were given an engaging and hands on experience including experiments with liquid nitrogen, oxygen foam, dry ice, explosions and a vegetable cannon.
The Big Bang Cymru is one of many Big Bang fairs held across the UK, culminating in the Big Bang UK Young Scientists & Engineers Fair at Birmingham NEC in March 2014. The event hosted the regional finals of the National Science + Engineering Competition, Young Engineer for Britain and the CREST awards.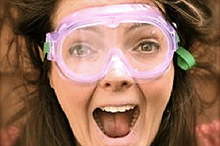 School and college students and STEM clubs brought along their excellent STEM projects to discuss the fruits of their hard work with experts from industry and academia. For a list of prizewinners at The Big Bang Cymru 2013, click here.
Surrounding the competitions and STEM showcases were a series of 21 workshops, STEM shows, interactive stands and sponsors stands which all students attending the event had the opportunity to attend or take part in.
Our star attraction for the day was BBC Science Presenter Fran Scott, who demonstrated her show 'Zap! Buzz! BOOM!', which was specially written for The Big Bang Cymru.
The event was opened by the newly appointed Deputy Minister for Skills in Wales, Ken Skates.
Back to topRenewables work reaps rewards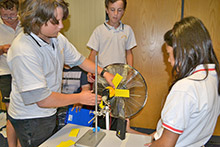 Pupils from three Pembrokeshire schools have been studying renewable energy and gaining their CREST Bronze Awards. The project was organised by the Darwin Centre, based at Pembrokeshire College, who arranged visits to a local wind farm, followed up by a day of practical activity.
The students visited the Castle Pill wind farm, near Milford Haven, to see for themselves how turbines work in their normal environment. The site, opened four years ago by renewable energy provider Infinergy, has four turbines of two different types, serving and supplies around 1,700 homes.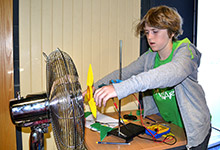 Groups from the three schools then gathered at Pembrokeshire College for a windpower challenge day. Working in mixed teams, they had to design wind turbines to charge up supercapacitors, which in turn were used to power a car.
The students spent most of the morning session working out the best design and position of blades to give the greatest output. In the afternoon they worked on car design to make the model that would travel the furthest on the power supplied.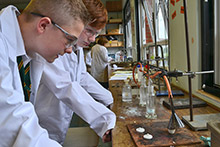 Meanwhile… in Carmarthenshire students were taking a different look at ways of reducing carbon emissions. Year 8 pupils at Ysgol Gyfun y Strade donned lab coats and goggles to explore how carbon might be captured before it gets out into the atmosphere – perhaps with carbon scrubbers on car exhausts.
Teacher Hilary Cotterell introduced the topic through film clips as well as discussing combustion, carbon emissions and the carbon footprint. She then asked students to do their own internet research before starting their practical work.
Working in small groups, the students then tested various chemicals to see which, if any, could be used to absorb carbon dioxide, keeping accurate records of all the changes in weight of the substances.
The students used the project to earn CREST Bronze Awards, and all those who took part reached the required level.