Welcome to the STEM Newsletter for
Secondary Schools in Wales
Contents
Find out more about what's happening in the autumn term, competitions, new educational resources, events, new rounds of grants and more…
It is not too early to start planning your activities for National Science and Engineering Week; why not attend one of the information sessions run by the British Science Association in October. You could also arrange for a STEM Ambassador to visit your school to support the activities. To find out more email ambassadors@see-science.co.uk

Next year, the Big Bang UK Young Scientists and Engineers Fair 2013 is from 14-16 March 2013 at London ExCeL. The Fair is a free event for all 7-19 year-olds, their teachers and families – with school and college groups invited on Thursday 14 and Friday 15 March and the public welcomed on Saturday 16 March. There are places in the finals remaining for teachers to enter their students' projects online. For more information go to www.thebigbangfair.co.uk/nsec. Closing date 31 October 2012.
If you're planning a project of any kind or an event at your school and need speakers, workshops, links with the real world, or an extra pair of hands, contact See Science and request for a STEM Ambassador to come and help. The STEM Ambassadors Programme is FREE to schools. Email ambassadors@see-science.co.uk or go to http://networking.stemnet.org.uk and click on 'REQUEST A STEM AMBASSADOR'.
Toyota Drives the Message!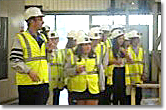 'See Inside Manufacturing' is a fantastic opportunity offered by Toyota manufacturing in Deeside to schools in the North East of Wales and also across the border in the Wirral and Chester. The event took place from 12 June to 10 July this year, opening the plant for 9 days to 15 schools.
Intrinsic to this successful and highly accredited event were Ambassadors Gary Bawden, Martin Fry and Phil Upton.
Almost 300 pupils were treated to a guided tour of the plant, interactive lectures on the manufacturing and design processes, career opportunities, hands-on activities and networking sessions. Ambassador Andy Jones was one of the lead demonstrators for the practical activities.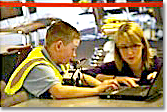 There is an extensive and intensive amount of preparation to arrange this opportunity; it is not an easy task to plan and co-ordinate the transit of young people through an industrial working environment and there is a cost implication both with staff and accommodation in the production process. Often the true cost of our Ambassadors services to STEM is not fully appreciated, and the investment both in time and dedication is even more difficult to quantify.
Schools in the area that were very privileged to experience this first class event were: Argoed School; Ysgol Morgan Hughes; John Summers; Ysgol Rhosnesni; Ysgol Clywedog; and Flint High School.
Ambassadors Rachel Mason and Keith Jones were lucky to enjoy a day at the plant with schools from the region. Keith reported: "I think it was very well organised and the pupils attending found it useful, enjoyable and informative".
Gary Bawden, Martin Fry
Go West!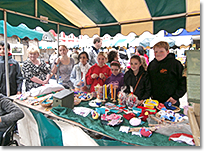 Pembrokeshire Young Entrepreneurs Fair showcases the business and enterprise projects undertaken by primary and secondary schools across Pembrokeshire. This year the event took place in Haverfordwest from 20–23 June.
Around 40 schools enter their projects that have to be designed and produced by the pupils. The enterprising youth of the County trade their products to the public and are judged for a wide range of prizes. The projects are evaluated for quality, sustainability, originality, business expertise and teamwork. Judges could also nominate special category awards.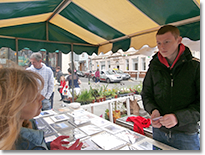 It is a very popular event sponsored by Murco Oil and organised by Youth Enterprise Officer Wendy Harris.
STEM Ambassadors supported the event both as judges and attendees: Helen Hughes; Geoffrey Irlam; Paula Holt; Mair Lewis.
I was enthused to visit on the Saturday and was really impressed by the effort of the pupils and their ability to sell their products!
In these photos pupils from Holy Name School are shown with their stall, and Glyn Rainer, aspiring photographer from Ysgol Preseli, explains his methodology in photographing water. For one image Glyn took 100 photos of droplets melting from ice cubes until he obtained the perfect shot.
Links to See Science news pages
Because there are now so many STEM stories in the monthly newsletter it's no longer possible to include abbreviated lists of activities, resources, competitions, grants, cpd opportunities and events in the body of the newsletter.
But new items are continually being added to these web pages – you can check them out by following these links:
Connecting STEM teachers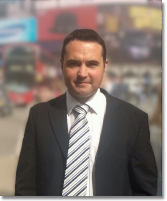 Do you think it's important that we teach young people the scientific method? Is it still worthwhile to show pupils how to design and create things for themselves? Is it worth the effort of teaching a love of mathematics? Would pupils benefit from being able to program computers rather than just use office software? Can Wales produce a generation of people who can confidently lead in these areas as has happened in the past? I hope you have answered yes to at least some of these questions – if not then please pass this message on to someone who you think will…
I'd like to take this opportunity to introduce myself and to invite you and your school to be a part of an exciting new local network to support STEM teachers who believe their subject is important to teach and important for pupils to learn.
My name is Peter Thomas and I am Leader of Learning in St. John Baptist CiW High School, Aberdare. I have recently been appointed as the Royal Academy of Engineering's Teacher Co-ordinator for South Wales on their Connecting Teachers Programme. The overall aim of a Teacher Co-ordinator is to build a local network of teachers and schools which provides peer to peer support, advice, continuous professional development and guidance on teaching and learning in STEM – in order to encourage more and more pupils into STEM careers.
The benefits include:
Opportunities to share ideas and experiences with enthusiastic peers
FREE ready-made resources designed specifically with STEM in mind
Access to funding for STEM clubs in schools
Free CPD opportunities
Once-a-term 'Teach-Meets' to offer a chance to network and try out new resources.
For more information please contact me at pete_thomas@stjohnbaptist.co.uk or phone (01685) 875414 and leave your name, main subject, email address and school and whether I may add your email address to the Connecting Stem Teachers website.
Technocamps Bootcamps in Bangor
Over the first three weeks of the school holidays the Bangor University Technocamps played host to three bootcamps. The 'Build your own Internet' bootcamps got small teams of young people to design a products, they were then tasked with the job of building a website to tell the world about their new idea; there was one catch they had to build their own internet to share their website just as Sir Tim Berners-Lee did back in 1990.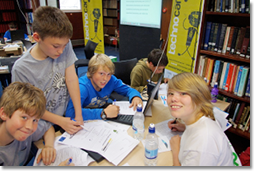 The skills learnt and fun had will give the participants valuable insight to the importance of the World Wide Web and how it works at a fundamental level.
Hardly a moment goes by where computers don't play a role in our modern lives so it is very important that young people have a solid grasp of the technology that surrounds us.