Welcome to the STEM Newsletter for Secondary Schools in Wales
An essential source of information for teachers and anyone with an interest in STEM (Science, Technology, Engineering and Maths) engagement across Wales.
Read inspiring stories, discover new opportunities and find out how a STEM Ambassador's visit to your school can engage and enthuse both students and teachers. There are details of current events, competitions, grants, CPD, awards and more at our teacher information pages.
Give us your Ambassador feedback
We would be very grateful if you could fill in our teacher feedback form if an Ambassador has visited your school or you have met an Ambassador at an enrichment activity. Please encourage colleagues to respond.
STEM Ambassador requests
Interested in asking a STEM Ambassador to visit your school? You can make your request here or contact See Science directly at ambassadors@see-science.co.uk.
STEM Club update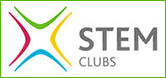 Our STEM Clubs newsletter contains useful information and ideas to run a STEM Club in your school. You can read it on line here and find out about the latest resources, competitions and grants available to schools STEM Clubs.
If you are a STEM Club leader or would like to set up a STEM Club in your school do contact us stem-clubs@see-science.co.uk. We can add you to our STEM Clubs mailing list.
Now that it is FREE for school in Wales to register pupils for CREST Awards, you could consider running these Awards in your club. For more details contact crest@see-science.co.uk.
Looking for a STEM professional to support your club (for example to act as a mentor, run a debate, give an interactive talk)? Then request a STEM Ambassador to visit your club here (or contact us directly at ambassadors@see-science.co.uk).
Teacher information pages
Events, competitions, grants and resources are regularly added to our teacher information web pages. You can check them out by following these links:
STEM Opportunities for teachers and pupils
Dates for your diary
STEM Clubs Week: 1-5 February 2016. Following the success of the inaugural STEM Clubs Week in 2015, the date has now been set for next year's follow up. Keep an eye on the STEM Clubs website for more details.
British Science Week: 11-20 March 2016. One of the highlights of the STEM calendar is always the British Science Association's British Science Week in March. Why not get involved in Demo Day or another school-based activity?
The Big Bang Fair: 16-19 March 2016. Timed to coincide with British Science Week, the Big Bang Fair at the NEC in Birmingham will once again throw open its doors to thousands of students, teachers and STEM Ambassadors.
The Crest Award Scheme is now free in Wales!
The National Science Academy in Wales is fully funding the cost of the CREST Awards (Discovery, Bronze, Silver and Gold) for schools in Wales. CREST is a UK award scheme for science, technology, engineering and maths (STEM). CREST Awards are recognised by UCAS and can be used towards the skills element of the Duke of Edinburgh Award.
For more information about the CREST Awards and how to register, contact See Science, your local coordinator for the CREST Award scheme in Wales, at crest@see-science.co.uk or phone 02920 344727.
Discovery Friday is back for 2016
Any students aged 11-14 with a CREST Discovery Award (or similar STEM project undertaken in a day/10 hours or less) can nominate to be part of this fantastic showcase that will take place all day on Friday 18 March at The Big Bang Fair.
Nominate your own projects from 1 November 2015 – 1 January 2016 for a chance to be part of the 2016 showcase. Bursary support will be available for those who may need it. For any questions please contact crest@britishscienceassociation.org.
ASE Conference – Creativity in Science
21 November, 10am-3pm. National Museum of Wales, Cardiff

For primary and secondary science teachers, teacher trainees, science communicators and other interested professionals. Explore exciting and innovative ways of exploring creativity in science in and out of the classroom. The day features inspirational talks and hands-on workshops aimed at developing confidence in teaching science and providing plenty of ideas for your lessons.
Keynote talk: Dan Davies is Professor of Science and Technology Education and Dean of the Cardiff School of Education. He is a former primary teacher and author of Teaching Science Creatively. Here he discusses 'Creativity in Science and Technology – the Donaldson Dimension'.
Afternoon Lecture: Dr Rhys Jones is a BBC TV science presenter and best known for 'Rhys to the Rescue'. He is also a lecturer at Cardiff University, and has a PhD in Genetics, Phylogeography, Parasitology and Herpetology.
Workshop sessions from Foundation to KS4 include:
Creative approaches to maths
Crafty planets
WJECs new science qualification
Presenting science through theatre
OPAL – Soil and earthworm survey
Royal Society of Chemistry – 'Water a global experiment'
Contact cerianangharad@ase.org.uk 029 205 73240. Book places here.
Schools Connect Programme at GE Healthcare Cardiff
GE Healthcare's Schools Connect Programme invites local sixth forms to learn about the company's work at the Maynard Centre in Cardiff. The free visits are designed for AS and A level students who are preferably studying Biology, Chemistry, Physics, Technology, Engineering and Mathematics.
The dates currently available for visits are:
16 and 17 February
15 and 16 March
19 and 20 April
17 and 18 May
Each event will run from 9am until 12:30pm, has a maximum capacity of 16 students and is free (not including transport to and from site). The aim is to give students an insight into the science and engineering work carried out at The Maynard Centre in terms of the products GE Healthcare sells and the research it conducts. Talks, tours and activities will be delivered by experienced members of staff and those completing an internship. There will also be a chance to network with members of staff from a diverse range of backgrounds and the opportunity to ask questions which may berelevant for students considering careers in such areas.
GE aims to: Promote careers in science and technology; promote future internships; give students the experience of a real working lab environment; broaden career horizons; provide an opportunity to ask the experts; promote GE Life Sciences as a partner in our community.
To book a visit, contact Richard Roberts at richard.D.roberts@ge.com or on 02920 526 183. Places will be allocated on a first-come-first-serve basis.
British Science Week 11-20 March 2016: new website, new funding opportunities

Visit the new British Science Week website. The site offers resources for planning and organising events and activities for British Science Week.
You can register events, apply for grants and request a FREE marketing pack, as well as find out about opportunities for getting involved in citizen science activities and some of our flagship events.
Kick Start grants: up to £300 for your school to run an activity during British Science Week; or Kick Start More grant: up to £700 for your school to host a science event or activity which involves your students and the local community.
The National Engineering Competition for Girls is now open!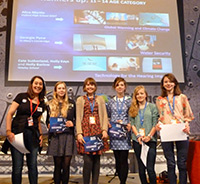 Talent 2030's National Engineering Competition for Girls invites girls 11-18 across the UK to solve the major challenges of the 21st century, to get creative, get thinking and most of all – have fun! The free competition offers winners a £1,000 prize, an engineering mentor, the opportunity to showcase their entry at the Big Bang Fair 2016 and much more!
All competition entrants have the opportunity to get a Bronze, Silver or Gold CREST Award. All shortlisted finalists will be invited to showcase their entries at the Big Bang Fair and £200 will be awarded to the best exhibition and project explanation on the day.
There are 3 different age categories 11-14 (Year 7-9), 15-16 (Year 10-11) and 17-18 (Year 12-13). Girls entered individually or in groups of up to 6. The deadline for entries is 6pm on 18 December 2015.
Photo: Project Manager Olivia Jones (left) with 11-14 Runner-Ups 2015
Back to topCan your school connect the unconnected?

We use the internet every day: on our computers, on tablets and mobile phones. You can watch TV, make phone calls, send photos, and shop – all on the internet. But even today less than 1% of all things are connected to the internet. What happens when your microwave, your central heating, your car, or even maybe school workbooks are connected to the internet?
Cisco and STEMNET invite your students in years 9-11 to take part in the Little BIG Awards to show how they think life could be made better by connecting everyday things together.
Pupils will work as a team with assistance from one or more industry ambassadors to solve a problem; design, develop and prototype a solution; and build a business plan around their idea. STEM Ambassadors will be on hand to visit schools (or connect with them remotely) and to help and provide structured activities along the way.
The Little BIG Awards are closely linked to the curriculum for Computer Science in KS3 and KS4. Find out more here and and register interests for your school by clicking on the register button.
People Like Me

The WISE Campaign has produced a new resource pack titled People Like Me. Based on the findings of the recent Not for People Like Me report, the resource pack employs a new approach that uses girls' natural tendency to create and articulate their self-identity with adjectives to help them see themselves working happily and successfully in science, technology, engineering or maths (STEM).
The resource pack equips teachers and STEM Ambassadors with materials including a quiz that can show girls from a diverse range of backgrounds that, if they continue with at least one STEM subject post-16, they are likely to have better prospects and more career choice.
Why not try the quiz yourself and use it as a different way to engage girls when you are talking to them about your job? People Like Me resources can be downloaded free of charge from the WISE website.
An out-of-the-box after-school IT club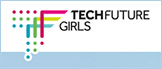 TechFuture Girls is an out-of-the-box after-school club that has been specifically designed to encourage girls to stay engaged in IT.
It helps girls develop their skills in IT through a series of carefully-graded challenges, themed around their interests – like fashion, music, sport and celebrity. Running TechFuture Girls doesn't need any specialist IT expertise or software, it's fully curriculum-compliant, and girls love it. It supports girls' learning in IT and across the curriculum, and benefits their confidence and self-esteem.
Partnered with STEMNET, TechFuture Girls engage tech and digital professionals across the sector to support the programme as TechFuture Ambassadors.
Since 2005, more than 150,000 girls in over 4,500 schools have experienced TechFuture Girls.
84% of girls involved state they are more likely to consider further education or a career in technology as a result.
98% of teachers who run the clubs say that members' IT confidence levels have improved.
TechFuture Girls is available free to all school in the UK.
Hour of Code

The Hour of Code (December 7-13) is a global movement reaching tens of millions of students in 180+ countries. Anyone, anywhere can organise an Hour of Code event. One-hour tutorials are available in over 30 languages. No experience needed. Ages 4 to 104.
Into Space Film making Competition
The Into Space Filmmaking Competition includes free activities for young people aged 5–19 on a space and exploration theme, including a filmmaking competition that offers the chance for six lucky entrants to have their winning entries screened in orbit around the Earth for Tim Peake during his mission to the International Space Station. More information about the competition and various activities at www.intofilm.org/space.
Back to topSchool Biology competitions
Registration is now open for teachers to register their 16-19 year old students in the Royal Society of Biology's British Biology Olympiad.
Registration is also open for teachers to register their schools in Biology Challenge. The competition is open to all students aged 13-15.
Teacher Award: Call for 2016 IOP Awards nominations is open
The IOP is now seeking nominations for the 2016 awards and we need your help to nominate the most outstanding physicists in their respective fields of physics. Our awards recognise and reward outstanding achievements in industry, business and research as well as contributions made to outreach and education.
Full details of all the awards, eligibility and how to make a nomination here, or email awards@iop.org. The closing date for nominations is 29 January 2016.
Centre for Alternative Technology

CAT has launched its new and updated STEM Energy Activities and Resources for Key Stages 3, 4 and 5 translated and available in English and Welsh.
CAT's latest Energy workshops can deliver a comprehensive grounding in the area of energy futures if several sessions are chosen in combination. The range of new activities and resources include the all new 'Energy Trumps' workshop based on the popular game of 'Trumps' which enables pupils to compare different energy sources but this time the lowest impact wins!
The CAT carbon foot printing activity 'How can we make a Difference' has also been upgraded with a complimentary online resource called the 'Green house'. This can be viewed along with FREE downloadable bi- lingual Energy Trumps cards here
Find out more about this and our other redeveloped energy activities including 'Zero carbon Futures and 'Where's the Impact' of mobile phones' here.
Bursaries are available for KS3, KS4 and 5 school & college STEM groups in North Wales. Contact Gabrielle Ashton 01654705983 education@cat.org.uk.
Pupils' experiments aboard the International Space Station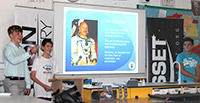 Ken Bowersox, a former NASA shuttle pilot commander and commander of the International Space Station, visited Lewis School, Pengam during half term to work with pupils on the ISSET Mission Discovery program. Pupils from Lewis School Pengam and Pontllanfraith Comprehensive worked to create a real mission that will be launched to the International Space Station in 18 months' time. Suns of Ananke, the winning team, will now work with Dr J Keeble of King's College London to complete the ground-based part of their experiment, which investigates the use of probiotic bacteria as an antiseptic in space.
"Even though we didn't win we improve our ability to work as a team and present our ideas effectively!" Evan Marshall, Year 11

"I didn't expect to win and have a mission actually put into space, it won't sink in for a while."

Ryan Howells, Year 11

"Ken has had an amazing career and just being able to spent time chatting with him was very surreal."

Matthew Morgan, Year 11
Back to topChemistry Works wonders at the University of South Wales
Chemistry is truly a science with instant impact! This successful event focused on the diverse careers that a qualification in Chemistry can offer. Organised by Helen Obee Reardon of the University of South Wales and kindly supported by the Royal Society of Chemistry, the Chemistry at Work event for Year 9 pupils was made possible by the expertise of four STEM Ambassadors.
Dr Rachel Hopkins, Dr Steve Capper, Dr Mark Elliott and Liam Thomas each delivered 4 sessions at this event. Each Ambassador delivered interactive talks on their specialist field:
Rachel: Pharmaceutical Industry
Steve: Fluorescence in Life Science research
Mark: Chemicals – are they bad for you?
Liam: 3D Chemistry
The pupils responded enthusiastically to the sessions, which made Chemistry relevant to the real world of work. With so many competing influences it is valuable to show how a difficult concept can be made easy to understand using everyday links to something familiar. Shining a UV light into tonic water can be an illuminating demonstration of kitchen chemistry to adults and pupils alike.
Schools attending were: Tonypandy College; Mountain Ash; Lliswerry and Heolddu.
FMSP: Supporting A level Mathematics in Wales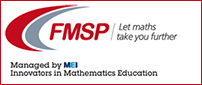 How can Maths be used to help create on-line computer games, and how can we cut a folded piece of paper to create two interlinked hearts? These are just two of the questions posed to Year 11 GCSE Mathematics students from eight North Wales schools (Ysgol Ardudwy, Ysgol y Berwyn, Ysgol David Hughes, Ysgol Dyffryn Ogwen, Ysgol Eifionydd, Ysgol Glan y Mor, Ysgol Tryfan and Ysgol Uwchradd Tywyn) at the 'Mathematics is your Future' Conference, held at Bangor University on 17 September.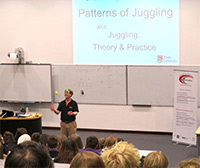 The Further Mathematics Support Programme (FMSP) in Wales, funded by the Welsh Government, aims to raise an awareness of the value of studying Mathematics at a higher level, and to increase the number of students studying AS and A level Mathematics and Further Mathematics. To do this it organises study days, revision sessions and conferences for Year 11 and sixth form students, and provides CPD courses for teachers both face-to-face at events, and live on-line. All state funded secondary schools in Wales are welcome to attend the events which are free and normally held in Bangor, Cardiff, Swansea and Haverfordwest.
The inspirational sessions at the Bangor September conference were presented by: Dr Iestyn Pierce (Bangor University), Dr Sofya Lyakhova (FMSP), Gaz Thomas (computer games developer/ Big Ideas Wales), and Dr Colin Wright (Keele University/Solipsys and juggler extraordinaire), with a final demonstration of the mathematical applications of the double pendulum by Dr Vitaly Moroz (Swansea University).
For further information on what the Further Mathematics Support Programme (FMSP) in Wales could offer your GCSE and AS/A level Mathematics students visit www.furthermaths.org.uk/wales.
Photo: Dr Colin Wright (Keele University) demonstrating the mathematics of juggling!
Back to top'Codi STEM' event raises awareness of STEM opportunities and careers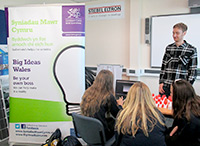 Over 600 Year 9 students from all over Anglesey and North Gwynedd were given a glimpse of the future on Thursday 22 October, when Careers Wales, Grŵp Llandrillo Menai and Energy Island jointly organised 'Codi STEM' at the Energy Centre and the Construction Centre, Llangefni.
The event was supported and attended by an impressive range of STEM career providers and organisations including: Babcock, CITB, Dawnus, First Hydro, Holyhead Marine, Horizon Nuclear Power, Jones Bros Civil Engineers, Lloyds Bank, National Grid, NHS Wales, the Photonic Academy of Wales@Bangor, RWE, Scottish Power, Big Ideas Wales, Watkin Jones Group, Dŵr Cymru, Women in STEM and Ynys Mon Energy Island.
See Science supporters and STEM Ambassadors were also present throughout the day, giving pupils advice on STEM careers, as well as being able to advise teachers on current STEM resources and the latest funding opportunities.
The event featured a range of hands-on displays and activities, including the chance to try a virtual JCB-type excavator! The day was very well received by both students and teachers. A participant from Ysgol Uwchradd Caergybi commented "I was impressed by the huge amount of careers information that the companies provided. I hadn't realised how much choice of jobs there was in Science and Engineering." The other schools attending were: Ysgol Bodedern, Ysgol David Hughes, Ysgol Dyffryn Ogwen, Ysgol Gyfun Llangefni, Ysgol Syr Thomas Jones and Ysgol Tryfan.
Photo: Visitors to the 'Big Ideas Wales' stand compete to beat the 'Tangerine Panic' score
Coastal Challenge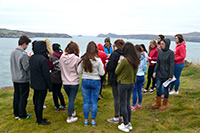 More than 100 students from Greenhill School in Tenby have been taking part in a Coastal Challenge as part of their work for the Welsh Baccalaureate qualification. The Year 10 students were divided into four groups and each visited a different area within the Pembrokeshire Coast National Park to learn about interactions and issues arising from the different uses of each location.
The day was organised by Pembrokeshire Coastal Forum, who run an education programme aiming to connect pupils to the coast, and potential careers. The challenge is for students to learn about different aspects of policy relating to the coast from local experts. They then take what they've learned and share the knowledge with other groups, in school and beyond… Issues include sustainable tourism and recreation, marine conservation zones, climate change and marine renewable energy.
At St Justinian, near St Davids, a group of forty pupils learned about a project to install a device to harness power from tidal energy. They heard from the developers of the tidal stream technology, the conservationist monitoring wildlife and the environment, and had an overview of from the manager of Marine Energy Pembrokeshire.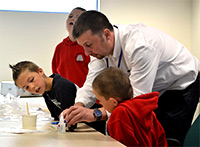 Scores of children from primary and secondary schools took part in the first Big Bang Near Me at Pembroke Dock. The Bridge Innovation Centre offered a range of activities for pupils to try including F1 in schools, Lego robotics, Crumble computer coding. There were presentations on physics and the rock guitar, the Bloodhound SSC, thermal imaging, bioluminescence, and a night sky planetarium show. There was also an opportunity for secondary pupils to enter their work for the National Science and Engineering Competition
In an F1 taster workshop, James Kitson from F1 in schools sponsor Denford demonstrated CAD/CAM equipment used in making the model cars. Pupils were able to watch the body of the car being 'carved' by one machine, and wheels being created on a 3D printer. James helped students put together a model car from the kit and they were then raced down the 24 metre F1 track. He says he is hoping more schools will be able to get involved in F1 in schools now that simple guides to the processes involved are available for teachers online.
Photo: James Kitson from Denford helps pupils prepare a model car in an F1 workshop.
Sir Thomas Picton pupils win national robotics competition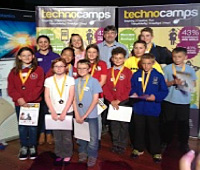 A group of Year 7 pupils in Haverfordwest were starting their new school with more confidence this September, thanks to an innovative transition project run by an after-school club.
Pupils at Sir Thomas Picton School had won the Technocamps National Robotics Competition, and during last year invited pupils from feeder primary schools to join them once a week in their after-school robotics club. The sessions were run by Tom Long and Adam Price (then in Years 9 and 10 respectively), who had been attending the robotics club for three years. They led their teams of Year 6 pupils in creating a robot, a video and a poster from scratch. They took their teams to the national robotics competition at the University of South Wales, where they received medals and certificates. Teacher Vicki Price says Tom and Adam were a huge inspiration to the primary pupils, and great ambassadors for the school.
Back to topTop of the class for inspirational woodland teaching

Pencoed School in Bridgend and Ferryside School V.C.P School near Carmarthen have won Gold and Silver respectively in the Royal Forestry Society's 2015 Excellence in Forestry Schools Awards.
They beat off stiff competition from across Wales to impress judges – Sue Williams who heads up the Education, Learning and Sector Skills Team for Natural Resources Wales, and Phil Tanner, Education Manager of the Royal Forestry Society (RFS).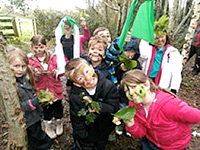 Pencoed School has around 570 pupils and has its own woodland which was planted 24 years ago by students and staff as a resource for learning opportunities not just for the students attending the school but the whole community.
Judge Phil Tanner said: "This inspirational work to ensure that Pencoed School is more than just a school is supported by both the school staff and the parents of the children. Leading the school's engagement programme is local resident Julie Jenkins whose enthusiastic approach to providing outdoor learning opportunities is at the heart of the school's success."
Head teacher Ms Sarjeant said: "At Pencoed Primary School we strive to promote family involvement and to support and create partnerships with the families in our school. Using our Forest School Area for this has been a key aspect of our development this year. Showing the value of using woodland areas for all aspects of learning has inspired and motivated many of our families to get outside and enjoy nature!
"The award will help us promote this resource further and ensure it is sustained for future generations. I am thrilled that the hard work and dedication of all involved has been recognised."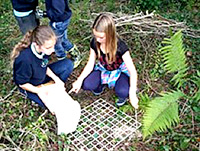 Silver Award winner Ferryside V.C.P School has formed a partnership with a local woodland co-operative. This gives the children the opportunity to visit a woodland within their local community that is managed by coppice rotations for the production of charcoal, helping them to understand and appreciate woodlands within their local community. Project work has increased their knowledge of woodlands on a global scale where they learn about the value of the world's forests.
Judge Phil Tanner says: "Projects on ash dieback and the wood processing cycle demonstrate the importance Ferryside School placed on pupils being aware of the importance of trees and wood products within their daily life. The value of Ferryside's woodland education is evident within the school and the local community. Winning silver in the RFS Excellence in Forestry schools award provides Ferryside with the recognition that their efforts to provide first class woodland based outdoor learning deserve!"
Headteacher Jayne Davies said: "I feel immensely proud of our success in this highly-esteemed national competition and grateful to all the staff, pupils, governors and members of the local community who have worked so diligently during the past year to establish Panteg Woodland in Ferryside as an inspirational learning tool. Physical, practical, hands-on experience in the beautiful outdoors has led to a positive improvement in pupils' enthusiasm for learning and has impacted upon cognitive skills, raising standards in all areas of the curriculum. The outstanding work undertaken as a whole school has raised awareness of the natural world on a local and global level."
There were also three Highly Commended Schools: Builth Wells High School; Portfield School, Haverfordwest; St Christopher's School, Wrexham.