Welcome to the STEM Newsletter for Secondary Schools in Wales
An essential source of information for teachers and anyone with an interest in STEM (Science, Technology, Engineering and Maths) engagement across Wales.
Read inspiring stories, discover new opportunities and find out how a STEM Ambassador's visit to your school can engage and enthuse both students and teachers. There are details of current events, competitions, grants, CPD, awards and more at our teacher information pages.
Contents
There are larger versions of some photos in this newsletter - click the small photo to view.
Have a science or engineering project in mind, but need cash to support it?

The BSW Grant Scheme for Wales provides funding of up to £200 for schools in Wales. The grant is aimed to inspire schools to plan their own STEM events for British Science Week.
We will help you plan and organise your activity! The British Science Association offers a fantastic range of free resources and support to help you run straightforward activities, including:
Pre-planned activity packs full of science investigations for primary, secondary and SEN students
The BSW school poster competition – our 'ready to roll' ideas challenge
A curriculum-linked online quiz full of science and engineering trivia
The chance to win a top prize of £600 for your school in the BSW event awards
Free BSW marketing pack to help create a buzz around your school or organisation.
You can also sign up to our monthly e-newsletter via our website www.britishscienceweek.org
STEM Ambassadors can provide activities and support during BSW – request an Ambassador here.
Applying is easy! Visit the BSW website for full guidelines and to access our simple online application form. Closing date for applications is 9am, 26 November 2014.
Links to teacher information pages
New events, competitions, grants and resources are regularly added to our teacher information web pages. You can check them out by following these links:
Maths Grant Scheme
The Royal Institution has two grant schemes during the 2014/15 academic year, which schools will be able to use to pay for an activity from the STEM Directories. You can take advantage of this by registering your activities. There are grants of up to £500 for eligible state-funded schools or academies in the UK to take part in a mathematics-related activity. The deadline for applications is 24 November.
For your diary
The D&T Association Excellence Awards 2015
Nominate a great D&T teacher for the D&T Association Excellence Awards. The deadline for nomination is Friday 19 December.
Twilight TeachMeets for secondary STEM teachers in N Wales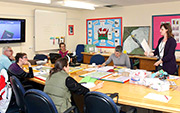 Twilight TeachMeets are a great place to share your STEM enrichment ideas with colleagues from other schools and pick up information about several STEM schemes in a short space of time, and they're popping up all over North Wales in a venue near you. They're only short (about an hour-and-a-half), they're free and there's tea and cake too, for those of you drawn by proper thrills.
The idea behind them is to get together informally and hear from a few organisations at once who want to let you know what's on offer from them. Teachers can also share with others what has worked for them and what hasn't – and generally work towards making the most of time to prepare STEM enrichment activities, meet STEM Ambassadors, and discuss needs with activity providers.
The first this year took place in October at Ysgol Clywedog and the time was used to find out about Techniquest Glyndŵr's newest Numeracy Engagement Programme workshops, grants available for British Science Week and The Society of Biology's Gopher Science project, supporting science in transition work. Teachers came along to form plans for a STEM week in March, get ideas for bringing maths ambassadors into school and develop content for STEM Clubs.
Next STEM TeachMeet on Thursday 6 Nov 4.30-6pm, Bangor University School of Computer Science – contact Rachel Mason cpd@tqg.org.uk.
If you're planning a project of any kind or an event at your school and need speakers, workshops, links with the real world, or an extra pair of hands, contact See Science and request a STEM Ambassador to come and help. The STEM Ambassadors Programme is FREE to schools - email ambassadors@see-science.co.uk or follow this link and click on 'Request an Ambassador'.
Don't forget to fill in our teacher feedback form if an Ambassador has visited your school or you have met an Ambassador at an enrichment activity. Please encourage colleagues to respond. Each half term we will provide one school who have provided feedback with a STEM Clubs resources kit worth £50.
The Welsh Government is again supporting CREST Awards in Wales. This funding allows schools in Wales to achieve the Awards at a subsidised rate. For further details about the CREST Awards in Wales please contact crest@see-science.co.uk.
If you would like to run a collapsed timetable day for KS3 pupils this term (ideal activity for BSW, transition phase activity, end of term), See Science is offering FREE STEM Activity Day Workshops and CREST registration. For more details email enquiries@see-science.co.uk.
After engaging with a STEM Ambassador 76% of pupils think Science is important for everyday life, 78% for Mathematics.
55% of pupils say they enjoy Science, this increases to 71% for pupils who have had contact with a STEM Ambassador and 80% for STEM Club members.
87% of teachers report an increased awareness of STEM subjects and their real world applications amongst their students as a result of STEMNET's programmes.
Over half of teachers reported that STEM Clubs have led to an increase in pupils' attainment in STEM subjects.
The STEM Ambassadors Programme is FREE to schools – email ambassadors@see-science.co.uk or follow this link and click on 'Request an Ambassador'.
Back to topEngineering – an exciting future!

So, what's the link between a piece of card and engineering? The answer is that school pupils can build a rocket from card! Cardiff University's School of Engineering has designed a novel activity that will promote engineering and meet national curriculum targets. The University successfully bid for a grant from the Royal Academy of Engineering's Ingenious Project which aims to promote activities that engage the public with engineers and engineering.
Specifically designed to support KS2/3 National Curriculum skills, the activity involves groups of 2/3 pupils making rockets from pre-printed card (photocopyable), powered by elastic bands. Groups then investigate how the horizontal distance travelled is affected by the launch force or angle. The activity will be supported by engineers from School of Engineering, who would also be able to give a general presentation about careers in engineering. The total activity time is minimum one hour and all resources are provided.
Martin Blamey, Project Manager, said, "One very beneficial aspect of the Ingenious scheme is that young people will have the opportunity to work alongside post-graduate engineers who are currently studying many different aspects of engineering. We wanted to give pupils a hands-on experience that will give them an insight into the almost bewildering number of exciting engineering disciplines and squash any idea that engineers only fix cars!" To find out more contact Martin Blamey blameym2@cardiff.ac.uk.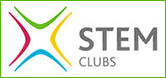 STEM Clubs are a fun, rewarding way to boost enjoyment and learning across STEM outside of the classroom. STEMNET can provide guidance and support on setting up a Club or developing an established one. We offer free, impartial, locally-targeted advice on activities, resources, support and funding opportunities and we can help you, as the Club leaders to link with volunteer STEM Ambassadors to enhance club activities – email ambassadors@see-science.co.uk or follow this link and click on 'Request an Ambassador'.
The National STEM Clubs Programme provides help to secondary schools throughout the UK to establish and maintain exciting Science, Technology, Engineering Or Maths (STEM) Clubs.
If you are running a STEM Club or thinking of setting one up do contact us at ambassadors@see-science.co.uk.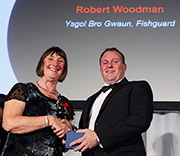 Ysgol Bro Gwaun's head of science Robert Woodman has won an IoP Teacher Award. He was described in his citation as a "tireless innovator" and has been recognised in particular, for the wide range of extra-curricular activities for pupils and the increase in students choosing to study physics. The IOP's teacher support manager, Chris Shepherd said all the winners were exceptional physics teachers who had an outstanding reputation within their own communities and affected the lives of pupils in a positive and lasting way.
Rob received his award from the President of the IOP, Dr Frances Saunders at an awards ceremony in London in October.
Back to topChemistry at Work Transition Day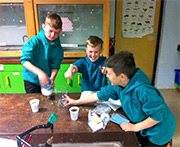 Pupils from some of our Primary Feeder Schools (Ystruth, Queen Street and Roseheyworth) with the support of 7JE, were excited to experience a Chemistry at Work Day as part of our commitment to the promotion of Science at Abertillery Comprehensive School.
The pupils took part in activities that not only promoted science in the workplace, but gave primary school pupils an insight into how exciting studying science at Abertillery will be when they attend the school!
A huge thank you to The Royal Society of Chemistry, Fire Service, RSPB, the chemical companies that are SDC and Specific Materials and our Stem Ambassador Liz Terry, who gave up their valuable time to make the morning a great success.
Science Department, Abertillery School
Back to topSquashed Tomato solutions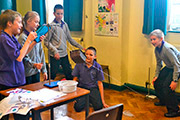 Sixty Year 7 pupils at Ysgol Bro Pedr in Lampeter took on the roles of engineers for a day in completing the Squashed Tomato Challenge. They learned about the problems faced by farmers in the mountains of Nepal getting their vegetables to market. Working in groups of six, the pupils were set the challenge of designing and building a device which could transport cherry tomatoes from a table-top safely to the floor a couple of metres away.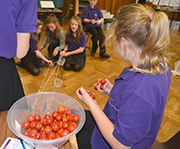 The students built a range of systems using string, plastic, pulleys and tape and then raced against the clock to deliver unbruised, unsquashed tomatoes to the designated spot.
The challenge, was devised by the charity Practical Action which worked with the Nepalese government to design a solution to the farmers' problem. At the end of the day the pupils learned that their designs were basically similar to the aerial ropeway system used in reality.
During the day the pupils also discussed the kind of skills needed by engineers and the wide range of jobs they do. They also reflected on the day and completed the CREST Discovery passport, which will lead to the CREST Discovery Award.
If you are interested in running a similar day in your school contact crest@see-science.co.uk.
Back to topASE Cymru Conference 2014
The Art of Science Communication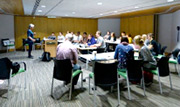 Nearly 100 delegates attended the ASE Cymru Conference on Saturday 4 October at the National Museum of Wales Cardiff. The day featured inspirational talks and hands-on workshops aimed at developing confidence in teaching science, and providing plenty of ideas for the classroom. The keynote speaker, Professor Alice Roberts, presented an inspirational talk on 'Storytelling in Science' which was very well received.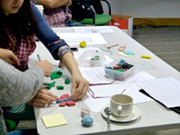 Teachers enjoyed the variety of workshop sessions including: Storytelling in Science; Literacy and Living Things; The Gopher Science Laboratory – Communicating Science; Making Animations for Teaching and Learning; Spectroscopy in a Suitcase and a workshop on Mind Mapping and memory techniques for science teachers. Comments from the day included:
"Good organisation-a large amount of resources throughout the day."
"Useful and relevant topics that can be put to use immediately."
"Inspiring and contained many easy to use engaging tips."
Back to topWelsh Physics Teachers Conference Brecon 2014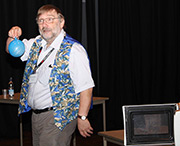 Teachers, technicians and ITT students enjoyed a wonderful opportunity to take part in a wide variety of physics CPD at Christ College Brecon on Wednesday 8 October 2014.The Welsh Physics Teachers Conference is organised by the Institute of Physics Network Coordinator. During the day Professor Peter Barham, Bristol University, presented a fun filled hands on demonstration lecture "The Magic of Microwaves" which looked at how and why does a microwave oven heat food? We discovered whether a kettle or a microwave is more efficient, and found out about many unusual "uses" for microwaves.
Dr Rhys Phillips discussed "Thunderbolts and lightning – are they really frightening?" which looked at the phenomenon of lightning, the processes that lead to a lightning strike and the different types of lightning that can exist. He then moved on to show what happens to an aircraft when it is hit by lightning and explained how we protect against damage from this.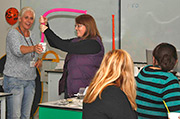 Several workshops explored a range of physics topics. 'Teaching Electricity' looked at various models for teaching the subject, Alessio Bernardelli's workshop discussed mind mapping skills and mind mapping within a science context, and technicians had an opportunity to 'Make and Take a Rocket Motor Testbed' with Frank Lane.
Lab in a Lorry gave teachers a self-contained experience of experimental science. Sheila Tong, Richard Bonella, Lawrence Cattermole and Sue McGrath also provided practical workshops with ideas for teaching physics at all levels.
Our thanks to all the instrument and book exhibitors that attended, who helped to make the day the most successful conference yet.
Next year the Welsh Physics Teachers Conference will be held on 7 October at the same venue – book the date in your diary now.
"Some brilliant ideas and great opportunity to network"
"Sound workshop was outstanding."
"Really good day, excellent presentation."
"Very interesting lectures, some very useful ideas to take away."
"Very well organised, the stands were great. Workshops and speakers were interesting."
Congratulations to the teams from West Wales who made it into the top 12 at the Greenpower International Finals held at Goodwood in October.
The Aberteifi Tigers had competed in the Greenpower Challenge before, but for Team Dragon's Fabulous Flaming Scorchio it was their first outing. In addition to their 12 placing they returned to Wales with the Best Newcomer Award.