Welcome to the STEM Newsletter for
Secondary Schools in Wales
Find out more about what's happening, competitions, new educational resources, events, new rounds of grants and more…
If you're planning a project of any kind or an event at your school and need speakers, workshops, links with the real world, or an extra pair of hands, contact See Science and request a STEM Ambassador to come and help. The STEM Ambassadors Programme is FREE to schools. Email ambassadors@see-science.co.uk or go to http://networking.stemnet.org.uk and click on 'REQUEST A STEM AMBASSADOR'. Don't forget to fill in our teacher feedback form if a STEM Ambassador has visited your school.
Find out more about next year's National Science & Engineering Week (NSEW) 14–23 March 2014. NSEW is a ten-day national programme of science, technology, engineering and maths events and activities across the UK aimed at people of all ages. There is a £200 NSEW Grant Scheme for Wales for schools to run events during the 10 days funded by the Welsh Government. The deadline is 9 December. In addition there are competitions, quizzes, mass participation events and FREE activity resources to download and use during NSEW. Don't forget to register your activities/events to win a prize for your school.
We would be very grateful if you could fill in our teacher feedback form if an Ambassador has visited your school or you have met an Ambassador at an enrichment activity. Please encourage colleagues to respond. Each half term we will provide one school who have provided feedback with a STEM Clubs resources kit worth £50.
Changes to CREST Award funding
See Science Ltd was appointed the Local Coordinator for CREST Awards in Wales in October 2010. The success of the increase in number of CREST Award accreditations in Wales from October 2010 to July 2013 has been achieved with funding from the Welsh Government through the National Science Academy – to coordinate and increase activities in Welsh schools. The government support has subsidised the pupils' registration fee, and other supportive structures provided through See Science Ltd. We are very proud of this success and feel that CREST Awards have bought considerable benefit. However, this grant funding for CREST Awards has now ended.
What implications does this have to schools? The subsidised registration fee has ended in Wales and the price is now the same as the rest of the UK: Discovery £3.00, Bronze £4.00, Silver £8.00 and Gold £15.00. In addition, support will be centralised and delivered from our head office by phone and email.
We need your input!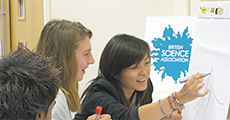 See Science is currently seeking funding for the CREST Award scheme from other sources, and to do so we need to present evidence from teachers of the value of the Award scheme in Wales, including the importance of the school grants in promoting the setting up of CREST Awards in schools, local support and the subsidised registration. If you have benefitted from or have been involved in CREST Awards in any capacity, please help us to develop the case for funding by spending a few minutes answering our short online questionnaire.
There are larger versions of some (but not all) of the photos in this newsletter - click the small photo to view.
Back to top Links to See Science teacher information pages
Because there are now so many STEM stories in the monthly newsletter it's no longer possible to include abbreviated lists of activities, resources, competitions, grants, cpd opportunities and events in the body of the newsletter.
New items are continually being added to these web pages – check them out by following these links:
Back to topKey impacts of STEMNET's programmes
We are very grateful all the teachers in Wales and their pupils who are supporting the STEMNET evaluation process.
STEMNET is carrying out a long-term, independent evaluation on all its programmes. The results of the first year of the 2011–2015 research cycle (follow link to download in pdf format) have now been received, and are extremely positive regarding the success of our programmes and their impact in schools. The findings of this interim report were highlighted in a parliamentary event in the House of Commons on the 9 October 2013. You can find out more here.
Independent evaluation of our programmes by the National Foundation for Educational Research (NFER) has shown that they work. The results show a positive impact on teachers and the employers who allow their staff to volunteer, as well as the STEM Ambassadors themselves.
"The evidence from this first year of the evaluation demonstrates the highly successful performance of STEMNET's operations and programmes and its range of impressive achievements.
"Pupils who take part in activities with STEM Ambassadors….have more positive attitudes and greater understanding of the importance of STEM subjects to everyday life and their real world applications. These pupils are also more interested in pursuing STEM subjects further." (NFER)
Back to topRecognition for Wales' young innovators
Wales' brightest young designers have received recognition for their outstanding work in WJEC's A level and GCSE Design and Technology courses from The First Minister, Rt Hon Carwyn Jones AM, at the Innovation Exhibition and Awards 2013.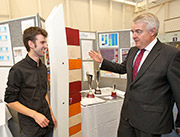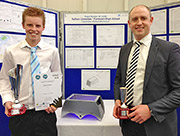 Jack Collins (photo left) of Ysgol y Preseli was awarded with the prestigious overall winner award sponsored by Abel & Imray patent lawyers and the A level first prize for his Arizona wave clock, influenced by The Wave in Arizona. Jack also received £500 and the coveted Beckley Cup and a trophy sponsored by the EADS Foundation. A headphone point-of-sale won Connor Evans of Porth County Community School the AS level award sponsored by Sequence creative digital agency and Nathan Llewellyn (photo right) from Cwmcarn High School won the GCSE category, sponsored by SWIEET, for his can cooler. All the students entered the British Science Association CREST Awards and achieved Silver or Gold Awards.
The two-day exhibition held at the SWALEC Stadium, Cardiff on October 14-15 is organised by WJEC and the Welsh Government's Department of Economy, Science and Transport, with the aim of giving young people in Wales the opportunity to showcase their talent and be creative and technologically innovative. It is also an opportunity for students to develop their understanding in the field of design, technology and innovation.
After enjoying a tour of the exhibition and engaging with students about their work, the First Minister of Wales, Carwyn Jones, went on to award prizes for the winners. He said: "I'm delighted to attend these awards again this year to see for myself outstanding Design and Technology projects from across Wales and to meet the next generation of innovators. We know that innovation is key to achieving economic growth, jobs and prosperity. The Welsh Government is working with schools, colleges, universities and businesses to nurture the talent and creativity of our young people so that Wales can compete on the global stage. The calibre of work on display can't fail to impress. I'm sure the success of these young technologists will inspire many more."
Back to topWelsh research students search for gold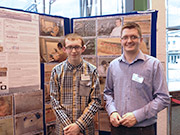 Students from across Wales gathered in Techniquest Science Centre to celebrate their success by exhibiting their Nuffield Research Placement projects. The standard of projects exhibited by the students after their Nuffield Research Placement was outstanding. The event was the culmination of the student research over the summer when they worked alongside working scientist and engineers while carrying out these projects.
Research scientists and engineers from: Glyndwr, Swansea, Cardiff and Aberystwyth Universities, Centre for Solar Energy Research OpTic, SPECIFIC IKC, RSPCA, Astronomy Centre. HESAS, Welsh Mountain Zoo, Manor House Wildlife Park, Singleton Hospital, National Botanic Garden of Wales, University of South Wales, Cardiff University School of Medicine, provided the 62 students with the opportunity to experience what it is like to be a research scientist. Each of the students carried out a cutting-edge project with guidance from their mentor. The experience offered a window into the world of research.
Professor Martin Rees congratulated the students on their achievements and presented each of them with a certificate. In addition, many of the students also achieved the British Science Association Gold CREST Awards for their research projects.
There's more about Nuffield Research Placement at www.nuffieldfoundation.org/information-applicants.
Photo: Adam Jones who carried out his project under the guidance of Professor Gareth Jenkins, Swansea University pictured here with Dr Ian Mabbit SPECIFIC IKC. Baglan Bay Innovation & Knowledge Centre.
Back to topTop of the Bench competition
Six schools from Mid Wales took part in the annual Top of the Bench competition. The one-day event was run by the Royal Society of Chemistry and took place at Gregynog Hall, near Newtown in Powys.
The schools attending the event were: Ysgol Penglais, Ysgol Bro Pedr, Ysgol Dyffryn Teifi, Ysgol Gyfun Aberaeron, Ysgol Uwchradd Llanfyllin and Ysgol Gyfun Penweddig.
Each team consisted of four pupils – two from Year 9, one from Year 10 and one from Year 11. The teams competed in a 'University Challenge' style quiz, based on their chemistry knowledge. The standard was high and each student performed well.
The semi-final saw Ysgol Penglais and Ysgol Gyfun Aberaeron fight it out in a closely run battle. Aberaeron, however, just managed to gain enough points right at the end to win. The Aberaeron team received a trophy from the RSC to take back to school, and they go forward to represent Mid Wales in the finals at Loughborough University next April.
Well done to all the teams that competed, and we wish Ysgol Gyfun Aberaeron good luck in the next round!
Back to topPembrokeshire school tops leader board in Faraday Challenge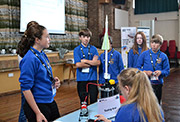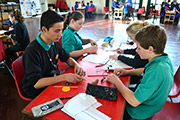 Students from all over Wales have been competing in a series of STEM Challenge Days this term, using problem-solving, team-working and communication skills. And one Welsh school is currently top of the leader board for the whole of the UK.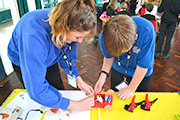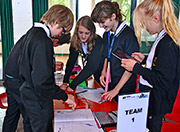 The Faraday Challenge Days are delivered in 45 schools across the UK free of charge by the IET. They offer Year 8 students the chance to tackle a tough engineering problem in a practical way, finding solutions through research, design and building prototype models. Each host school is encouraged to invite teams of six pupils from neighbouring schools. Each team is marked on its work during the day, with the top team winning a trophy and individual prizes. The top scoring schools from across the UK are entered on a leader board – and on October 23 the leaders were the team from Ysgol Dewi Sant in Pembrokeshire. After the events at all 45 schools have been completed, the top three teams from across the UK will receive an all expenses paid trip to the National Final to compete for a cash prize of up to £1,000 for their school.
The pupils clearly enjoy the experience. One girl from Milford Haven School said: "It gave everyone a clear understanding of how engineering would be a good career" and a boy from Bangor said: "I really enjoyed today. It was amazing!"
This year, for the first time, teams can gain a CREST Discovery Award in recognition of their work during the day.
Ysgol Dewi Sant were the winners at the event held at Ysgol Bro Gwaun in Fishguard; other schools taking part were: Ysgol Bro Gwaun, Ysgol Dyffryn Taf, The Greenhill School, and Milford Haven School. At Ysgol Aberconwy other teams came from: Ysgol Dyffryn Conwy, Ysgol y Creuddyn, and Ysgol Bryn Elian, with the latter coming out on top.
Details of the actual challenge are being kept secret, so schools that are yet to take part don't have an advantage.
Back to topLet Maths take you further…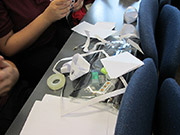 Have you ever thought about how different animals move about? Do they walk, bound or even pronk? How can we cut a strip of paper to form one big loop, or two interlinked hearts? These were just some of the questions considered by year 11 students during workshops at the Further Mathematics Support Programme for Wales Conference held at Bangor University in September, and the answers are all of course linked with Maths!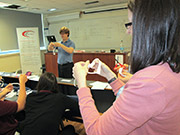 Martyn Parker of Keele University explained how the mathematics embedded in the movement of different animals was being used by engineers to help design robots which can walk into situations which would be too hazardous for humans. Dr Colin Wright, a research mathematician, computer programmer and electronics hardware designer, had everyone busy with paper, scissors and sellotape, making and cutting Möbius strips to analyse the mathematics of shapes. He then later astounded everyone with his juggling skills, explaining the mysteries of learning how to juggle – practice, practice, and of course… Mathematics!
More than 80 Year 11 students from seven schools in North Wales took part in the event to encourage them to consider choosing to study Further Mathematics at AS and A level, so giving them a head start in mathematics-based studies in Higher Education. Teachers from the schools and STEM Ambassadors based at the University were on hand to support the activities and smooth running of the event. A similar event was held in Swansea earlier in the week.
The Further Mathematics Support Programme (FMSP) Wales is a Welsh Government funded initiative. It is managed by the Wales Institute of Mathematical and Computational Sciences (WIMCS), a collaborative partnership of the universities of Aberystwyth, Bangor, Cardiff, Glamorgan and Swansea, and runs Maths enrichment events, master classes and tuition sessions, and provides on-line access to study resources.
Further conferences are planned for Swansea and Cardiff in February 2014. Details about these, and opportunities available through FMSP Wales, can be found at www.furthermaths.org.uk.
Back to topMaterials + ideas + summer sun = engineering fun!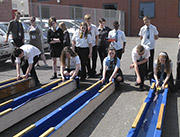 This summer's sunny weather was put to good use by Year 8 and 9 students from five North Wales schools as they designed and raced their solar powered boats as part of a Royal Academy of Engineering collaborative project at the end of last term.
Led by Phil Sutton, technology teacher at Ysgol Eirias, the aim of the Solar Boat Challenge was to find the most efficient way of propelling a model boat using only the energy from the sun. Working on their designs in after-school STEM Clubs, students had to make their own decisions about materials and construction methods, while keeping within certain rules and regulations, such as the type of motor to be used and the maximum dimensions of the boat. Too big, and the craft might not have fitted in the specially constructed racing lanes!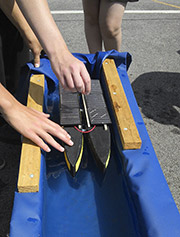 Thankfully 16 July – the race day – dawned brightly, and a total of eight teams from Ysgol John Bright, Ysgol Castell Alun, Ysgol Clywedog and Ysgol Eirias assembled for the big event! (Ysgol Ardudwy had also designed and made their own craft, but unfortunately were unable to take part on the finals day.)
One hour was put aside for final race preparation, to include last-minute soldering and testing. This proved to be invaluable and created a real buzz of excitement! The enthusiasm of the young engineers was evident as the solar craft were put through their paces along the 10 metre lanes, with the winner being judged as the quickest over a several rounds. Lanes and direction of travel were swapped each time to ensure conditions were fair for all!
Results: Fastest craft (Cup Winners) Ysgol Eirias Boys; Fastest craft (Plate Winners) Ysgol John Bright; Best looking craft Castell Alun Girls; Best manufactured craft Ysgol John Bright; Most innovative craft Castell Alun Boys; Best folder Ysgol Clywedog (Stripes); Environmental award for Best consideration of the 6 R's Ysgol Clywedog
In all, 35 students and 8 teachers were involved on race day, with everyone agreeing that they had gained a real insight into engineering and related careers, and would be keen to take part again next year.
As well as experiencing a fun day in the sun, the students had the opportunity to gain a shiny Bronze CREST award acknowledging their creative design and investigative work.
This CREST activity had been awarded a grant from the Welsh Government through the National Science Academy, which helped to fund the solar panels, solar motors, and other materials for the boats, and the construction of the specially designed racing lanes. It was also funded by The Royal Academy of Engineering Connecting Teachers Project.
Postscript: The teachers taking part in this Solar Boat Challenge activity are members of a Royal Academy of Engineering (RAEng) Teachers' Network, co-ordinated by Phil Sutton at Ysgol Eirias, Colwyn Bay. New members are always welcome, whether from Technology or other STEM departments. Network meetings are held after school twice a term, and incorporate CPD sessions giving new ideas (and free resources) to run activities in your own school, either during lesson time, or at a lunchtime or after-school STEM Club. Contact Phil Sutton at Ysgol Eirias for more details psn@eirias.conwy.sch.uk. The next RAEng Connecting Teachers Network meeting, with a CPD session based on the new RAEng resources 'Disaster Relief', will be held at Ysgol Eirias on Wednesday 4 December from 4pm. Food, drink and free resources on offer! Provisional details will also be given about the next collaborative project which has some funding available.
Back to topMike Leahy and the Zoo Bus at Cantonian High School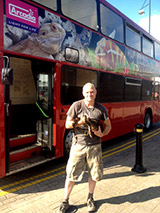 Dr Mike Leahy arrived at Cantonian High School, Cardiff in a big red double-decker which looked like a London bus from a distance – but it soon became very apparent that this was not the case. Once on board the bus, pupils were fascinated to encounter animals in glass tanks – including scorpions, frogs, geckos and millipedes. The 'star of the show' was the boa constrictor, several feet long and shedding his skin – some pupils were lucky enough to get the chance to handle him.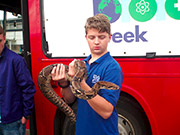 Dr Mike is a well-travelled scientific broadcaster and publisher, whose interests include ecology, conservation and, in particular, parasites and exotic diseases. He started the day by giving a dynamic, interactive talk to Year 8 pupils on parasites, using lots of humour while also delivering plenty of scientific messages. He is passionate about getting young people interested in science – conducting events such as this one certainly succeeds in so doing.
Many thanks to Dr Mike and also to See Science Ltd for helping to make the event possible during Biology Week.
Back to topQinetiQ and The 5% Club

British multinational aerospace and defence company QinetiQ is a leading member of The 5% Club – a campaign to help UK industry play an active role in addressing the increasing high levels of youth unemployment and the chronic skills shortage that the UK faces. The stated aim of the 5% Club's member companies is that, within five years, 5% of their workforce will consist of apprentices, sponsored students and/or graduates on formalised training schemes.
QinetiQ says: "With more opportunities and facilities than ever before, it's an exciting time to join QinetiQ. And joining us as an apprentice is a great way to develop your skills and become a key player in a rapidly-growing business. Many of our apprentices go on to become senior technical experts; leading or advising on ground-breaking projects in air, land and maritime. There are other opportunities, too: we also offer apprenticeships in disciplines such as business administration, management, project management, information systems, sales, software engineering and facilities management.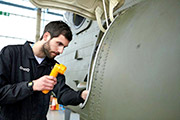 "This year, we're focusing even more on our apprentice intake. The culture and atmosphere in our sites is both inspirational and supportive, with all of the guidance and information you need right at your fingertips. Here at Pendine we are currently looking for two different types of apprentice: Trails Apprentices and Mechanical /Design Apprentices.
"These are four-year apprenticeships and as part of the apprenticeship the candidate will be released from work to attend college where they will work towards a HNC qualification. The apprenticeship will be made up of on the job learning and also college based learning.
"Prospective applicants will need to demonstrate a range of personal qualities and experience, and the qualifications required include A Level Maths and A Level Physics or Chemistry, plus a GCSE English Grade A–C."
You can find out more about QinetiQ's apprentice recruitment programme at www.qinetiq.com/careers/careers-programmes/Pages/apprentices.aspx.