Welcome to the STEM Newsletter for
Secondary Schools in Wales
Find out more about what's happening, competitions, new educational resources, events, new rounds of grants and more…
Complete our STEM Club survey – prize draw – receive Data Harvest vouchers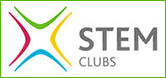 Are you running or would like to run a STEM (science, technology, engineering or maths) Club in your school?
Complete our online survey by 16 November to enter our prize draw to receive £250 in cash and Data Harvest vouchers worth £250 for materials to support your club. Follow this link to start the short survey…
We will be sending out another reminder to complete the survey to secondary teachers on Friday.
NSEW grant scheme for Wales
Funding available to engage and reach out with National Science & Engineering Week
£200/£350 – easy application – free support – Closing 11 Jan 2013
What is the grant scheme for Wales?
The British Science Association has received funding from the Welsh Government to distribute grants to Welsh schools and organisations to run events and activities to during National Science & Engineering Week (NSEW). We are offering a £200 grant to schools and £350 to organisations.
Are you eligible?
All schools and organisations based in Wales can apply. Preference will be given to certain schools and event types. Selection preferences can be found online at www.britishscienceassociation.org/welshgrant.
Four-step application
Look at our free online resources to help with activity planning.
Fill in the online form before the closing date, 11th Jan 2013.
If you need help, contact Liz Terry, Regional Officer for Wales on 029 2080 1644 or wales@britishscienceassociation.org.
Applications will open on the Friday 9 November 2012. For further updates about the grant and resources for NSEW please sign up to www.britishscienceassociation.org/user/register?type=event-organiser.
Links to See Science information pages
Because there are now so many STEM stories in the monthly newsletter it's no longer possible to include abbreviated lists of activities, resources, competitions, grants, cpd opportunities and events in the body of the newsletter.
New items are continually being added to these web pages – check them out by following these links:
Society of Biology Competitions

If you're a school teacher, you may be interested in the Society of Biology competitions that we run for school students (registration for both events closes on 19 December 2012):
The British Biology Olympiad is open to all post-16 students in the UK and aims to challenge and stimulate further interest in biology in gifted students.
The Biology Challenge is an online competition open to all pupils in Y9/10 in England and Wales, with gold silver and bronze award certificates posted to schools and top scoring students presented with prizes at an awards ceremony at the Royal Society.
Innovation Awards 2012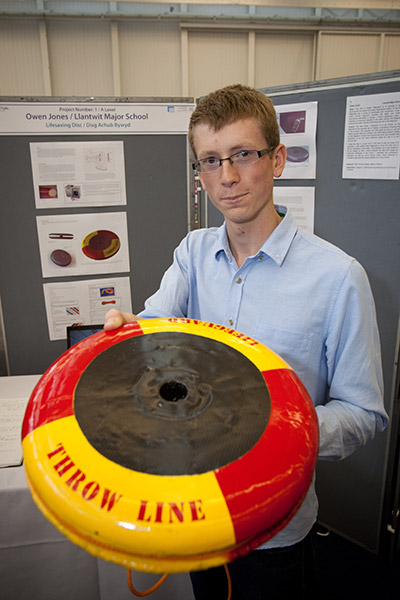 Showcasing the most innovative project work in WJEC's A level and GCSE Design and Technology courses, the Innovation Awards 2012 took off in Venue Cymru, Llandudno on September 24-25 with a special two day exhibition.
The event, organised by WJEC and the Welsh Government's Department for Business, Enterprise, Technology and Science, aims to encourage young people to be technologically innovative and appreciate the importance of both Design and Technology.
A Tri Trek Adjustable Camping stove, Wind Turbine, a lifesaving disc and a Portable Cycle Grid were among the 80 exhibits on display, selected from the 16,000 Design & Technology projects submitted by WJEC's GCSE, AS and A level students from all over Wales.
Schools and colleges were invited to bring students from year 10 upwards to the exhibition, where there will be short talks on important aspects of their Design and Technology courses.
Abel & Imray Patent and Trade Mark Attorneys attended the selection meeting for the exhibition and chose five of the most promising projects worthy of Intellectual Property consideration to be submitted to the UK Intellectual Property Office for patenting and design protection. One of the projects selected by Abel & Imray is by Aldwyn Eyres from Llanfyllin High School, who designed a cyclist's safety aid which includes a jacket with indicator lights which activate automatically when a person raises their arms to indicate.
Not far from the Innovation 2012 exhibition at Venue Cymru, is the Welsh Government's PATLIB in Llandudno Junction, an Intellectual Property Information Centre that provides local access to patent, trade mark, design and copyright information and practical assistance on a variety of intellectual property issues, including one-to-one consultations with experts.
The exhibition then moved to the SWALEC Stadium, Sophia Gardens, Cardiff on October 8-9, where the First Minister, Rt Hon Carwyn Jones AM, presented prizes for winners in the A level, AS level and GCSE categories as well as awards for Creativity; Intellectual Property Potential; Use of Computer Aided Design and Manufacture – CAD/CAM; and Sustainability.
The First Minister said: "The Innovation Exhibition is a key event on our educational calendar – and so much more than a competition. It helps ensure that young people recognise the importance of innovation – and the tremendous impact innovation has on business performance."
Photo 1: A Level winner Owen Jones Llantwit Major School with his Lifesaving Disc
Photo 2: Overall winner and GCSE winner Gwion Puw Jones from Ysgol y Gadr, Dolgellau
BLOODHOUND for Schools by Swansea University
The College of Engineering at Swansea University has been leading the aerodynamic design of the amazing 1,000mph Land Speed Record challenge car BLOODHOUND SSC.
Now your school can join the supersonic adventure by booking one of our FREE interactive STEM assembly/classroom shows or half-day rocket car workshops.
Suitable for Year 10 and above, the show features the science, technology, engineering and mathematics that have gone into creating the fastest car in the world, including practical demonstrations of rocket chemistry and sonic booms. All sessions are led by our team of STEMNET registered Swansea University BLOODHOUND Ambassadors.
Ambassadors are fully prepared with all equipment for the assembly/classroom show – only a projector screen/interactive whiteboard is required! Rocket car workshops require both indoor space for the show and car-building as well as outdoor space for the rocket car testing session.
To request more information or arrange a visit please contact Michelle and Barry on 01792 606744 or email BloodhoundforSchools@swansea.ac.uk.
Welsh Nuffield Science students celebrate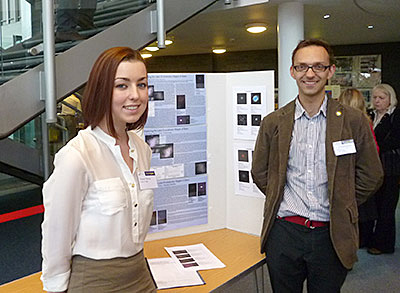 Sixth form students from across Wales celebrated their success at Techniquest Science Centre earlier this term by exhibiting their Nuffield science projects.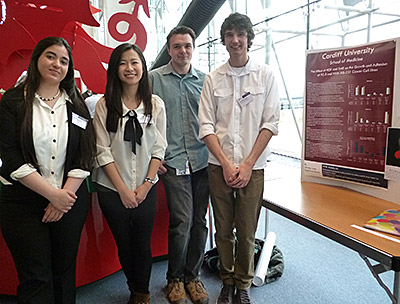 The event was the culmination of the student research over the summer when they worked alongside working scientist and engineers while carrying out these projects.
Research scientists and engineers from EADS, Q Chip, Colwyn Bay Zoo, Cardiff, Swansea, Bangor and Aberystwyth Universities provided the 37 students with the opportunity to experience what it is like to be a research scientist. Each of the students carried out a cutting edge project with the guidance from their mentor. The experience offered a window into the world of research.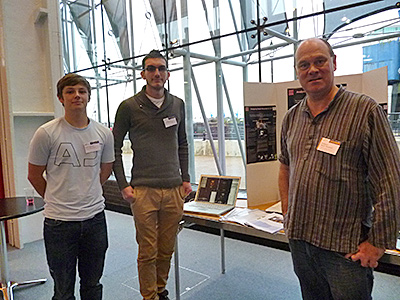 Professor Martin Rees congratulated the students on their achievements and presented them with a certificate. In addition, many of the students also achieved the British Science Association Gold CREST Awards for their research projects.
"The Nuffield Bursary Scheme gives school pupils a unique opportunity to undertake an extended placement in the real world of work. For 6 weeks, they become part of a team, contributing to the tasks that they undertake and developing new skills throughout. When they leave, they provide the host organisation with a completed project that is useful and relevant." Rhys Phillips, Research Engineer at EADS Innovation Works.
Photo 1: Dr Gomez Cardiff University, School of Physics and Astronomy and
Nuffield student Chantel Warren (St John's College School)
Photo 2: Dr Andrew Saunders, Cardiff University, School of Medicine + Nuffield students; Llywelyn Jones (Ysgol Gyfun Cwm Rhymni), Amy Jiang (Howells School), Sarah Dagnam (Cardiff High School)
Photo 3: Prof David Marshall School of Computer Science and Informatics + Nuffield students; Joel Eastman
(Gower College), Josh Sullivan (Gower College)
Herschel Space Observatory in the classroom
Herschel Space Observatory is developing resources for 11-19 physics, astronomy and maths students relating to the Herschel Space Observatory. Herschel, launched in 2009 by the European Space Agency, observes far-infrared light, and offers many opportunities for exploring the syllabus. These range from the electromagnetic spectrum, the design of telescopes and satellites, orbits of spacecraft, the lifecycle of stars, the origin of the chemical elements, and the statistics of distant galaxies.
We will initially develop these for use in schools in Wales, and would like to work with a small group of teachers from Wales to trial, evaluate, and refine them. The time commitment is expected to be a day to plan lessons and evaluate the resources, and a feedback session later next year. We are able to cover the cost of supply for a day and any travel expenses to feedback sessions. If you are interested, contact Dr Chris North, School of Physics & Astronomy, Cardiff University, at chris.north@astro.cf.ac.uk, or 02920 870 537. For more information on Herschel, visit www.herscheltelescope.org.uk.
Water scorpions and frog hoppers lead to Bronze CREST awards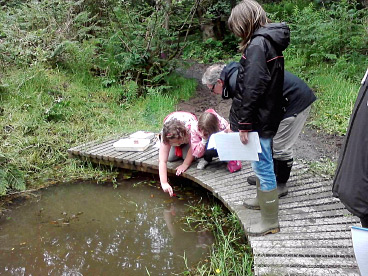 Pond dipping and grass sweeping were just two of the activities undertaken by students of Ysgol Uwchradd Tywyn to help gain their Bronze CREST awards, recently. Their aim was to investigate and compare habitats, both close to home and at the RSPB Ynys Hir reserve in Ceredigion.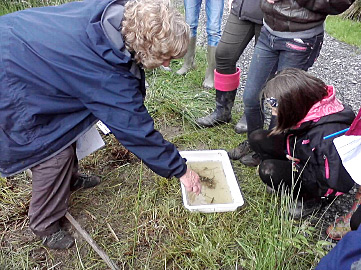 Having studied a wild area of their choice as part of an extended homework project in the summer term, the year 7 students then spent a day with field teachers Monica Lloyd-Williams and Jenny Dingle, school staff and STEM Ambassador Heather Hall at RSPB Ynys Hir. Despite being very muddy underfoot, the rain stayed away for most of the day, allowing the students to study a range of habitats including broadleaved woodlands, freshwater ponds, bogs and meadows.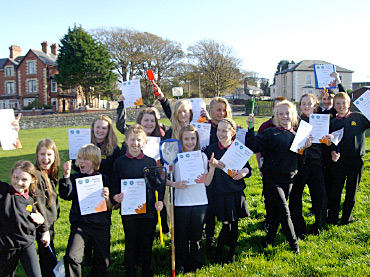 Back at school the students (now in year 8) were able to draw up grids comparing the conditions in two contrasting habitats, and discovered how different organisms were adapted to living there. In all it was a great experience, and following the awards ceremony in October several students asked when they can get started on their Silver CREST Awards!
This project was supported by a Welsh Government Grant which provided funding towards registration for the CREST awards and coach travel to Ynys Hir.