Welcome to the STEM Newsletter for
Secondary Schools in Wales
"Which Solution is that Solution a Solution"

The Photonics Academy has a new home in the Electronics Department of Bangor University and is called The Photonics Academy of Wales @ Bangor (PAWB) which, as all our Welsh readers will know means 'everybody' from Infants through to MScs.

The first major event, for The Photonics Academy of Wales @ Bangor (PAWB), has been the Photonics Academy Summer School (PASS) 2011, held during August. 23 Sixth Form students, from schools and colleges in North Wales, attended this amazingly productive period of Photonics creativity. Student representatives attended from St Brigid's School, Denbigh High School, Eirias High School, Alun School, Rydal Penrhos, Emrys ap Iwan High School, Coleg Llandrillo, Prestatyn High School, Heol Wynne, Coleg Menai, Ysgol Syr Thomas Jones, Ysgol Friars, and Ysgol Aberconwy.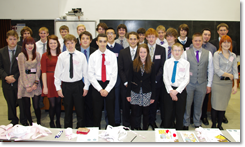 An Introduction Day was held prior to the start of the Summer School, when some of the potentially available Photonics concepts were demonstrated. Prior to this Photonics factual information had been provided electronically, within 56 Photonics Tutorials.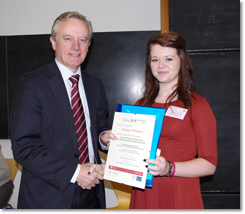 The fundamental technique within 'PAWB' is to demonstrate Photonics concepts, which are presented to the students entirely as Photonics Solutions, and the task of the students is to apply their own ingenuity to investigate "Which Solution is that Solution a Solution"! This rather unique approach to Photonics really does achieve highly innovative prototype design outcomes from all the students.
The Summer School Presentation day was held on 14 September. The Vice Chancellor, Professor John Hughes, himself a physicist, welcomed and congratulated the students who each gave, to an invited audience of more than 80, a formal presentation of their imaginative prototype designs. The best student of 2011 – Ben Flatman, was awarded a beautiful glass trophy, made and donated by Phoenix Optical Technologies of St Asaph. PAWB once again provided the evidence that new, and highly innovative, Photonics applications certainly will emerge from the imaginative ingenuity of young scientists-in-the-making, when the approach of observational Photonics is presented as "Which Solution is that Solution a Solution". Contact: r.davies@bangor.ac.uk
Engineering Challenge at Bangor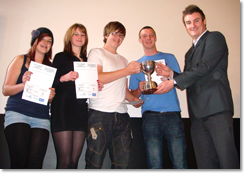 A team of post-16 students from Coleg Llandrillo and Ysgol Friars in Bangor won the prestigious challenge cup at the Engineering Challenge held at Bangor University last week. Young people from North Wales schools and colleges competed head to head in an Engineering Challenge, co-ordinated by Careers Wales. The pupils filled Bangor University's PJ Hall to take part.
This year's Engineering Challenge was centred on the design of a Cable and Rope Spinning Machine. Engineers commonly use such cable in either large machines or buildings. Each group of young people were asked to design, build and test a spinning machine and were also required to programme a motorised controller. As in previous years, the event was organised by the Engineering Centre for North and Mid Wales, Careers Wales and Bangor University and was supported by the Institution of Civil Engineers Wales Cymru and Stem Ambassadors.
Dr Iestyn Pierce, Electronic Engineering lecturer at Bangor University and Chairman of the Engineering Centre for North and Mid Wales, said "The event not only is a special opportunity for students to develop key skills, such as communication, mathematical, problem solving and creative skills but an excellent opportunity for them to meet and talk to engineers who are working or have been working in the engineering world and receive further information on the industry. It was a successful day, and the students really enjoyed the talk from the guest speaker, Rory Jones, former Ysgol Aberconwy and Coleg Llandrillo student who now works as an engineer with Costain."
The winning team (pictured): Natasha Frost (Coleg Llandrillo); Emily Hughes (Ysgol Friars);
Anthony Penney (Coleg Llandrillo); Rhys Clifton (Coleg Llandrillo).
Ysgol Botwnnog's Team Fflam win award at F1 World Finals in Malaysia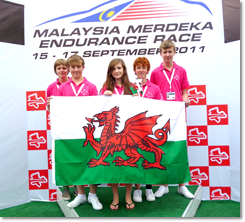 Having won through regional and national events in the Formula 1 in Schools Competition, Team Fflam, from Ysgol Botwnnog in Gwynedd, raced ahead of their competitors to scoop the Best Sponsorship and Marketing Award at the 2011 F1 World Finals in Kuala Lumpur, Malaysia in September.

The team's innovative approach to marketing included having their logo on the doors of Osian Pryce and Iestyn Williams' car in the Cambrian Rally and Wales Rally GB, and gaining sponsorship and support from a range of local and countrywide businesses, including TQ Logistics services, TATA Steel, South Caernarfon Creameries, and RAF Valley on Anglesey.
"We've met some great people and learned so much from other teams about how they've approached the challenge of building a miniature F1 car, as well as enjoying Malaysia, which is a really cool country, but very hot!" said Steffan Jones, Fflam's Team Manager.
Andrew Denford, Founder and Chairperson of F1 in Schools said of the team's success, "Fflam had put a tremendous effort into their marketing activities, linking with local businesses, sponsoring a rally car and working with specialist manufacturers for funding and practical help. This commitment paid off for them with winning an award at the World Finals. Well done Fflam."
Techniquest Glyndŵr to host first Robotics Week in Wales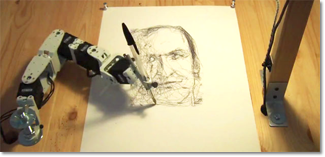 Techniquest Glyndŵr science discovery centre (TQG), Wrexham, will be hosting the first Robotics Week in Wales, beginning on Monday 5 December 2011.
The focal point of the week will be a Robotics Forum on Wednesday 7 December, with presentations and demonstrations taking place. The forum will be a meeting point for international researchers, industry and learners. Confirmed to be attending the forum is Professor John Harries, Chief Scientific Advisor to the Welsh Government and Chair of the National Science Academy.
During the rest of the week, there will be robotics-themed activities and workshops available to schools and the general public at TQG. More details about the speakers and activities will be announced in the coming weeks – check www.tqg.org.uk for the latest updates.
CREST in a Day – Diwrnod y Cell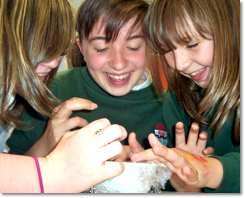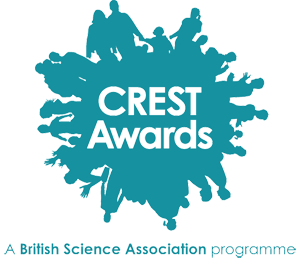 If you're thinking of doing CREST Awards with your pupils and haven't done so before, this is a great way to start…
Teachers at Ysgol Maes Garmon in Mold decided to have a first go at running Bronze CREST Awards for all their Year 7 pupils last June, with the help of a Welsh Assembly Government grant offered specifically to help schools start using the British Science Association's CREST Awards. The project was further supported through provision of a science presentation from the National Science Academy.
Diwrnod y Cell was a CREST in a Day project developed by the science department to reinforce KS3 learning about cells and their organelles. Although pupils had covered cell biology during the year, teachers decided to run the day as a CREST project to reinforce and revise, to explore different learning and teaching methods and to reward pupils at the year's end for their work in science.
"When we teach biology through the year it doesn't necessarily give a picture of the scale and complex nature of cells. With this day we wanted to show them that it's not all flat."

Einir Williams, Biology Teacher.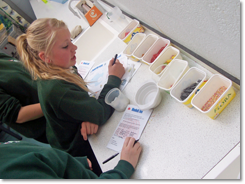 The school day was split into five 1 hour sessions, each promoting a different learning style and using a variety of equipment. Pupils revised what they had learned about cells and then stretched their knowledge – even touching on concepts from the A Level curriculum.
"It's good learning this way because you learn lots in one day – you don't have to wait for the next lesson to learn a bit more."

Ffion.

"We did some (CREST) Award stuff yesterday and then we're doing something again tomorrow to finish. It was quite hard to start but we got there in the end."

Teleri.
The school used their local See Science Supporter to help them apply for a Welsh Assembly Government grant of £250. The grant was very easy to apply for and the £250 was used to purchase activity equipment. The grant is available for a limited period to all secondary schools in Wales to support a CREST project, so if you haven't applied for yours yet and would like to know more, please contact See Science at enquiries@see-science.co.uk. Catrin Tudor, biology teacher at Ysgol Maes Garmon is pleased to share resources and plans with other schools who would like to run the day themselves.
How you can help us
You can help us by telling us about STEM activities you have organised and provide us with an insight into what the pupils gained from the experience by filling in our online feedback form. All feedback forms will be entered into a prize draw each term.
Activities
Speakers for Schools
Speakers for Schools brings enthusiastic, knowledgeable, and authoritative speakers that are leading their field into state schools and colleges, free of charge. Our speakers are from a wide range of backgrounds, regarded as experts in areas such as: Business and Economics, Sciences, Technology, Engineering and Mathematics, Sports, Leisure and Health. For more information…
FREE experiment kits for all UK schools
Following the success of the Great Plant Hunt and Survival Rivals in 2009, In the Zone will provide a physiology-related science experiment for every UK child of school age. Boxes brimming with high-quality practical equipment and supporting resources will be delivered to every UK school and further education college in early 2012. For more information…
Find the best science presenter for school assemblies and special events
SciEnts brings the very best educational science entertainment shows and presentations direct to your school, venue or event. For more information…
The Bug Club
The Bug Club is for youngsters (5-15 approx.) interested in insects and other minibeasts. Bug Clubbers receive a colourful and exciting magazine six times a year and a variety of other benefits. For more information…
Conker Tree Science
Your school can join real researchers finding out what's happening to our conker trees. For more information…
Android Medical Career Finder App Now Available!
We have just launched our very first App for Android smart phones and tablets! It is completely free to download and it can be used to discover one of the 45 health care science jobs available in the NHS. Just pick answers to questions like 'Do you want to work with patients that are alive or dead?' to discover their career. Loads of info follows included subjects to study, training times and salary! For more information…
Grants/Bursaries/Awards
Royal Society Partnership Grant Scheme – next closing date: 4 November 2011
The Partnership Grants scheme provides grants of up to £3,000 for science projects run at a primary or secondary school or college in partnership with a professional scientist or engineer. For more information…
Institute of Physics School Grants Scheme – next closing date: 1 November 2011
The Science and Technology Facilities Council (formerly PPARC and CCLRC) and the Institute of Physics have set up a small grants scheme designed specifically for schools and colleges. The aim of the scheme is to provide schools with grants of up to £500 for projects or events linked to the teaching or promotion of physics. Projects linked to astronomy, space and particle physics are particularly encouraged. For more information…
The Ambition AXA Award for Science
Have you spotted a potential Steve Jobs or a budding David Attenborough in the classroom? The Ambition AXA Award for Science aims to find someone who is fascinated by the world and aims to achieve greatness in fields such as natural science, medical, social science, technology, computing or engineering. The panel will select a young person who can demonstrate extreme talent, ambition, an ability to inspire others and who has determination and creativity. The winner will receive £40,000 worth of bespoke advice and guidance in their chosen field. For more information…
Teacher Awards
The Goldsmiths' Grant for Teachers – closing date, 1 December 2011
Provide teachers and head teachers with an opportunity to take time out from the classroom in order to undertake an original project of their choice, in the UK or abroad, aimed at enhancing their personal and professional development. The grant, of up to £5,000, covers the cost of accommodation, tuition fees and supply cover. Projects must have a long-term aim of disseminating results/research back to the school and/or wider audience. For more information…
Competitions
STEMNET and Deloitte are challenging 11-14 year olds to find out where and how more disabled people could take part in Paralympic sports
The Challenge is to help disabled people in your school and local area learn more about the opportunities available to them to partake in Paralympic sports. For their Challenge entries, pupils must produce information about what is currently available in their local area, and then make recommendations to increase the Paralympic sport provision both in school and their local area. Deadline for team entries: Friday 25 November 2011. For more information…
Global CREST challenges
Looking for a challenging STEM project for your students? Want to encourage your students to achieve a CREST award and maybe go on to take part in national competitions such as the Big Bang Fair? Then Practical Action's Global CREST challenges are perfect for you. Challenges are based on real problems faced in developing countries. They are divided into five themes – water, food, energy, shelter and transport. Our resources give students ideas for starting points for projects and to help them we link to technical briefs which are used by real engineers in the field. For more information…
The Big Science Challenge!
The British Council and Rolls-Royce are delighted to launch this fantastic science competition with incredible international prizes for schools.
Water is Earth's most precious resource and so we all need to make an effort to conserve it and use it wisely and carefully. We are inviting teams of up to 5 young people aged 11-16 from secondary schools in the UK and Middle East to research and design an original, innovative solution to a problem relating to water either in their local community, nationally or internationally. For more information…
4x4 in Schools Technology Challenge is aimed at Key Stage 3, 4 and 5 students in school
The challenge involves 4 to 6 team members working together to design and build a radio controlled 4-wheel-drive (4x4) vehicle, to set specifications, that can successfully negotiate a specially designed test The challenge is an excellent opportunity for young people to work in teams and gain an awareness and understanding of project management using key skills. For more information…
Salters' Festivals of Chemistry 2012 Competition
The Salters' Festivals of Chemistry are one-day events for schools held at Universities throughout the UK. Entries for the 2012 Festivals can be made online from Monday 28 November. For more information…
Big Question Competition
Discuss "the issues" surrounding any of the topics on SciberBrain with your students. Three cash prizes of £100 will be awarded for the 3 most interesting questions sent via the feedback page by 1st Feb 2012. For more information…
The Great Bug Hunt 2012 Competition
"The Great Bug Hunt competition is a fun and fascinating way to introduce children to the weird and wacky world of mini beasts. So grab a bug net and awaken their sense of discovery and adventure in the great outdoors." Kate Humble. For more information…
The Science of Sport: How to Win Gold Competition
The Physiological Society is hosting a sports-themed competition, The Science of Sport: How to Win Gold, for 16-17 year old students. This competition invites students to investigate an area of sports physiology that interests them and, in doing so, to develop their understanding of the curriculum. For more information…
Forensic Outreach
Our usual programmes – single lectures, half-day and full-day events are all ready for booking and can be found in further detail in our catalogue. We're also launching an amazing new competition for schools worldwide in January 2012. For more information…
International Young Physicists Tournament that takes place in July 2012 in Bad Saulgau, Germany
The competition requires teams of five students to solve seventeen practical problems that were set by the IOC at the end of the previous year's tournament. I have chosen a subset of five of the problems for the UK competition. We hope to send a really strong team to the 25th IYPT in Germany. For more information…
Events
D&T Association Annual Excellence Awards 2012 Nominations now open – deadline 4 November 2011
Our annual awards offer the opportunity for the work of anyone in the field of D&T education to be recognised, through seven different award categories and six sponsored awards. Nominations for all categories (except Category 3 – Subject Leadership) may only be made by members of the D&T Association but non-members may be nominated. For more information…
Year Eleven (U17) Maths Pop Quiz – Student Union, University of Glamorgan, Treforest Wednesday 23 November 2011, 1pm – 3pm
Here teams of 4 or 5 students engage in friendly and light-hearted competition on interesting maths puzzles and conundrums (capacity 300). Again, prize cups are awarded for the first three places and a consolation prize is awarded for the closest guest to the number of sweets in a large jar! For more information…
Schools and Colleges Lecture Tour 'From X-rays to Antimatter: the Science of Seeing Inside your Body'
6 December 2011 Swansea University, 14 December Cardiff University 10.00am and 1.00pm. Audience: 14 – 16 year olds. Talk Duration: 1 hour
Find out how physicists build machines that do what our eyes cannot – see inside the human body. This inspiring lecture will reveal how over the past hundred years physicists have developed increasingly sophisticated techniques to see inside the body. These techniques use x-ray, radioactive molecules and magnetic fields to produce images of the body. These images allow doctors to better diagnose and treat illness and disease. For more information…
It's a STEM Christmas Cracker- Harry Ramsden's Cardiff Bay 7 December, 5pm -7pm
A networking event for teachers and STEM Ambassadors.
An opportunity to
find out how to enrich and enhance the curriculum in school
ask questions.
gain free resources available and a Christmas goody bag
meet STEM Ambassadors and find out how to get involved in the STEM Ambassador programme.
ASE Cymru South West Section Event, Gower College, Swansea 12 December 4.30pm - 6.00pm
A pyrotechnics- watch and wonder with Ewen McLaughlin at Gower College, Swansea Old experiments with a new twist – suitable for primary and seconday teachers including methane bottle rocket and luminal. For more information…
Sixth Form Annual Lecture in Maths and Statistics14 December 1pm – 3pm Glynneath Building (G Block), University of Glamorgan, Treforest
Students often ask why they study the topics they do. The Annual Lecture aims to demonstrate that mathematics lies at the heart of both the natural and man-made worlds in which we live. Being familiar with some of this material, we are confident that your students will benefit from attending these lectures (of course, teachers attending will benefit too!). For more information…