Welcome to the STEM Newsletter for Secondary Schools in Wales
Contents
There are larger versions of the photos in this newsletter - click the small photo to view.
Find out more about what's happening, competitions, new educational resources, events, new rounds of grants and more…
Gopher Science Lab CPD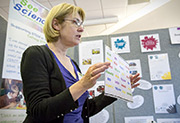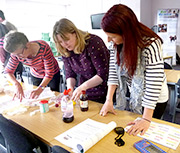 See Science has run twilight CPDs for teachers in Techniquest Glyndwr, Wrexham, Bangor University, Newport Wetlands Environmental Education and Visitor Centre and National Botanic Garden of Wales during April and May. All teachers attending have received a Gopher resource kit worth £60.00. Our next CPD is planned for July at the Manor Wildlife Park Tenby – email enquiries@see-science.co.uk for details.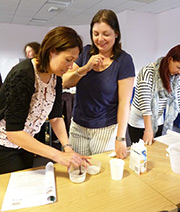 Gopher Science Lab has developed 250 resources kits for use by secondary schools and their feeder primary schools. These kits contain seven easy-to-run thought provoking and exciting hands-on practical activities and three longer classroom activities for curriculum enhancement.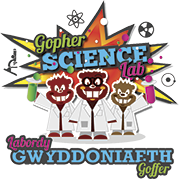 During the summer and autumn terms school clusters (minimum of three primary schools and one secondary school) will be able to apply for a FREE Gopher Science Lab or attend a CPD on the Gopher programme and familiarisation with the kits. All schools attending either the Gopher Science Lab or CPD will also be provided with a fully resourced kit FREE.
Secondary schools in the programme will then host Gopher Science Lab events by inviting their feeder primary schools to take part in exciting experiments in the lab where secondary pupils will engage the primary pupils with the activities. As well as gaining valuable experience, the secondary pupils will make an important contribution to the day by passing on their enthusiasm to the younger children. This will help support transition. The benefits will be felt well beyond the children who attend the lab sessions: the primary schools will be supplied with equipment to perform these experiments back in their classrooms.
To find out more email enquiries@see-science.co.uk.
Back to topUrdd Eisteddfod Meirionnydd 2014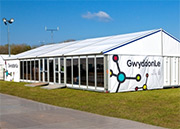 Links to See Science teacher information pages

New events, competitions, grants and resources have just been added to our teacher information web pages. You can check them out by following these links:
The GwyddonLe (Science Place) at the Urdd Eisteddfod held at Bala at the end of May was once again buzzing with excitement, as visitors of all ages got a taste of hand-on science and technology activities. This year the GwyddonLe was sponsored and co-ordinated by Swansea University, with support from the Welsh Government. Stands included:
Technocamps and Magnox, who teamed up to provide a great opportunity to control robotic cranes in a model power station
Techniquest Glyndŵr, presenting a range of interactive shows throughout the week
The Institute of Physics (IOP)and the Royal Society of Chemistry, were proving very popular with its bright pink 'magic sand', experiments with magnetic nanoparticles, and a chance to investigate colours with chromatography
S4C and Big Learning Company, giving people a taster of the latest developments in the digital world, encouraging youngsters to learn more about coding and developing apps.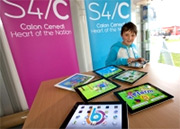 The ever popular 'making slime' activity on See Science's STEMNET stand proved a great hit, with participants finding out how slime of differing viscosities is used by slugs and snails to move and protect themselves. All the activities taking place on the See Science stand form part of the box of science investigations and resources which is on offer free to secondary schools and their associated primary schools through the Gopher Science Lab project, developed by the Society of Biology and funded by the Welsh Government through the National Science Academy.
For further information on how to take part in this project, please email enquiries@see-science.co.uk.
The Anturus Education project visits scientifically interesting locations around the world to collect media, data, and develop simple hands-on resources for educators to use to inspire the next generation through science and adventure.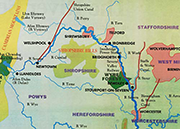 This June we're taking to the water. The team will head from the source of the river Severn in the Cambrian Mountains down the river for 220 miles on stand-up paddleboards. We will take two weeks to paddle the course of Britain's longest river – with education as the number one focus.
We wil be making #Ecology, #Geography and #Science strands on #ExpeditionSevern, as well as the #SevernLive strand and a photo and video repository of helpful photos and videos for educators. We plan to collect data and samples for schools on the expedition for them to work on and generate results which they can then use in their projects and presentations.
How you can get involved
Schools and the public can Follow us, Tweet us, leave Facebook messages, add us to circles on Google+ and apply for a Skype in the Classroom call – all while we are on the expedition!
Go to www.anturus.org/severn – live from 16 June 2014.
Back to topTechniquest Glyndŵr hosts first TeenTech event in North Wales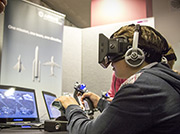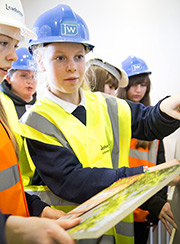 Techniquest Glyndŵr worked with Glyndŵr University to host the first ever TeenTech event in North Wales on 21 May at Glyndŵr University Campus in Wrexham. Airbus Industries was the major sponsor for the event and funding was also provided by the Welsh Government. The TeenTech Team, using their tried and tested event formula, brought together a variety of local industry partners, who gave year 8 school pupils hands-on contact with STEM in a real world industry context.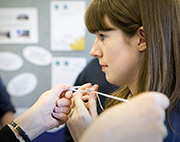 The event targeted schools across North East Wales and Cheshire and 28 schools – including, for the first time for a TeenTech event, a group of Home Educators and their children – took part, with almost 300 pupils participating in the full day of activities. Eighteen STEM industry partners and three universities, including the host venue, Glyndŵr University, provided an exciting array of experiences for the young people.
These included a series of 15 minute sessions with the various industry partners, longer more in-depth challenge type activities and a session where teams of students were asked to design a smartphone app in a session led by two digital media entrepreneurs Liz Rice and Ali Maggs.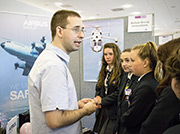 Airbus Industries ran workshops and challenge events and also provided a large team of STEM Ambassadors and Apprentices from their local workforce at Broughton. Each of these worked with a school group for the day to make sure they were in the right place at the right time to take part in their allocated activities.
Techniquest Glyndŵr's Partnership Manager Andy Jones said: "We have a very productive working arrangement with Glyndŵr University and this has enabled us to host this first ever TeenTech Day to be held in North Wales. We have been really pleased with how the day went and we are looking forward to hosting this event together in the future following today's success."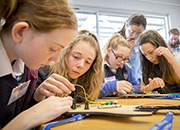 In South Wales, TeenTech kicked off for the second year running in Wales at the Liberty Stadium in Swansea on 14 May to show hundreds of teenagers that exciting career opportunities in Science, Technology, Engineering and Maths really do have the 'X Factor'! At TeenTech Cymru, Welsh students spend the day taking part in 'hands on' experiments and challenges with engineers and scientists from 30 national and international companies led by BBC presenter and founder Maggie Philbin.
More details at www.teentech.com/schools.
Spotlight on Computer Science
We have had enquiries from teachers about what is available in computer science; here are a few current opportunities to inspire your pupils and support teachers.
Apps for Good

Apps for Good aims to build the next generation of problem solvers and digital makers. Their free course for 10-18 year olds 'ticks the box' of the new computing curriculum but does much more: it equips students to research, design and make digital products and take them to market.
Your school could join those already involved in Wales – www.appsforgood.org/public/institutions.
FREE CPD training for primary and secondary school teachers

If you want the chance to up skill in Computer Science and STEM related subjects then why not sign up to our Technoteach programme. This training is FREE CPD for Primary and Secondary School teachers who are preparing to tackle the new computing curriculum – Supply covered (up to £80).
The project supports and enhances the ICT and Computing curricula taught in schools, colleges and educational establishments. This programme offers a range of twilight events for you across our partner universities, where you can learn new skills and share ideas and best practice.
More details at www.technocamps.com/technoteach.
Technocamps Teachers Conference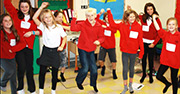 This year's event, to be held on Monday 30 June 2014 from 5-10pm at the Swansea Marriott Hotel, is taking a different approach by celebrating the success of the Technocamps project. Teachers will be invited from across Wales to give their account of their engagement with the project. This will include showcasing how they have introduced Computer Science into the classroom, providing some great ideas and resources for teachers and educators to expand their knowledge and expertise.

Science and Maths are the pathway to a successful future. Yet less than 20% of 16-19 year olds take A-Level maths, and half of mixed state schools had no girls study A-Level Physics in 2011.
The Your Life campaign aims to change this and to increase the number of students studying STEM subjects by 50% over the next three years. Boosting skills in technology and engineering will be essential if the UK is to truly thrive in the 21st century global economy. The Your Life campaign will be talking directly to 14-16 year olds as the key decision makers. Grounded in the real world, we will focus on aspiration and awareness to support young people's choices in science and engineering careers.
Hundreds of organisations across the UK have already pledged action to boost the role of women in science and engineering. Your Life wants to see:
The vast majority of young people studying mathematics to age 18 by 2020
A boost in the number of students, especially girls, taking physics and maths A-level within three years
A doubling of the proportion of engineering and technology degrees that are taken by women to 30% at undergraduate level by 2030, and an increase in the numbers taking these degrees overall
More women pursuing careers at all levels in the fields of engineering and technology.
Many companies have already pledged to provide more STEM Ambassadors to support schools throughout the UK. Find out more at www.yourlife.org.uk.
Back to topSkills shortage in the UK film industry

Skills Fusion is a VFX (visual effects) film careers outreach programme designed to highlight the skills shortage the UK film industry faces and the career opportunities that rely on an educational foundation in STEM (Science, Technology, Engineering and Maths), and computer science subjects.
The Next Gen Report identified a knowledge gap between the classroom and jobs, and recognised that, without a range of strategic interventions, the UK film industry will not be able to maintain its position in the global marketplace.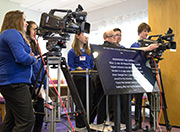 The Skills Fusion programme has been established to address this knowledge gap within schools, careers advisory networks and networks such as STEMnet. It aims to raise awareness and inspire students to consider the VFX film industry as a potential career path.
Through our specially commissioned careers map, attending conferences, working with schools, participating in career fairs, and cascading information through career advisor networks, we aim to inspire and spark that initial interest in students.
If you want to find out more about the project, would like some literature to disseminate or would be interested in arranging a talk, please contact us on yen.yau@intofilm.org. To be kept up to date on the project please join our facebook group.