Welcome to the STEM Newsletter for
Secondary Schools in Wales
Find out more about what's happening, competitions, new educational resources, events, new rounds of grants and more…
There are larger versions of some (but not all) of the photos in this newsletter - click the small photo to view.
Teachmeets share STEM clubs ideas
Have you ever been to a TeachMeet? Teachers, activity providers and STEM Ambassadors from across North Wales took part in two STEM Club-focused TeachMeets at Ysgol Uwchradd Eirias, Colwyn Bay and Ysgol Rhiwabon on 15 and 16 May.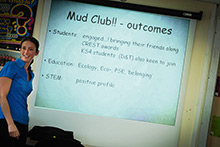 Through short and snappy presentations, participants shared experiences of running STEM Clubs activities ranging from cooking, Eco Clubs, gardening, building greenhouses, astronomy and designing solar powered racing boats.
In addition to the teachers' presentations, a wide range of activity providers gave a brief overview of how they could support school STEM Clubs. These included representatives from the Royal Academy of Engineering, Techniquest Glyndŵr, STEM Cymru, Green Power, the Institution of Engineering and Technology (IET) Faraday Resources, and Glyndŵr University's Computing Department. STEM Ambassadors also gave an insight into their work and how they could support and enthuse students in STEM Clubs.
The TeachMeet format ensured a lively and dynamic atmosphere for sharing ideas, asking questions and making new contacts. When's the next one? 20 June Merthyr Tydfil!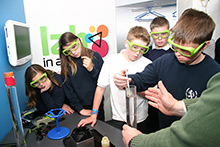 Students at Penglais Comprehensive School in Aberystwyth enjoyed a visit from Lab in a Lorry – the mobile physics laboratory run by the Institute of Physics to connect young people in the region to science. Pupils from Years 7 and 8 had the opportunity to explore aspects of science through a range of hands on experiments, including investigating light scattering, resonance and optical fibres and their uses.
Designed to inspire the next generation of scientists and engineers, Lab in a Lorry offers 11-14 year olds the opportunity to explore science through specially created interactive experiments.
The Lab in a Lorry programme consists of two 44ft lorries that have been visiting schools, youth organisations, major events, and communities free-of-charge across the UK and Ireland since early 2005.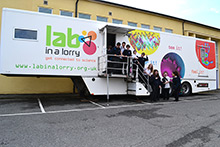 Each lorry is fitted with three distinct lab areas where groups of up to six young people can take part in each of the fun and informative experiments. The programme is delivered by volunteers – all scientists and engineers – and with at least one volunteer mentor to every six students, everyone gets to try their hand at experimental science and think about the surprises and questions that arise.
Lab in a Lorry in Wales is a partnership between the Institute of Physics and the Welsh Government. The Schlumberger Foundation is a founding partner and volunteer assistance provided by STEMNET. The aim of Lab in a Lorry is to encourage positive attitudes towards science and to make science and engineering more attractive to 11-14 year olds.
Institute of Physics spokesperson James Bamford said: "Lab in a Lorry is a fantastic experience for young people. It generates excitement and curiosity in science by letting them explore experimental science for themselves with the help of expert mentors."
Edwina Hart, Minister for Economy, Science and Transport, said: "The Welsh Government is pleased to support this very innovative project that is designed to make science exciting and fun, as well as highly relevant. Hundreds of pupils in Wales will benefit by taking part in the experiments on the Lorry and we hope it will encourage many students to pursue STEM subjects in the future."
Professor Sir Peter Knight, President of IOP, said: "School students across Wales are in for a real treat. The experience has been designed to give students a real taste of just how exciting experimental science can be."
Schools can request a visit from Lab in a Lorry at www.labinalorry.org.uk, which also contains information on how to become a volunteer.
The event at Ysgol Penglais was run with the help of STEM Ambassadors who volunteered to help guide the students through the experiments. Lab in a Lorry is also visiting other schools in Wales during the summer term.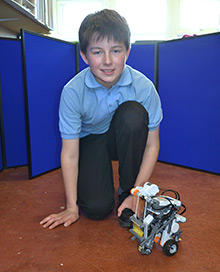 A group of students from Sir Thomas Picton School in Haverfordwest are putting final touches to the robots they have created, ready for the Big Bang Wales in July. The Robotics Club at Sir Thomas Picton has worked with Technocamps to learn the skills needed to build and programme their robots. Three separate teams of students have each designed and programmed robots to carry out specific tasks.
Ten of the students took part in the recent TeenTech event in Swansea, to learn more about careers in science, engineering and technology. TeenTech is an award-winning industry-led initiative, founded by Maggie Philbin and Chris Dodson to help school students appreciate the opportunities available. During the event, students from 30 different schools tried out a series of hands-on exhibits and challenges, including training with Swansea Football Club and designing Apps.
Photo: One of the students from Sir Thomas Picton School with the robot they hope will impress visitors to the Big Bang Cymru.
Back to top Links to See Science information pages
Because there are now so many STEM stories in the monthly newsletter it's no longer possible to include abbreviated lists of activities, resources, competitions, grants, cpd opportunities and events in the body of the newsletter.
New items are continually being added to these web pages – check them out by following these links:
Back to topA researcher's insight at Cynffig Comprehensive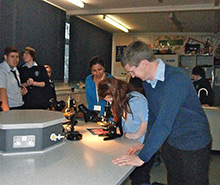 Dr Trevor Hay visited Cynffig Comprehensive in Bridgend County during March. Head of Biology Dr Varuni Rathkey had placed a request for her Year 11 and A level Biology students to meet a STEM Ambassador who could provide an insight into careers in Biological Science other than the familiar medical professions.
This was Trevor's first engagement as a STEM Ambassador and mindful of the sensitive nature of his research into cancer genetics and the use of animals in research, he met with Varuni prior to the visit to preview his presentation.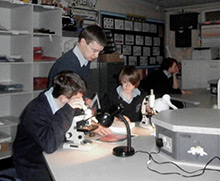 This proved very valuable and the final presentation was an excellent example of how to tackle such issues with a young audience. Consideration had to be made for any pupil whose family may have been affected by such diseases.
Really neat tools of engagement were used to ensure that the pupils were very much part of the dialogue and had to participate in the presentation too.
The session included a 'challenge' where the pupils viewed microscope slides as used in Trevor's research, identifying the type of cancer cells that each slide contained.
'More please!' was the feedback from Heads of Science at the school!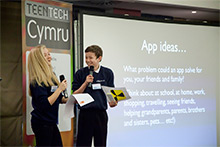 The first TeenTech event in Wales at the Liberty Stadium in Swansea was stunning. Partnering with TechnoCamps who recruited the schools and helped TeenTech deliver the event on the day, they had the delight of watching students from 28 schools across South Wales explore some very cool technology and understand more about the options in the region. BBC Wales featured the event on both their midday and evening news – www.bbc.co.uk/news/uk-wales-22475389.
There was a high quality mix of very different technologies from photonics to high tech materials, 3D printing to printing with electronics, app design to aircraft design. And of course the very latest in home technology. Just take a look at our pictures on the TeenTech website. A massive thank you to our steering group for all their hard work.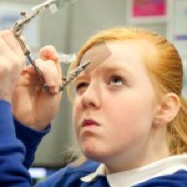 Students had the opportunity to experience some brilliant interactive sessions with the aerospace industry – who were keen to let the young people know about the terrific paid apprenticeship schemes such as the ones run by Airbus. We ourselves were staggered to learn just how big aerospace is in Wales with over 23,000 people working in the industry.
This teacher sums up why we all work so hard for TeenTech: "Just a quick message to tell you that our kids had an amazing amazing day on Thursday. They actually came to look for me to tell them it was the best trip they had ever been on and that science and technology is so cool. Thank you so much." Bel, Teacher Penyrheol Comprehensive School.
Many thanks to the following who provided such immersive activities.: Airbus, Activ Robots, Atkins, BBC Wales, Bangor University, Cardiff University, Cassadian, e-mpirical, Futureworks, JVC, IBM, Liberty Stadium, NHS, Novalia, Raspberry Pi, See Science, Swansea University, Smallpeice Trust, Sony UK Technology Centre, Sports Science, Technocamps, Wales Interactive.
Back to topSmall Business workshop
STEM Ambassadors Anne and Peter King would like to provide a workshop to schools in the Newport / Monmouthshire areas on the initiation and key skills of running a small business. They would be pleased to work with teachers on developing and presenting this workshop. The presentation suitable for Years 7 upwards and approx. 50 minutes in total. In the workshop they look at small and microbusinesses – size of sector and importance to Welsh economy, career opportunities in small & microbusiness, starting a small business – what do you need and STEM and small businesses.
The aim of the workshop is to make students much more aware of opportunities in small and microbusinesses, making contact with local small businesses (as a focus for learning and development), using technology to work from home, etc.
For further information contact ambassadors@see-science.co.uk.
Back to topNSEW comes to the West Wales coast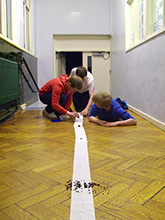 National Science and Engineering Week was celebrated along the west coast of Wales with a range of activities for pupils, students and the wider community, many of which were supported by grants from the Welsh Government through the National Science Academy.
Clear skies and a waxing crescent moon were the backdrop for an evening of stargazing and astronomy activities at Ysgol Uwchradd Tywyn. Staff and students from Aberystwyth University's Physics Department gave 30 minute planetarium shows inside their inflatable Stardome, and were ready outside with their high definition telescopes to point out constellations and Jupiter's moons. The school's yr 10 GCSE Astronomy students were also on hand to organise and explain various astronomy activities. Part way through the evening they laid out a 'Loo Roll Solar System' down the corridor, using fruits of different sizes at particular numbers of sheets of toilet tissue away from the 'Sun', to demonstrate the relative sizes and positions of the planets.
Pupils from 34 primary and secondary schools in West Wales enjoyed a visit to Aberystwyth University's Science Fair based in the Sport Cage on the Penglais campus. This annual event, organised by the University's Centre for Widening Participation and Social Inclusion, is a chance for University students and staff, and other local organisations, to present aspects of their work and research to local pupils in an accessible, fun and hands-on way. Over three days the hall was buzzing with excitement as pupils tried their hands at activities such as: cracking the RNA code; making custard balls; and watching in amazement as a giant vortex cannon sent powder rings above their heads. Was anyone brave enough to get close to that albino python?
Back to topRobotics of the Future at Technocamps Competition in Llandudno
Technocamps in North Wales will be holding a competition on 3 July, the Technocamps 'Robotics of the Future' Competition. It will be held at Venue Cymru, Llandudno.
All four hubs of Technocamps – Swansea, Glamorgan, Aberystwyth and Bangor will hold a regional based competition on the same day. Swansea and Glamorgan will be hosting their event at the Big Bang Wales which is being held at Glamorgan University.
There are 10 schools taking part, and each will have their own workstation. There will be a competition ring in the centre of the room so that the competitions can take place. The schools are: Ysgol Uwchradd Caergybi, Ysgol Uwchradd Bodedern, Ysgol David Hughes, Ysgol Friars, Ysgol John Bright, Prestatyn High, Ysgol Eifionydd, Ysgol Botwnnog, St Gerard's and Ysgol Glan Clwyd. Other schools are invited to attend. For further information contact kim.jones@technocamps.com.
Back to topSTEM Ambassadors go global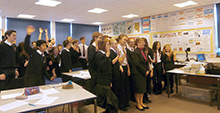 Two amazing sessions were delivered yet again from our team of Ambassadors tackling the Languages in STEM initiative. This time there was a truly extensive use of multilingual skills.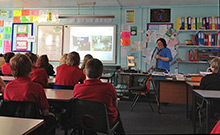 At Cardinal Newman RC Comprehensive in Pontypridd, Ambassador Dr Elisabetta Canetta, a Biophysicist at Cardiff University, delivered a session focused using her fluency in French and of course her native Italian. A visit with a difference – as the pupils had to tackle a language that they were not studying and translate the challenges in two languages. Again a very well received delivery, with a very appreciative Headmaster calling in to express his support.
In Ysgol Dyffryn Teifi, the remit was to deliver the session to Welsh Medium pupils studying French at Year 9. Susan Jones, Systems Engineer at Tata Steel, again stepped up for this challenge, and in Llandysul last Monday it was a pleasure to see how grateful the teachers were to host the visit and the confidence of the pupils in engaging with Susan in both Celtic Languages.