Welcome to the STEM Newsletter for
Secondary Schools in Wales
Find out more about what's happening in the summer term, competitions, new educational resources, events, new rounds of grants and more…
Are you running activities at your school during D&T Week from 25 to 29 June, if so why not contact us and request a STEM Ambassador to support these events?
This year the Big Bang Cymru 2012 on 28 June is at the Liberty Stadium, Swansea. This is Wales' premier STEM event and is now accepting registrations from schools and colleges. You can enter your student STEM projects into the National Science & Engineering Competition (NSEC)/ Young Engineer for Britain and the regional finals for CREST. Eligible projects include student course work or projects completed during lunch time/ after school clubs. Some students may also have projects that they have completed in their own time.
If you're planning a project of any kind or an event at your school and need speakers, workshops, links with the real world, or an extra pair of hands, contact See Science and request for a STEM Ambassador to come and help. The STEM Ambassadors Programme is FREE to schools. Email ambassadors@see-science.co.uk or go to http://networking.stemnet.org.uk and click on 'REQUEST A STEM AMBASSADOR'
Medicine and Chemistry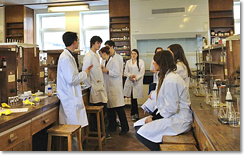 Dr. Joel Loveridge (STEM Ambassador) is pictured with A level students at a marvellous busy day 'Medicine and Chemistry'. This took place on April 19 at Swansea University. Schools involved were Morriston Comprehensive; Bishop Gore School; Pembroke College; Coleg Sir Gar; Gorseinon College; Amman Valley School and Neath College.

The sessions were based on practical demonstrations of the adaptation of simple chemistry concepts in the world of medicine.
Joel developed an experiment for the pupils to test 'urine' for diabetes. Pupils tested a series of solutions containing varying amounts of glucose, which replicated real life conditions and methods of testing diabetes in patients. Fortunately no actual urine samples are required when you are a practical chemist!
Bears, bulls and trading bells – an unusual maths challenge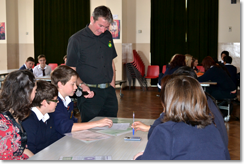 Students at St John Lloyd School in Llanelli have had a taste of the world of commodity dealing with a visit from the BP Trading Challenge Roadshow. The students needed to use a range of maths and communication skills to be successful in the oil-trading game. They worked in teams – as trader, accountant, chairman and market analyst – and had to decide whether to buy or sell barrels of crude oil as a series of events unfolded via on-screen news releases.
The BP team ensured students considered the range of products made from crude oil before the game began, and the importance of supply and demand on price. They also discussed the difference between a bear market and a bull market. There was a warm-up round to demonstrate all the rules…and then trading began. The pace of working increased steadily throughout the two-hour session until students were taking in new information – including natural disasters, economics and politics – working out the likely impact, and working out the maths to trade their oil all within ninety seconds, before the trading bell rang.
So what did the students make of it? "I really enjoyed the problem-solving, and working as a team", said one, who'd been playing the role of accountant. "Tense…really nerve-racking" said a market analyst. Another said he enjoyed the discussions about how the change in circumstances would impact on the price, and whether it was the right time to buy or sell. "I really enjoyed the challenge", he said.
More than 200 Year 9 students at Sir Thomas Picton School in Haverfordwest (pictured above) swapped normal lessons for two hours of trading with the BP team. Students described the workshop as "fun", "a good chance to use maths in a real life situation" and one said that playing the role of a market analyst taught you that "things are not always as they seem!"
The BP Trading Challenge roadshow has been visiting schools across North and South Wales in April and May.
Links to See Science news pages
Because there are now so many STEM stories in the monthly newsletter it's no longer possible to include abbreviated lists of activities, resources, competitions, grants, cpd opportunities and events in the body of the newsletter.
But new items are continually being added to these web pages – you can check them out by following these links:
Swansea University – National Particle Physics Masterclasses
This year 179 students from 11 schools attended the Swansea University National Particle Physics Masterclasses. These programmes given by particle physicists have proved stimulating and informative for thousands of sixth form students and their teachers and convey some of the excitement of working in a rapidly moving field, where current experiments include the study of antimatter and the search for the origin of mass.
There is also an opportunity for hands-on experience of the interactive graphical display programs that particle physicists use at the Large Hadron Collider, CERN, to search for the Higgs Boson, using software specially written for schools. The classes provide excellent support for the material on Particle Physics which is in many 16+ curricula.
Flying science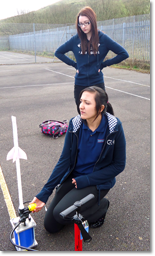 36 students from year 9 have been taking part in a science project investigating the science of flight. The students have been taken out of class in small groups to complete a CREST Bronze Award – an award scheme run by the British Science Association.
Students have investigated how rockets work, the science behind paper aeroplanes and have had the opportunity to fly remote controlled aeroplanes. Matthew Smith (9A1) says: "The CREST award is something different to normal lessons. It's very enjoyable to go outside, make rockets and learn something new. We have had lots of fun making rockets and having competitions to see which ones are the best."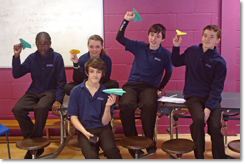 It hasn't all been about competitions though. One of the great things about the project is that at the end they will all have a completed project to keep as well as a separate award in science. Kieran Brewer (9B1) sums it up by saying that "CREST was really fun but also educational".
Next year these students will be moving on to GCSE studies and the CREST award has helped develop the skills they need at this level. Katie Hewett (9A1) wants to study triple award science next year. Katie says: "The CREST award is a fun experience and has helped me prepare for triple award science next year".
Mr Palmer (Science Learning Coach – Tonypandy School)
Fuels for the future at Ysgol y Gader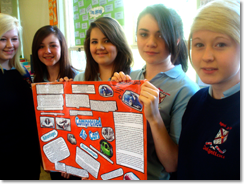 As part of their work on energy resources, year 9 students at Ysgol y Gader, Dolgellau took part in a 'Grand Prix Project' with the aim of convincing their peers that a particular alternative fuel would win the race as the fuel for the future.
A total of 70 students worked in groups to research their chosen fuel to be used by the cars of the future. These included hydrogen, biogas, water, electricity, wind and solar power. Each group then designed and produced a large eye-catching poster display and a written report, which they used in a presentation of the benefits of 'their' fuel to the rest of the year group.
Communicating ideas was an important focus in this project, as the students were working towards a Bronze CREST award for which the school had been awarded a Welsh Government grant.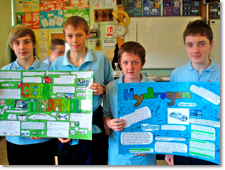 Having heard the benefits of each of the alternative fuels, each student wrote an account of an imaginary 'Grand Prix' race involving cars powered by the different fuels. As the weather conditions changed during the race … which car would emerge as the winner…?!
"The students thoroughly enjoyed working on the Formula 1/Grand Prix Project", said Catrin Williams, the Ysgol y Gader science teacher who co-ordinated the project. "It was a great opportunity to combine Physics and Chemistry in a really interesting and effective way, and to see the students' attitudes and understanding develop as they researched the different methods. We had whole class debates, with each group supporting their chosen fuel type; the passion shown by some students was astonishing, and at times quite amusing to watch! We will certainly be carrying out this project again next year."
Rhyl High School gives scientists a BBQ-season grilling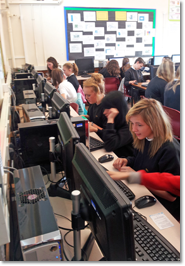 Four real-live scientists were taken through their paces by Class 8H1 at Rhyl High School in the sweltering May sunshine. Dan Street, Head of Science at Rhyl signed his classes up for three sessions of 'I'm a Scientist, in the Zone!' – a FREE online event where students interact with practicing scientists, then vote them off in an X-Factor style finale.
Pitting students against the scientists in a live round of intense, fast-paced online live chats, students got the chance to ask scientists all the questions they wanted to, then vote for their favourite scientist to win prize of £500 to communicate their work with the public.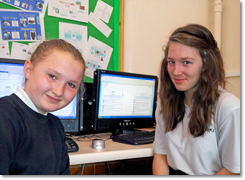 The session comes with class resources to prepare teachers and students for productive conversations and the students at Rhyl really got into the swing of it, posing some excellent questions like 'what causes a hiccup?' and 'why do sports people take steroids?'
"I thought 'I'm a scientist' website was very good because we were able to get good answers from real scientists. I asked, what is the weight of a cloud?" – Jack.
"I think it was very interesting and a different experience as not many people in North Wales have done this. The scientists were quite helpful taking into consideration that they had many questions to ask but I think we needed to research the scientists more to check what science they specialise in." – Shaylee.
"It's been good; I'd definitely do it again" said Dan Street. "It was worth doing the prep work to keep the students focussed and we even had one pupil not in school today who was able to join in from home."
As 'I'm a Scientist' is taking place over 10 exciting, inspiring and very fun weeks, from April to July 2012, by the time you read this you will have missed your chance to sign up. But don't delay, plan ahead to join in next year's events – register at http://imascientist.org.uk.
'I'm a Scientist, in the Zone!' is part of the In the Zone project from the Wellcome Trust.
Oxfam Water Week

Oxfam Water Week gives young people the opportunity to learn about global issues, develop their skills and values as active global citizens, and make a difference to the world.
Young people are encouraged to Learn Think Act. As they learn about water vulnerability, students are inspired take action! Register now for 2012.
Water For Life – Competition 2012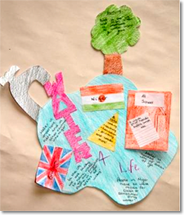 The competition is now closed! Thank you so much for your fantastic entries.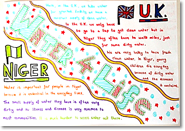 We've had posters, presentations, songs and videos showing us how much pupils taking part in Water Week have learnt about Niger and the importance of clean water.
We've been absolutely amazed at the incredible creativity and hard work you put into the entries. It's fantastic to see pupils showing how they've learned and started thinking about the importance of clean water around the world. We hope your pupils enjoyed taking part in the competition, and they're looking forward to taking action and being a part of change during your Water Week!
Afon Taf High School
This class of 15 year olds made fantastic posters showing the importance of clean water, and highlighted the lack of access to clean water in Niger, compared to how we use water in the UK.