STEM Newsletter for secondary schools in Wales
January 2017
The newsletter that's an essential source of information and inspiration for teachers – and anyone with an interest in STEM (Science, Technology, Engineering and Maths) engagement – across Wales.
Contents
Ask a STEM Ambassador to visit your school
A STEM Ambassador's involvement can engage and enthuse both students and teachers. If you are interested in asking a STEM Ambassador to visit your school you can make your request here or contact See Science directly at ambassadors@see-science.co.uk.
Give us your Ambassador feedback
If an Ambassador has visited your school, or if you have met an Ambassador at an enrichment activity, we would be very grateful if you could fill in our teacher feedback form. Please encourage colleagues to respond.
Teacher information pages
Events, competitions, grants and resources are regularly added to our teacher information web pages. You can check them out by following these links:
Ysgol Glan-y-Mor's Susan Quirk wins Joan Sjøvoll STEM Leadership Award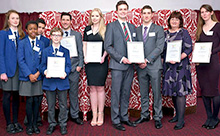 Susan Quirk, Ysgol Glan-y-Mor, Burry Port, Carmarthenshire won the Joan Sjøvoll STEM Leadership Award at a prestigious event at the House of Lords.
The STEM Inspiration Awards recognise the work done by a wide range of people and organisations, to enrich the experience of young people in science, technology, engineering and mathematics (STEM) subjects, and to promote the STEM agenda. The event, sponsored by the Science and Technology Facilities Council (STFC), was attended by Ministers, educators and key leaders from industry.
Yvonne Baker, Chief Executive of the National STEM Learning Network, said: "We believe all young people, across the UK, should receive a world-leading STEM education. Many thousands of people and organisations across the UK – from inspiring teachers and STEM Ambassadors, to innovative businesses and school leaders – are working with us to achieve this vision. We're delighted to be able to recognise some of those who are helping young people aim for a bright and exciting future in STEM."
Awards were presented in six categories to winners from across the UK, with the Science and Technology Facilities Council providing winners with an exclusive visit to CERN in January, where they will have the opportunity to see cutting edge science in action and meet top physicists and engineers from all over the world.
The Joan Sjøvoll STEM Leadership Award award recognises the vision and dedication of a school or college leader who has been influential in driving forward the STEM agenda in their school, resulting in better outcomes for young people.
Susan Quirk has been driven to ensure her students are aware of the importance and ever growing need for STEM skills. As a result, she regularly takes learning beyond the classroom. She has established a number of extra-curricular activities to engage young people with STEM subjects. For many pupils at the heart of the programme, the support from her and her extra-curricular activities have been life changing.
Innovations Celebration Event
Young inventors from across Wales recognised at the Senedd for their award winning creations. Talented youngsters from across Wales have been recognised for their creative inventions at this year's WJEC's Innovation Awards.
Students, teachers and parents from schools and colleges across the country gathered at the Senedd to find out the winners of the best inventions in the A level, AS level and GCSE categories, as well as celebrate the success of the runners-up who showcased their creations.
Cellan Cox, 18, from Llanishen High School in Cardiff scooped the A level prize and overall winner prize while Olivia Johnson, 18, from St David's College was named best in the AS level category for her 3D printed modular storage connectors. Winning in the GCSE category was Joseph Ringrose from St John Baptist School in Aberdare who presented his washing line rain warning device.
The Innovation Awards is an annual competition partly funded by the Welsh Government's Department for the Economy and Infrastructure aimed at encouraging GCSE and A level students studying WJEC's design technology courses to harness their imagination and invent a brand new product.
The award ceremony took place at the Senedd last week and was attended by Kirsty Williams AM, the Cabinet Secretary for Education. More than 80 young inventors presented their work to the judges earlier in the year at public exhibitions at the SSE Swalec Stadium in Cardiff and Bangor University, where visitors could catch a glimpse of the products of the future.
AS level winner Olivia said she was pleased to have been recognised for her hard work and determination. The 18 year-old said: "Initially I wanted to make a shelving unit, but then realised I could actually create something that could make shelves out of any materials. The best thing about the connectors is that they're so small and simple to use that anyone could use them on nearly any material. I've tried making shelves with books, wood and plastic and they connectors can hold a lot of weight too even though they've only been made on a 3D printer. I want to continue inventing, and I think my connectors could become a successful product if I actually make them in a factory. For now, I'm concentrating on getting into University to study mechanical engineering which I think will help me to develop new ideas."
Alongside their awards, individual winners and education centres received an official certificate recognising their great achievement and prizes including up to £250 for the individual and £150 for the centre. Awards were also presented to winners and finalists from the A/S and GCSE categories.
The ceremony saw more than 80 people attending to celebrate the work of talented young inventors and entrepreneurs in Wales. Some of the most pioneering creations included an adjustable kettle bell, bicycle cleaning stand, and camera drone adapted to search for survivors of natural disasters.
Steve Howells, subject officer for design and technology at WJEC said: "The standard was exceptionally high this year and with more than 800 entries the judges found it difficult to choose just one winner for each category. The three winning inventions really impressed the judges, it was clear each student had identified a gap in the market and used the skills they'd learnt in class to design and manufacture their products. Being able to harness your creativity and invent something beneficial to other people is a unique talent. I'm sure this is the first of many inventions for Cellan, Olivia and Joseph and we're looking forward to watching their careers develop. We think it's important to recognise young talent here in Wales and provide a platform to showcase the level of work put into studying these subjects at GCSE, AS and A-level."
Kirsty Williams AM said: "It's fantastic to see such marvellous products designed by some of the youngest inventors in Wales. I hope these awards will inspire more learners and other budding inventors to pursue their creative, technological ideas and strengthen Wales' position as a forward-thinking, innovative country."
For further information about the competition visit www.wjec.co.uk or contact steve.howells@wjec.co.uk.
Science Superhero Events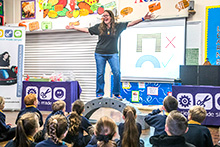 More than 1,200 children from 12 schools across Wales took part in the Science Superhero interactive workshops, delivered as part of the Welsh Government's science campaign to encourage more young people to see science as fun and consider a career based around science skills.

They got to hear from six real-life young scientists and engineers working in Wales as well as take part in real-time experiments exploring the force of gravity, light, space and energy. As part of the Welsh Government parental engagement campaign Education begins at home this animation encourages young people to pursue a variety of careers within science.
STEM Opportunities for teachers and pupils
MAP – a life changing experience for year 12 students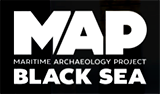 The Black Sea Marine Archaeology Project (MAP)'s education programme is seeking 16 A Level (or equivalent) Y12 students to join the project as STEM Scholars.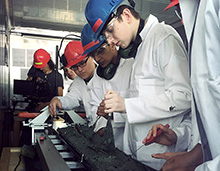 The project provides the students with an opportunity to work with the science and documentary teams on a residential placement either onshore at National Oceanography Centre and the University of Southampton, or onboard the 2017 science research vessel in the Black Sea during summer 2017.
The students will experience a variety of technologies, from geophysics and seismic survey, to environmental coring and 3D computer modelling. The scientists aim to understand the changes in the Black Sea environment and its flood history over the last 20,000 years. Further underwater survey with Remotely Operated and Autonomous Underwater vehicles (ROVs and AUVs) will allow the team to dive down to its anaerobic depths to study the seafloor and the historic shipwrecks upon it.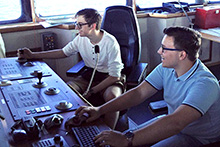 The project offers a wealth of STEM (science, technology, engineering and mathematics) learning opportunities:
It demonstrates applications of STEM subjects in the real world by real people
It supports employability skills
It enhances the student's CV and personal statements
It enables students to submit their projects for Gold CREST Awards
It offers a life changing experience.
The project is open to students in SE Wales, who can register their details on the online registration form. Once registered they can complete the application process by visiting the Black Sea MAP website to download the required forms. The deadline for applications is 9am on 22 February 2017.
North Wales schools book a free visit to CAT!

Bursary fund for North Welsh schools and colleges booking STEM tuition in 2016/2017. Relevant for STEM subjects including Welsh Bacc and Geography.
A great opportunity for KS 3, 4 and 5 pupils and teachers in North Wales to apply for a subsidised visit to CAT for bursaries contributing towards travel, tuition and entry.
"It was a really valuable day that allowed them to see their STEM subjects working alongside their Bacc, this is a fantastic step forward for us." Eirias High School Conwy. Funded visit 2015. Read more…
FREE Registration for CREST Awards for pupils in Wales
Schools in Wales are able to register their pupils for Discovery, Bronze, Silver and Gold CREST Awards for free thanks to funding from the Welsh Government through the National Science Academy. For more details, email enquiries@see-science.co.uk.
New CREST Wales resources
New CREST Wales resources have gone up online thanks to the funding from the Welsh Government through the National Science Academy. These resources are for teacher of KS3 pupils to run Discovery CREST Awards. www.britishscienceassociation.org/new-welsh-resources. If your school would like to be part of the pilot for the next set of CREST resources, please contact crest@see-science.co.uk.
Sustainable Solutions is a CREST Discovery Day activity that challenges students to work as a team in order to create a start-up business tackling the issues of climate change in their community. This may be through the creation of an app, an invention or a communications campaign. The resources provide teachers with a step-by-step guide to running a Discovery Day and is suitable to run with a single class or science club, or across a whole year group. Available in both English and Welsh, 'Sustainable Solutions' helps to develop your student's skills such as self-management skills, team-work, problem-solving and communication. Head to www.crestawards.org/sustainable-solutions/ (English) or www.crestawards.org/atebion-cynaliadwy/ (Welsh) to take a look!
If your school would like to be part of the pilot for the next set of CREST resources, please contact crest@see-science.co.uk.
Back to topThe Science of Dragons Roadshow
Science2Life has been awarded, in partnership with See Science, funding from the Welsh Government to deliver the Science of Dragons Show in primary and secondary schools across Wales until March 2018.
Scientific Sue needs lots of volunteers to help her investigate and explore the science of how dragons fly and then, using some of the science behind the different dragon fire types (steam, icy fog, explosive gases, flammable liquids and of course big flames).
Available FREE to all secondary (Year 7) schools in Wales in 2016 – 2018 thanks to funding from Welsh Government National Science Academy. Contact See Science if you would like the show to visit your school during the Spring Term 2017 – email enquiries@see-science.co.uk.
Do you teach physics at a maintained school in Wales?
If so you might be interested in the Institute of Physics free programme of support, the Stimulating Physics Network. The IOP are currently recruiting schools for the 2016/2017 school year.
The Stimulating Physics Network works with partner schools across Wales to support teachers and students of physics. Teaching and Learning Coaches can tailor the support to each school and its needs. The programme is particularly suitable for newly qualified teachers or non-specialists who are teaching physics.
Contact Abigail Ashton abigail.ashton@iop.org or David Cunnah david.cunnah@iop.org. More details…
URDD 2017 'Focus on science' competition
Give your lessons a 'Focus on Science' and enter into this year's science competition at the Urdd Eisteddfod. The challenge is to create a science project (as an individual or a group) in the field of Science, Design and Technology, Engineering, or Mathematics. The project should be in the format of research work, investigation or a presentation. Competitors may choose their own theme and some suggestions are provided on the Crest Awards or Stem Cymru website.
The work may be presented in Welsh as a hard copy or in electronic format. The winning schools will be presented with their science related prizes at the Urdd Eisteddfod in Bridgend on 31 May 2017.
Competitors should present a report up to 1,000 words for age Year 7-9, or 2,500 words for age Year 10 and under 19.
Deadline for entries is 1 March 2017. More information at the Urdd website.
Ultimate STEM Challenge 2016 is now open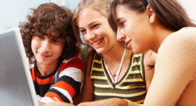 The Ultimate STEM Challenge is a competition for 11-14 year olds to put their STEM skills to the test by tackling real-world problems.
The challenges are designed to inspire your students, not just the science enthusiasts. STEM Ambassadors can also get involved to help inspire your students by bringing real-world knowledge and applications to the challenges. Read more…
Science4Society Week Competition 2017: Design an 'Eco-home Explainer'
This is an opportunity for young people to apply their creativity, curiosity and imagination to design an 'Eco-home Explainer' – an educational domestic energy display. An organisation that will be part of the judging panel will take up the design, produce the Eco-Home Explainer and use it at their events.
There are three categories of entry; Year 5-6, Year 7-9 and Year 10-13.
An organisation that will be part of the judging panel will take up the best design, produce the Eco-Home Explainer and use it at their events. Closing date 10 Feb 2017. Read more…
Armourers and Brasiers Tata Sixth Form Materials Prize open for 2017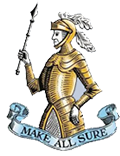 Registration is now open for the 2017 Armourers and Brasiers Tata Sixth Form Materials Prize. This competition encourages students in year 12 (or equivalent) to develop a sustained interest in materials science and engineering as they work their way through four modules which explore our material world, with the support of teachers. Once students have completed the coursework they must submit this for judging. Four finalists will be invited to present their work at Armourers Hall in December 2017 (top prize is £500 each for the student and their school).
Register online or contact diane.aston@iom3.org.
PA Raspberry Pi competition 2016-2017

The new PA Raspberry Pi competition challenges teams of children and young people to invent under the theme of 'Innovation for All'. The first 100 teams to enter will receive a free Raspberry Pi computer starter pack to help with their innovation projects. The challenge culminates in a day of science and engineering discovery and an 'Oscar' style awards ceremony and is open to academic years 4-13. Applications in either English or Welsh are welcomed and resources regarding the competition are available in both languages. Contact RaspberryPi for more information.
Deadline for submissions is 15 March 2017.
Tasty free school resources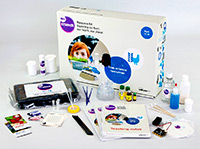 Dig into The Crunch kits with your class this term. The kits have amazing resources for every age group to explore the links between our food our health and our planet. Created by Wellcome Trust. Read more…
FREE Principia Space Diaries & Resources: be like Tim Peake!

The Principia Space Diary is back. Once again thousands of school children have the chance to become space experts as they learn about British European Space Agency astronaut Tim Peake's historic space mission.
The Space Diary programme aims to empower children and engage them in Science, Technology, Engineering and Maths (STEM) learning by giving them the chance to create and personalise their very own book while they follow Tim's mission.
All lesson plans are differentiated for P1-5 (KS1 and KS2) for teachers in England, Wales, Scotland and Northern Ireland and extension activities provide extra challenges for those who need them. Download the first chapter of the Principia Space Diary here.
Teachers and home-school parents in the UK can pre-register from today in order to access the entire online programme for free when the materials are released on 30 January, 2017. Download the Principia Classroom Kit here.
Teachers also have the option to pre-order printed copies of the Space Diary to be delivered to their schools. Those who pre-order by 16 January 2017 will get £1 copies of the Space Diaries to ensure that all children have access to physical copies.
School Biology Teacher of the Year Award

Are you or do you know an amazing teacher of biology who deserves recognition? Why not nominate them for an award to recognise their talent and skill? The School Biology Teacher of the Year Award will open this week for nominations from or of teachers who are working with students aged 11-18 years old; teaching pre-university level biology programmes of study; currently employed in a UK based school or college. The 2016/17 award opens on 1 September and the deadline for nominations is 23 December 2016. This year's winner will receive £500 for themselves and £500 of Oxford University Press resources for their school in addition to prizes from UK 3B Scientific Ltd.
IOP Awards 2017 – call for nominations – deadline 31 January 2017
We need your help to recognise and reward excellence in people and teams who have made outstanding contributions to the strength of physics. Our awards reflect the breadth of work in the physics community across academia, industry, education and outreach. 2017 is a particularly exciting year as we have enlarged our portfolio of awards – introducing new medals for soft matter physics, physics education and public engagement.
This year we have elevated the Lawrence Bragg Medal and Prize to the Gold Medals to recognise its importance and reward outstanding and sustained contributions to physics education and to widening participation within it.
We have introduced a new category in the Silver Medals – physics education and to widening participation within it and public engagement within physics, which includes the new Marie Curie-Sklodowska Medal and Prize for distinguished contributions to physics education and to widening participation within it.
As well as introducing the same category in the Bronze Medals – which includes the Daphne Jackson Medal and Prize for exceptional early career contributions to physics education and to widening participation within it.
If you are interested in making a nomination we encourage you to visit our new nominations website to begin your nomination, or alternatively to visit the IOP website to find out more about the new awards programme.
British Ecological Society outreach grants
This grant scheme will reopen in January 2017. Individuals and organisations including schools can apply for grants to promote ecological science to a wide audience (projects need to have significant outreach beyond schools).
The maximum award is £2,000. Read more…
Practical Action Workshop ASE Meeting
18 January, 4.30 pm. Lab 2 Trefenai, School of Education, Normal Site, Bangor University
Practical Action uses technology to challenge poverty in developing countries to enable poor communities to build on their skills and knowledge to produce sustainable and practical solutions. This workshop will look at the Educational Resources available which focus on a whole range of global issues including energy, climate change and disaster risk reduction.
These popular free resources for primary and secondary include lesson plans, PowerPoints, activities, posters, challenges, images, videos and games all set within a global context. We will also trial some of the popular STEM challenges perfect for KS2 and KS3 science; whole school activities or STEM Clubs. STEM careers material will also be available. There will also be an opportunity for discussion and networking.
Book here.
How to hack your home
13 March 2017. Reardon Smith Theatre, National Museum Cardiff, Cathays Park CF10 3NP
School groups: 1.30 – 2.30pm. Free but places must be booked in advance
Families: 6.30 – 7.30pm. Price: £10.00 – £12.00
In this interactive family show inspired by the Royal Institution's world-famous Christmas Lectures electrical engineer Danielle George will show you how to use your imagination to take control of the devices we use every day. With live experiments, find out how to take control of the devices you use every day and achieve extraordinary things. This is tinkering for the 21st century!
For more information, and to book tickets, click here.
If you do not wish to receive newsletters and other communications from See Science,
please send a blank email to
remove@see-science.co.uk
.