Welcome to the STEM Newsletter for Secondary Schools in Wales
An essential source of information for teachers and anyone with an interest in STEM (Science, Technology, Engineering and Maths) engagement across Wales.
Read inspiring stories, discover new opportunities and find out how a STEM Ambassador's visit to your school can engage and enthuse both students and teachers. There are details of current events, competitions, grants, CPD, awards and more at our teacher information pages.
Contents
Give us your Ambassador feedback
We would be very grateful if you could fill in our teacher feedback form if an Ambassador has visited your school or you have met an Ambassador at an enrichment activity. Please encourage colleagues to respond.
STEM Ambassador requests
Interested in asking a STEM Ambassador to visit your school? You can make your request here or contact See Science directly at ambassadors@see-science.co.uk.
STEM Club update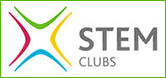 If you are a STEM Club leader or would like to set up a STEM Club in your school do contact us stem-clubs@see-science.co.uk. We can add you to our STEM Clubs mailing list.
CREST Awards – FREE for school in Wales to register pupils. Have you considered running these Awards in your club? For more details contact crest@see-science.co.uk or phone 07503365942
The Science Museum activities – perfect for STEM Club leaders
TechFuture Girls is an out-of-the-box after-school club that has been specifically designed to encourage girls to stay engaged in IT. It helps girls develop their skills in IT through a series of carefully-graded challenges, themed around their interests – like fashion, music, sport and celebrity.
Looking for a STEM professional to support your club (for example to act as a mentor, run a debate, give an interactive talk)? Then request a STEM Ambassador to visit your club here (or contact us directly at ambassadors@see-science.co.uk).
Teacher information pages
Events, competitions, grants and resources are regularly added to our teacher information web pages. You can check them out by following these links:
STEM Opportunities for teachers and pupils
ASE Cymru hosting a TechMeet in Wales

ASE Cymru will be hosting a TechMeet for Science Technicians and TeachMeet for Science Teachers focusing on Practical Work across Wales. This is an opportunity for science technicians and teachers to share great ideas for Primary and Secondary. Open to all; ASE non-members welcome.
What is a TeachMeet? – It is an informal and enjoyable gathering of those curious about teaching and learning. Anyone can share great ideas they've trialed in their classrooms, a teaching resource they love, a great website, a classroom activity – whatever you like! You can ask questions or simply turn up to soak up all the great ideas and enthusiasm. The main part of TeachMeet is hearing stories about learning, from teachers and other education professionals. This is a chance for education professionals to hear ideas from each other, a chance to hear real narratives of practice that makes a difference. It is about being engaged and inspired by our immediate colleagues and gaining a whole bucket load of networking to boot!
28 January Techmeet (Technicians) 2.00pm, Teachmeet (Teachers) 4.30pm. Ysgol Clywedog, Ruthin Road, Wrexham LL137UB
2 February Techmeet (Technicians) 2.00pm, Teachmeet (Teachers) 4.30pm. Newport City Campus, University of South Wales, Usk Way, Newport. NP20 2BP
10 March Techmeet (Technicians) 2.00pm, Teachmeet (Teachers) 4.30pm. Bishop Gore School, De-la-Beche Rd, Sketty, W Glam SA2 9AP
Bangor – venue to be confirmed – date to be confirmed
You can come along to chat, listen, or meet new people. Or if you want to present you can sign up to do a 2-7 minute micro-presentation in a format of your choice (insert your choice(s) of length of micro-presentation). You do not have to present but please sign up or email and let us know if you are a willing talker or listener.
Sign up here – look for the correct date and follow the links to sign up.
1-5 February 2016
STEMNET is running the second annual National STEM Clubs Week! From Monday 1-5 February 2016, we invite STEM Clubs to take part in a photo competition by sending a photo or video, and a 50 word description to stemclubs@stemnet.org.uk or tweet us at @STEMClubs. All pictures and videos will be shared on the STEM Clubs website in an effort to showcase the hard work of all involved.
Prizes will be awarded to the three winning categories: Most unusual type of STEM Club; Best use of a STEM Ambassador in a STEM Club; Most original STEM Clubs Activity.
Please note, that while STEM Clubs Week is a celebration for all STEM Clubs, this competition will only be open to STEM Clubs from state funded, secondary schools throughout the UK.
Other dates for your diary
Free screening of Gravity and talks for Physics students aged 16-19 with Dolby's Science Behind the Screen education programme Tuesday 19 January 10am-2pm Showcase Cinema, Cardiff Nantgarw Email jo.dunlop@introfilm.org - info here.
STEM Clubs Week: 1-5 February. Following the success of the inaugural STEM Clubs Week in 2015, the date has now been set for next year's follow up. Keep an eye on the STEM Clubs website for more details.
British Science Week: 11-20 March. One of the highlights of the STEM calendar is always the British Science Association's British Science Week in March.
CAT celebrates British Science week from 14 -18 March with a special 10% discount offer for school groups on selected STEM activities. Book a visit here or contact 01654705983 / education@cat.org.uk.
The Big Bang Fair: 16-19 March. Timed to coincide with British Science Week, the Big Bang Fair at the NEC in Birmingham will once again throw open its doors to thousands of students, teachers and STEM Ambassadors.
National Women in Engineering Day 23 June Want to get involved in National Women in Engineering Day 2016? – See more here.
Primary and secondary STEM Challenges
STEM Challenges are available FREE to all primary (year 5&6) and secondary (KS3) schools in Wales in 2016 with funding from Welsh Government National Science Academy. Secondary pupils participating in the challenge will be registered for a CREST Discovery Award. To register interest, email enquiries@see-science.co.uk.
South Wales: until March 2016
West Wales: 25-30 April 2016
North East Wales: 27 June – 1 July 2016
North West Wales: tbc
STEM Challenge Teacher CPD
Available FREE to schools in Wales in Spring 2016 with funding from Welsh Government National Science Academy. The CPD will provide teachers with training on how to use the tookit to run a suite of different science challenges with KS2 and KS3 pupils. The teachers will be linked with industrial partners to provide an insight into the real-world of work through the STEM Ambassadors programme. Teachers will also be provided with a resource box with complimentary activities to use with pupils in a science club.
Each teacher attending the CPD will receive a toolkit to tailor the delivery of the STEM challenges to their pupils and a STEM Club resource box. To register interest email enquiries@see-science.co.uk.
Back to topThe Vikings are partying too!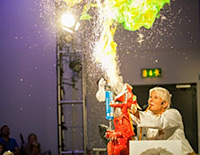 Join Scientific Sue on this most historical and creative journey of discovery. Sue's fire and icy fog breathing dragons are celebrating the hatching of their latest baby – but there is just one problem; this little dragon doesn't have any wings yet.
Available FREE to all primary and secondary (Year 7) schools in Wales in 2016 with funding from Welsh Government National Science Academy.
North East Wales: May 10-13
South Wales: June 13-17
West Wales: June 20-24
North West Wales: July 4-8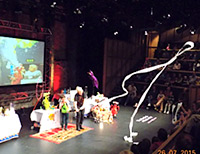 Scientific Sue will need lots of volunteers to help her investigate and explore the science of how dragons fly and then, using some of the science behind the different dragon fire types (steam, icy fog, explosive gases, flammable liquids and of course big flames and tornado type fire!) plus dragon's disgusting digestion processes. She hopes to engineer a way which will allow the baby dragon to fly and join in with the celebrations!
The science can focus on: chemical reactions, combustion, states of matter, flight, buoyancy, forces, energy, digestion, and respiration, tests for oxygen, carbon dioxide and hydrogen. Length of performance: 1 hour
To book, email See Science at enquiries@see-science.co.uk – schools will need to book for half day per show.
STEMworks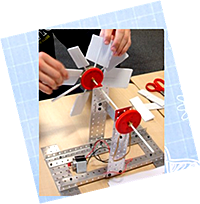 STEMworks are offering FREE full day workshops aimed at year 9 students in South Wales, South Gloucestershire and Gloucestershire. The workshops are generously funded by the Ernest Cook Trust for the spring and summer terms of 2016. These are based around the teacher workshops presented at the IOP Welsh Physics Teacher Conference, Brecon and Clifton College, Bristol. Spaces are limited so get in touch to reserve an allocation here and @stemworks1 for more information.
The Centre for Alternative Technology
Thomas Howell Educational fund for North WALES offer to schools and colleges is now widening its remit to cover FREE STEM tuition and entry costs to all pupils students age 11-18 (including year 6). Many activities can be delivered bi-lingually if required. Please contact Gabrielle Ashton on 01654 705984 or education@cat.org.uk to book your FREE visit to CAT now.
Funding available for CPD – A wealth of STEM relevant content in our recently devised and accepted teacher training course via the Global Learning Programme. Encourage your pupils to explore the possibilities of zero carbon emissions. Activities, resources and global context. Funds to cover the course can be applied for from GLP. Contact us at education@cat.org.uk or more information here.
Back to topRoyal Institution Grants
The Royal Institution is offering UK state schools and FE Colleges grants of up to £500 to host a STEM enrichment activity for their teachers and students.
The scheme is funded by the Causeway Foundation. It is designed to integrate STEM activities such as shows, talks and workshops into school practice and to support teachers' professional development. Successful applicants will receive £500 towards any activity listed on the STEM Directories held before the end of July 2016. More information here or email stemdirectories@ri.ac.uk. Closing date: 7 February 2016.
PA Raspberry Pi 2015/2016 competition now open
This year we are challenging students to use the Raspberry Pi to drive innovation in sport and leisure. From creating wearable performance-monitoring technology through to developing a crowd-control app for use in stadiums, your imagination really is the limit!
If you would like to discover more about the competition please register your interest here and we will be in touch soon to let you know how to sign up.
New teacher placement scheme launches in Cardiff
The Biochemical Society (one of the Royal Society of Biology's Member Organisations) and the Science Learning Network have launched the Teacher Industrial Partners' Scheme (TIPS). The scheme enables schools to partner with a local biotech employer providing a short work placement for teachers, accompanied by a bespoke package of support. One of the participating employers, Biocatalysts, is based in Cardiff so this opportunity may be of interest to you or one of your colleagues.
Teacher Award: Call for 2016 IOP Awards nominations
The Institute of Physics (IOP) is now seeking nominations for the 2016 awards and we need your help to nominate the most outstanding physicists in their respective fields of physics. Our awards recognise and reward outstanding achievements in industry, business and research as well as contributions made to outreach and education.
Full details of all the awards, eligibility and how to make a nomination here or email awards@iop.org. The closing date for nominations is 29 January 2016.
Back to topCERN opportunity for secondary school physics teachers
The dates for the 4 days of inspiring lectures and hands-on tours at CERN in Switzerland are 22 February – 25 February 2016. Funding is available up to £1,200; there are 24 places for this unique opportunity. Watch this video and be inspired by teachers that went to CERN last year. To register your interest, contact your local Science Consortia Co-ordinator.
FREE Global Citizenship Challenge – CPD for teachers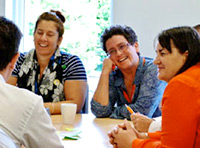 Get to grips with the Global Citizenship Challenge is a FREE one-day CPD workshop for secondary school teachers which will give you the confidence and skills to engage your learners' curiosity about the world. We will explore key Welsh Baccalaureate themes and skills and give you practical ways of incorporating this into your lessons.
The Global Citizenship Challenge will be taking place around Wales – don't miss these varied opportunities to engage your learners with real-world issues.
5 February: Pontarddulais
24 February: Cardiff
1 March: Penrhyn Bay, Conwy
3 March: Centre for Alternative Technology, Machynlleth
Book places here.
Back to topMarble Rollercoaster Challenge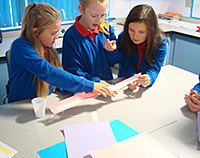 Abertillery Comprehensive School hosted nine local primary schools as part of their transition morning. The Year 6 pupils took part in the primary Marble Roller Coaster Challenge and were ably assisted by Year 7 pupils; they worked in teams to complete three forces based challenges. The pupils were challenged to think about the importance of speed, gravity and friction. They created a card tower and used that knowledge to create their own Marble Run and looked at why gravity and G-Force is essential as part of the design.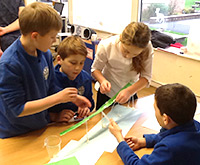 The two winning teams were Rose Heyworth Millennium School and Blaenycwm Primary School. All the pupils enjoyed the hands-on challenge and are looking forward to their move to the secondary school next year.
"The primary pupils worked in teams with members of Year 7 to tackle the challenge which they all really enjoyed. Their Marble Roller Coasters designs were ingenious, creative and resourceful. It was certainly a successful event and I would like to thank See Science for the quality of delivery." Mr Williams (Abertillery Comprehensive School)
Both primary (Year 5&6) and secondary (KS3) challenge workshops are available FREE of charge. To register interest email enquiries@see-science.co.uk
Photos: Pupils in workshop held at Abertillery Comprehensive School; Pupils in workshop held at Llangattock Primary School
Crystals within Crystals workshops from Bangor University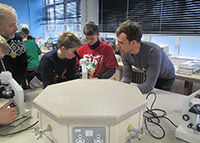 It's early morning, and a scientist from Bangor University has arrived at the school with a freezer and fridge in his car containing specially prepared solutions and dishes of crystals! These are all for the year 7 and 8 pupils who, instead of their regular science lessons this morning, will be taking part in practical workshops giving them an exciting insight into scientific research taking part in North Wales.
Over the past 12 months, STEM Ambassador Ben Butler, a postgraduate researcher at the School of Ocean Sciences, Bangor University, has been visiting schools in North Wales to promote students' interest in science with practical workshops entitled 'Crystals within Crystals: The story of sea ice'.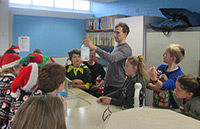 Supported by funding from the Science and Technology Facilities Council, Ben outlined the differences between sea ice and freshwater ice using an electronic salinity meter, demonstrated salt crystals developing before our eyes, and produced samples from his freezer for pairs of pupils to investigate under the microscopes. Pupils also heard how Ben has used the Diamond Light Source, an enormous synchrotron half a kilometre in diameter situated near Oxford, to study ice crystals with high intensity X-rays.
With the funding available, Ben has presented the Crystals within Crystals workshops during 12 school visits across North Wales including: Ysgol Syr Hugh Owen, Ysgol Aberconwy, Blessed Edward Jones School, Ysgol Maes Garmon, Ysgol Ardudwy, Ysgol Glan Clwyd, Ysgol Uwchradd Tywyn and Ysgol Bryn Elian, all of who have had the opportunity to gain an amazing insight into the world of crystals! H.Hall, December 2015
Heather Hall, North West Wales See Science. Photos: STEM Ambassador Ben Butler visits Ysgol Uwchradd Tywyn
Back to topTeenTech at Buckingham Palace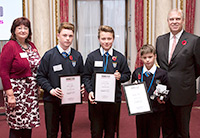 Ysgol Glan-y-Môr pupils Charlie Hall, Lewis Ellar and Bradley Webb were treated like royalty when they attended a reception at Buckingham Palace with The Duke of York. The invitation came following their success at the National TeenTech Awards where they won the Transport Category with their idea for a sensor guidance system for wheelchairs. The pupils explained their idea to Prince Andrew and how it worked. It was an exciting day for the boys, but when asked to describe the highlights along with meeting the Duke of York, they also enjoyed the 'Queen's biscuits and squash' and 'using the Queen's toilet!'
The boys are used to meeting 'important people' following their outstanding success. They have previously met Edwina Hart, Welsh Government Minister for Science and Economy and Julie James, Deputy Minister for Skills and Technology.
The work produced by the pupils is part of a major drive at Ysgol Glan-y-Môr to promote STEM subjects (Science, Technology, Engineering and Maths) and the prize money won at the Awards is going to be used to help equip a new STEM lab at the school.
Photo: Charlie, Lewis, and Bradley with their teacher Sue Quirk, and the Duke of York
Stemming the tide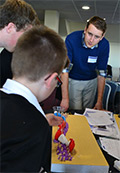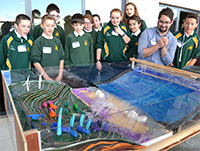 Students from schools across Carmarthenshire took part in an Engineering Team Challenge at Parc y Scarlets. They had to design a model sea defence scheme which could protect a model village from a tsunami.
The event was organised by ICE Wales Cymru, and was led by young engineers from a number of civil engineering firms. The students, working in teams, had to design and plan the structure to a given budget. They then had to build it and finally test it out, inserting it into a model provided by the organisers.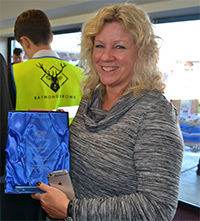 Some of the teams produced strong-looking structures which failed to stop the water; others saw their creations washed away in the flood; but some saw their designs work to keep water away from crucial areas of the model village.
During the day the students were also given a guided tour of Parc y Scarlets, looking at the design and construction of the stadium. The overall winners were a team from Coedcae School.
Photos: A young engineer working with a team of students; The moment of truth, as the water cascades down onto the defences; Teacher Jane Pettit from Coedcae School holds the ICE trophy
Back to topWork placement success at GE Aviation
Eleven St Davids students benefitted from a week's work experience with GE Aviation in Nantgarw over the summer period. They received excellent guidance and information about careers in this field. Here is what Hannah Norman, a Chemistry, Maths, Physics & Geography student, had to say about the experience:
"Although this took place over the summer holidays, losing free time was definitely worthwhile. The work placement has aided me in my endeavour to become an aerospace engineer, giving me an edge when applying for university, as I now have work experience directly related to my career path. I was placed in the Accessory Business Unit (ABU), the unit dealing with the testing and maintenance of fuel systems, electrical items, gearboxes, and LRUs. I worked under five different mentors, in different sections of the ABU. Over the week, I was delegated tasks mainly concerning CFM engines, such as testing and making electrical engine harnesses, and preparing fuel pumps for use by wirelocking and performing kerosene leakage tests. I was also shown the process of making and maintaining jet engines, which allowed me to understand the process in a way that I couldn't have if the College hadn't given me the opportunity to carry out the placement.
"I was able to engage in discussion with engineers working at the facility, allowing myself to expand upon my existing knowledge of the field and reinforce my belief that engineering was the field that I wanted to enter. The work experience was invaluable, and I would love the opportunity go back there on a placement year during my time at university."